As you may well know by now, Friday night is pizza night in our home. Back in the day, we'd go out for slices locally, and while there's still a time and place for that, these days, I prefer making a healthier version at home. Once I perfected a healthier pizza dough, the sky really became the limit. We've had everything from Buffalo Chicken Pizza to Reuben Pizza to Sweet & Spicy Pepperoni (and plenty more – just search my site)! However, with it being summer, I wanted to use some in-season summer produce to create a more veggie froward pizza. This Healthy Summer Squash and Corn Pizza is my latest and greatest, and boy is it great. Truly, it tastes like something I'd order at a restaurant, except it's way lighter and WW friendly – about 1/3 of the points per slice of pizza!
This pizza is a little sweet, a little salty, tangy, and herby all in one. Even though it sounds like a lot, it's super simple to put together yourself. Perfect for Friday pizza night in or hosting friends and family, this pizza is sure to be a hit no matter what. Hope you love it as much as we did!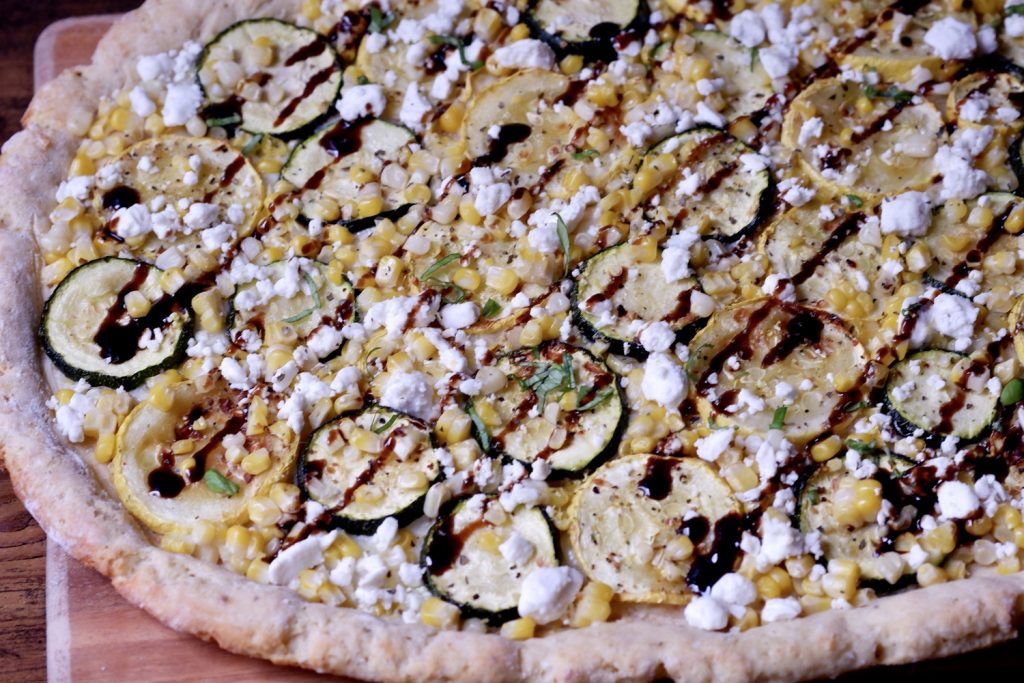 A lightened-up pizza dough
The base of this pizza is a lightened up pizza dough that's a modified version of the WW-famous 2 ingredient dough. It's higher protein than traditional pizza dough since it's made with Greek yogurt and eggs. To make it, you'll need:
All purpose flour
Baking powder
Salt
Nonfat Greek yogurt
Eggs
Salt/pepper/garlic powder (I use this seasoning)
You'll combine the dry ingredients first, then add eggs and greek yogurt and mix together until you have a solid dough. I use a mixer with a dough hook attachment to mix the dough up easily, but you can use a wooden spoon and do it by hand as well. Once your dough is formed, keep some flour handy to flour the outside of it to make it easier to work with.
Prepare a baking sheet by either using a silicone baking sheet, parchment paper, or spraying well with cooking spray. Flour a surface well and roll your dough out with a rolling pin most of the way. You can also use your well-floured hands to gently press it out instead of rolling, just try to keep it even. Transfer to baking sheet and finish stretching the dough out until it's roughly the size of your baking sheet, leaving yourself a thicker outer layer to be the crust. Spray with cooking spray and bake for about 18 minutes, until just lightly turning golden. Then you'll remove it to add your toppings and dress it up!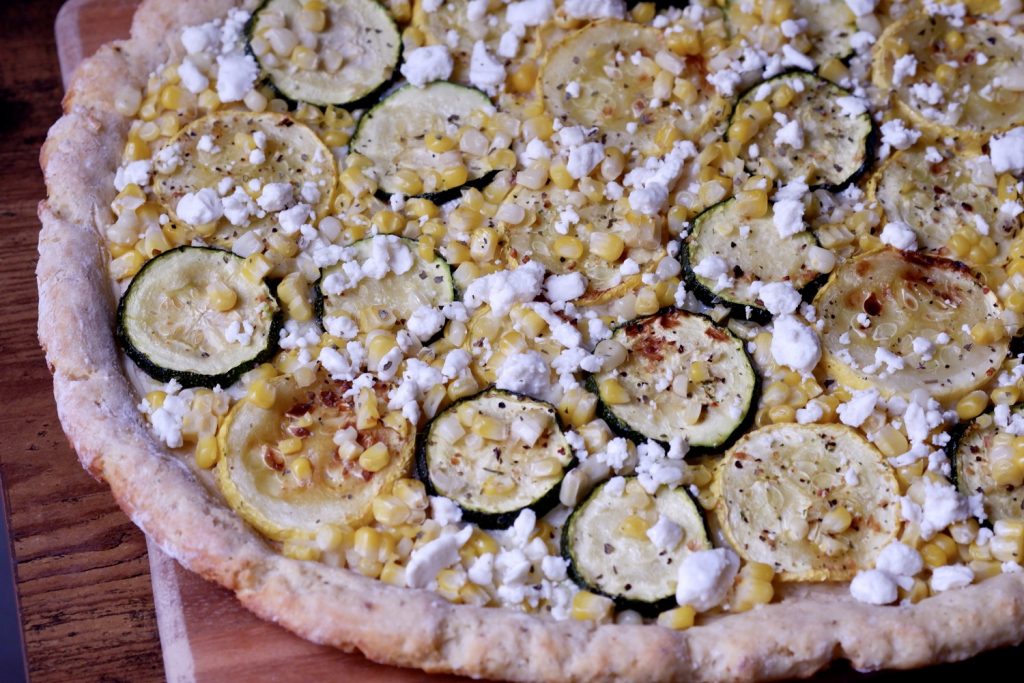 Making Healthy Summer Squash & Corn Pizza
Once your dough is partially baked, you'll give it a layer of cheese. You'll notice there's no real sauce on this pizza, but I promise it doesn't need it. The zucchini and corn add a good amount of moisture, and it's all finished with a balsamic glaze that does as well. So don't panic about the lack of sauce! After you put down a layer of cheese (which also acts as a moisture barrier), you'll top it with:
Zucchini and yellow squash, which has been cut into rounds, sprayed with cooking spray, seasoned with salt and pepper, and air fried or baked for ~15 minutes at 375F. This helps remove some of the moisture from the zucchini so that it doesn't make your pizza mushy.
Corn, ideally fresh off the cob but canned or frozen (should be cooked/not frozen) works as well.
Fat free feta, which will add a bit of saltiness.
Then you'll bake the pizza for another 8-10 minutes, until toppings are warmed through and cheese on the base is melted. Just an FYI, the feta won't melt much. Once the pizza is out of the oven, finish it off with:
Fresh lemon zest
Balsamic glaze (any store bought kind is fine – I personally really like the one from Trader Joes or this one).
If you're not following WW, a drizzle of finishing oil like this one really takes it over the top (but will add a few points, so your call!)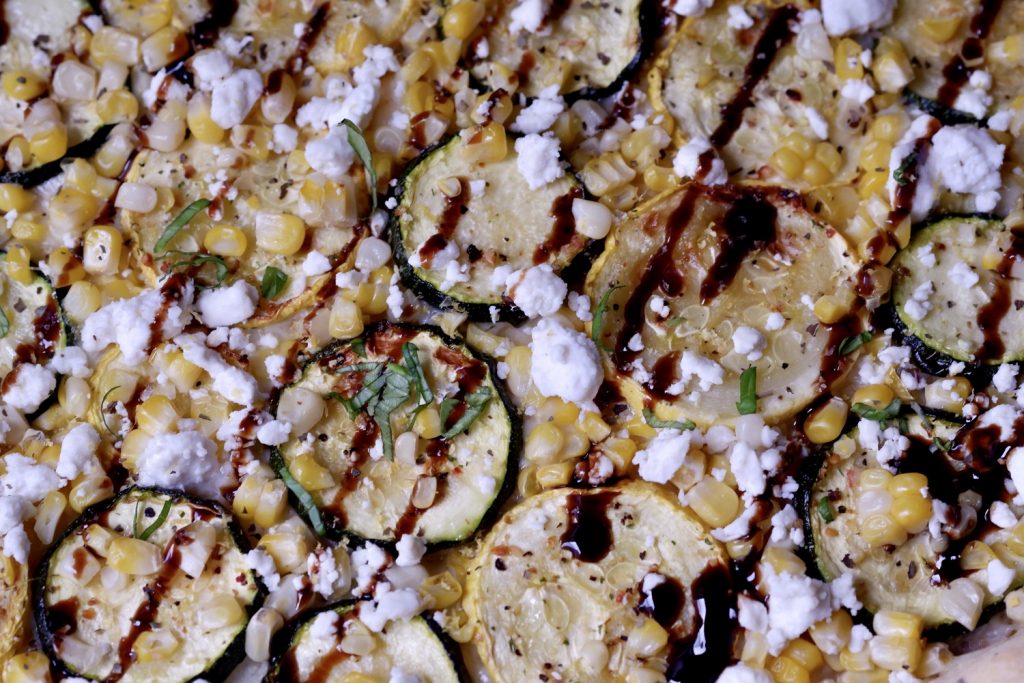 Then just slice, serve, and enjoy. Store leftovers in an airtight container in the fridge for up to 4 days, and reheat in the air fryer, oven, or on the stove top until warmed through. Also delicious cold, enjoy!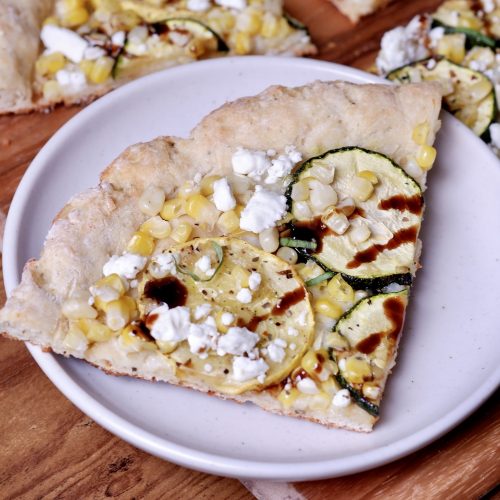 Healthy Summer Squash & Corn Pizza
This Healthy Summer Squash & Corn Pizza is easy to make, high in protein, WW friendly, and absolutely delicious! Enjoy the light, bright flavors of summertime in each slice.
Equipment
Mixing Bowl

Stand Mixer with dough hook (optional)

9×13 Baking Sheet
Ingredients
Crust:
2

cups

Flour

1

cup

Greek yogurt nonfat

1.5

tsp

Baking powder

1

tsp

Salt

2

Eggs

1

tsp

Garlic powder

1/2

tsp

Pepper
Toppings:
1

cup

fat free mozzarella cheese

2

ears

corn

cooked, cut off cob (or approx 1 can of corn)

1

zucchini

cut into rounds, cooked in air fryer or oven for ~15 min at 375

1

yellow squash

cut into rounds, cooked in air fryer or oven for ~15 min at 375

1/2

cup

fat free feta cheese

crumbles

zest of 1 lemon

2

tbsp

basil

fresh, chopped

2

tbsp

balsamic glaze
Instructions
Crust:
Combine flour, baking powder, garlic powder, and salt in a bowl. Stir together. Add greek yogurt and egg, and either by hand or using a stand mixer with a dough hook attachment, mix until your dough is uniform. Flour the outside of the dough, as well as your surface and rolling pin, as the dough will be sticky.

Line 9×13 baking sheet with parchment paper, silicone baking mats, or spray VERY well with cooking spray. Using a rolling pin, roll your dough out until it mostly fills the size of the baking sheet. Carefully transfer dough to baking sheet, and continue to roll/spread it until it roughly fills out the sheet. It's ok if it's not perfect!

Spray with cooking spray and bake for ~18 minutes, until just lightly turning golden.
Toppings
Spread 1 cup of cheese over crust. Evenly place zucchini slices all over cheese, then sprinkle evenly with corn and feta. Bake 8-10 minutes, until bottom layer of cheese is fully melted and toppings are all warmed through (the feta won't melt, FYI). Garnish with fresh chopped basil, zest of a lemon, and balsamic glaze. Cut into 10 slices and enjoy!

Store any leftovers in an airtight container in the fridge. Reheat in the oven or air fry at 370 for 5 minutes to crisp up.
Nutrition
Calories:
154
kcal
Carbohydrates:
24
g
Protein:
12
g
Fat:
1
g
Saturated Fat:
0.4
g
Polyunsaturated Fat:
0.3
g
Monounsaturated Fat:
0.4
g
Trans Fat:
0.004
g
Cholesterol:
37
mg
Sodium:
472
mg
Potassium:
188
mg
Fiber:
1
g
Sugar:
3
g
Vitamin A:
203
IU
Vitamin C:
7
mg
Calcium:
182
mg
Iron:
2
mg
Tried this recipe?
Add your thoughts below in the comments or post on social media and tag @foodbythegram!