I feel like I always hear past brides talk about how your wedding flies by, its the best day of your life, etc. I figured those were all just things they say, but man oh man, they are true. While it felt like I was planning this destination wedding at Unico 2087 forever (586 days to be exact), the actual day flew by, and it really was one of the best days of my life. Honestly, the entire week (and vacation) was one of the best I've ever had! 
Why destination?
First and foremost, it's more us. We love to travel, see new places, experience new cuisines, etc. We figured, why not bring everyone along for the ride?
Second, it was an excuse to get everyone we love to go on vacation together – when else would we get to do that?! We wanted everyone to really get to know each other, hang out, and have the best possible time together.
Third, we wanted somewhere that was really naturally beautiful, creating epic scenery for all of our wedding events. This meant we could put less effort into decor, because the surroundings are beautiful as is.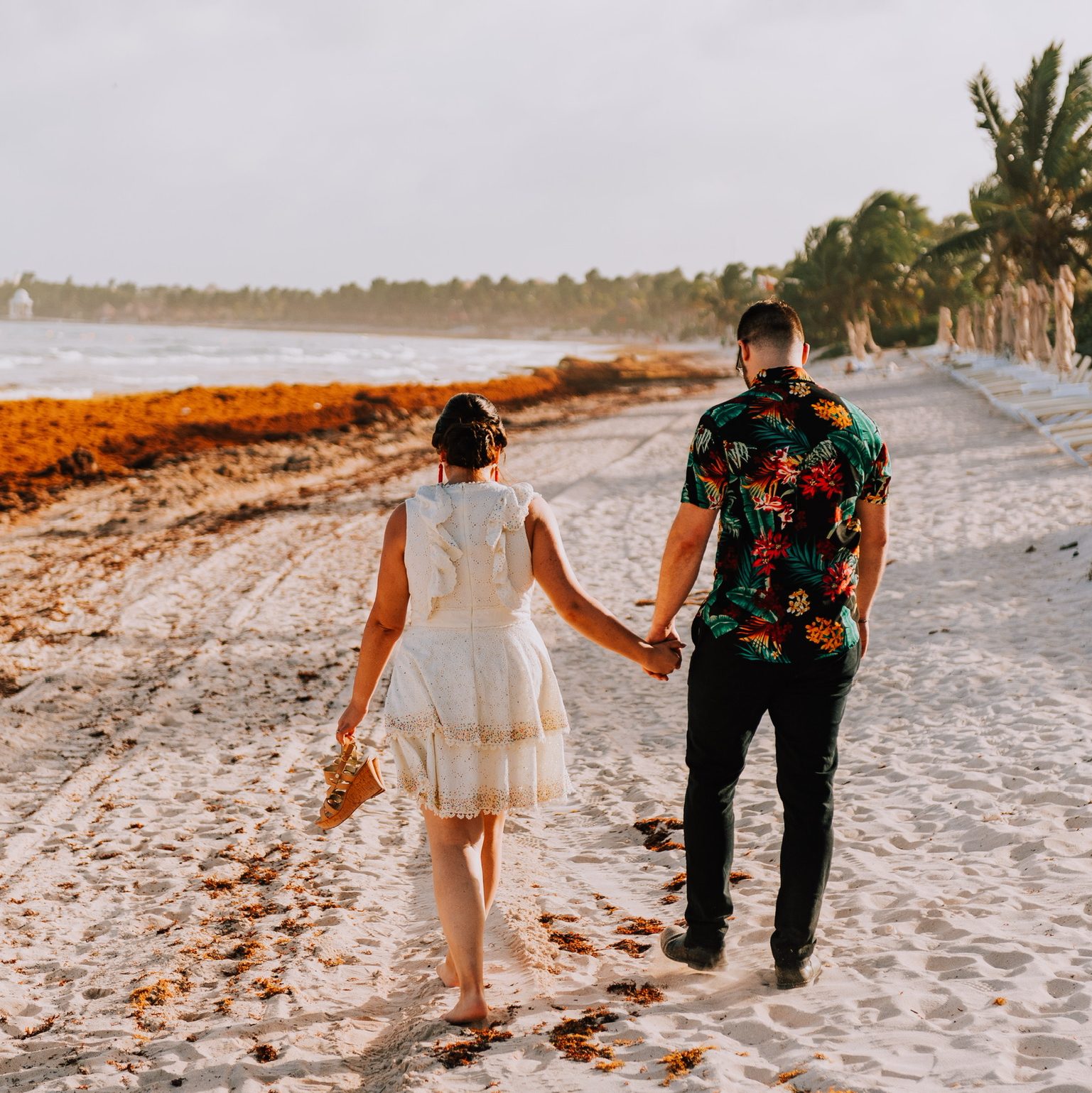 Why Unico 2087?
We looked at a LOT of resorts before choosing Unico. The main things that drew us to it:
The resort itself is stunning – I lovingly describe it as West Elm meets Mexico. From the rooms to the grounds to the event spaces, the resort is thoughtfully curated and gorgeous at every turn.
The food and drinks are bar none. I've been to a lot of all inclusive resorts, and the food and drinks at Unico truly blew me (and all of our guests) away. The presentation was gorgeous, everything was fresh and innovative, and there was a great variety so there was something for everyone!
They do a lot of weddings, so they have a dedicated wedding department and coordinators to help things go smoothly. They also have pre-vetted preferred vendors to help make the otherwise daunting task of picking vendors a bit easier. All of the vendors and staff were so helpful, patient, and kind.
What's it like planning a destination wedding? 
If you're type-A like me, it's like planning a regular wedding but on hard mode, because you can't just pop over and see things in person whenever you like. We only got to visit the resort once (about 6 months before the wedding) as part of their wedding site visit package and had to get most of the planning done then. Otherwise, everything was done over email/zoom, sending lots of images back and forth, and hoping it would all come together in the end.
Destination weddings also have the added layer of planning in that you need to coordinate travel and a room block for your guests. If you're keeping things super small, you can probably do this yourself, but we used a travel agent (TripGuy) to help coordinate and book rooms for our 76 guests. 
What did the week look like?
We arrived on Wednesday and had a little down time to relax, had dinner, and got to work making welcome bags for all of the guests, most of whom were arriving on Thursday.
Thursday, we rented a cabana and greeted guests as they got to the resort. It was super fun to see who would show up next, and everyone pretty much dropped their stuff in their room, grabbed a drink, and came to hang out by the pool. We also had our final walkthroughs/planning meeting with our on-site coordinator, where we got to walk through our venues, point out what should go where, etc. That night, we had dinner and hung out at the lobby bar with all of our guests!
Friday the guys all went golfing for the day, while the girls kicked it by the pool. By mid day, it was time to get ready and start hair and makeup for our welcome party that evening. We purposely wanted to have our welcome party the day before the wedding to not only give us a chance to hang out with all of our guests, but also to let them meet/hang out with each other. Our welcome party was fiesta themed, so we asked guests to wear the brightest, most fun thing they own. We had neon rainbow flags, colorful florals, a huge mexican buffet, and games (giant Jenga and cornhole) for guests to play. Throughout the evening, guests ate and drank, danced, and gave beautiful toasts. The giant Jenga turned out to be a real hit, bringing everyone together for (what felt like) the longest, most insane game of Jenga ever.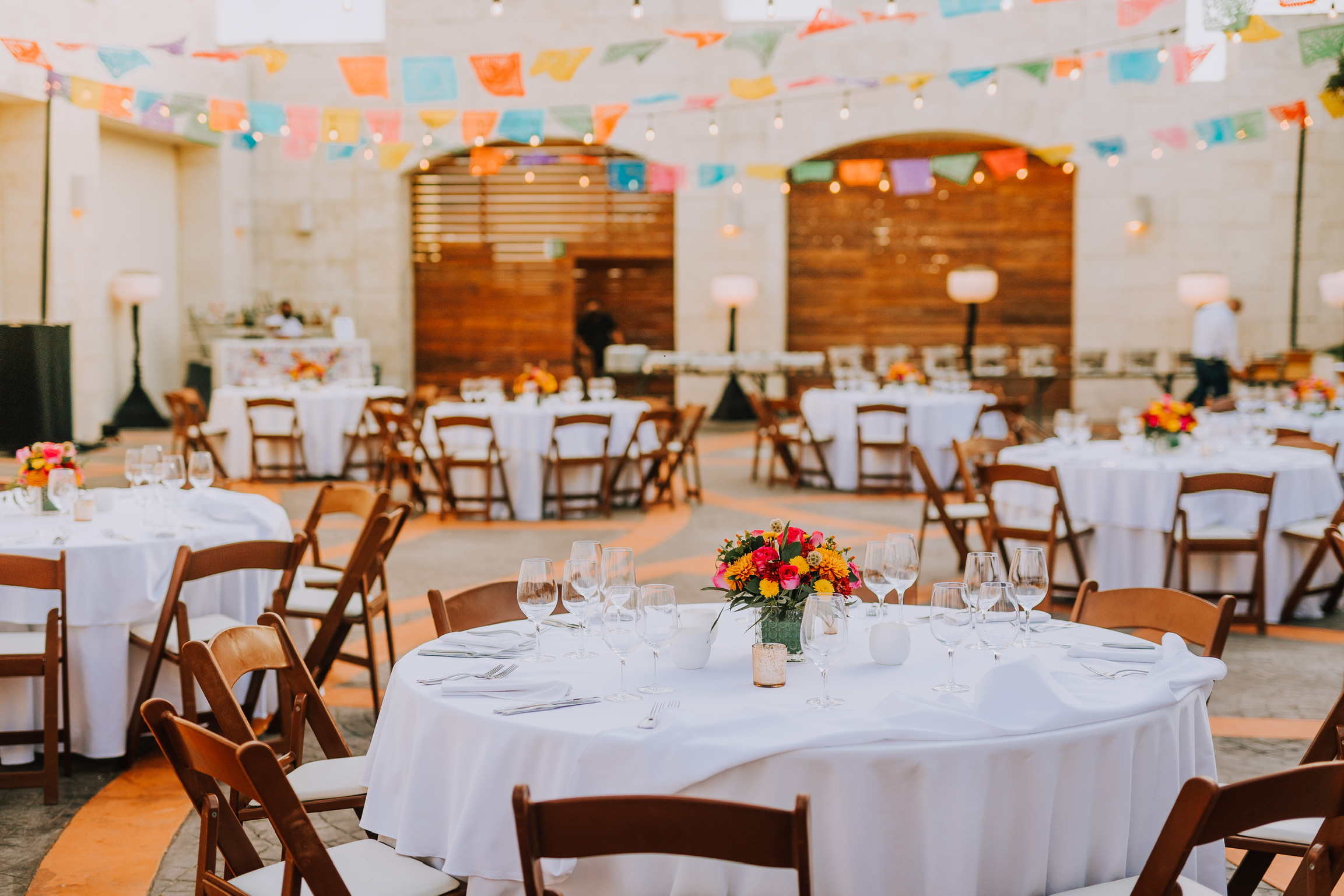 Saturday was the big day! Steven and I went and had breakfast together, and then I hung out in our suite where everyone was getting hair and makeup done. The groomsmen/dads went and had lunch together before getting ready a bit later, meanwhile the girls/moms ordered a bunch of room service food and bottles of champagne. We played music, danced around, and had a blast getting ready. Then we did first looks (first with bridesmaids, then dad/brother, then Steven) and went right into portraits etc. We built in some time for touch ups ahead of the ceremony and when 6 pm rolled around, it was showtime! We had a beautiful ceremony officiated by my brother, which was equal parts touching and hilarious. Following the ceremony, we took photos on the beach and around the resort before heading to our cocktail hour/reception. Then we ate, drank, and danced the night away and had the absolute best time with our guests!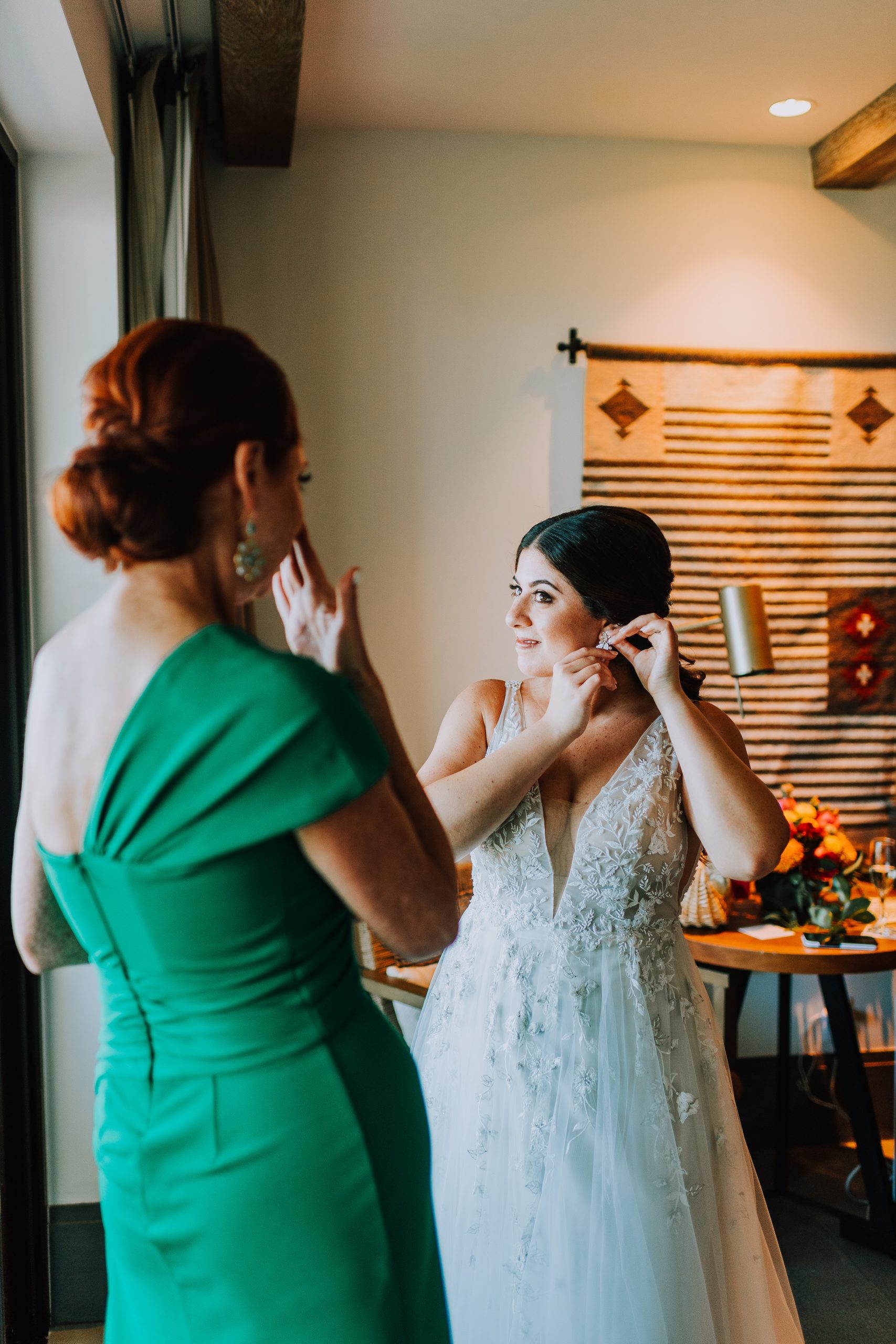 Sunday was a recovery day, so our gift to our bridal party was that we paid for cabana rentals and bottle service for everyone, so we had a big pool party all day. It was an absolute blast and a perfect way to recover from a way-too-fun night.
Most guests left Monday, but those of us who stayed enjoyed a spa day on Monday. We did the hydrothermal circuit (steam room, hot tub, ice pool, etc) and couples massages to relax and decompress after all of the wedding fun. That night, we enjoyed a big group dinner and drinks at the lobby bar.
Tuesday a group of us ventured to Tulum/Akumal to see the Cenotes (natural pools formed in limestone that you can swim in) and swim with sea turtles. It was a super cool experience and it was nice to get out beyond the resort for a half day. We came back, grabbed seats by the pool, and hung out there the rest of the day. We enjoyed another fun group dinner that night.
Wednesday we packed up and headed home!
Which vendors did you use?
Photography- MLE Pictures . Philly-local so I flew her and her husband (who was her second shooter) in and they were amazing. So much fun to have on site, totally blended with our families/friends, kept us calm but on schedule on our big day and made sure we got every shot we wanted. We also got our photos back lightning fast and they're incredible- they have such a good vision and eye for detail and we couldn't be happier.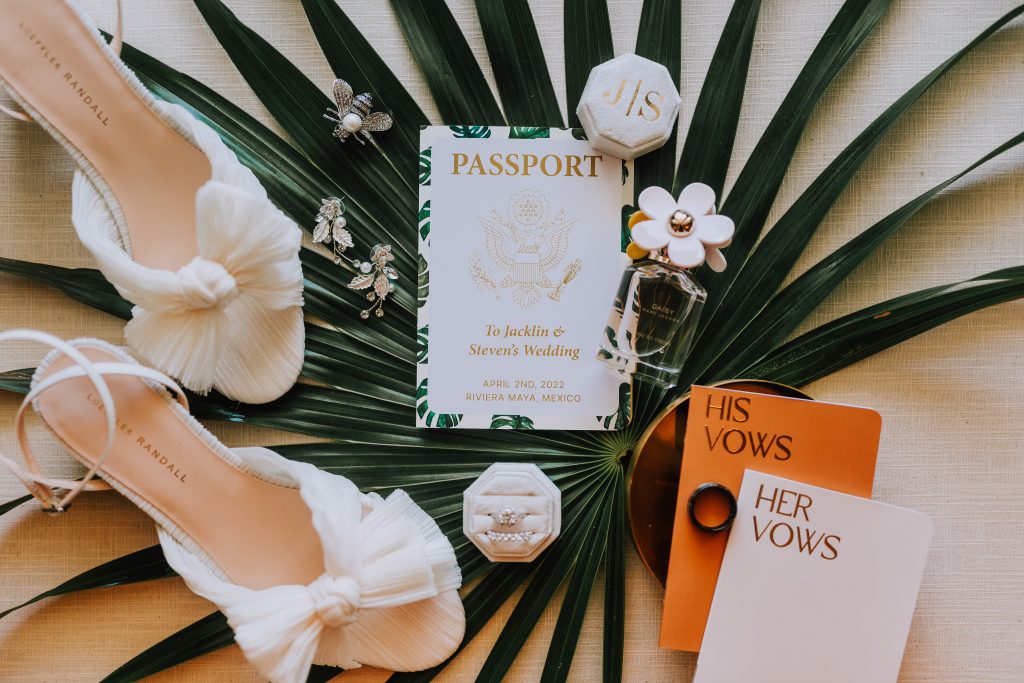 Videography- Gold & Sage. Based out of North Carolina so they flew in – didn't get to meet Sarah (owner) until she was actually at our wedding and she was so sweet, so professional, and had such a great vision. We watched a lot of her other videos and were super impressed so we felt confident hiring her. We got a preview video less than a week after our wedding and it's SO good. Can't recommend her enough. 
Hair/Makeup- Sorellina Beauty. Philly-based so I flew in Autumn (owner/makeup artist) and Fernanda (hair/makeup). Everyone's hair and makeup (including my own) looked incredible – we all did airbrush and our makeup lasted all day/night (as did our hair) – even in 85 degrees/lots of humidity. Nobody looked overdone and truly looked like themselves (but hotter). Autumn and Fernanda were also a freakin' blast – so much fun, kept us all super calm on the big day and partied hard with us after.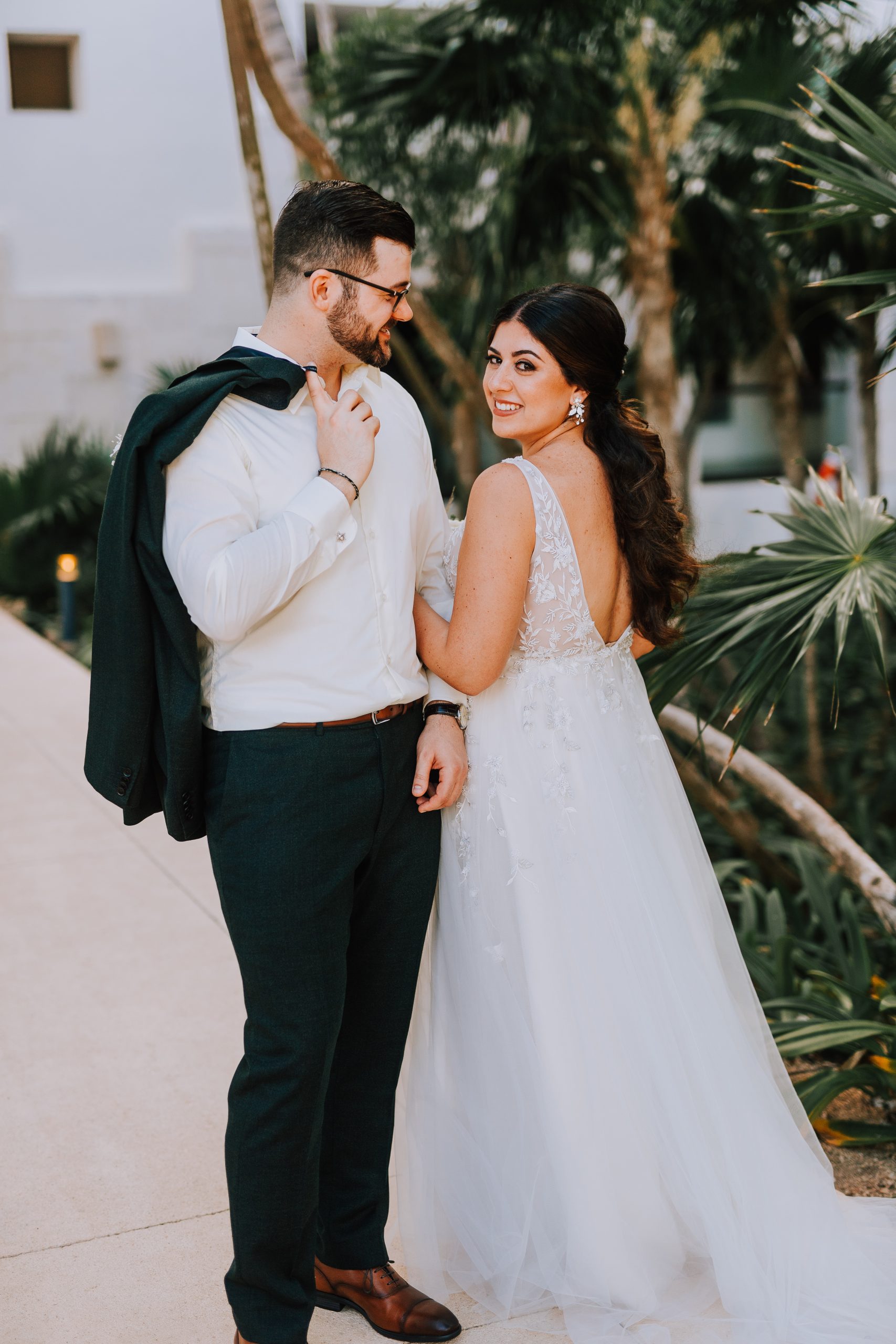 Lighting/DJ- Mills James – Local to Mexico and I was nervous using them because there were pretty limited reviews and they were just named the preferred DJ a few months before our wedding, but we were happy with them! Alex was our DJ and his mixing was great. We gave him playlists for everything and he mostly stuck to them so we were pleased overall! Lighting was great as well, everything looked awesome.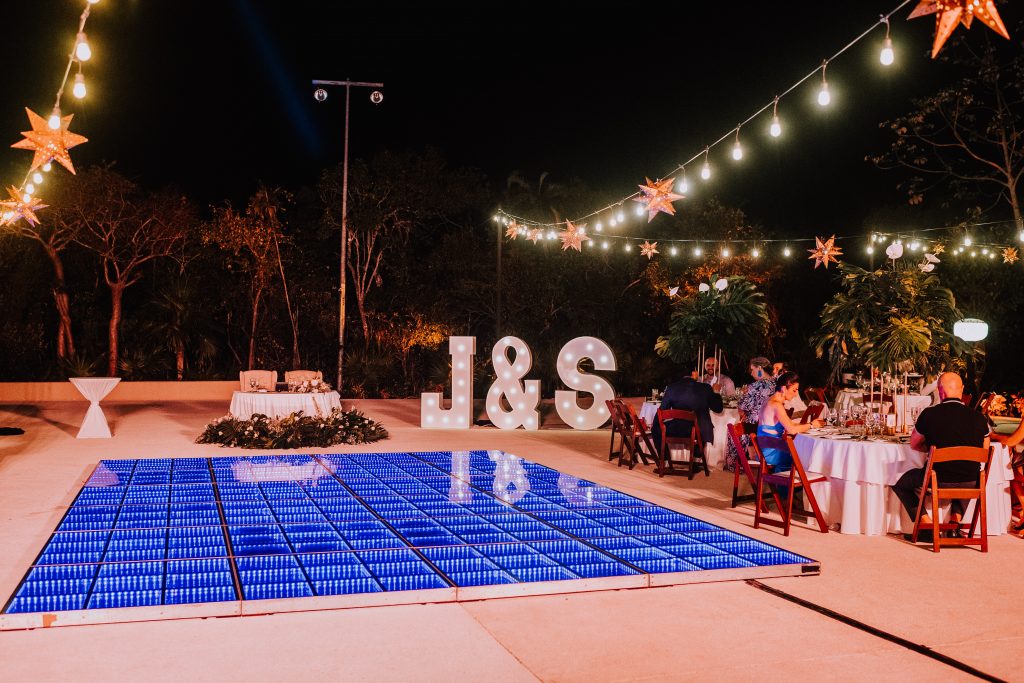 Florals- Tulipania – Local to Mexico, Carolina was wonderful to work with from the start. Was super receptive to my feedback/changes, made helpful suggestions, negotiated on price, etc. Our florals and greenery were STUNNING and I was in shock at how well they were able to execute on my vision. They also were super flexible with moving/reusing all of my florals from the ceremony and moving them to the reception which helped keep costs down and was less wasteful!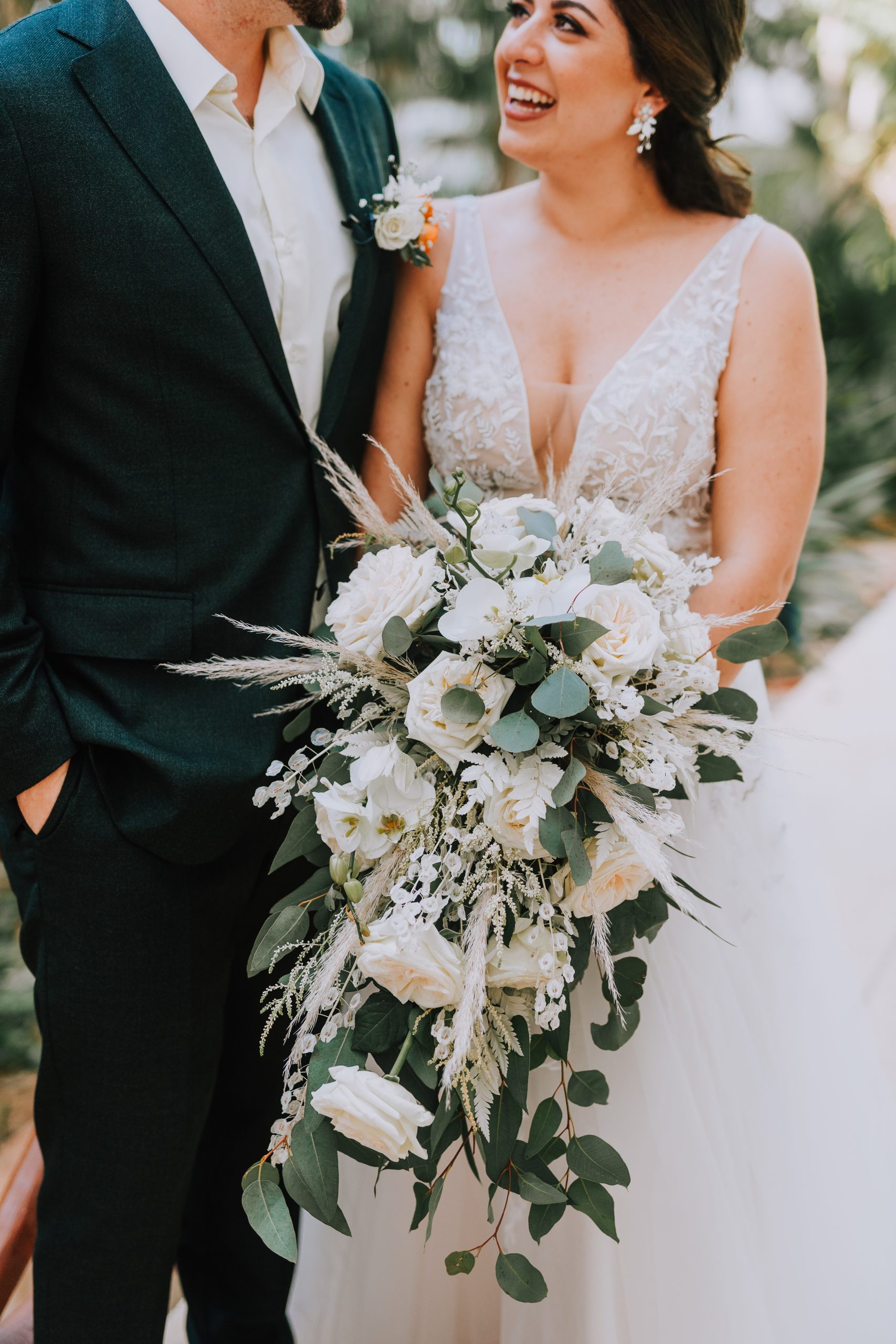 Rentals- Planner1 – Local to Mexico and one of the Unico preferred vendors, they were pretty good to work with. I was very specific/direct with what I wanted and they provided it. The rentals all looked great and it's nice that they work with Tulipania/the hotel so everything comes together.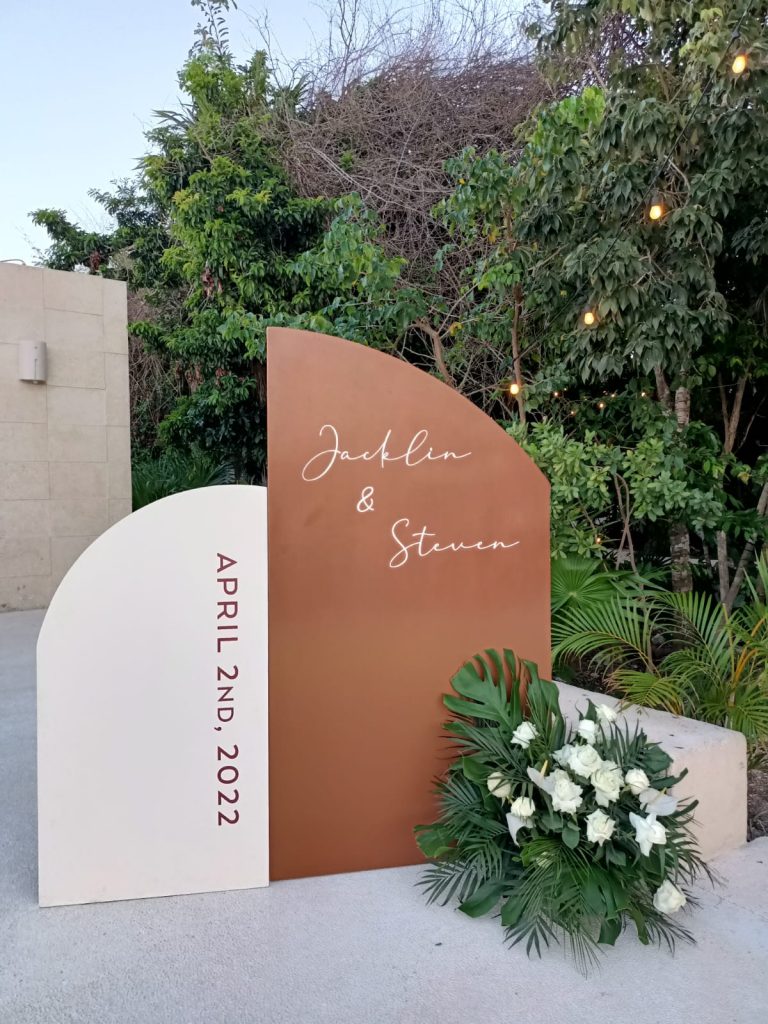 Travel Agent – TripGuy – Mitch/Mark. They were amazing – they helped us pick the perfect resort, helped plan our site visit, arranged all of our group's transfers, checked in on us, dealt with issues, etc. Highly recommend!
Misc. – Partylogue – They're local to Mexico and not a preferred vendor but do local favors, design, etc. We just used them for one custom sign for our ceremony and glow sticks for our reception. They were easy to work with, delivered right to the hotel, and the sign looked great.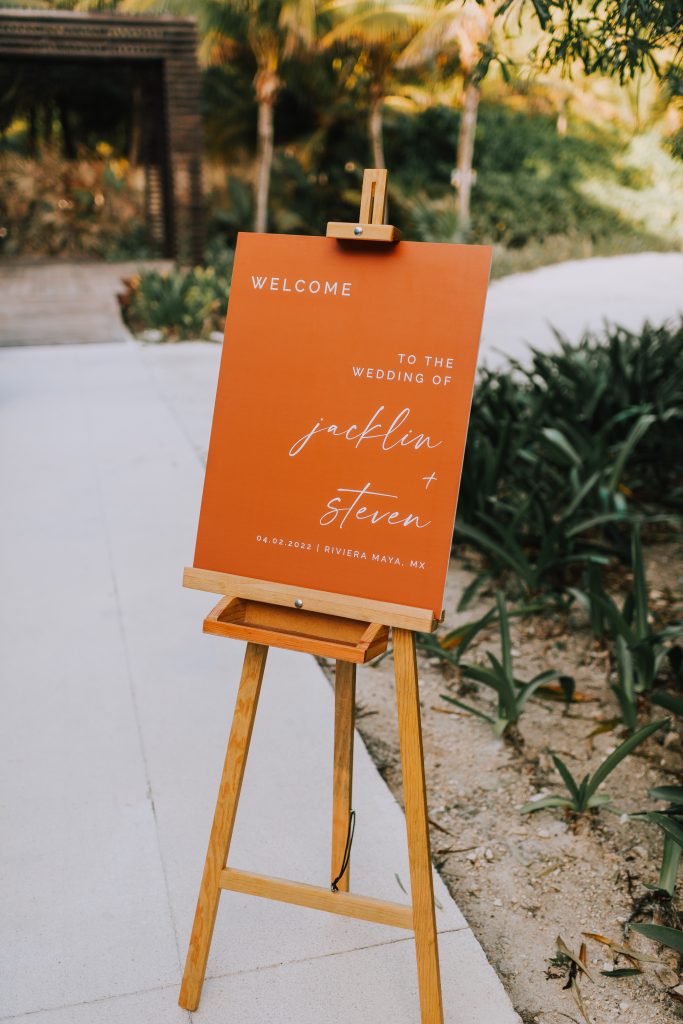 What was in the welcome bags?
We decided to do welcome bags instead of favors for our wedding, as we figured they'd be more useful and appreciated by guests.
For the bags themselves, I just bought generic bags off Amazon.
Items included: Itinerary + map with our locations highlighted + custom do not disturb door hangers, Liquid IV (FOODBYTHEGRAM for 25% off and free shipping ), sewing kits, SPF chapstick, Pepto, Advil, makeup wipes, gum, sunscreen, hair ties, reusable straws (these were a hit since the resort doesn't do straws).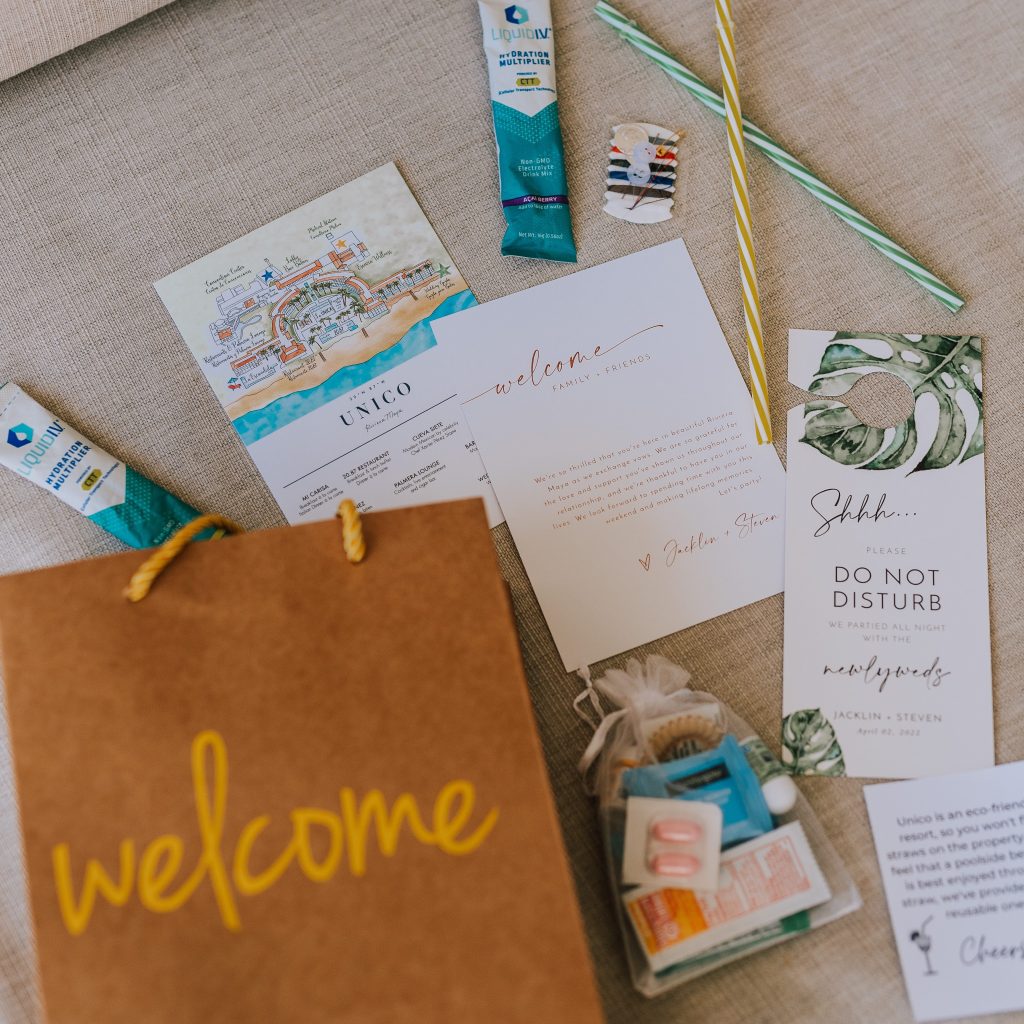 Did you do day-of wedding gifts?
Bride/groom- we decided not to do gifts, but bought each others' wedding bands instead. We did write each other letters for the morning of the wedding which were really personal and meaningful, and they made a nice keepsake that we can look back on.  
Father of the bride- custom socks for the wedding day + a cabana rental for the day after the wedding
Father of the groom- Custom memorial pin of his father who recently passed
Mother of the bride/Mother of the groom – we paid for their hair/makeup, airbrush, lashes, etc. 
Groomsmen- silly custom socks, cabana rental for the day after the wedding, drink floaties, phone covers for the pool, etc. 
Bridesmaids- custom beach bags from Etsy, custom tumblers, matching sarongs, clutches for the day of the wedding, ring with their initials, drink floaties, cabana rental for day after the wedding.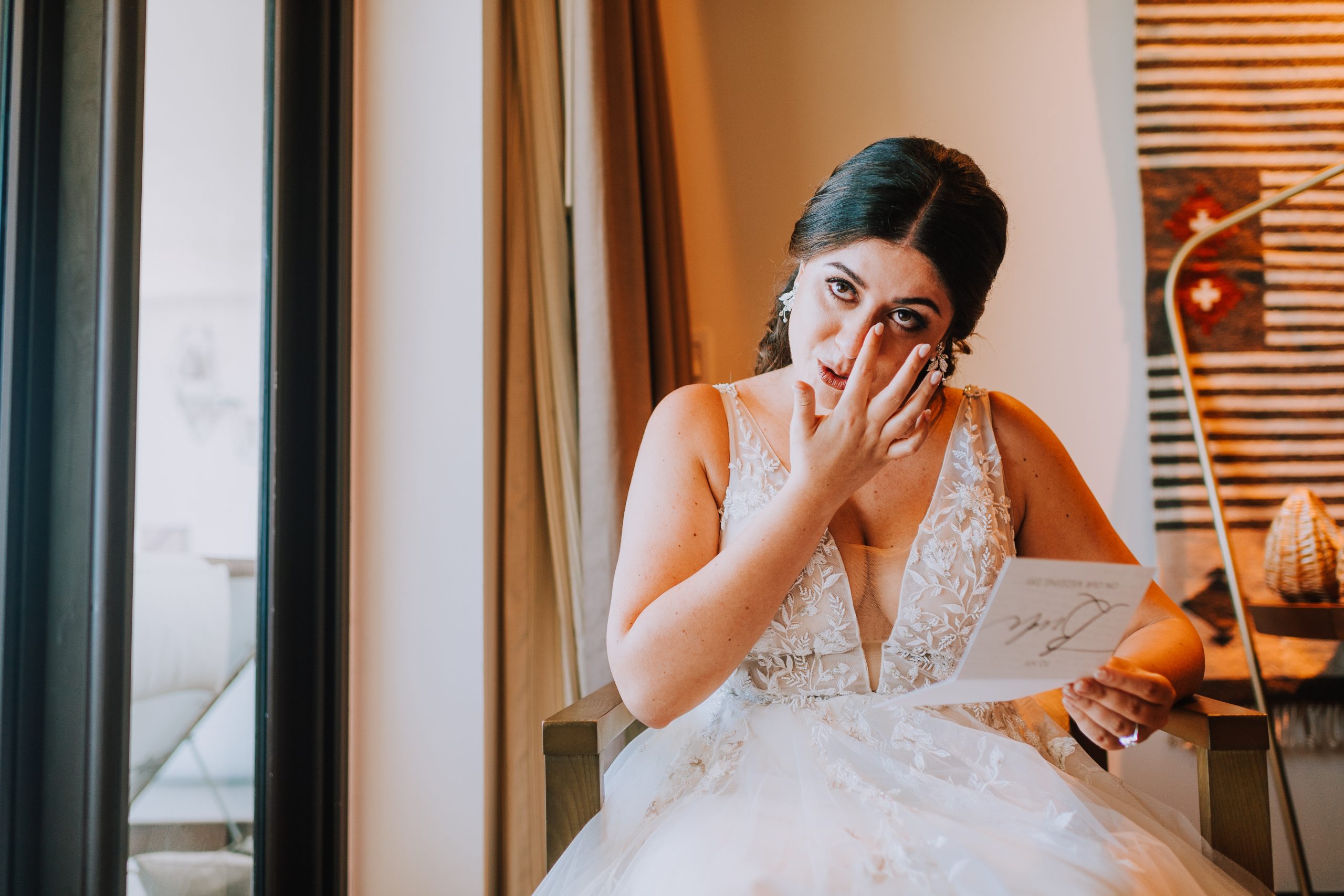 What did everyone wear?
Wedding Dress – Wtoo by Watters, Seeley
Shoes – Loeffler Randall Dahlia 
Earrings – Amazon! They were well made and lightweight and looked like they were literally made for my dress. 
Groom's Tux – Got it from Suit Supply – off the rack and custom fitted. Amazing experience start to finish, I can't recommend them enough.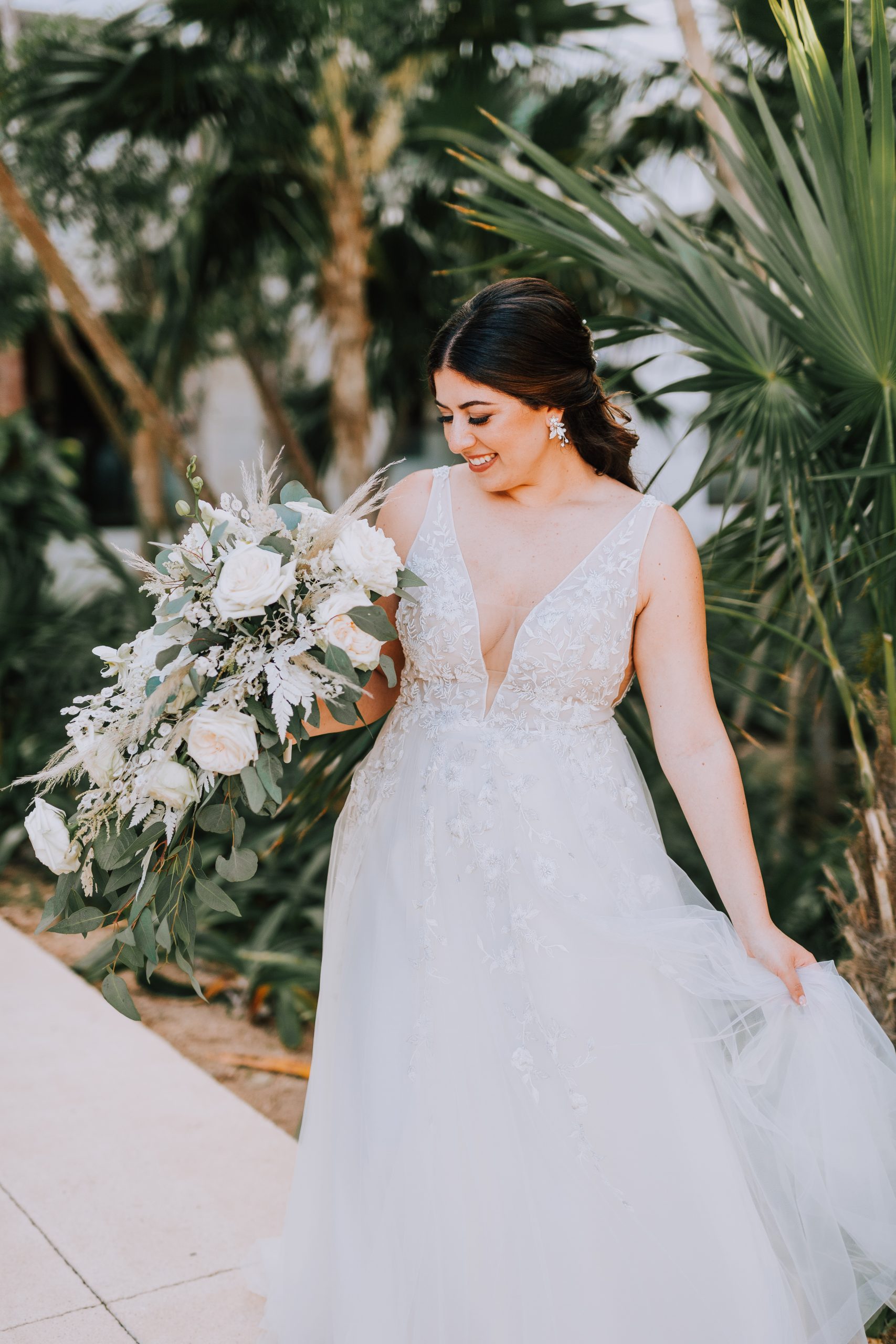 Groomsmen suits – rental through Generation Tux. We skipped the ties, just did the beige suit + ivory shirt + brown shoes and belt. Added the orange boutonnieres and it looked awesome. 
Bridesmaid dresses – I had a vision of a mismatched palette and I love how it came together! Specifics are below. 

​​David's Bridal -spaghetti strap satin a line (style F20131) in cinnamon (MOH)
Revelry- Valerie Chiffon Faux Wrap Dress in Olive
Birdy Grey- Kira dress in terracotta 
Kennedy Blue – Erica Dress – Champagne 
Revelry – Skye Satin Dress in silver sage 
David's Bridal – charmeuse draped strappy in golden 
Windsor – Rosanne One Shoulder Dress – Brown
Kennedy Blue- Andrea in Moss 

Groom's details – Bee cufflinks from Etsy, belt/shoes from Nordstrom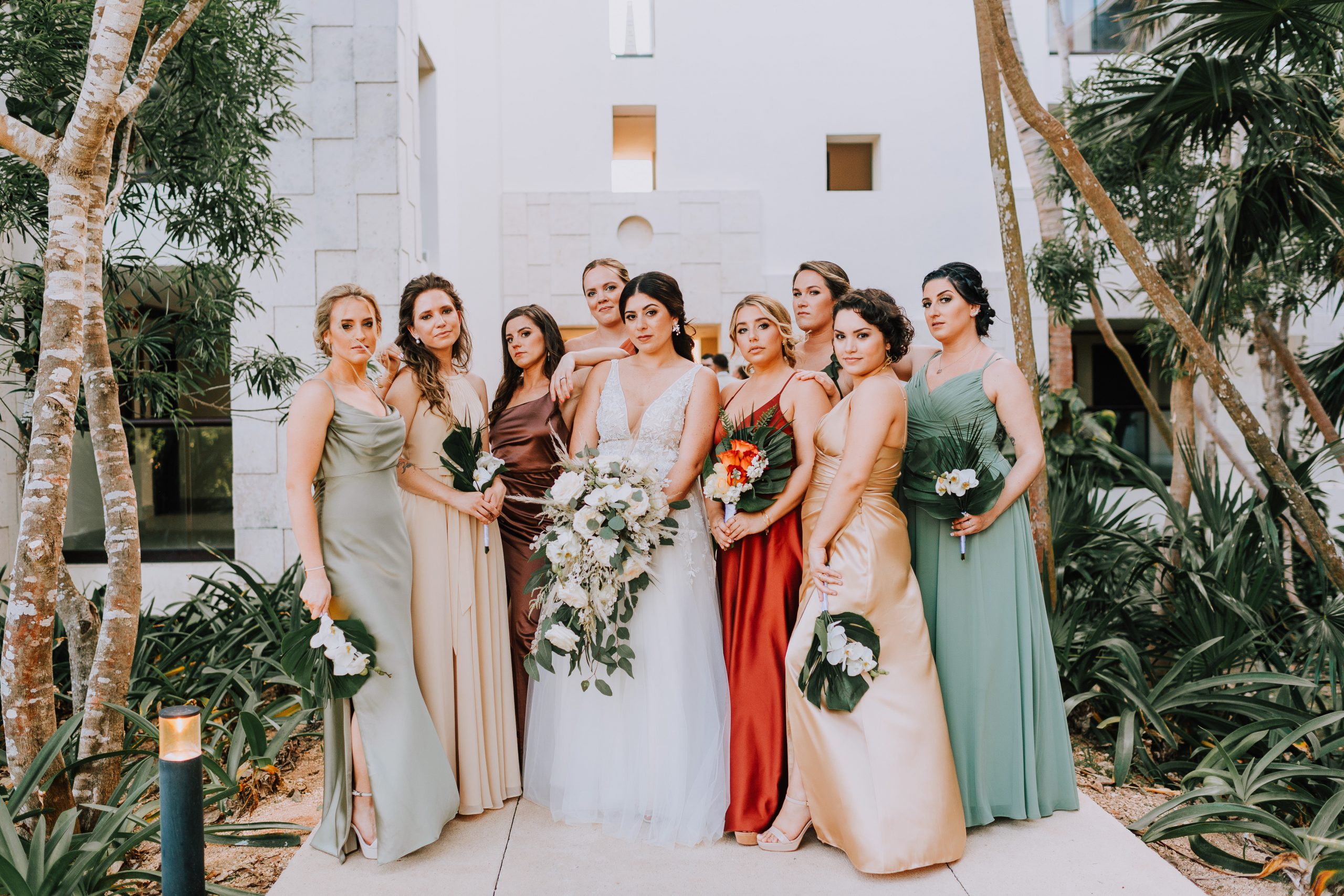 All of the wedding details! (Set up, food, etc):
April 2nd, 2022
Ceremony – 6 pm at the wedding gazebo
Set up – We bought paper folding fans and the wedding coordinator put one on every seat. We were super worried about it being way too hot and it ended up being super comfortable! We were lucky with amazing weather all weekend. We kept the complimentary chairs and they looked great and matched nicely. We had them add a podium for the officiant which also matched well. 
Florals – Tulipania created the gazebo decor as well as 2 floor pieces, all of which were moved/re-used for our reception. They also made my bouquet, 1 MOH bouquet, 7 bridesmaid bouquets, 6 groomsmen boutonnieres, and 1 groom's pocket square of flowers. All of the florals were stunning – I gasped when I saw my bouquet.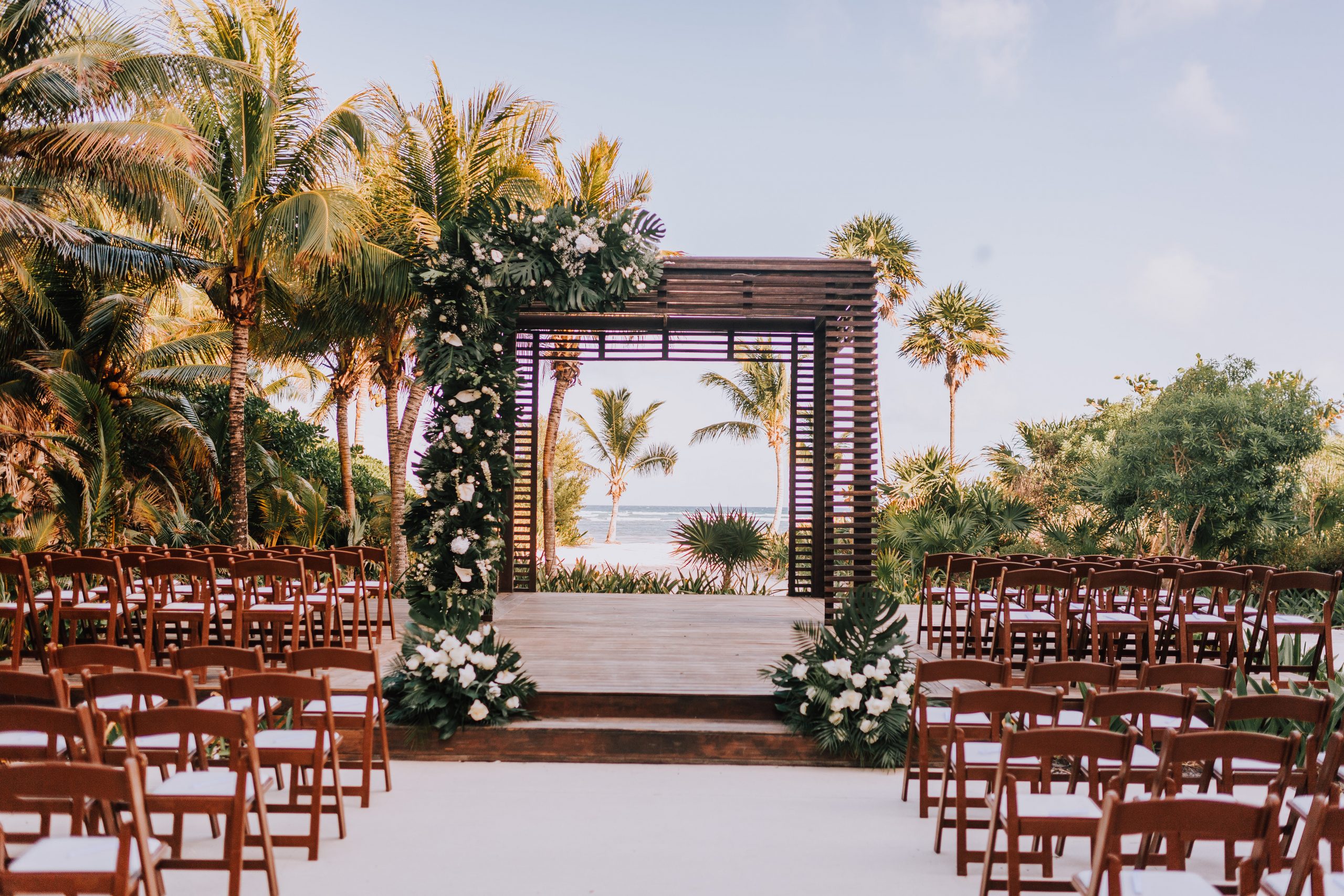 Cocktail hour – 7-8 pm at The Green Terrace
Apps – octopus tartlets, conchita pibil sandwiches, veggie spring rolls, gazpacho soup shooters. We didn't get to try any but heard it was all tasty!
Drinks – We had 3 signature drinks and we just had to clear the recipes/ingredients with the bar manager ahead of time. Mine was a spicy passion fruit margarita, husband's was a whiskey drink with peach and lime, and the cat's drink was an espresso martini. All of them were delicious!
Decor – We had a lounge set up with green velvet couches/chairs/stools/tables, cocktail tables, a photo area with neon sign, and had our memorial table and guest book on a cocktail table as well. Tulipania moved most of the florals from the gazebo to the cocktail hour/reception as well.
Music – I made a Spotify playlist for cocktail hour as well as dinner that the DJ just played.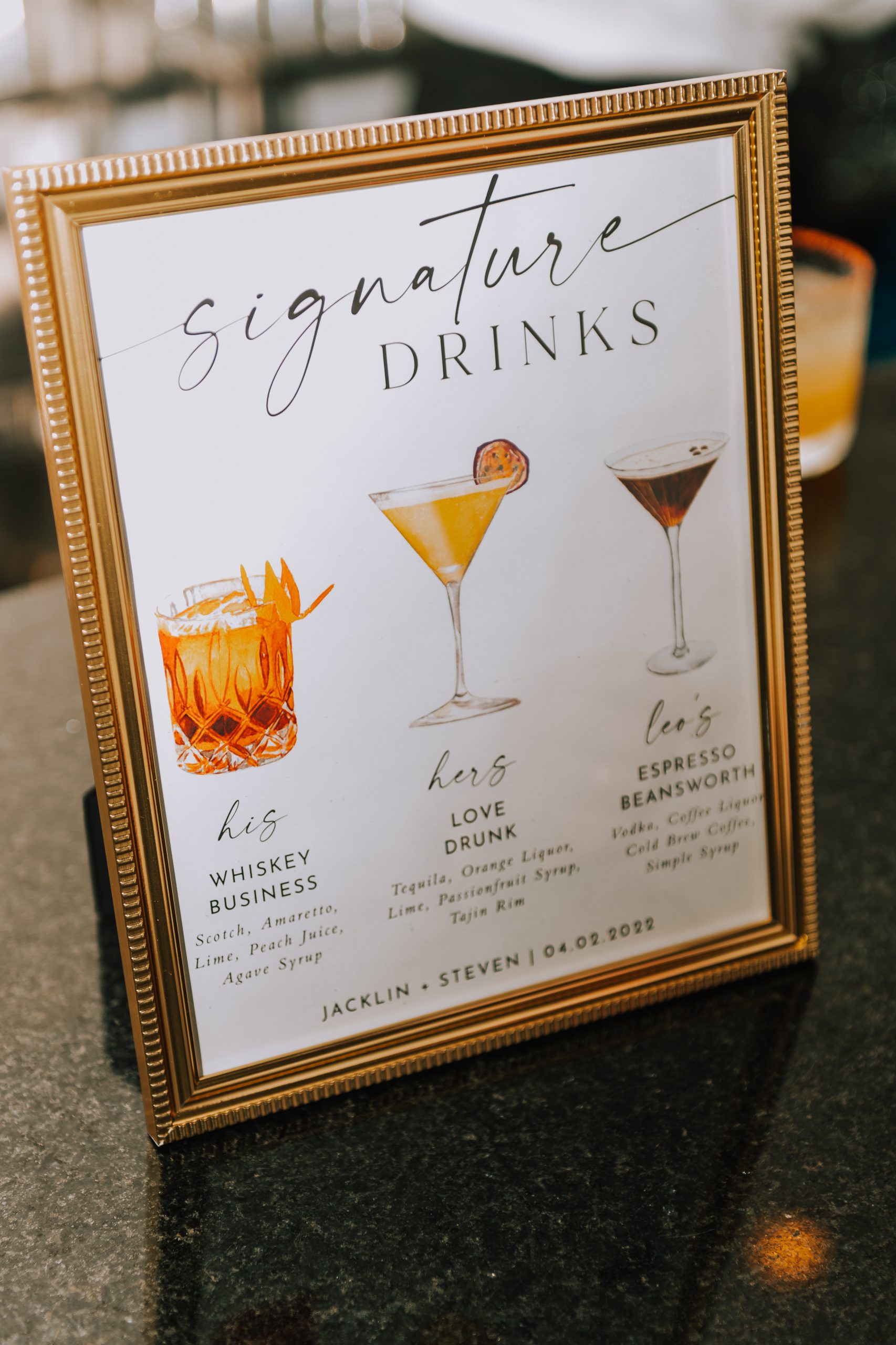 Reception – 8-12 pm at The Green Terrace
Food – Plated menu- preuvian ceviche to start (amazing, super citrus forward, everyone loved it), beef taquitos (ended up being a hit – people loved these), filet mignon / salmon for entrees (both were excellent), and tres leches for dessert (only had a bite but it was great). We had champagne filled for all guests for toasts as well. 
Desserts – We did a 2 tier orange wedding cake and had them cut it into small pieces and serve it to all guests. We brought our own cake topper and had Tulipania provide some flowers for it. We also did a macaron tower and had a late night churro station (people loved it).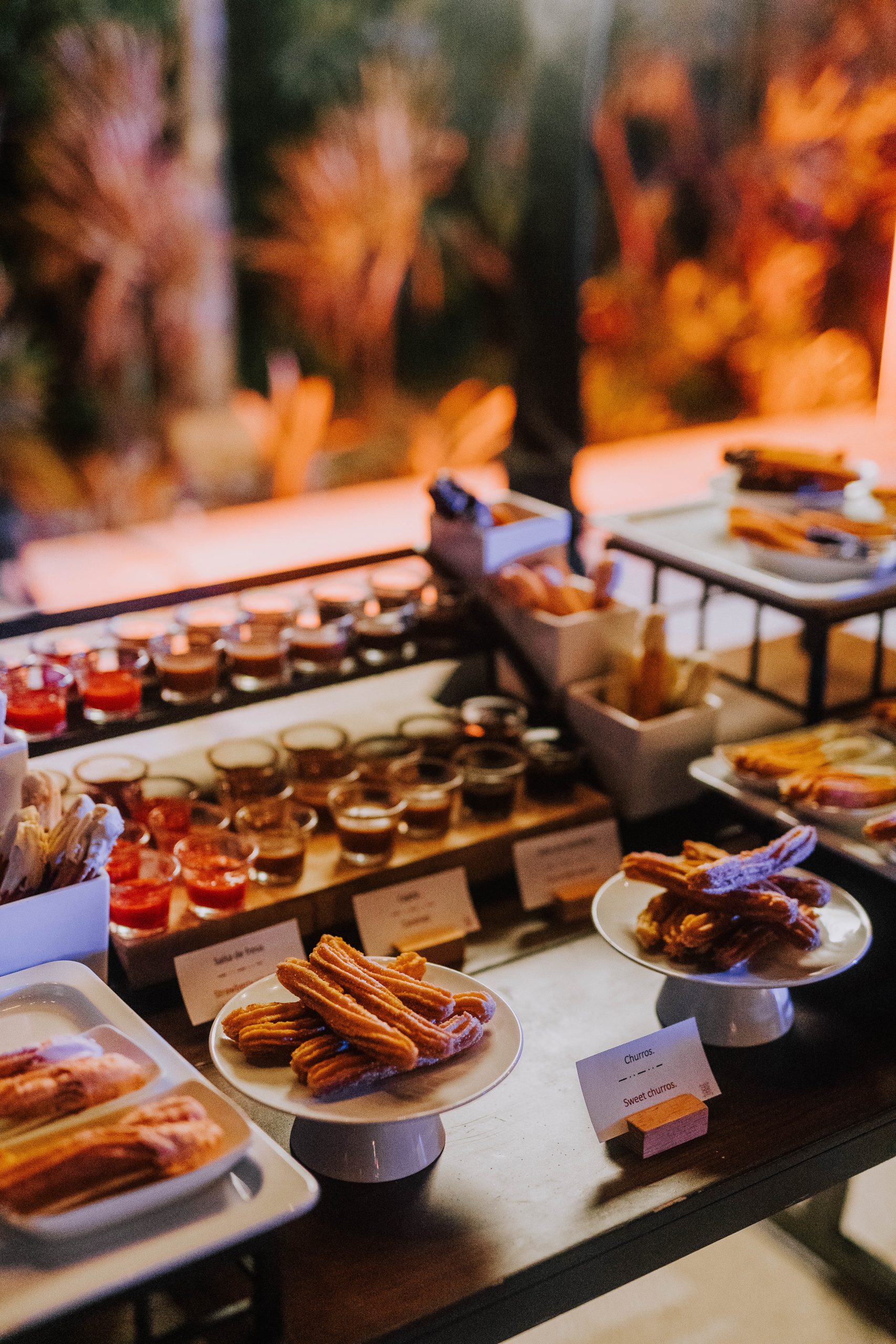 Seating Chart – We did a tequila shot seating chart – brought our own sign/frame, printed the name tags ourselves, and the resort staff poured the shots and set them out.
Decor – We had string lights + tin stars overhead, LED dance floor/DJ booth, light up giant letters (from Mills James). Some florals were moved from the ceremony to our head table. For centerpieces, we had Tulipania do 4 tall ones (for the 4 tables closest to the dance floor), and 6 smaller arrangements with floating candles/tropical greenery. We brought our own table numbers. 
Music – We made a spotify playlist with a number of must-play songs and he mostly played from/mixed off of that. In the questionnaire from the DJ, you'll specify all of your songs/timings for key songs (first dance, father daughter dance, etc).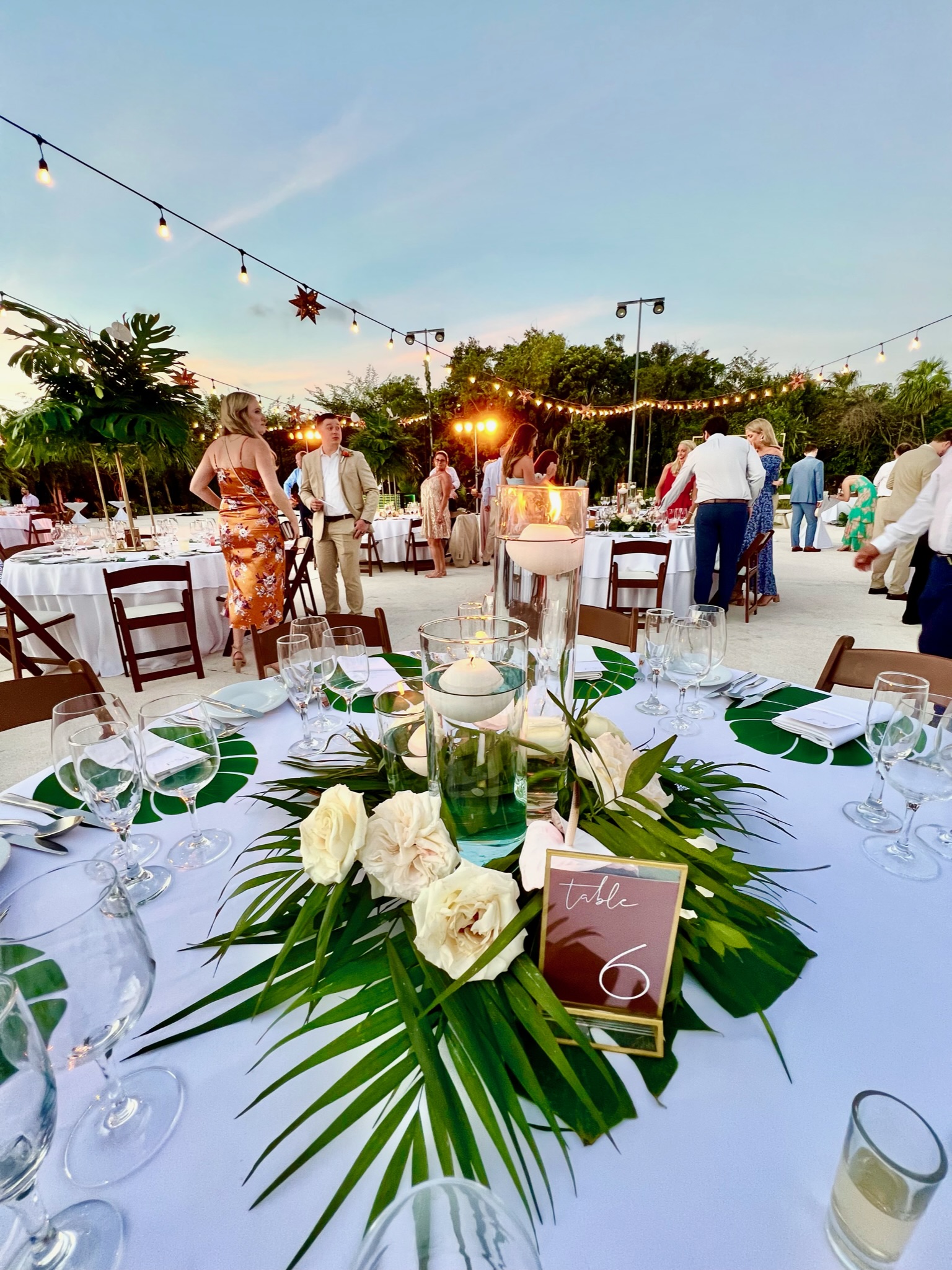 My advice for other brides:
Don't get caught up in tradition or what other people do – your wedding should be about your and your SO, so make sure it's true to you! We skipped a lot of traditional stuff (bouquet toss, garter, etc) and kept things simple, fun, and true to us.
Save money where you can – weddings are insanely expensive and there are lots of ways to save. Some of the things we did to reduce costs a bit:

We skipped save the dates entirely and just went right to sending invites with all of the info people needed to book/attend the wedding.
We didn't do favors, we did welcome bags instead.
We skipped the custom napkins, drink stirrers, etc – ultimately, people don't care, and the costs for custom anything add up quickly.
We didn't get matching PJs for bridesmaids – everyone got ready in whatever they were comfortable in, and I opted to get them matching sarongs that were a cute memento from the trip after the fact as well.
We bought a suite of stationary on Etsy and edited/printed it all ourselves.

If you can, type up a full run-of-show doc for the coordinators so they don't miss anything – I wrote up a super detailed doc (I'm talking 12 pages) of where everything should be, timeline, etc and it all went super smoothly.
Give your guests info before the wedding – I made a packet of info with everything from dress code to event locations to spa info so that I wouldn't be fielding questions from guests leading up to the wedding – pretty sure it saved my sanity!
Delegate where you can – remember you have a wedding coordinator/vendors/family/friends to lean on and you don't need to do every detail alone!
Try to stay present and really enjoy the day. My makeup artist, Autumn, gave me the advice to periodically ask for the time and ground myself in that moment, acknowledging what's happening and what I'm feeling to really stay present all day. This ended up being great advice and helped me fully enjoy the best day ever!