You'll know how much I love a healthier pizza, so much so that I have a bunch of recipes already on my website. From my sweet and spicy pepperoni pizza to my buffalo chicken and barbecue chicken versions, we are a household that really likes our pizza so I'm always experimenting with new flavor combinations. This healthy Reuben pizza tastes like if you took a Reuben sandwich and a pizza and combined them, and it is so stinkin' good.
Reubens are one of my favorite sandwiches. I love the combination of salty meat with creamy thousand island dressing, cheese, and the tartness and tang of the sauerkraut. This pizza takes all of those flavors and puts them on a healthier pizza base that's easy to make, higher in protein, and WW friendly. It's perfect to make for a Friday dinner in (and the leftovers reheat well and are tasty cold)!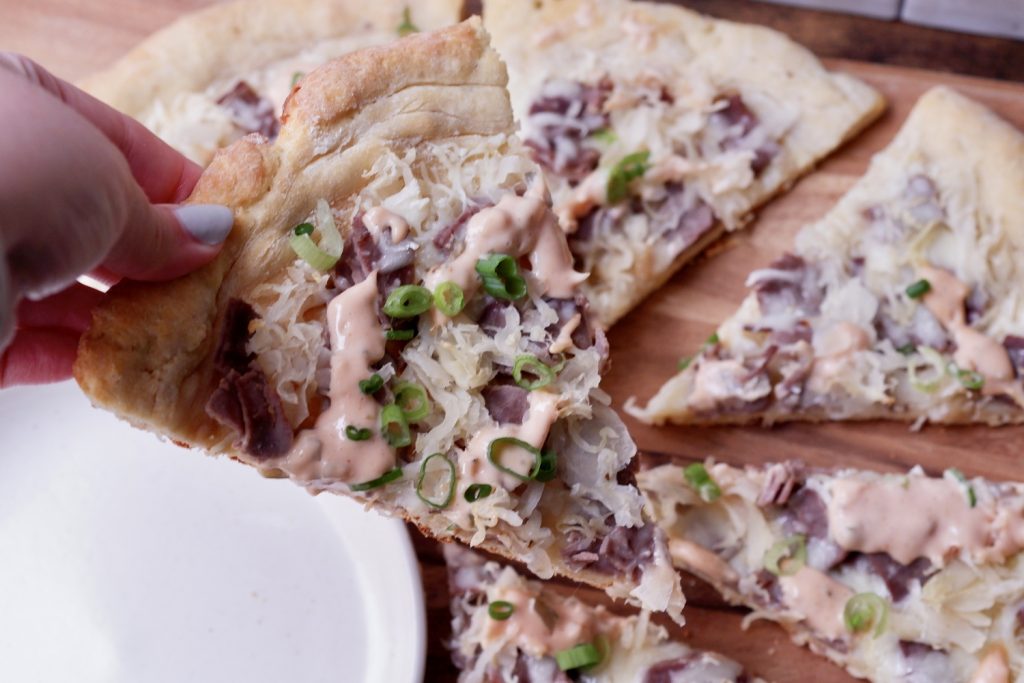 Making Reuben pizza
To make this pizza, you'll first make your dough and par bake, or partially bake it. Then you'll remove it from the oven just before it's done, add your toppings, and bake until the cheese has fully melted and the crust is a nice golden brown. While it bakes, you mix up your dressing so that when it comes out, you can top it with dressing and enjoy it immediately!
To make the base, you'll need:
2 cups Flour
1 cup Greek yogurt, nonfat
1.5 tsp Baking powder
1 tsp Salt
2 Eggs
1 Tsp garlic powder
1 Tsp onion powder
Combine flour, baking powder, salt, garlic powder, and onion powder in a bowl. In a small bowl, mix together eggs and yogurt and stir well. Next, add eggs and greek yogurt and mix together until you have a solid dough. I use a mixer with a dough hook attachment to mix the dough, but you can use a wooden spoon and do it by hand as well.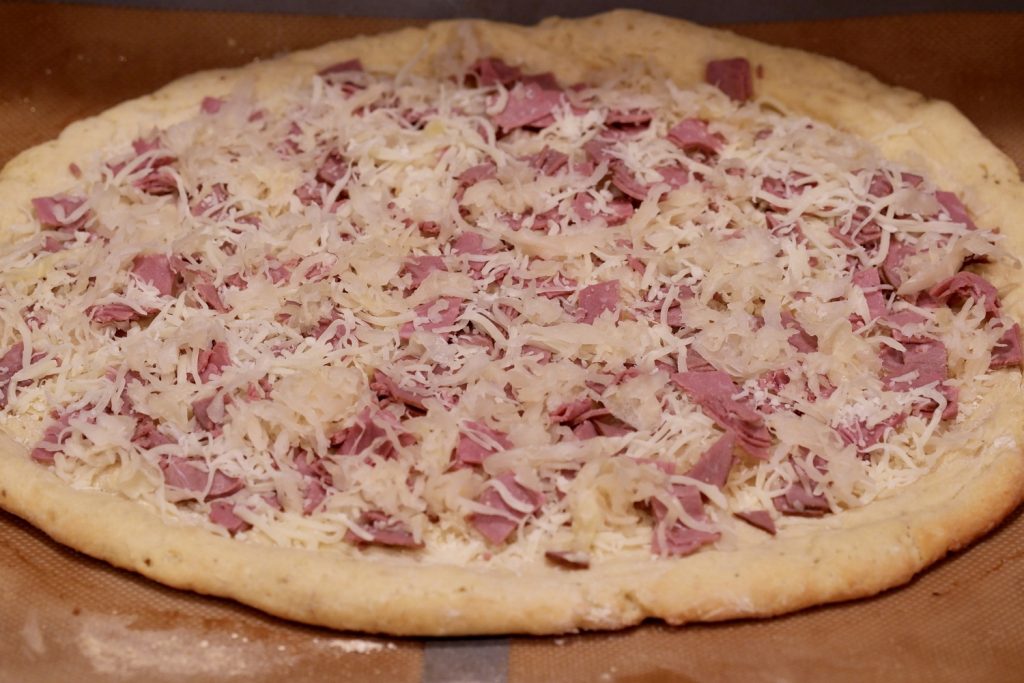 Once your dough is formed, keep some flour handy to flour the outside of it to make it easier to work with. Prepare a baking sheet by either using a silicone baking sheet, parchment paper, or spraying well with cooking spray. Flour a surface well and roll your dough out with a rolling pin most of the way. Transfer to baking sheet and finish stretching the dough out until it's roughly the size of your baking sheet, leaving yourself a thicker outer layer to be the crust. Spray with cooking spray and bake for 18-20 minutes, until just lightly turning golden.
Topping the pizza
Now the fun part! Once your crust is par-baked, it's time to top. I layered these to ensure every bite had meat, cheese, and sauerkraut.
The toppings were:
1.5 cups fat free mozzarella
3/4 cup sauerkraut drained
1/4 lb chopped deli roast beef or pastrami  
Layer 1/2 the cheese on the base of the pizza, avoiding the crust. Then add half of the meat and sauerkraut. Repeat with the remaining half of all toppings and bake for another 7-9 minutes, until cheese is melted.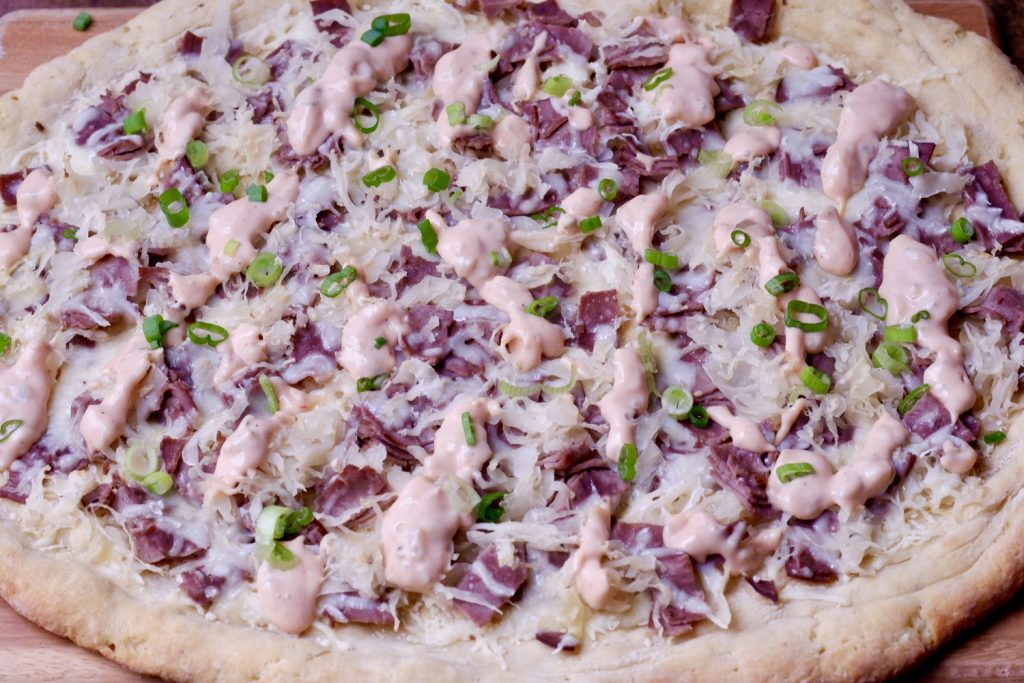 Healthier Thousand Island Dressing
The star topping of this Reuben Pizza? My Healthier Thousand Island Dressing. Creamy, tangy, and delicious, but made with better-for-you ingredients to keep it all WW friendly. To make it, you'll need:
1/4 cup light mayo
1 tbsp ketchup, I use no sugar added
1 tbsp dill pickle relish
1 tsp spicy brown mustard
salt/pepper to taste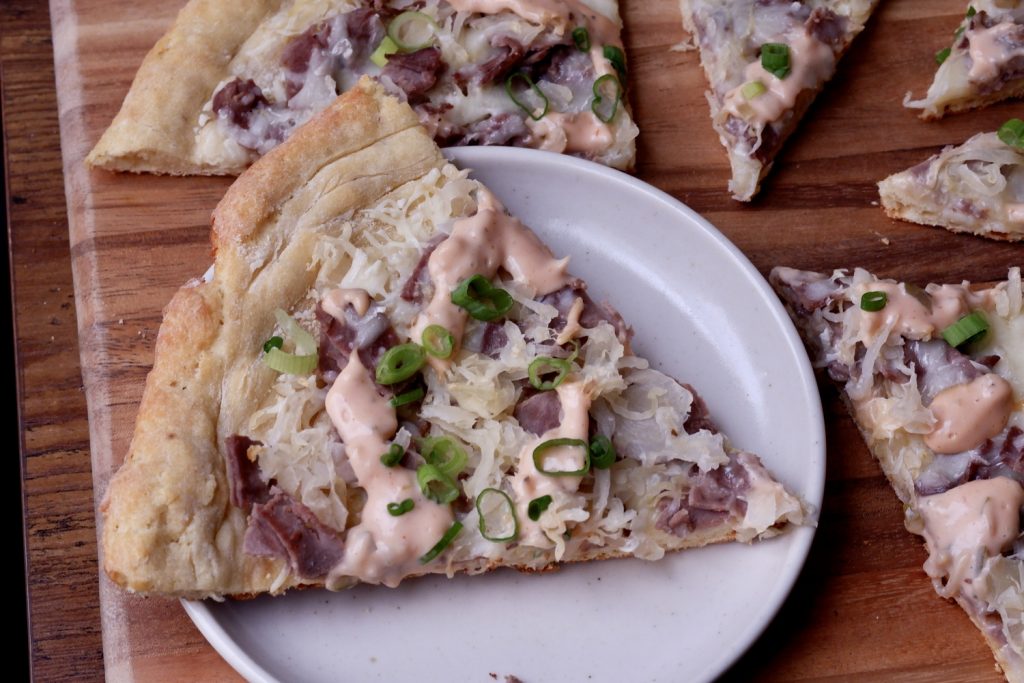 Mix it all up in a bowl, taste and adjust your seasonings as desired. Once your pizza is out of the oven, let cool slightly and then dollop some of the dressing all over and enjoy immediately!
Store dressing separately in the fridge (airtight container for up to 4 days) and top your individual pizza slices as you reheat them.
Healthy Reuben Pizza
All of the flavors of a classic Reuben Sandwich, in (healthier) pizza form!
Equipment
Mixing Bowl

Stand Mixer with dough hook (optional)

9×13 Baking Sheet
Ingredients
Crust:
2

cups

Flour

1

cup

Greek yogurt nonfat

1.5

tsp

Baking powder

1

tsp

Salt

2

Eggs

1

tsp

Garlic powder

1

tsp

Onion Powder
Toppings:
1.5

cups

fat free mozzarella cheese

3/4

cup

sauerkraut

drained

1/4

lb

sliced roast beef

lean, chopped
Healthier Thousand Island Dressing:
1/4

cup

light mayo

1

tbsp

ketchup

no sugar added

1

tbsp

dill pickle relish

1

tsp

spicy brown mustard

salt/pepper

to taste
Instructions
Crust:
Combine flour, baking powder, garlic powder, onion powder, and salt in a bowl. Stir together. Add greek yogurt and egg, and either by hand or using a stand mixer with a dough hook attachment, mix until your dough is uniform. Flour the outside of the dough, as well as your surface and rolling pin, as the dough will be sticky.

Line 9×13 baking sheet with parchment paper, silicone baking mats, or spray VERY well with cooking spray. Using a rolling pin, roll your dough out until it mostly fills the size of the baking sheet. Carefully transfer dough to baking sheet, and continue to roll/spread it until it roughly fills out the sheet. It's ok if it's not perfect!

Spray with cooking spray and bake for ~18 minutes, until just lightly turning golden.
Toppings
Spread 1/2 cup of cheese over crust. Add 1/2 of sauerkraut and 1/2 of roast beef over cheese, leaving crust exposed. Layer on another 1/2 cup of the cheese, then the rest of roast beef, and sauerkraut. Top with remaining 1/2 cup of cheese. Bake 8-10 minutes, until cheese is fully melted.
Dressing
Combine all ingredients for Healthier Thousand Island in a bowl and mix well. Taste and adjust seasonings as desired. Once pizza is removed from oven, let cool slightly and dollop dressing all over the pizza. Cut into 10 slices an enjoy!

Store any leftovers in an airtight container in the fridge (store dressing separately). Reheat in the oven or air fry at 370 for 5 minutes to crisp up.
Nutrition
Calories:
174
kcal
Carbohydrates:
23
g
Protein:
14
g
Fat:
3
g
Saturated Fat:
1
g
Polyunsaturated Fat:
1
g
Monounsaturated Fat:
1
g
Trans Fat:
0.01
g
Cholesterol:
44
mg
Sodium:
765
mg
Potassium:
149
mg
Fiber:
1
g
Sugar:
2
g
Vitamin A:
146
IU
Vitamin C:
7
mg
Calcium:
266
mg
Iron:
2
mg
Tried this recipe?
Add your thoughts below in the comments or post on social media and tag @foodbythegram!