Know what I can literally always go for? Pizza. Know what you probably shouldn't eat 4x a week? Pizza. The age old conundrum – wanting pizza but wanting to eat healthier, we've all been there. As much as we all want that delicious cheesy, saucy, doughy goodness, we also don't want to undo the rest of our healthy eating with all of the fat and carbs that come with a typical slice. Well get ready to have your mind blown – you can have your 'za and eat it too with this healthier Stromboli!
This stromboli packs big pizza flavor into smaller bites, perfect for sharing or serving at your next gathering. Serve with some marinara for a truly indulgent meal, but better-for-you!
Two ingredient dough will change your life
A bold statement, but it's true. I have pretty much replaced everything with this dough.
It makes amazing bagels, biscuits, and even desserts.
Don't believe me? Check out some of my other recipes featuring the magical combination of nonfat Greek yogurt and self-rising flour:
For this recipe, I gave the dough a savory twist by adding a bit of garlic powder and a few spices into the dough itself, and then I filled it with pizza toppings and dipped it in tomato sauce. I did this for 2 main reasons:
Putting the sauce into the Stromboli before dating makes the dough soggy when it bakes
Portion control – when you cut it up into smaller pieces that you dip, you eat a little slower
Making the Healthier Stromboli
While the swirl of a Stromboli may seem daunting, it's really quite easy to make this. It's a great activity to do with kiddos too, because it's as fun to make as it is to eat!
First, combine your dough ingredients, and once dough is fully formed, roll it out to roughly 1/4 inch thick on a floured surface. I like to cut mine into a rectangle for even edges.
The key here is to use a lot of flour, so that it doesn't stick. Since this dough is made with Greek Yogurt, it does get wetter the more you work with it, which is where the extra flour comes in.
Once you have your dough rolled out, sprinkle on the mozzarella (I use part skim) and parmesan. You can also add in any herbs/spices – basil, garlic, oregano are all great in here. Then, line up your topping (I went with pepperoni) over top of the cheese.
Make sure to leave roughly half an inch on every side so that your toppings have room to spread as they bake and to minimize oozing.
Starting at the edge closest to you, carefully roll the Stromboli away from yourself, keeping it as tight as possible.
Once fully rolled up, brush with mixture of egg, garlic, dried basil, garlic, and oregano. The egg wash helps this Stromboli get nicely golden brown when it bakes and seals the whole thing together.
Bake the Stromboli at 400 degrees for 20-25 minutes, until golden.
Let it cool slightly before slicing and serving. Serve it with your favorite tomato sauce (or whatever other sauce floats your boat).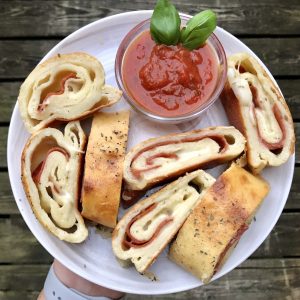 Healthier Stromboli
This stromboli packs big pizza flavor in a much lighter package. Makes 4 servings at 5 SP each if followed as below. Does not include sauce. Entire Stromboli is 19 SP.
Equipment
Mixing Bowls

Baking Sheet

Oven
Ingredients
1

cup

nonfat Greek yogurt

1

cup

self rising flour

or 1 cup all purpose flour + 1 1/2 tsp baking powder

1/2

cup

light shredded mozzarella

25

turkey pepperoni

2

tbsp

grated parmesan cheese

Dried basil

garlic, oregano

1

egg

beaten
Instructions
Combine greek yogurt and self rising flour and using a dough hook or your hands, work it together until you have a uniform dough

Generously flour your surface, turn your dough out onto the floured surface, and roll it to roughly 1/2 inch thickness (you want a rectangular shape)

Top with shredded mozzarella and parmesan, and sprinkle with a little basil, oregano, garlic powder (leave 1/2 inch on every side for ingredients to spread during baking)

Layer pepperoni over the cheese so that they're not overlapping

Roll Stromboli away from yourself, keeping it as tight as possible. Place seam side down into baking sheet

Beat egg and brush over top of Stromboli, then sprinkle with basil, oregano, and garlic powder

Bake for 20-25 minutes, until golden brown

Let cool for a few minutes before slicing. Serve with tomato sauce of choice for dipping and enjoy!
Nutrition
Calories:
247
kcal
Carbohydrates:
31
g
Protein:
17
g
Fat:
6
g
Saturated Fat:
3
g
Cholesterol:
68
mg
Sodium:
363
mg
Potassium:
159
mg
Fiber:
1
g
Sugar:
7
g
Vitamin A:
149
IU
Calcium:
152
mg
Iron:
1
mg
Tried this recipe?
Add your thoughts below in the comments or post on social media and tag @foodbythegram!