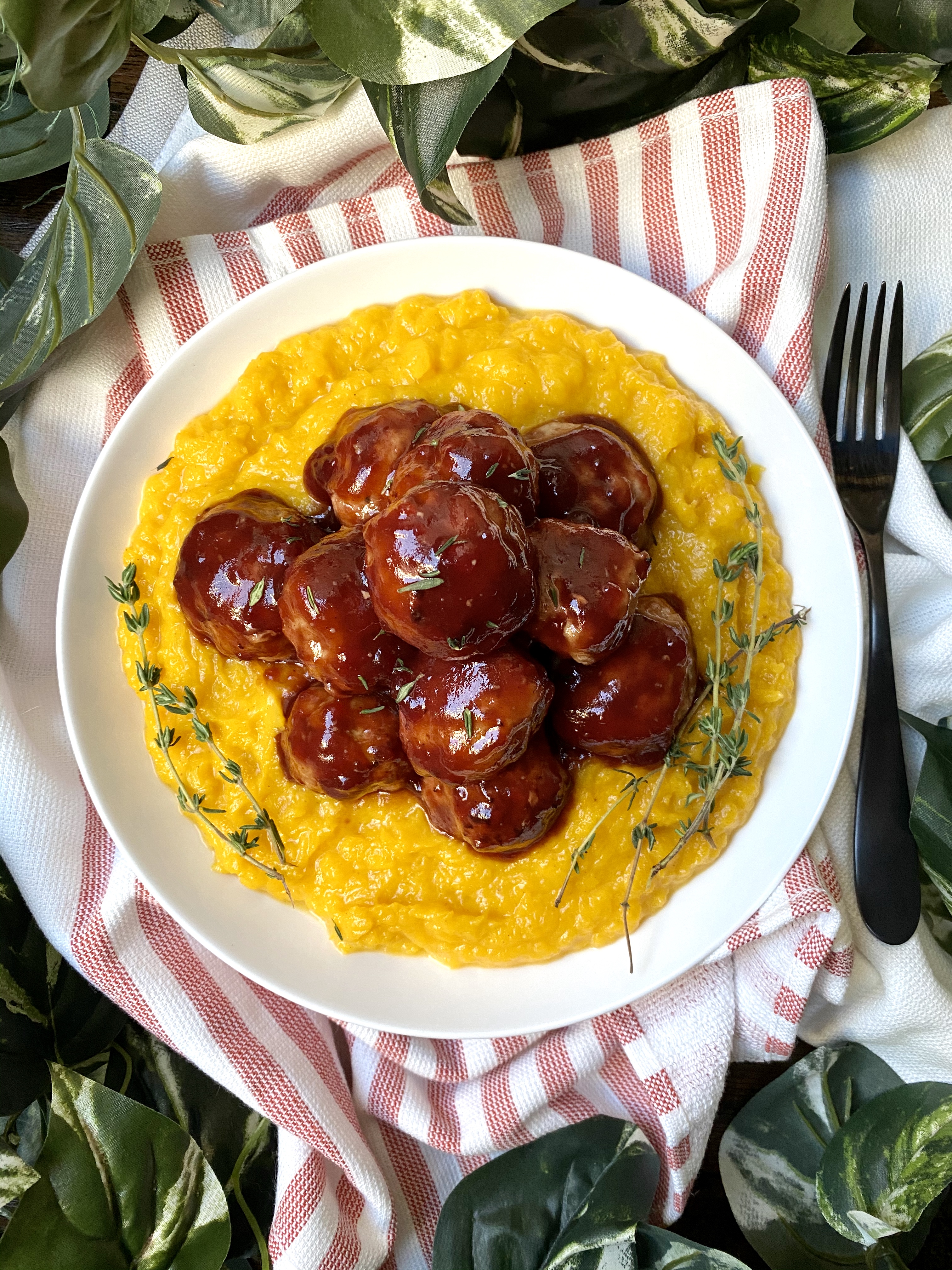 Thanksgiving time is upon us, and I don't know about you, but Thanksgiving is my SuperBowl. First off, I love any excuse for a family get together. My family is on the smaller side, so we're super close, and every time we get together it's a blast. Second, Fall is my favorite season, and the Fall vibes are STRONG at Thanksgiving dinner. Give me all the pumpkins and leaves and rustic greens on the table – I love that stuff. Third, and most obviously – it's got the best food. Controversial opinion? Maybe. But Thanksgiving food is the BEST food. It's got such a good variety of comfort food items, and it's totally acceptable to eat a huge meal, unbutton your pants and take a nap, and then do it all again. Also, Thanksgiving leftovers rock.
However, I know that Turkey with sauce and stuffing isn't everyone's jam! So I'm here to give you something different- turkey meatballs.
My dad hates turkey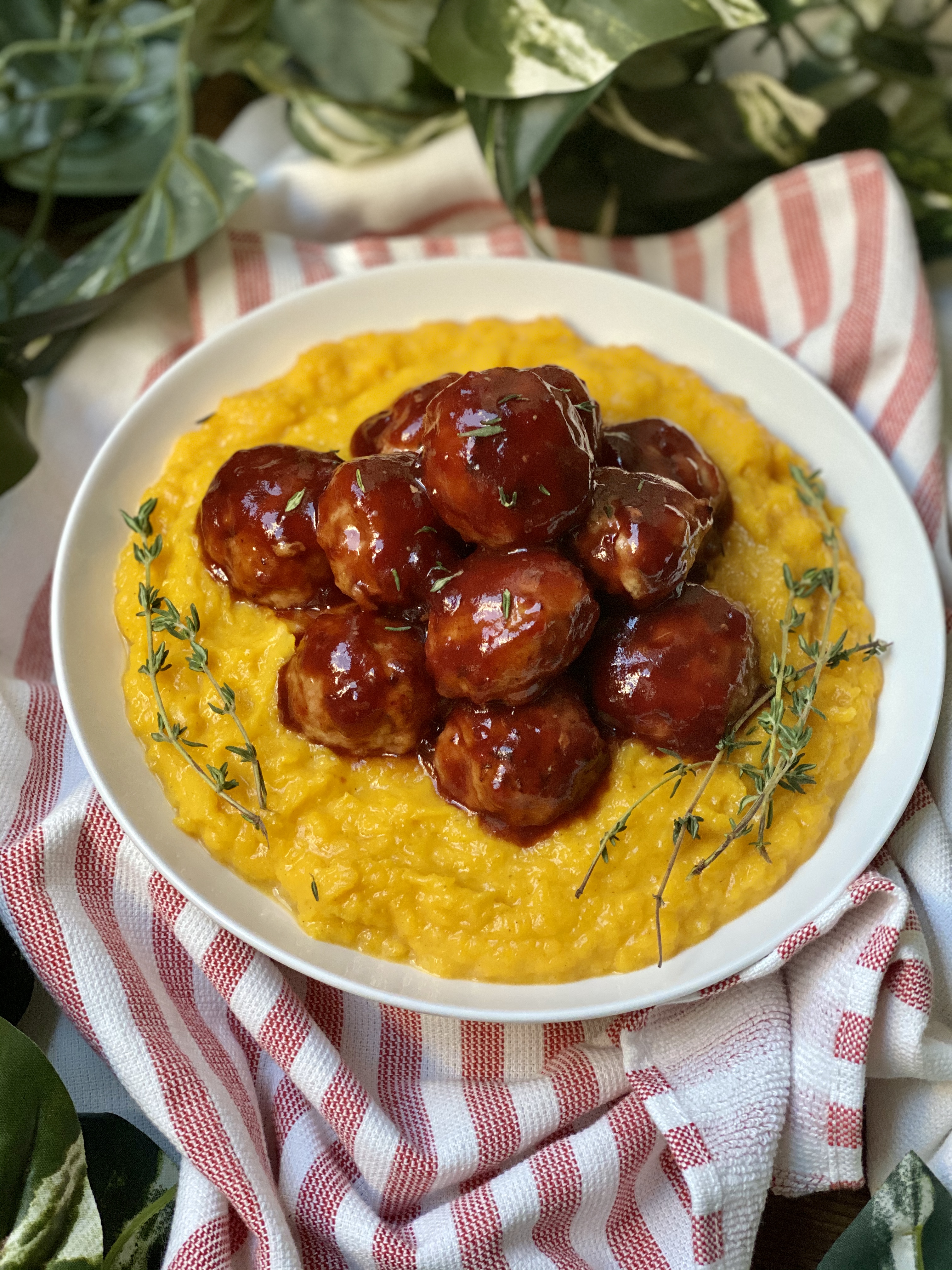 Yeah, I know – it's messed up. But the man knows what he likes, and roast turkey is not on the list. So, every year at Thanksgiving, we have some sort of "alternate meat option." Sometimes it's ribs. Sometimes it's pot roast. However, this year, it just might be these meatballs. They are easily one of the most delicious things I've made with turkey in any form, so even the most discerning palate will like them.
The details of this dish are as follows:
Super juicy turkey meatballs, spiced with lots of garlic and fresh thyme, cooked in the air fryer
A sweet, smoky cranberry glaze that you'll want to put on everything
A creamy, lightly sweet, harvest-spiced butternut squash mash
All together, it tastes like the Fall season in a bite, has the general flavors of Thanksgiving, but it something totally different. Holiday or not, give this recipe a try – it's landed a spot in our monthly meal prep rotation. It comes together quickly, keeps well in the fridge, and you're sure to enjoy it time and time again.
Putting it all together
Order of operations is critical for whipping this together super quickly. By doing a few things simultaneously, you'll end up with a piping hot, beautifully plated finished product in 30 minutes. This is a great meal to make for when you have company over too, because it's super easy to make in bulk and seems way fancier than it is.
First things first, cut up your butternut squash. Peel it, cube it. Note: butternut squash leaves a weird residue on your hands. Don't panic- a little dish soap and a good scrub gets it off. If you find pre-cut/cubed at the grocery store, I think it's worth it. Toss the squash into a large pot of salted boiling water and let it boil for 5-7 min, until the squash is fork tender.
While its' boiling, mix up your turkey mixture and form into meatballs. If you're air frying them, be sure to spray the basket/tray as well as the top of the meatballs. Let them air fry @ 375 for 15 min, turning them after 10 minutes.
Next, drain the squash, put the lid on so it stays warm, and set aside.
In a medium saucepan, mix together cranberry sauce, Worcestershire sauce, and chipotle hot sauce (or regular tabasco is you want less smoky but still want a little kick). Stir over medium heat until you have a nice, thick, uniform glaze. At this point, your meatballs should be done, so check the internal temp (you're shooting for 165F), and then toss them into the saucepan with the glaze.
Back to the squash. Make sure you've drained all the water. Then, add sour cream, pumpkin spice, and maple syrup. Using a potato masher, mash it all up until you have a smooth texture.
Now – you plate. Put a big spoonful of butternut squash mash down, top with meatballs, a little extra glaze, and a sprig of fresh thyme because you're fancy like that.
Other recipes to try
If turkey reeeeeally isn't your jam, try some of my other recipes: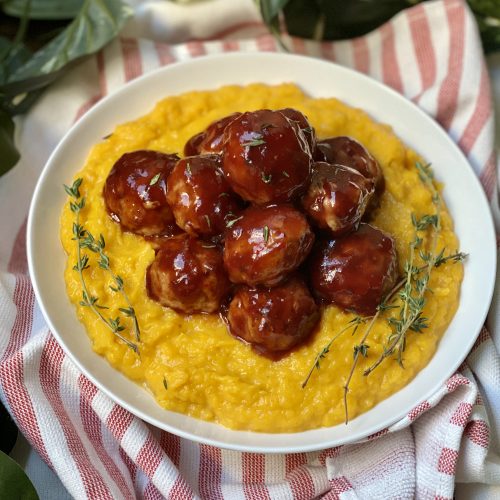 Smoky Cranberry Glazed Meatballs Over Butternut Squash Mash
Big Thanksgiving flavor in a compact package – these meatballs are an awesome alternative to turkey with cranberry sauce.
Equipment
Mixing Bowls

Large pot

Colander

Air Fryer

Small Saucepan
Ingredients
Meatballs:
1

lb

lean ground turkey

3

sprigs fresh thyme taken off the stems

1/4

tsp

rosemary

1/2

tsp

salt and pepper

1

tbsp

garlic

2 cloves, pressed

1/4

cup

jellied

or whole cranberry sauce

1

egg

1/4

cup

bread crumbs
Cranberry Glaze:
Rest of can of cranberry sauce

jellied or whole cranberry sauce

1

tbsp

Worcestershire sauce

1

tsp

hot sauce

I use Cholula chipotle hot sauce
Butternut Squash Mash:
1

butternut squash

peeled and cubed

1/4

cup

sour cream

or nonfat Greek yogurt

1/2

tsp

pumpkin spice

3

tbsp

maple syrup
Instructions
Peel and cube butternut squash. In a large pot, boil enough salted water to cover your squash. Drop the cubed squash in and let boil for 5-7 minutes, until squash is soft and can be easily squished with a fork. Drain and set aside, lid on to keep warm.

If your air fryer needs to preheat (I use a GoWise that doesn't), preheat to 375F. Combine ground turkey with egg, breadcrumbs, cranberry sauce, garlic, rosemary, thyme, salt, pepper. Spray air fryer tray/basket, wet your hands, and form into 1.5 inch diameter meatballs, placing them about a half inch apart. Spray the tops of the meatballs and air-fry at 375F for 15 minutes, flipping the meatballs after 10 minutes.

While meatballs are cooking, in a medium saucepan, combine cranberry sauce, Worcestershire sauce, and hot sauce. Stir together over medium heat until you have a uniform glaze (about 5 min).

Once meatballs are cooked to internal temp of 165F, toss them in the glaze.

Add maple syrup, pumpkin spice, and sour cream to squash and use a potato masher to create a uniform puree.

To plate, put a heaping spoonful of squash mash on the plate, top with meatballs and a spoonful of extra glaze, and a sprig of fresh thyme. Enjoy! Store leftovers in the fridge in an airtight container.
Nutrition
Calories:
356
kcal
Carbohydrates:
46
g
Protein:
31
g
Fat:
7
g
Saturated Fat:
3
g
Cholesterol:
111
mg
Sodium:
508
mg
Potassium:
1111
mg
Fiber:
4
g
Sugar:
21
g
Vitamin A:
20109
IU
Vitamin C:
42
mg
Calcium:
152
mg
Iron:
3
mg
Tried this recipe?
Add your thoughts below in the comments or post on social media and tag @foodbythegram!