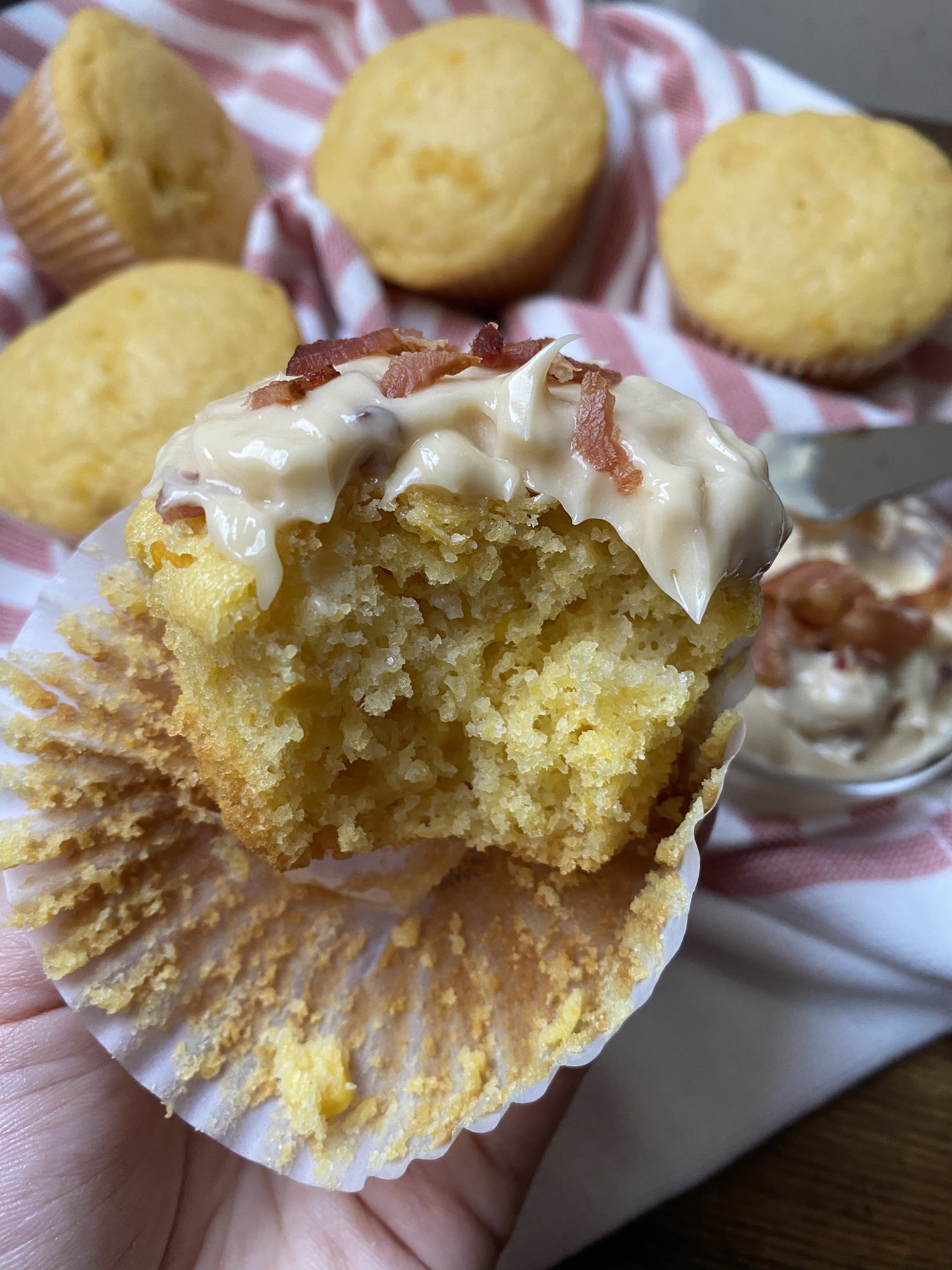 One of my favorite baked goods is the corn muffin. I know, it's an odd flex, but I have a soft spot for them. My mom used to get a 4 pack of the big ones from the grocery store, and we'd heat them up and eat them with butter for breakfast and I LOVED it. They're sweet, but have a savoriness to them, and lots of corn flavor which I adore. Every now and again, we'd make our own, but the box mix always left something to be desired.
So I started experimenting. What could I put in corn muffin mix to make it even better? After some trials and tribulations, I struck a balance between delicious and not requiring an entire stick of butter. I also add fresh corn, because I love the textural change and additional corn flavor (truuuust me).
In keeping with the sweet and savory combo, I thought – why not doctor up the butter too? Making flavored butter is super easy, and I found that with a few ingredients and a mixer, I could create the perfect sweet and savory butter for these corn muffins. Somewhere, those grocery store muffins are shaking.
Doctoring it up
The base of these muffins is still store-bought corn muffin mix, so they're super easy to make, I like to doctor mine up by adding canned corn, so you have whole corn pieces throughout (+moisture!), sour cream (or greek yogurt) to add to the texture, eggs to bind, oil and milk for moisture. This is different than the 'on the box' directions, which usually just call for some milk, butter, and maybe eggs. my version is a tad healthier too!
Maple Bacon Butter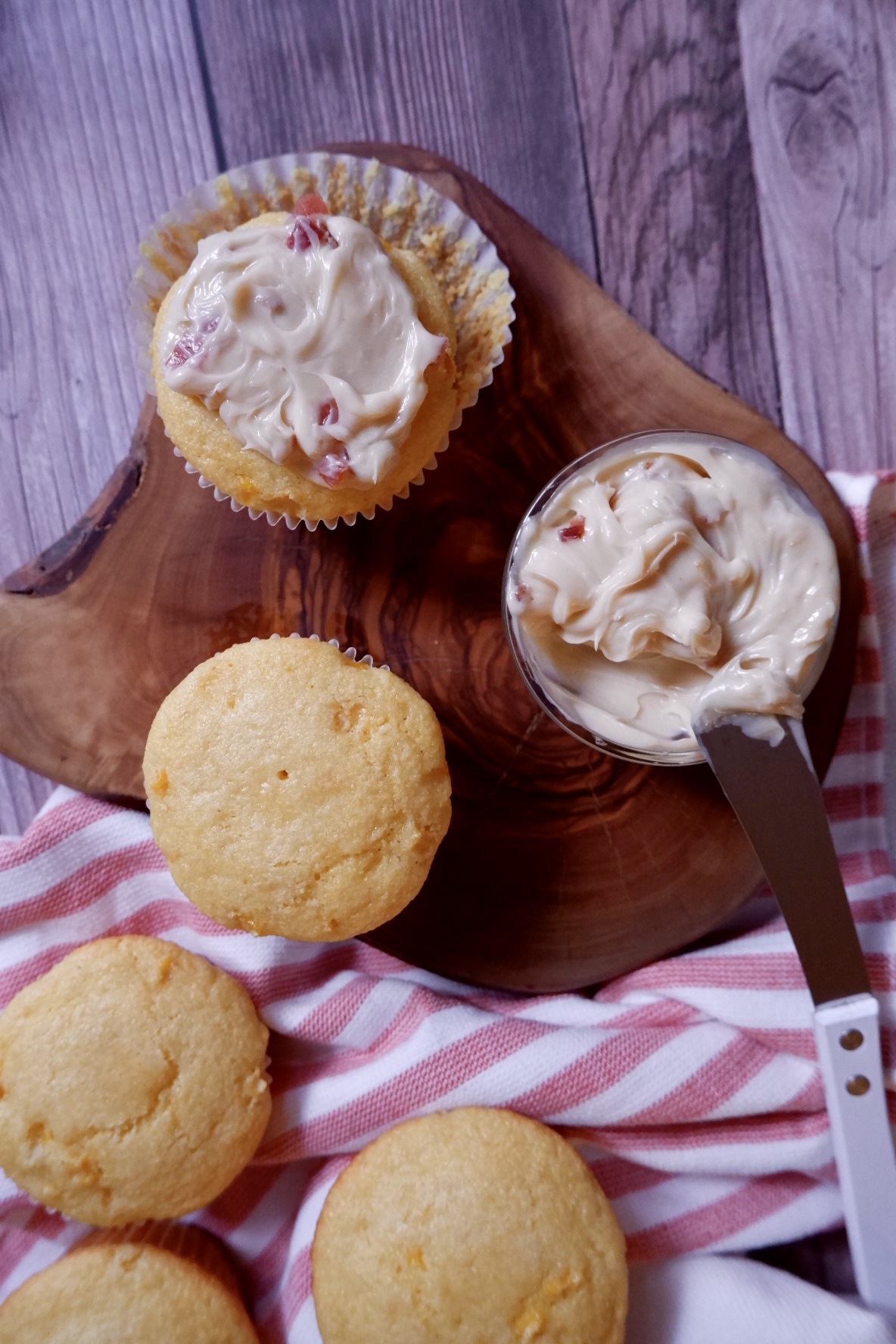 Three words you didn't know needed to go together until now. I love a good flavored butter. Cornbread is often served with honey butter, salted butter, or something of the like. But I wanted more. I wanted sweet, savory, salty, and rich all in one. Like a frosting for a corn cupcake – but better. So I got to experimenting.
Some trial, error, and splattered butter later – I had it. The perfect combination of flavors to create a sweet, salty butter that you'll want to eat with a spoon (but really, save some because it takes these corn muffins over the TOP!).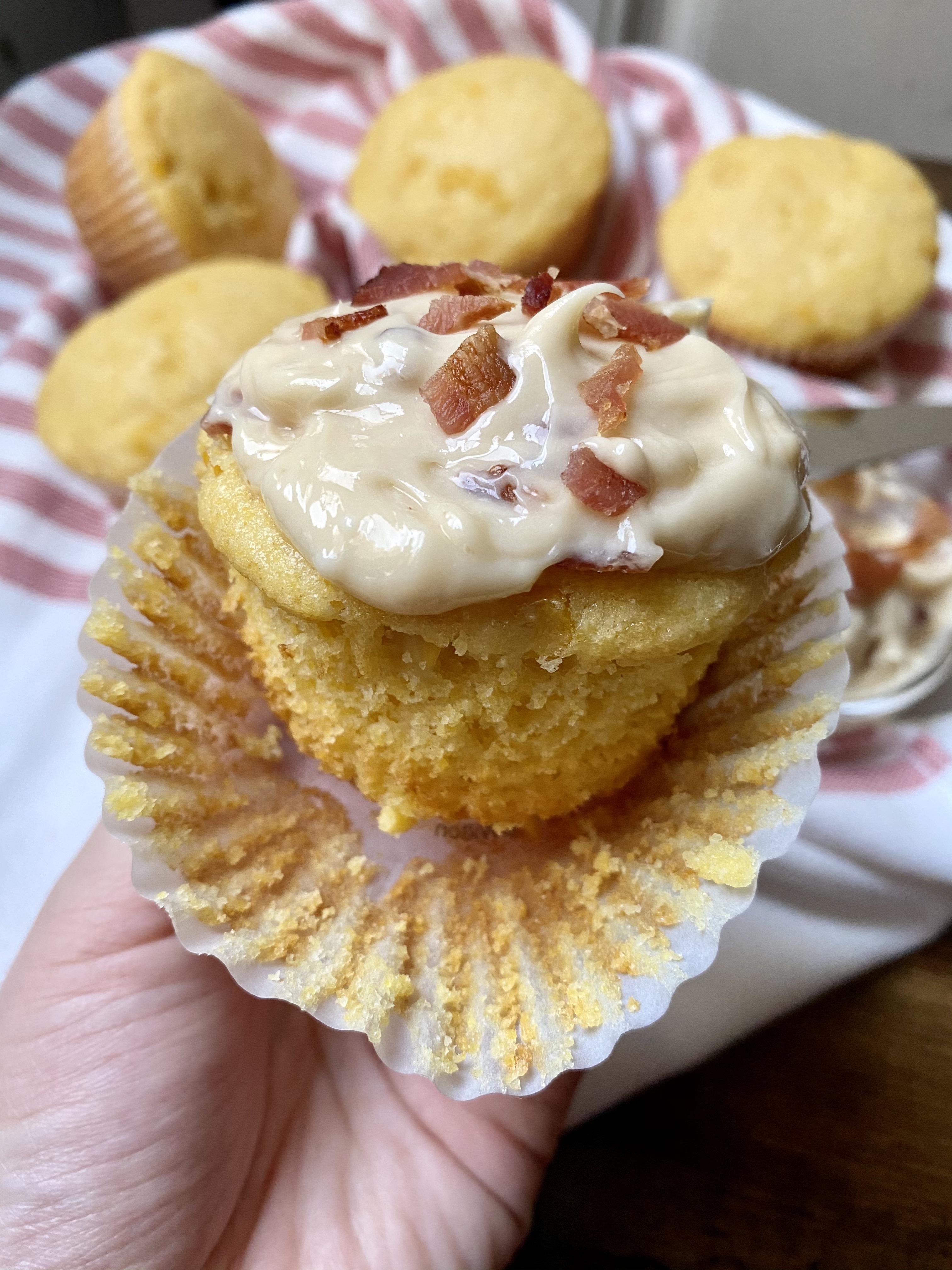 To make this butter, you want to start with good quality butter at room temp so it's soft. I used the whisk attachment for my KitchenAid mixer, but you could use a hand mixer to beat the butter together. First, beat the butter itself so it's creamy. Next, add maple syrup, maple extract, and salt, and combine. Now, you'll want to cook the bacon separately (I like to air fry it at 375 for 14 minutes for perfectly crisp bacon) and let it cool before finely chopping it and adding it to the butter. Just 1-2 strips should do it. Then, let you butter harden in the fridge (it's best eaten at room temp, so I like to pull it out of the fridge 30 min before I plan to eat it). Then, it's as easy as slathering it on a corn muffin and taking your tastebuds on a delicious, delicious journey.
Looking for more fall recipes?
Then you've come to the right place! Here are some of my other Fall faves: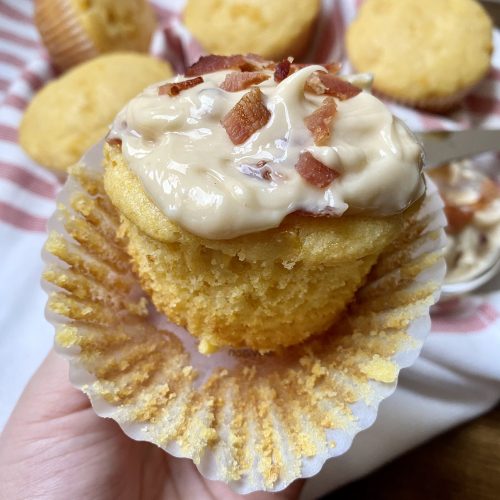 Corn Muffins with Maple Bacon Butter
These corn muffins are sweet, salty, and savory all in one. Bursting with real corn and topped with a maple bacon butter, they're sure to be a hit with anyone!
Equipment
Muffin Pan

Oven

Mixing Bowls
Ingredients
Corn Muffins:
15

oz

corn bread mix

2

eggs

3/4

cup

sour cream

1/4

cup

milk

1/4

cup

oil

1

can corn

drained
Maple Bacon Butter:
5

tbsp

butter

softened

1

tbsp

maple syrup

1/4

tsp

salt

1/4

tsp

maple extract

2

strips bacon

cooked and chopped finely
Instructions
Preheat oven to 350F

In a medium sized bowl, combine corn muffin mix, eggs, milk, sour cream, oil, and one can of corn. Stir to fully combine.

Pour batter (roughly 1/4 cup) into lined or sprayed muffin pan. Fill roughly 2/3 of the way.

Bake at 350 for 20-22 min, until lightly golden and a toothpick comes out clean. Let cool.

Cook bacon for your maple bacon butter. I like to cook it in my air fryer at 375 for 14-15 min until it's nice and crispy. Then drain the fat, let cool, and chop finely.

In a stand mixer or bowl, beat softened butter until creamy, then add salt, maple syrup, and maple extract. Beat to combine.

Add finely chopped, cooled bacon to the butter and fold in by hand. Allow butter to set in the fridge.

When you're ready to eat, let butter come to room temp for 15-20 minutes so it's nice and soft. I love to warm my corn muffins up in the microwave for 20 seconds before eating as well.

Store in an airtight container in the fridge for up to 5 days. Enjoy!
Nutrition
Calories:
255
kcal
Carbohydrates:
27
g
Protein:
5
g
Fat:
14
g
Saturated Fat:
4
g
Cholesterol:
39
mg
Sodium:
393
mg
Potassium:
97
mg
Fiber:
2
g
Sugar:
9
g
Vitamin A:
188
IU
Vitamin C:
1
mg
Calcium:
55
mg
Iron:
1
mg
Tried this recipe?
Add your thoughts below in the comments or post on social media and tag @foodbythegram!