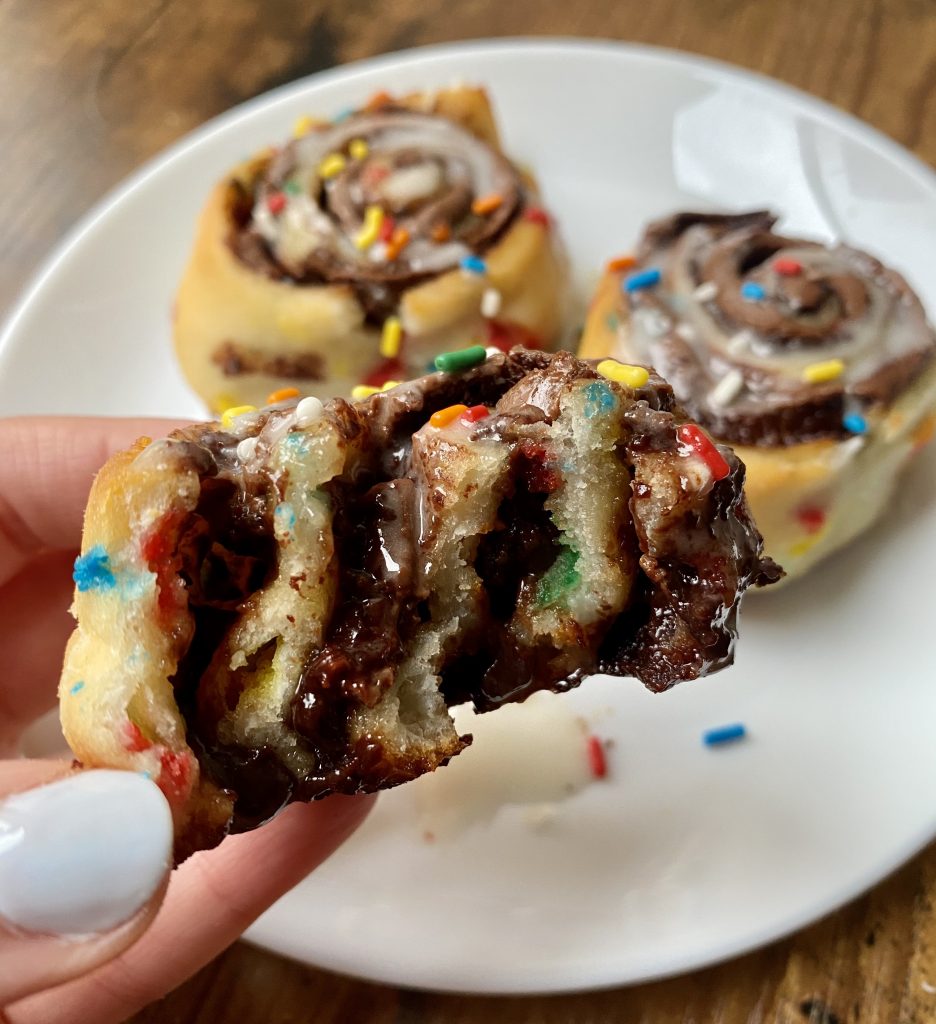 With the launch of the all new Foodbythegram.com (hi, you're on it, eek!), I felt like celebrating. And what better way to celebrate than with Healthier Funfetti Nutella Cinnamon Buns?! These are a riff on one of my most popular recipes, Healthier Funfetti Cinnamon Buns, but these have a decadent, chocolatey, gooey Nutella filling.
Healthier, Funfetti, and Nutella in the same sentence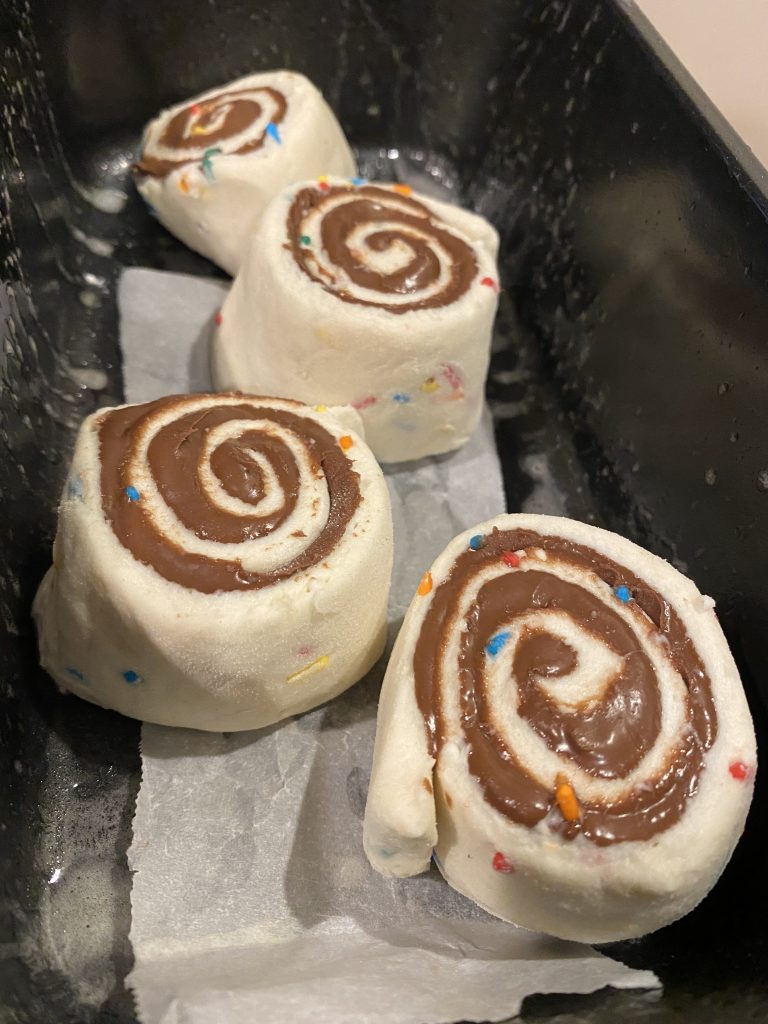 Yeah, it sounds nuts. However, if there's anything that following WW (formerly Weight Watchers) has taught me, it's that you really can have whatever you want in moderation. And, in this recipe, moderation is the move.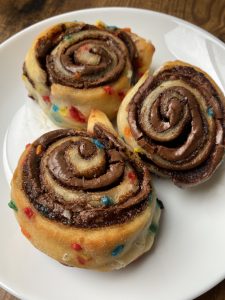 First, there's not a crazy amount of Nutella needed to make these flavorful and delicious. As it's not the most WW friendly, that's good news for keeping points at a minimum.
Second, we're skipping all of the butter that's typically required in a regular cinnamon bun recipe. The buns themselves are made with two-ingredient dough. If you're new here, nonfat Greek yogurt + self-rising flour = magic. I go into it more below.
Third, we're not sweetening the dough beyond the Nutella that's inside. Trust me, no need.
Lastly, we're making these cute little minis instead of giant cinnamon buns. This way, you can enjoy some sweetness while also controlling portion size. But hey, if you make these giant, nobody is going to judge you.
Two ingredient dough
I love two ingredient dough. Period. I first discovered it as a way to make bagels (check out this post if you're interested in making delicious bagels that are just 3 WW SP each).
I also use two ingredient dough in some of my most popular recipes, both savory and sweet:
The combination of nonfat Greek yogurt and self-rising flour is truly magical. If you don't have self-rising flour, you can always make your own too. Just combine 1 cup flour with 1 1/2 tsp baking powder and 1/2 tsp salt. Voila!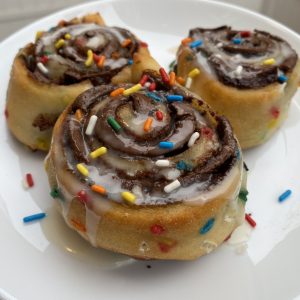 Healthier Funfetti Nutella Cinnamon Buns
Recipe yields 8 buns (9×5 loaf pan), which you can make smaller and arrange in an 8×8 pan as well. Sweet, decadent, but sneakily better-for-you!
Ingredients
1

cup

Nonfat Greek Yogurt

I prefer Fage

1

cup

self rising flour*

3

tbsp

Sprinkles

3-5

tbsp

Nutella

depending how much you like

1/2

cup

powdered sugar mixed with 1/2 tbsp milk for a basic confectioners glaze

optional, for topping
Instructions
Preheat oven to 365F

Combine yogurt, sprinkles, and self rising flour in a bowl and stir/knead until you have a uniform dough ball

Lightly flour a clean surface and roll your dough ball out to 1/4 inch thickness with a rolling pin

Cut the dough into a rectangle for smoother edges

Microwave Nutella for 20 seconds to make it easier to spread, and then spread on the dough, leaving about 1/4 inch on each side so it doesn't ooze out

Roll the dough tightly and (optional) pop into the fridge for 30 minutes to firm the dough up a bit before cutting

To cut, I recommend using unflavored dental floss and cutting from under the dough. You can also carefully cut with a knife, but you'll likely need to re-shape your buns a bit.

Arrange buns in a greased pan (9×5 loaf pan for a half batch, 8×8 pan or 8 inch skillet for a full batch of minis) so that they're touching

Bake for 17-20 minutes (keep an eye on them), until they're just golden brown

Allow to cool for 5 minutes while you prepare your toppings.

If using confectioners glaze, combine powdered sugar and milk (or you can use a creamer, heavy cream, dairy free milk, etc) until you have a runny glaze and drizzle it over the buns. Top with extra sprinkles and ENJOY!
Notes
*Don't have self rising flour? You can make your own by combining 1 cup of all purpose flour with 1 1/2 tsp baking powder and 1/2 tsp of salt.
Click here to add to WW app.
Nutrition
Calories:
162
kcal
Carbohydrates:
30
g
Protein:
5
g
Fat:
3
g
Saturated Fat:
2
g
Cholesterol:
1
mg
Sodium:
12
mg
Potassium:
70
mg
Fiber:
1
g
Sugar:
18
g
Vitamin A:
1
IU
Calcium:
10
mg
Iron:
1
mg
Tried this recipe?
Add your thoughts below in the comments or post on social media and tag @foodbythegram!