Two of my favorite things on this planet? Cinnamon buns and sprinkles. So, naturally, I had to come up with a way to have my cake (or in this case bun) and eat it to – so I got to work on creating a lighter version of a breakfast classic. Thus, these healthier funfetti cinnamon buns were born.
What makes them lighter?
These buns are made using two-ingredient dough, which I use all the time. It makes for amazing bagels, biscuits, and more – you really can enjoy indulgent carbs with waaaay less guilt, since one of the two ingredients is trusty nonfat Greek Yogurt.
Why so trusty, you ask? Because I literally use Greek yogurt in everything at this point – it's perfect for lightening up dishes while adding moisture, flavor, and protein.
Some of my Greek Yogurt greatest hits are:
And the list goes on. Long story short – I love the stuff. I keep a big tub of it in my fridge always. It's also 0 SP on WW blue/purple plans, so it's a perfect snack that you can dress up however you want! I love a good yogurt parfait, layered with berries, jam, granola, or honey!
Making 2 Ingredient Dough
The two magical ingredients for this super versatile dough: nonfat Greek Yogurt + self-rising flour (and some sprinkles in this case). In this recipe, I don't add any sugar to the dough itself, just the toppings, so it ends up having much less sugar while still being sweet. The filling + glaze make this plenty sweet, promise.
The dough itself can be sticky and tough to work with, so I recommend using a stand mixer with a dough hook to get a smooth dough. You can totally do it by hand too, just prepare for it to take a bit longer for the dough to be fully incorporated. I also work this dough on a floured surface as well to make sure it doesn't stick to my hands, rolling pin, etc.
Making the funfetti cinnamon buns
Once you've combined the flour, sprinkles, and yogurt and created a uniform dough ball, turn it out onto a lightly floured surface and use a floured rolling pin to roll the dough out to about 1/4 inch thickness. I like to cut it into a rectangle for smoother edges as well.
Once you have your dough rolled out, spread melted butter all over it, up to the edges. Then, sprinkle with cinnamon sugar mixture until the surface is all covered.
Starting at the long edge, carefully roll your dough, keeping it super tight so you have a nice spiral when you go to cut them.
If you want to make life easier, pop the dough log into the fridge for 30 minutes before you start cutting. This just makes the dough a bit firmer and easier to cut, but is totally optional.
When it comes time to cut these, the best thing to use is actually unflavored dental floss, scooping it under the dough log and pulling it together to cut even spirals. When you cut downward with a knife, you tend to flatten your dough. If you use a knife, just be sure to fluff your rolls back up into circular shapes before putting them in the pan.
Arrange your buns in your pan of choice – I made a half batch aka. buns for one, so I made them in a mini skillet and halved the recipe below! I also made my buns mini size, so each one clocked in at around 2-3 points, glaze and all.
Toppings!
Once your buns are out of the oven, let them cool for a few minutes and then top them with whatever your heart desires! Drizzle some Nutella (heat it in the microwave for about 20 sec to make it runnier), or go for a basic glaze (powdered sugar + liquid), and some extra sprinkles for good measure. I used Nutpods new Toasted Marshmallow flavor of creamer for this glaze, and it tasted AMAZING! Bonus points for being dairy free, whole-30 approved, and great for just about any diet (WW included). If you've never tried Nutpods, you can get 15% off using code FOODBYTHEGRAM on their website (affiliate link here).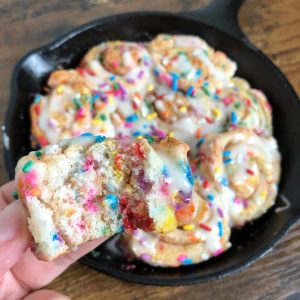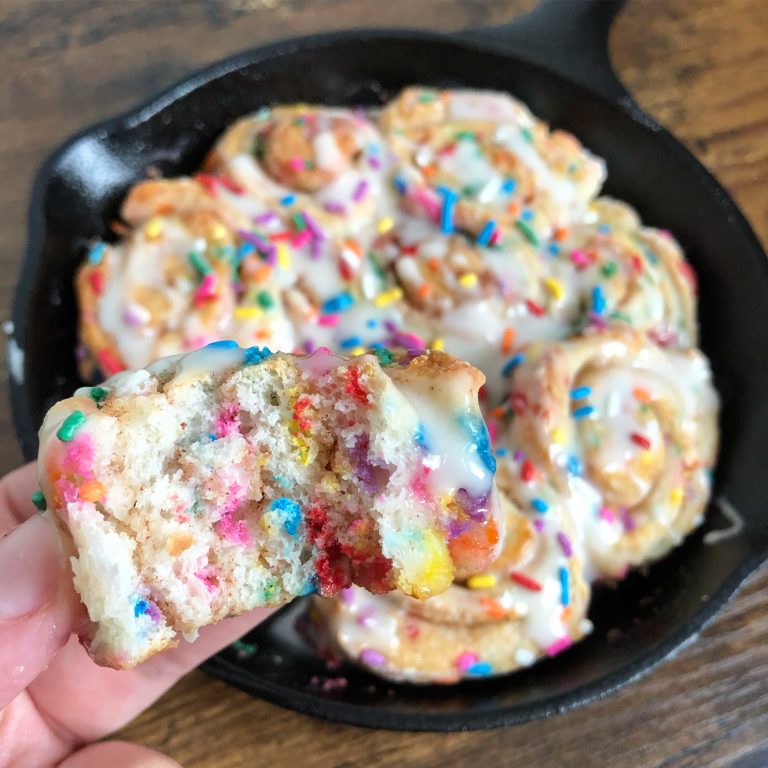 Healthier Funfetti Cinnamon Buns
Sprinkles, cinnamon sugar, and icing – what could be better? How about the fact that these buns are WW-friendly, made with 2-ingredient dough?!
Equipment
Mixing Bowls

Stand Mixer

8×8 Pan

Oven
Ingredients
1

cup

Nonfat Greek Yogurt

I prefer Fage

1

cup

self rising flour*

1/4

cup

rainbow sprinkles

plus 1 tbsp for topping

2

tbsp

butter

melted

1/3

cup

sugar mixed with 1 1/2 tsp cinnamon

adjust to taste

1/2

cup

powdered sugar mixed with 1/2 tbsp milk

or in this case, Nutpods for a basic confectioners glaze (optional, for topping)
Instructions
Preheat oven to 365F

Combine yogurt, sprinkles, and self rising flour and stir/knead until you have a uniform dough ball

Lightly flour a clean surface and roll your dough ball out to 1/4 inch thickness with a rolling pin

Cut the dough into a rectangle for smoother edges

Microwave butter for 20 seconds at a time until melted, and then spread on the dough. Sprinkle sugar/cinnamon mixture all over the butter.

Roll the dough tightly and (optional) pop into the fridge for 30 minutes to firm the dough up a bit before cutting

To cut, I recommend using unflavored dental floss and cutting from under the dough like this. You can also carefully cut with a knife, but you'll likely need to re-shape your buns a bit.

Arrange buns in a greased pan (9×5 loaf pan or mini skillet for a half batch, 8×8 pan or 8 inch skillet for a full batch of minis) so that they're touching

Bake for 17-20 minutes (keep an eye on them), until they're just golden brown

Allow to cool for 5 minutes while you prepare your toppings. If topping with Nutella or Peanut Butter, microwave for 20 seconds so it's a bit runnier and easier to drizzle. If using confectioners glaze, combine powdered sugar and liquid (creamer, heavy cream, regular or dairy free milk, etc) until you have a running glaze and drizzle it over the buns. Top with more sprinkles and ENJOY!
Notes
*Don't have self rising flour? You can make your own by combining 1 cup of all purpose flour with 1 1/2 tsp baking powder and 1/2 tsp of salt.
Nutrition
Calories:
328
kcal
Carbohydrates:
71
g
Protein:
9
g
Fat:
1
g
Saturated Fat:
1
g
Cholesterol:
3
mg
Sodium:
26
mg
Potassium:
92
mg
Fiber:
1
g
Sugar:
48
g
Calcium:
13
mg
Iron:
1
mg
Tried this recipe?
Add your thoughts below in the comments or post on social media and tag @foodbythegram!