It's funny that I'm even writing this up as a recipe because these peppers have been a staple at my childhood home for as long as I can remember. The funny part is that there's barely a recipe – it's 99% eyeballing ingredients and it always comes out awesome. Dare I say, these balsamic marinated peppers may be fool proof?
I also have to give credit where credit is due, which is to my mom and dad, who have painstakingly made these for me for years because I can't get enough of them. Every time I come over to their house for dinner, there is a large Tupperware dish of balsamic marinated peppers, and it's always placed in front of my seat. On more than one occasion, I have finished (or almost) finished the entire thing on my own. They're that good.
Nowadays, I make them myself (that's growth, baby!), and they've become a staple for my breakfasts (and sometimes lunches, dinners, etc). I like to pair them with my eggs in the morning, but these balsamic marinated peppers are also delicious on sandwiches, chopped up in salads, with grilled meats, fish, etc. Fool proof, delicious, versatile? Yeah, I'll stop here and get to the recipe part. Thank me later!
Making Balsamic Marinated Peppers
There are three real steps to making these. First, you need to prep and cook your peppers, and I mean COOK those suckers. Wash your peppers, remove stems, seeds, ribs, and cut them roughly into 4-6 pieces. Then, you'll either grill, bake, or air fry them until they're literally charred, like below. I typically air fry them for ~18 minutes at 400F, but my dad prefers to grill them (gives them awesome flavor). However you cook them, just get them nice and roasty, so that the skin is basically falling off.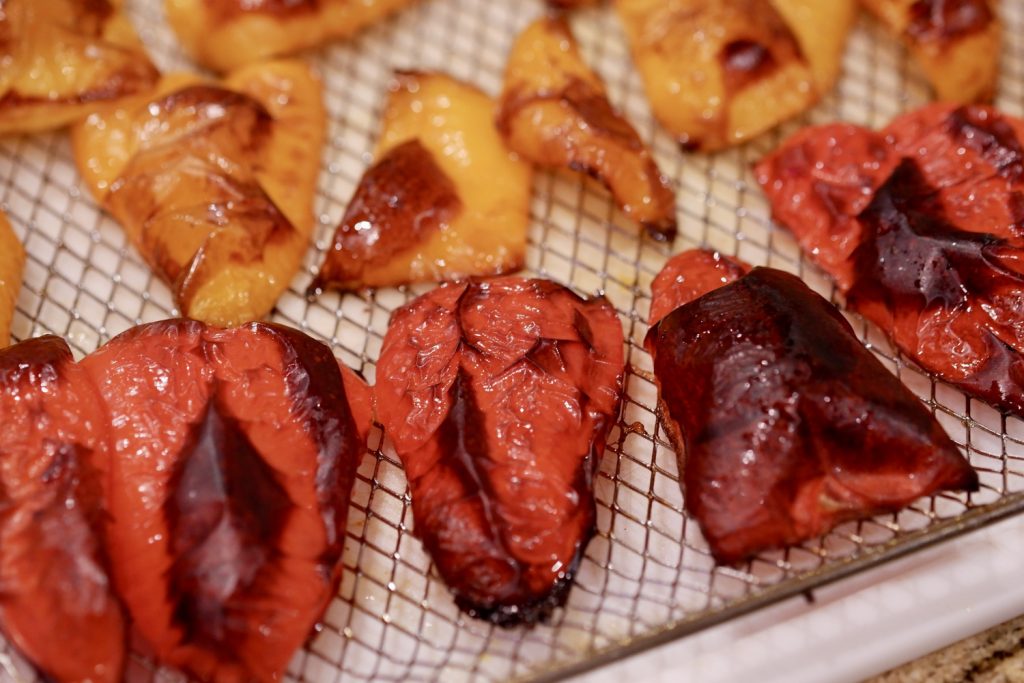 Step two is to peel your peppers. Let them cool and then peel the skins off. If you charred them enough, it should be super easy to remove the skin. Put all of your peppers in a dish with an airtight lid (I use these and love them).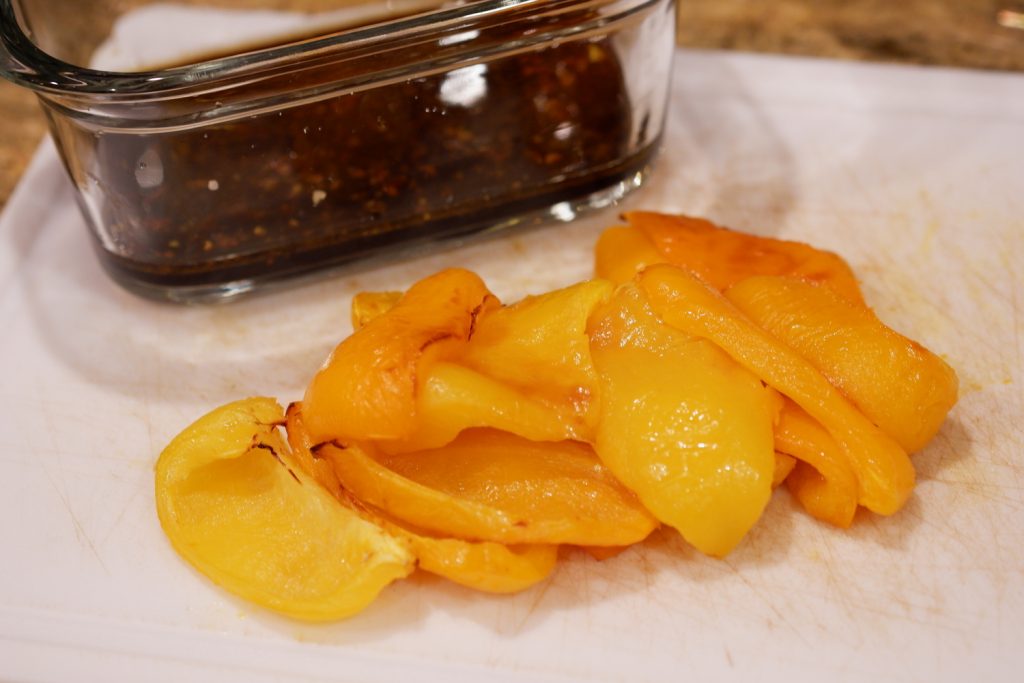 Step three is to marinate them. You'll add a bit of olive oil, salt and pepper, and lots of fresh garlic. The golden rule is 1 clove of garlic to roughly every 2 peppers. So if you're making 10 peppers, you need 5 cloves of garlic. Yes, these peppers are super garlicky, which is why I love them. If you don't love garlic, feel free to reduce the amount. Lastly, add balsamic vinegar so that it comes above half way up the container and your peppers are semi covered. Close the lid (make sure its sealed), and give it a good shake. This will distribute the garlic and mix up the olive oil and balsamic and coat the peppers. Then, just let them sit! They get better the longer they sit – I would say overnight is ideal, but after a day or two they're really awesome. Store in the fridge for up to 6 days and enjoy!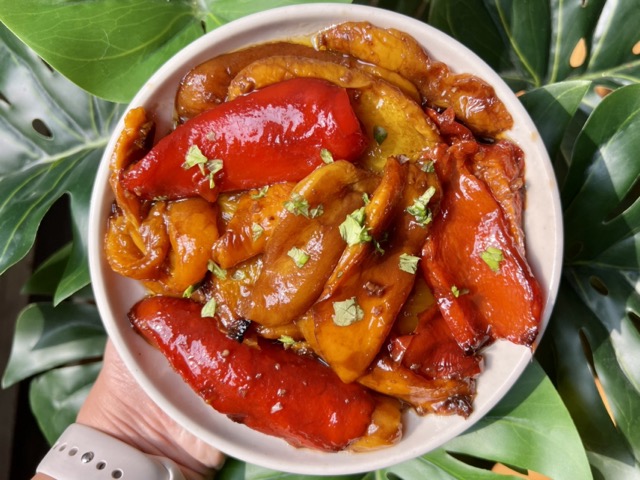 Balsamic Marinated Peppers
A staple in my house and sure to be one in yours – these balsamic marinated peppers are easy to make and are good in everything from sandwiches to salads.
Equipment
Glass Dish

Cutting Board
Ingredients
12

bell peppers

seeds, stems, ribs removed and cut into 4-6 pieces each

6

cloves

garlic

minced

2

tbsp

olive oil

1/2

cup

balsamic vinegar

or more – should cover about half way up your peppers

salt and pepper

to taste
Instructions
Clean and cut your peppers. Spray with cooking spray. Grill or air fry your peppers (400 F for 18-20 minutes), until they're blackened and the skin is beginning to peel off. Let cool for 10-15 minutes before handling.

Peel skin from the peppers and put them in a storage container (ideally glass or ceramic so the balsamic won't stain it). Add olive oil, garlic, and enough balsamic to cover about halfway up your peppers. Season with some salt and pepper to taste.

Seal container and shake vigorously to distribute the garlic, vinegar, and oil. Let sit in the fridge for at least 6 hours, but ideally over night. The longer these sit, the better they get! Keeps well in the fridge in an airtight container for up to 6 days.
Nutrition
Calories:
16
kcal
Carbohydrates:
2
g
Protein:
0.3
g
Fat:
1
g
Saturated Fat:
0.1
g
Polyunsaturated Fat:
0.1
g
Monounsaturated Fat:
0.4
g
Sodium:
2
mg
Potassium:
67
mg
Fiber:
1
g
Sugar:
2
g
Vitamin A:
932
IU
Vitamin C:
38
mg
Calcium:
3
mg
Iron:
0.2
mg
Tried this recipe?
Add your thoughts below in the comments or post on social media and tag @foodbythegram!