While I definitely bake a ton, rest assured, I don't actually subsist off cake and cookies (not most days anyway). In between all of the sweet treats, I'm always cooking up quick and tasty meals at home, often trying to make them a bit healthier without sacrificing flavor. This dish is a perfect example of that.
When at a restaurant, I love to order gnocchi. They're basically pillowy little balls of joy, and they're made even better by a creamy sauce and lots of cheese. While delicious, that dish usually sits in my stomach like a dang brick for the rest of the night.
However, I'm not willing to give up gnocchi and still want to eat them at home too, so I got to thinking – how can I create a gnocchi dish that's still delicious, indulgent, and flavorful, without that 'brick-in-the-stomach' feeling?
WW SP for this depend on how big of a serving you have, but if you divide this recipe into 4, its 7 SP per serving. If you get rid of the burrata, it's only 4 SP per serving. If you've wanted to try WW- use this link and enjoy a free month!
Swap your gnocchi with…cauliflower?
That's right. They say a key rite of passage into adulthood is replacing all the carbs you love with cauliflower, and gnocchi is no exception. Don't get me wrong, I still love the real thing, but when it comes to a week night dinner, my boyfriend and I love Trader Joe's cauliflower gnocchi as a lighter substitute. They're made with cauliflower and cassava flour, they're gluten free, and they're low carb – a win win.
These gnocchi come frozen, and usually retail around $3 a bag. You don't have to thaw them before cooking, which is excellent news for the lazy and/or forgetful (like me, hey!). There are a bunch of ways you can cook them, and everyone has a preference. Some pan fry, some bake, some sauté – me, I prefer the air fryer. I find that air frying these gnocchi gives them a bit better texture, as pan frying can sometimes make them too soft. When air fried, these retain a crunchy exterior but are super soft on the inside, which means they'll stand up well to sauces too.
I like to air fry my gnocchi and then toss them in the sauce right before serving. It preserves their texture and ensures you have pillowy goodness rather than mushy sadness.
A sauce that isn't a sauce
Remember how I said gnocchi are made more delicious by a super heavy sauce and cheese? While that may be true, I actually love this preparation, which doesn't really involve a sauce at all. Just a few all-natural, better-for-you ingredients pulled together, drawing on their natural flavors to create a super tasty dish. The components of this 'not sauce' are onion, garlic, cherry tomato, corn, basil, and some olive oil. When topped with burrata, the flavors meld with the creamy center of the cheese, making a pseudo-sauce that is much lighter than what you'd get at your favorite Italian joint.
In this non-sauce, every element plays a role:
Onion, garlic, and basil give savory, herby, bitey notes
Cherry tomatoes and corn give sweetness
Burrata adds creaminess
All the while, none of these overpower the gnocchi, so you can actually taste and enjoy them too.
What's great about this recipe is you can add in any other things you have lying around and it'll probably still be delicious. Some other great additions would be:
Prosciutto on the finished dish
Capers or olives for a salty kick
Fresh parmesan cheese to make it extra cheesy
Add zucchini or yellow squash for some additional veggies
Looking for some other great dinner options?
Try one of my other recipes!
If you have dinner figured out but want a tasty side, try one of these: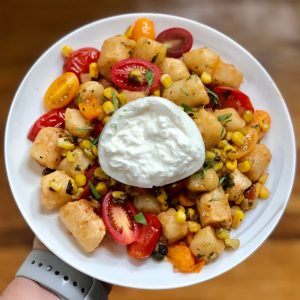 Summer Gnocchi with Corn, Tomatoes, and Burrata
At just 4 (no burrata) to 7 (with burrata) WW SP a serving, this recipe packs big flavor right from the freezer!
Ingredients
1

package of gnocchi

I used Trader Joe's Cauliflower Gnocchi, 12 oz bag

1

tbsp

olive oil

2

tbsp

onion

diced

4

cloves

garlic

minced

1/2

pint

cherry tomatoes

halved

1

tbsp

fresh basil

chopped + additional for topping

3/4

cup

of corn

frozen or canned is fine

Salt and pepper to taste

1

ball of burrata cheese
Instructions
Air fry frozen cauliflower gnocchi by coating gnocchi in cooking spray and air frying at 390 for 8-9 minutes. If you don't have an air fryer, you can cook frozen cauliflower gnocchi by heating 2 tbsp of oil in a pan, spreading the gnocchi out, and letting them cook undisturbed for 2-3 minutes. They'll become un-stuck when they're ready to be flipped.

Using a large spatula, flip gnocchi, and cook for an additional 3 minutes. They're done when they're golden brown on all sides. If not using cauliflower gnocchi, prepare regular gnocchi according to package instructions, drain, set aside.

Heat olive oil in non-stick pan, and add onion. Cook for 2 minutes, until it's becoming see-through. Add garlic and cook for an additional minute.

Add tomatoes and corn, and sauté until the tomatoes just begin to wilt and the corn is warmed through. Season with salt and pepper.

Add gnocchi and toss to combine. Add chopped basil and remove from heat.

To serve, cut open a big ball of burrata and plop it on top. The cream from the cheese will mesh with the flavors of this dish to create a sort of sauce. Top with additional chopped fresh basil and enjoy!
Nutrition
Calories:
328
kcal
Carbohydrates:
34
g
Protein:
14
g
Fat:
19
g
Saturated Fat:
9
g
Cholesterol:
40
mg
Sodium:
252
mg
Potassium:
214
mg
Fiber:
3
g
Sugar:
3
g
Vitamin A:
763
IU
Vitamin C:
17
mg
Calcium:
327
mg
Iron:
3
mg
Tried this recipe?
Add your thoughts below in the comments or post on social media and tag @foodbythegram!