Whether you follow WW or not, nonfat Greek Yogurt is something that should be in your fridge at all times (unless you're lactose intolerant, in which case feel free to just skip down to the granola part). I use Greek Yogurt in a ton of recipes, from baked goods to savory dips. It also makes a great snack, as it's high in protein, low in calories, and 0 SP on WW Blue.
One problem – on it's own, it's kind of boring.
Yeah, its tart and tangy, but that's about it. Without a lil something something, it's not super exciting. Usually, I opt for fruit, jam, or honey as a topping and to add some flavor. In a perfect world I'd add some granola too, for some added crunch, However, store brought granola is basically candy. It's laden with tons of sugar and preservatives and things that aren't generally diet friendly. Store bought granola can pack 15 grams of sugar in a single serving, and it's a surefire way to sabotage an otherwise healthy snack.
There's a happy ending here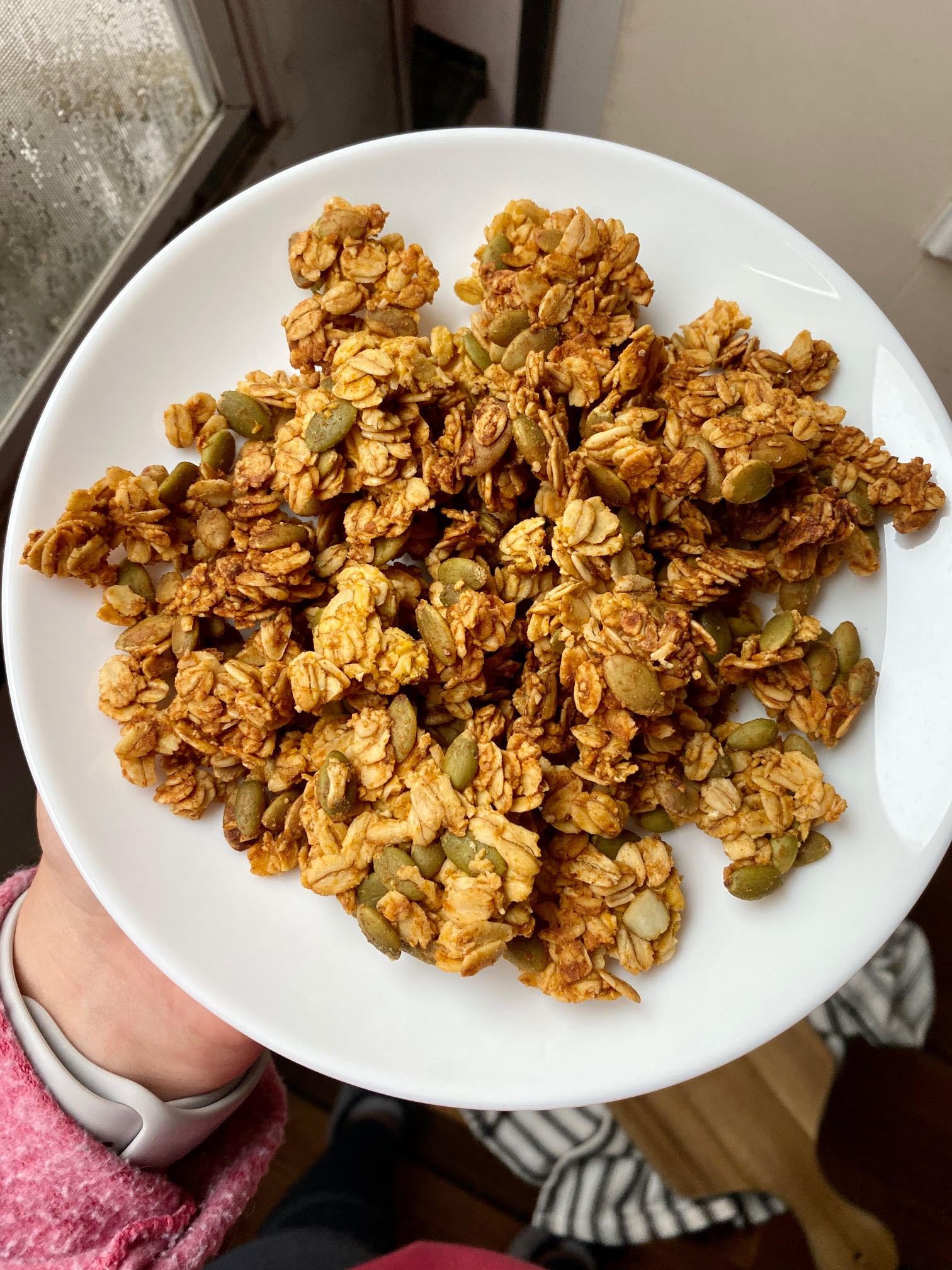 Don't worry. The granola doom and gloom has a happy ending. I made it better! And, more importantly, I made it paleo. And vegan. Oh, and pumpkin spice flavored. It's a win-win-win-win, and truly something that everyone can enjoy.
This pumpkin granola is made with a few better-for-you ingredients and tastes like Fall. It's also super easy to make, stores well, and is a delicious topping on just about anything (or as a snack on its own). It uses just 3 tablespoons of all natural sweetener for the entire recipe, pumpkin seeds in lieu of sweetened dried fruit/chocolate that you find in typical granolas, and coconut oil as the fat.
To make the pumpkin granola, it's really just a matter of mix, spread, bake, and wait. Waiting is critical, as the granola will be soft when it first comes out of the oven. By waiting for it to cool, it can bind together, which will yield those delicious clusters we're looking for.Once cooled, break it apart, store it in an airtight container, and enjoy it!
Those Greek Yogurt recipes I was talking about
Nonfat Greek Yogurt is one of the most underrated baking ingredients and an absolute staple in the Food by the Gram kitchen. Check out some of my favorite sweet and savory recipes featuring Greek Yogurt:
Sweet:
Savory: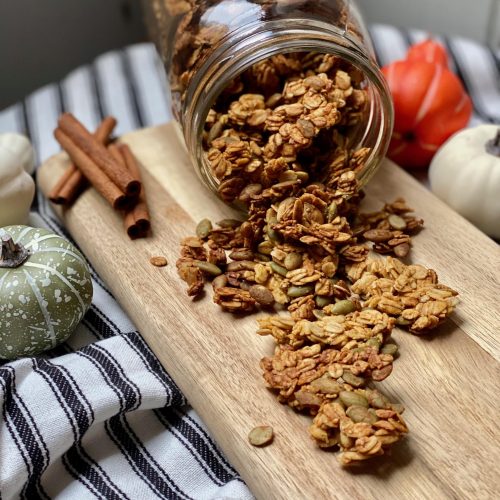 Pumpkin Granola
Mix up your snack-time routine with this tasty pumpkin granola, which is vegan, paleo, and WW friendly. Makes 8 1/4 cup servings, 5 SP/serving on Purple, 6 SP/serving on blue.
Equipment
Mixing Bowls

Baking Sheet

Oven
Ingredients
3

tbsp

coconut oil

3

tbsp

maple syrup

1/4

cup

pumpkin puree

2

cups

old fashioned rolled oats

1/3

cup

pumpkin seeds

1

teaspoons

pumpkin pie spice

1/2

teaspoon

fine sea salt
Instructions
Preheat oven to 325 F

Combine coconut oil and maple syrup in a large microwave-safe bowl. Microwave for 30-60 seconds, then add pumpkin puree and stir to combine.

Add oats, pumpkin seeds, pumpkin pie spice, and salt to the bowl. Stir well to mix everything evenly, ensuring that every oat is covered.

Spread mixture in uniform layer on baking sheet and bake for 35-40 minutes

Remove from the oven and let cool for 20 minutes. (Granola will be soft at first, and forms crunchy clusters as it cools).

Store at room temp in an airtight container for up to 10 days. Enjoy!
Nutrition
Calories:
161
kcal
Carbohydrates:
20
g
Protein:
4
g
Fat:
8
g
Saturated Fat:
5
g
Sodium:
148
mg
Potassium:
128
mg
Fiber:
2
g
Sugar:
5
g
Vitamin A:
1192
IU
Vitamin C:
1
mg
Calcium:
22
mg
Iron:
1
mg
Tried this recipe?
Add your thoughts below in the comments or post on social media and tag @foodbythegram!