One of my all-time favorite foods is pigs in a blanket. I love the combo of a smoky hot dog with a soft outer layer. Sadly, they're not the healthiest, or the most filling. Behold- healthier bagel dogs, which is higher protein thanks to magical two ingredient dough, lower in fat/calories, and just as delicious. You can whip these up with just a few ingredients and they store well in the fridge if you're looking to eat them throughout the week. These are also perfect to bring to a summer gathering, and odds are, nobody will know they're sneaky healthy.
Creating Healthier Bagel Dogs
There are ultimately two components to bagel dogs – the bagel and the dog. I know, we're getting complex. Stay with me. Typically, the outside of a pig in a blanket is a crescent roll, which is delicious. However, it's also loaded with fat and calories that we're trying to avoid while still enjoying big flavor. So, the outside gets swapped for two-ingredient dough. More on that later.
Next, the inside. A regular ballpark frank runs you 6 WW SP on blue. Yikes. For something that's not super filling (I could legitimately eat 5 and still have room for dessert), that's not great. Meanwhile, uncured turkey hot dogs, like these, are just 1 SP, so you can enjoy a few.
Lighter outside, lighter inside, lighter end result. To make them, simply make your dough, dry your hot dogs (a weird but necessary step), wrap, egg-wash, season, bake. I top mine with a healthy dose of everything bagel seasoning because it makes everything better.
What is two ingredient dough?
In short: magic. The two ingredients are self-rising flour and and nonfat Greek yogurt. When combined, you can make just about anything – from bagels to biscuits to desserts. If you don't have self-rising flour, you can also make your own. Combine 1 cup of all purpose flour with 1.5 tsp baking powder and 1/2 tsp of salt. Voila!
Serving
These are best served with a light beer (we're keeping points low, ok?) and some loved ones around. Also, ketchup. Also, honey mustard. You can also make these mini (cute!) if you're looking to feed a crowd and don't want full-sized bagel dogs. Any way you serve it, these are sure to be a hit.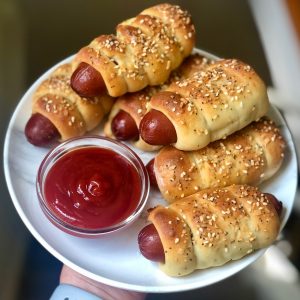 Healthy Everything Bagel Dogs
Pigs in a blanket get a sneaky healthy twist in this recipe, which is WW friendly! When using fat free turkey hot dogs, each of these tasty bagel dogs is just 3 SP. Serve with your favorite dipping sauce for a guaranteed delicious time. 
Equipment
Mixing Bowls

Baking Sheet

Oven
Ingredients
1

pack of 6 hot dogs

can use any, but turkey/chicken will generally be leaner and are my personal preference

1

cup

Nonfat Greek Yogurt

I prefer Fage

1

cup

self rising flour

King Arthur makes a great one, or sift together 1 cup of all purpose flour with 1 1/2 teaspoons of baking powder and 1/4 tsp salt

1

egg

beaten, for egg wash

Everything bagel seasoning
Instructions
Preheat oven to 385F

Combine greek yogurt and self rising flour in a bowl and mix until you have a uniform dough. A KitchenAid mixer with bread-hook is super helpful here, but it can be done by hand. Dough will be sticky.

Remove hot dogs from package, thoroughly pat dry with paper towels. This will help the dough stick!

Turn your dough onto a lightly floured surface, divide into 6 even pieces

Flour your surface/hands so that you can shape the dough. Roll it into a long string, about 1/2 inch thick and about a foot long

Wrap the dough around each individual hot dog, and place onto a parchment-lined baking sheet (or use a baking mat)

Brush all of the wrapped dogs (bagel part only) with egg wash, and sprinkle with everything bagel seasoning

Bake for 25-30 minutes, until tops are golden brown

Let cool and enjoy with your favorite dipping sauce!
Nutrition
Calories:
227
kcal
Carbohydrates:
28
g
Protein:
11
g
Fat:
8
g
Saturated Fat:
3
g
Cholesterol:
49
mg
Sodium:
330
mg
Potassium:
131
mg
Fiber:
1
g
Sugar:
5
g
Vitamin A:
40
IU
Calcium:
18
mg
Iron:
1
mg
Tried this recipe?
Add your thoughts below in the comments or post on social media and tag @foodbythegram!