Guys, this is big. I took one of your fast food faves and made a lightened up, WW-friendly version. All of the flavor, none of the bad stuff. These healthy crunch wraps are about to change the game. Whereas a regular crunch wrap can run you upwards of 20 points on WW, my version is less than half that. So go ahead, have seconds.
What is a crunch wrap?
This is a Taco Bell creation, that is widely loved for a good reason – it's delicious. It's a soft tortilla, loaded with all of the fixins of your favorite burrito, with a delightful surprise inside. That surprise? A crunchy tostada inside. Each bite is meaty, creamy, spicy, crunchy, soft, and wonderful.
The down side to these marvelous creations? They're not the best for you. With a typical one, you're looking at 500+ calories, 70+ grams of carbs, 20+ grams of fat, etc. Delicious on occasion, but not ideal if you're looking to stick to healthier diet. However, with something so delicious, you may want to have it more than everyone once in a blue moon. So I set out to create a version that cuts the fat, carbs, and calories without cutting the taste.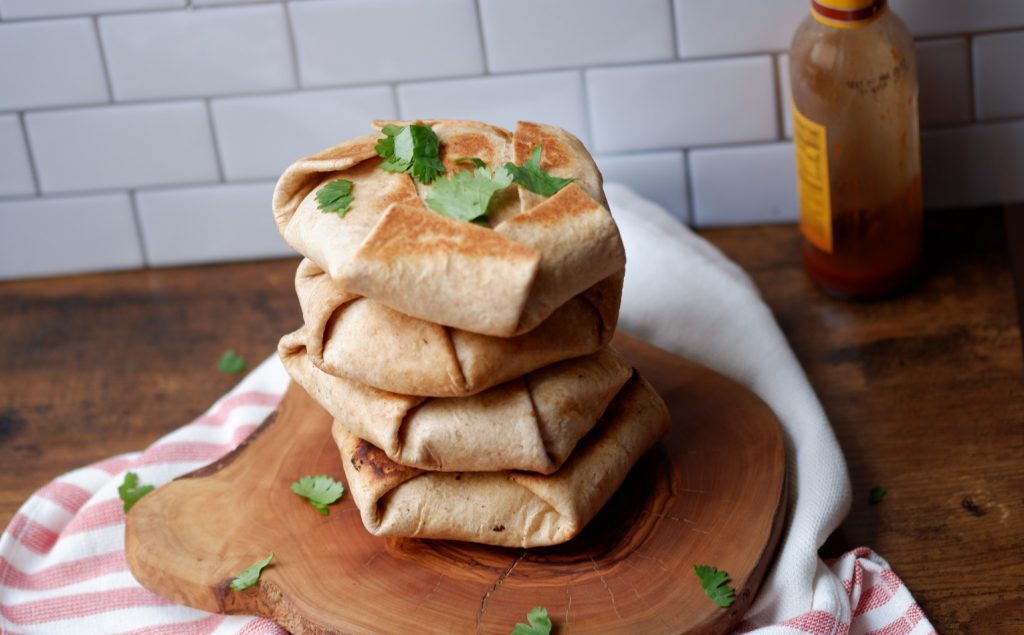 Ingredients in healthy crunch wraps
There's nothing super fancy in these – mostly grocery store/pantry staples. However, I strategically swapped certain ingredients for lighter alternatives, which makes for an end result that's both delicious and nutritious. To make these, you'll need the following:
Low carb tortilla of choice (I used Mission's medium sized Carb Balance, which are WW friendly and tasty)
A small corn tortilla of choice- street taco size (I found ones that were only 1 SP each). I air fry these instead of deep frying, keeping the crunch wraps light.
99% fat free ground turkey
Taco seasoning (I prefer a low-salt option)
White onion (1/2, diced)
Salsa (any one you like! I used a medium chunky salsa)
Light sour cream or nonfat greek yogurt (the yogurt is 0 SP on blue and purple plans)
Reduced fat Mexican blend cheese
Pickled jalapeños (optional, but give a great spice)
Chopped iceberg lettuce
Some cooking spray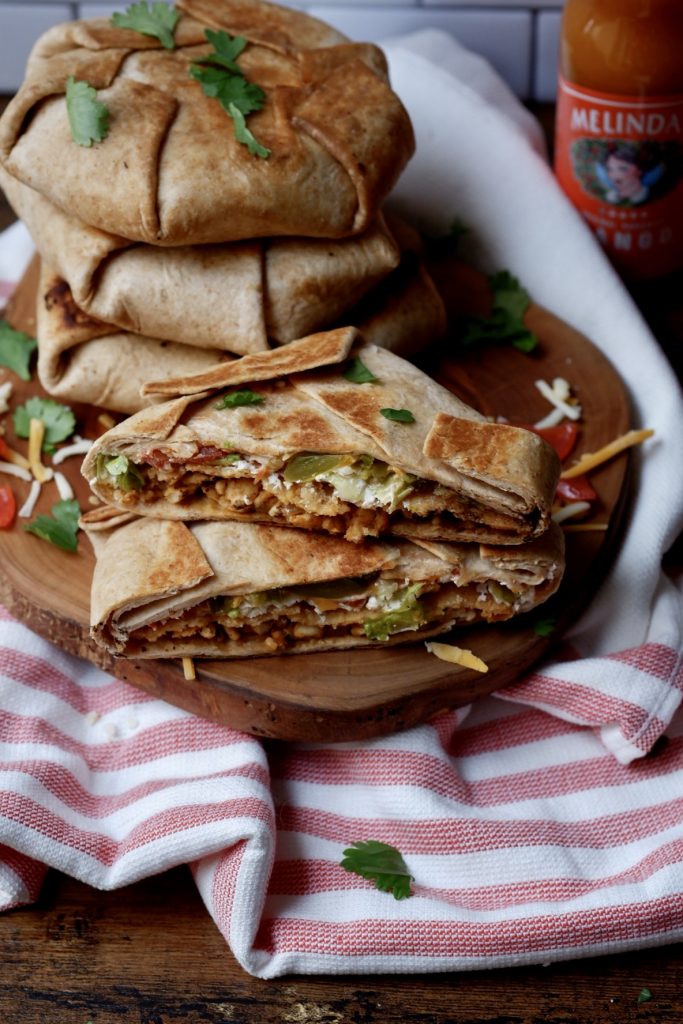 Making the crunch wraps
There are a few steps to assemble these, but once you have all of the components, you can go assembly line style and make a bunch at once. I prepped a bunch and kept them in the fridge, air frying one for lunch each day for the next 4 or so days. More on how to store/reheat those below!
First, you'll be air frying the corn tortillas which will be your crunch factor.
Next, you'll cook the turkey meat with onion and taco seasoning.
Then, you will assemble the crunch wraps by layering the meat mixture, cheese, crispy tortilla, Greek yogurt, lettuce, salsa, and jalapeños inside the tortilla.
Lastly, finish these, you'll top with a 1/4th piece of a tortilla, fold it up, pan fry it, and voila!
You can find a more detailed visual in the video below.
Variations and storage
If you plan to reheat these later, you will want to leave the 'wet ingredients' (salsa, sour cream) and crispy tostada out, so your reheated crunch wrap isn't soggy. Just put the turkey, lettuce, jalapeños, and cheese inside. Then, when you reheat (microwave for a minute or so, pan fry for 2 min on each side, or air fry at 375 for 5 min), just add the sour cream, salsa, etc on top and top with the crispy tostada. Voila! All the texture.
If you're looking to mix these up, there are a ton of different variations you can do.
If you're looking to keep it vegetarian, swap the turkey for grilled veggies like peppers, onions, zucchini
Maybe turkey isn't your thing– beef or ground chicken are a great alternative
Want things hotter? Add some hot sauce inside with the salsa and/or extra pickled jalapeños
For an extra kick, add some pickled onions inside the wraps
The possibilities are endless. And delicious.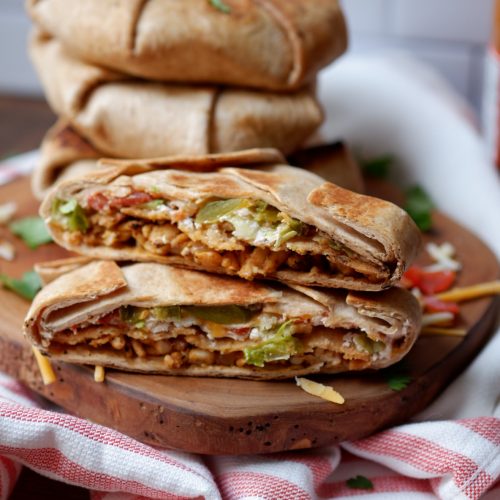 Healthy Crunch Wrap
These are a lightened up take on a fast food favorite, and they're WW friendly, so go ahead, have seconds.
Ingredients
3/4

lb

Ground turkey

99% lean

1/2

White onion

diced

2

tbsp

Taco seasoning

8

Tortillas

Carb Balance, Medium sized

6

Corn tostadas

Sprayed with cooking spray and air fried at 370 for 4 min, flipped, and another 4 min

6

tbsp

Salsa

6

tbsp

Nonfat Greek Yogurt

12

tbsp

Reduced fat cheese

Mexican blend (3/4 cup)

6

tbsp

Pickled jalapeños

1

cup

Iceberg lettuce

shredded

Hot sauce

for serving
Instructions
Spray both sides of mini corn tortillas with cooking spray and air fry at 370F for 8 minutes, flipping half way through.

Spray nonstick pan with cooking spray, and sauté onion for 2-3 minutes over medium heat, until translucent. Add turkey meat, cook for 7-8 minutes, stirring often, until turkey is fully cooked and no pink remains. Add taco seasoning and mix to combine. Set aside to cool.

Take 2 tortillas and cut them into 4 equal parts (in half, then in half across, so you have 4 triangles). Set aside, these will be the 'tops' of your crunch wraps.
Assembly
Lay out your medium tortilla and brush the edges with water (this will help them stick together).

Add 1/4 cup turkey mixture. Top with 2 tbsp cheese.

Add crispy tostada (corn tortilla) on top of meat and cheese, and spread greek yogurt over the crispy tostada.

Top with shredded lettuce, 1 tbsp salsa (drain it if it has a lot of liquid), and pickled jalapeños.

Take one of the 1/4th pieces of your soft tortilla and cover your crunch wrap. Fold the bottom of it up, so it's touching and sticking to the top piece of tortilla. Then, moving in one direction, fold the sides over until you have a completed, sealed wrap (see video below for visual). Flip it upside down to stay together while you make the others.

Heat nonstick pan over medium heat, spray with cooking spray, and place your crunch wrap folded side down. Cook for 3-4 minutes on each side, until browned and crispy. Enjoy!
Nutrition
Calories:
291
kcal
Carbohydrates:
43
g
Protein:
30
g
Fat:
8
g
Saturated Fat:
3
g
Trans Fat:
1
g
Cholesterol:
38
mg
Sodium:
1001
mg
Potassium:
405
mg
Fiber:
23
g
Sugar:
4
g
Vitamin A:
461
IU
Vitamin C:
3
mg
Calcium:
250
mg
Iron:
3
mg
Tried this recipe?
Add your thoughts below in the comments or post on social media and tag @foodbythegram!