Anyone who knows me knows that I LOVE cake. It's my favorite dessert, bar none. The combo of a flavorful, moist, baked cake with fluffy frosting is the best thing ever, so I love making whatever cake combos pop into my mind. There's just one problem – cake tends to be suuuuper unhealthy. More-so, frosting is literally just butter and sugar, so yeah – not the most diet friendly. Until now.
Lightening up a favorite
Once of the most classic cake combos – chocolate and vanilla, is a fan favorite. So I sought out to make a chocolate cake that was still moist and rich in flavor, but with less sugar/oil/flour than a traditional recipe. Enter my favorite sneaky ingredient: Greek Yogurt. I LOVE to bake with Greek Yogurt, as it cuts down on fat/calories of my favorite baked goods while adding protein, and doesn't make things dry, grainy, etc.
In this case, Greek Yogurt is the star of my lightened up cream cheese frosting as well, replacing part of the cream cheese and making for a frosting that's creamy, indulgent, but less heavy than a traditional cream cheese frosting.
Greek Yogurt, huh?
You bet. Not convinced that it's the best baking swap ever? Check out some of my other Greek Yogurt recipes – seriously, you can make just about anything with it (I religiously have 2 huge tubs of Fage 0% in my fridge at all times).
The secret to good chocolate cake
Coffee. There you have it, plain old java. This recipe calls for either 1/2 cup of brewed coffee, or you can substitute with 1/4 cup espresso mixed with 1/4 cup water. This amount doesn't add a coffee taste, but it does bring out the rich, deep flavor of the cocoa (and is a no calorie addition, woo!). If you are looking to add an actual coffee flavor, then espresso powder is the way to go.
You favorite frosting, made lighter
Making a frosting that's both delicious and sturdy enough to frost a cake is no small feat. Most frosting recipes start with at least a full stick of butter, multiple cups of powdered sugar, and so on. This recipe calls for just 1.5 cups of powdered sugar to frost a half-cake, so 3 cups for an entire cake – roughly half of what you'd usually be working with.
The frosting is made lighter twofold. First, light cream cheese and strained Greek Yogurt are mixed instead of using all full-fat cream cheese. Straining your Greek Yogurt is key, because when you ring out the moisture, you're left with a much thicker product, similar to cream cheese. It's sturdier and easier to work with – if you don't strain, you'll have a super runny frosting (which, you can always thicken with butter and/or more powdered sugar, but we're trying to avoid that). Second, a little bit of coconut flour goes a long way. This frosting recipe uses so little that you don't get the flavor of it, but it acts as a thickening agent to minimize the amount of butter needed to firm this frosting up.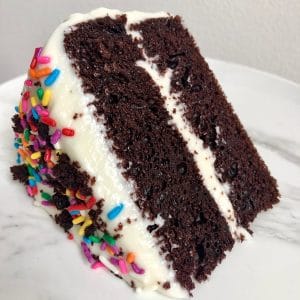 Lighter Chocolate Cake with Greek Yogurt Frosting
Once of the most classic cake combos – chocolate and vanilla, gets a lightened up twist in this tasty cake recipe. Recipe is for ONE 9" cake round (I made half-cakes by cutting it in half and stacking in so I don't eat an entire cake. For a full 9" 2 layer cake, double everything below).
Equipment
Mixing Bowls

Mixer

Cake Pans

Oven
Ingredients
Cake:
1

cup

all purpose flour

1/3

cup

cocoa powder

unsweetened

1/2

tsp

baking powder

1

tsp

baking soda

1/2

cup

sugar

2

tbsp

canola oil

1

egg

3/4

cup

Greek Yogurt

0% fat

Pinch

of salt

1/2

cup

brewed coffee

or 1/4 cup espresso mixed with 1/4 cup water, room temp
Frosting:
6

oz

light cream cheese

3/4

cup

strained Greek Yogurt

squeeze liquid out through a cloth or paper towel

1 1/2

cup

powdered sugar

2

tbsp

butter

softened to room temp

1

tbsp

coconut flour

1

tsp

vanilla
Instructions
Preheat oven to 350F

In a medium mixing bowl, whisk together flour, baking powder, baking soda, sugar, salt, and cocoa powder

In a separate bowl, whisk together egg, canola oil, Greek Yogurt and pour into dry mixture. Whisk together to combine.

Pour in coffee (should be room temp so it doesn't cook the egg) and whisk entire mixture until you have a uniform batter.

Bake cake for 25-30 minutes, until a toothpick comes out clean

While cake cools, combine butter, cream cheese, and strained Greek Yogurt in a mixer (or mixing bowl + hand mixer) and beat until you have a uniform mixture

Add powdered sugar and vanilla, and mix until fully combined. Add in coconut flour last (start with 1/2 tbsp and add more if needed) to thicken mixture.

Frost your cake up and ENJOY! I decorated mine with some rainbow sprinkles and extra bits of crumbled cake!
Nutrition
Calories:
447
kcal
Carbohydrates:
70
g
Protein:
12
g
Fat:
15
g
Saturated Fat:
6
g
Cholesterol:
55
mg
Sodium:
418
mg
Potassium:
255
mg
Fiber:
3
g
Sugar:
50
g
Vitamin A:
313
IU
Calcium:
130
mg
Iron:
2
mg
Tried this recipe?
Add your thoughts below in the comments or post on social media and tag @foodbythegram!