Was there anything better than opening your school lunch to find a PB&J sandwich in it? For me, there really wasn't. To this day, PB&J is one of my favorite combos that I really never get tired of. I turned those childhood flavors into these pb & j bars, which are like a grown-up take on a kid's classic.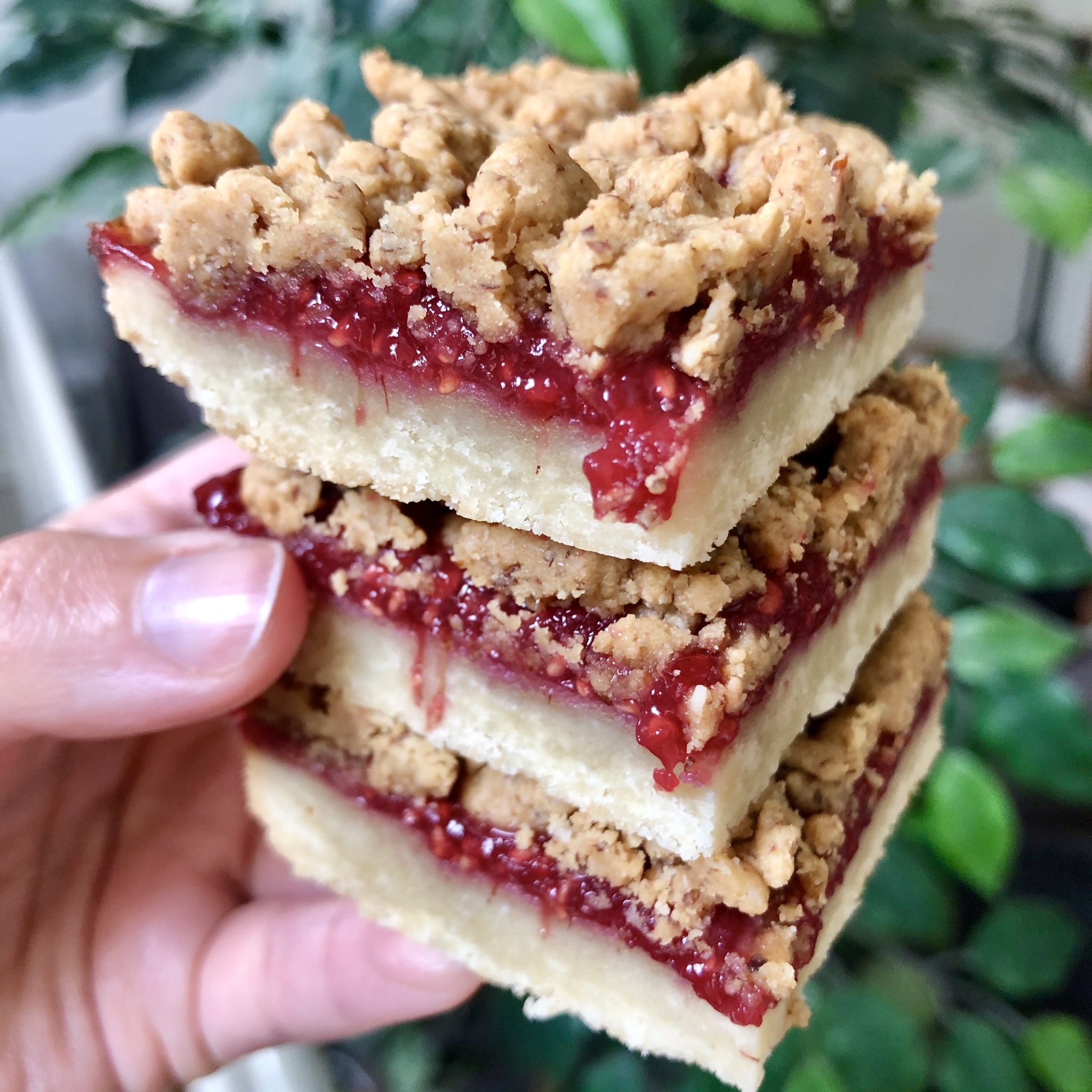 Making PB & J Bars
There are three components to these bars. First, the base, which is a gluten free, vegan, shortbread cookie base. You can literally eat it on its own because it's delicious- and quick and easy to boot. It's a mix of almond flour, coconut flour, maple syrup, and a little oil. Mix, press, and bake to set.
Next is the jam layer- the J of pb and j bars. You can totally use store bought jam if you don't feel like making your own, but making your own is truly simple. It's also better for you, since you can regulate how much sugar goes into the jam. My homemade jam is just three ingredients – berries, sugar, and lemon juice. Just stew it all together until you have a thick jam and let it cool. You can store it in the fridge and enjoy for days to come.
Lastly, the peanut butter cooke crumble. It's so easy, so tasty, and you'll literally want to eat it by itself. Just mix peanut butter with some maple syrup, almond flour, and baking powder. Crumble it over the jam layer and bake, and voila! You've got some delicious PB & J bars that are gluten free, vegan, can be made paleo, and can easily be modified.
Storage and Variations
I make these in a 9×5 loaf pan for a small batch, and cut it into 10 bars. They're 7 WW SP each, and perfect for folks with dietary restrictions. Store in the fridge in an airtight container for up to 3 days.
You can also mix these up a number of ways. First, you can substitute almond butter in your top layer for an almond crumble. You may just need to add a little more almond flour if your almond butter is runny.
You can also change the jam inside. I've made strawberry and blackberry jam and both work great in this bar (follow the same process as making raspberry jam).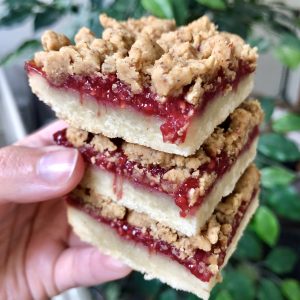 Healthy PB & J Bars
These bars are vegan, gluten free, dairy free, and can be made paleo – and, most importantly, they taste AMAZING! A soft shortbread base is topped with sweet raspberry jam and a peanut butter cookie crumble – you're gonna wanna make these like yesterday. Makes 10 bars in a 9×5 loaf pan, Double for 8×8.
Ingredients
Shortbread:
1 1/2

cup

Almond flour

blanched, fine

2

tsp

coconut flour

2

tbsp

coconut oil

melted

2

tbsp

maple syrup
Raspberry Jam Layer:
1 6

oz

package raspberries cleaned drained and patted down w towel

3

tbsp

sugar

1.5

tbsp

lemon juice
Peanut butter cookie topping:
1/4

cup

pb

1

tbsp

and 1 tsp maple syrup

3

tbsp

almond flour

1/2

tsp

baking powder
Instructions
Make your jam. Combine raspberry (or fruit of choice) layer ingredients, cook on medium high heat until it boils. Mash raspberries with potato masher or fork, then reduce to simmer and simmer for 20 min, until mixture has thickened and reduced. Put in fridge to cool.
Shortbread Layer
Sift your almond flour and coconut flour together in a mixing bowl. Melt coconut oil and combine all Ingredients until mixture is uniform. Press into bottom of a parchment-lined loaf pan and bake at 350 for 12 min.
Peanut Butter Crumble
Combine peanut butter, almond flour, baking powder, maple and stir until fully combined. Mixture should be relatively dry.
Assembly
Remove shortbread layer from oven, spread even layer of raspberry jam on top.

Crumble peanut butter cookie layer over raspberry layer, bake for an additional 12-14 min

Let cool completely before cutting and enjoy!
Nutrition
Calories:
185
kcal
Carbohydrates:
16
g
Protein:
5
g
Fat:
13
g
Saturated Fat:
3
g
Cholesterol:
1
mg
Sodium:
43
mg
Potassium:
46
mg
Fiber:
4
g
Sugar:
9
g
Vitamin A:
17
IU
Vitamin C:
6
mg
Calcium:
65
mg
Iron:
1
mg
Tried this recipe?
Add your thoughts below in the comments or post on social media and tag @foodbythegram!