I'm totally a sweet tooth. I'll always take something sweet over something savory (seriously, always). That usually applies to breakfast too. I love my eggs and bacon, but I'll totally take waffles and pancakes if they're offered instead. My fiancé is the opposite – biiiig savory food guy. He'll always indulge me and eat sweet things when I make them, but I know the guy loves salt. I'm not exaggerating when I tell you that I haven't seen him scarf down a new recipe test as fast as he scarfed down these bacon cheddar scallion waffles. They were gone in 2 days and he's been asking me to make more since. Frankly, I'm totally with him. They're the perfect savory bite in a convenient (waffle-shaped) package, and paired with some spicy maple syrup they're a sweet, salty, spicy delight. The best part? They're just 2 WW SP each.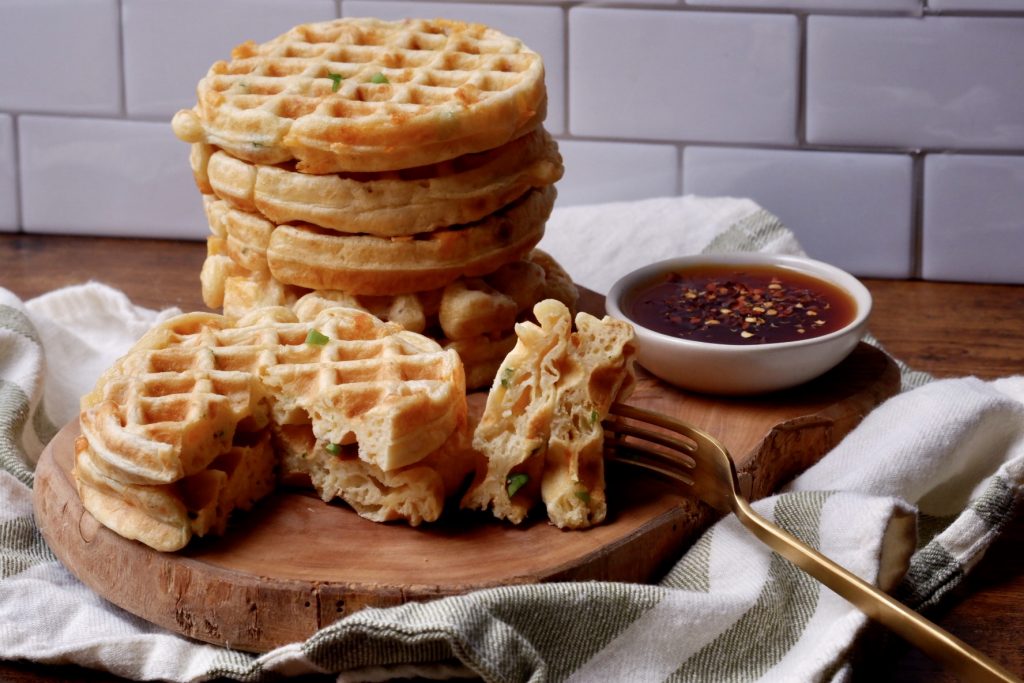 Making Bacon Cheddar Scallion Waffles
Like my lighter waffle and banana bread waffle recipes, this one is another easy mix, pour, and enjoy type of recipe.
First, you'll want to cook your bacon. I prefer to make it in the air fryer – 375 F for about 12 min usually does the trick, but you can cook accordingly to your desired crispiness. Drain any excess oil off on a paper towel, and then crumble it up. You can also use turkey bacon, vegan bacon, etc – whatever you prefer.
Next, you'll want to chop your scallions finely. You want about 3 tbsp worth, reserving some for topping if you're feeling fancy.
Next, mix your dry ingredients (flour, salt, baking powder) in one bowl and wet ingredients (greek yogurt, milk, egg, butter spray, maple extract) in another. Combine them to form a smooth batter. Add in your chopped bacon, shredded nonfat cheddar, and scallions. Mix it up and it's ready to use!
Preheat your waffle iron (I use the Dash Mini and swear by it), spray well with cooking spray, and add batter to the center. You'll use roughly 2-3 tbsp of batter per waffle. Close the waffle maker, let the timer run out, and cook waffles until they're golden brown. If you like them crispy, pop them into your air fryer or toaster oven to crisp up a bit too.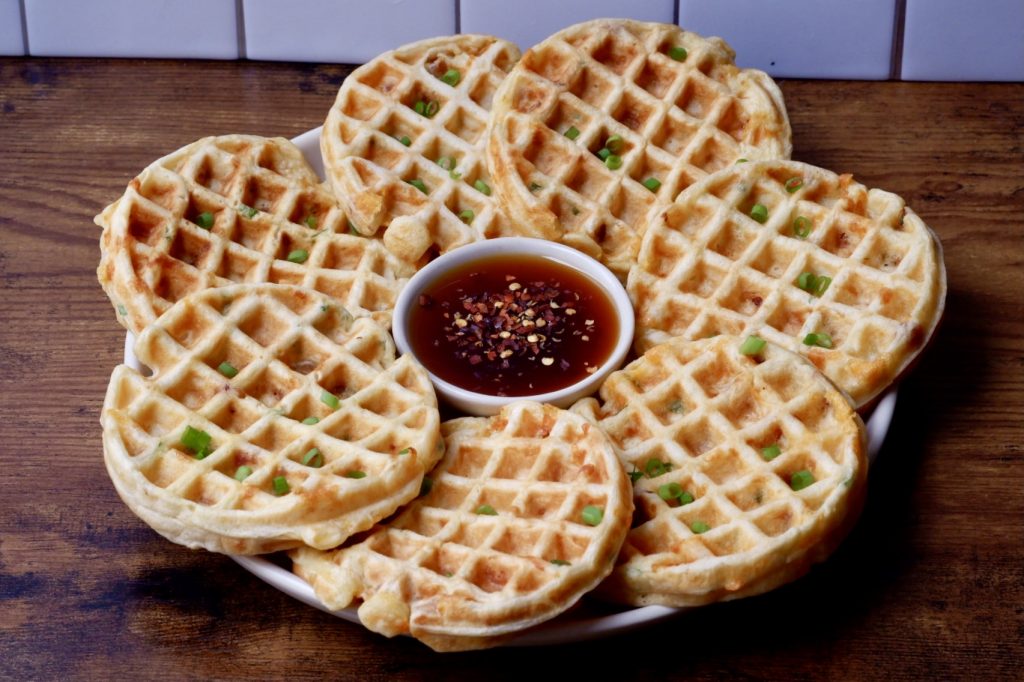 Serving, substitutions, storage
I serve these with a spicy maple syrup. Take any maple syrup you like (I usually opt for a light or sugar free option to keep WW points low) and add a few dashes of your favorite hot sauce (Franks, Tobasco, etc). Mix it up, and add more hot sauce/red pepper flakes to taste depending on your tolerance for spice. The end result is a perfect sweet and spicy complement to these savory waffles.
I would also be remiss not to tell you that my fiancé used these to make breakfast sandwiches as well. He cooked up some eggs and put them between two waffles and frankly, I'm mad I didn't think of it first.
There are a number of things you can substitute in this recipe to make it fit your life (and pantry):
You can substitute almond milk with any milk, dairy or non dairy
You can swap cheddar for another shredded cheese, with or without fat
Substitute bacon with turkey bacon, crumbled sausage, or other meat of choice
You can swap maple extract for vanilla extract if you don't have any on hand, or skip it all together
Store these in the fridge in an airtight container, or seal them up well and freeze. To reheat, pop them in your air fryer, toaster oven, or oven to crisp up and heat through.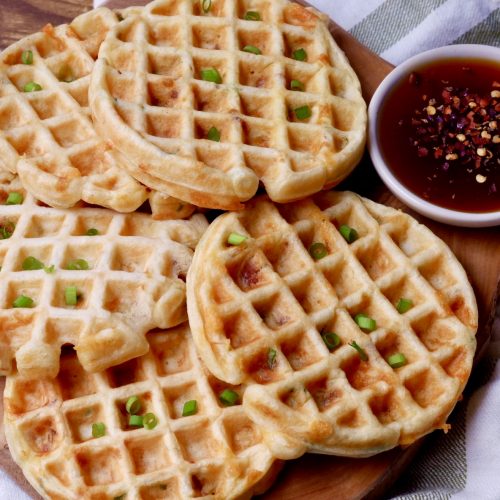 Bacon Cheddar Scallion Waffles
A savory spin on a sweet classic – these bacon cheddar scallion waffles are big on flavor, but just 2 WW SP each on all plans.
Ingredients
1

cup

All purpose flour

1 1/2

tsp

Baking powder

1/2

tsp

Salt

20

sprays

I can't believe it's not butter spray

1

Egg

1/2

cup

Unsweetened almond milk

1/2

cup

Greek yogurt

Nonfat

1 1/2

tsp

Maple extract

1/4

cup

Chopped cooked bacon

approx 3 slices

1/2

cup

Fat free cheddar cheese

shredded

3

tbsp

Scallion

chopped
Instructions
Preheat your waffle maker. In a medium sized mixing bowl, combine flour, baking powder, salt. Stir together.

In a separate mixing bowl, whisk together egg, greek yogurt, milk, maple extract, and butter spray.

Combine wet and dry ingredients, stirring until mixture is completely uniform. Stir in cheese, chopped bacon (with grease dried off), and scallion.

Spray waffle iron and cook waffles (roughly 3 tbsp/waffle) until lightly golden on either side. Serve with spicy maple syrup (maple with a dash of hot sauce and red pepper flakes) for a sweet and salty treat!
Nutrition
Calories:
86
kcal
Carbohydrates:
10
g
Protein:
6
g
Fat:
3
g
Saturated Fat:
1
g
Polyunsaturated Fat:
1
g
Monounsaturated Fat:
1
g
Trans Fat:
1
g
Cholesterol:
19
mg
Sodium:
394
mg
Potassium:
61
mg
Fiber:
1
g
Sugar:
1
g
Vitamin A:
180
IU
Vitamin C:
1
mg
Calcium:
124
mg
Iron:
1
mg
Tried this recipe?
Add your thoughts below in the comments or post on social media and tag @foodbythegram!