Ever since one of my best friends was told she's severely gluten-intolerant, I've been trying to create baked goods that are delicious but totally gluten free. I've found that a lot of GF baked goods out there tend to be dense, heavy, and flavorless – she told me she agreed. So, the quest to create a better GF goodie began.
Along the way, I've created some seriously delicious gluten-free treats:
However, these cupcakes may have just taken the #1 ranking.
A better gluten free cake
My issue with a lot of other gluten free recipes is that they end up being really dense, depending on the flour you use. I've found that super fine almond flour (the kind you would use for macarons) is the best one for cakes/cupcakes that are light and fluffy, so that's how this recipe starts.
Know what else makes this cake recipe great? The fact that it's just a few ingredients and comes together SO quickly. It's really as simple as stir, pour, bake, and enjoy! The cake itself is comprised of:
Eggs
Almond flour
Baking powder
Sugar
Vanilla
Milk
Yep – that's it! A bunch of stuff you probably already have at home. This cake comes out so light and fluffy, has a super soft vanilla flavor, and is complemented by the strawberry filling and fluffy frosting to create a strawberries and cream dream. It's fluffy, tart, sweet, creamy, cakey – seriously, it's everything.
I've made this recipe for multiple parties and events and most times, people have no idea it's gluten-free (but there's the bonus of your GF friends not feeling left out). 
Filling & Frosting
The filling I used is a strawberry jam that I made myself because I accidentally bought 2 pounds of strawberries. I get my groceries delivered and didn't read closely enough, so I was quite surprised when I got a literal vat of berries. To make my own jam, I just combined 1 lb cut and washed berries with 1 1/4 cups of sugar, 1/2 tsp lemon zest, and 2 tbsp lemon juice. Just let the berries and sugar simmer together for 5 minutes, crushing the berries once soft. Then, add lemon zest and juice, and boil for ~20 min (going for a temp of about 220).  Let it cool, jar it, and enjoy it for the next two weeks!
The frosting is a pretty standard buttercream base (butter + powdered sugar), but it's lightened up with the addition of Cool Whip whipped topping, which leaves it super light and fluffy. It's perfect for this delicate little cupcake, as it complements the flavors in it without being overpowering. It's also a great frosting recipe to keep on hand, since it goes on just about anything!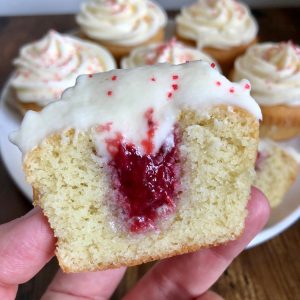 Gluten Free Strawberries and Creme Cupcakes
Light and fluffy almond cake is filled with a tangy strawberry jam and topped with a light-as-air frosting in this strawberries and creme cupcake. This small batch recipe yields 6 cupcakes. Double everything for 1 dozen!
Equipment
Mixing Bowls

Stand Mixer

Muffin Pan

Oven
Ingredients
Cake:
2

eggs

1

cup

almond flour

1/2

tsp

baking powder

1/4

cup

sugar

1/2

tsp

vanilla

1

tbsp

milk

Jam of choice

or see above to make your own strawberry jam
Frosting:
1

cup

powdered sugar

5

tbsp

butter

softened to room temp

3/4

cup

Cool Whip

1

tbsp

milk

1/2

tsp

vanilla
Instructions
Preheat oven to 350F

Whisk eggs and sugar together in a bowl for about a minute, until the mixture is pale and fluffy

Add vanilla and salt, stir to combine

Add baking powder and almond flour, whisk together until mixture is uniform

Bake for ~18-22 minutes, until cupcakes are lightly golden and a toothpick comes out clean

If you're making your own jam, make it while your cupcakes are baking and then cool it in the fridge. Combine 1 lb strawberries with 1 1/4 cup of sugar over medium heat and bring it to a boil in a saucepan. Once boiling, add 2 tbsp lemon juice and 1/2 tsp lemon zest and simmer for 20 minutes, crushing berries to create a jam.

While cupcakes are cooling, make your frosting. First, whip your softened butter in a stand mixer until it's fluffy, then add powdered sugar, vanilla, and cool whip and whip it until it's uniform. Add milk 1/2 tsp at a time until you get the desired consistency.

Once jam and cupcakes are cooled, cut halfway down to the center of the cupcake with a pairing knife and turn it so you cut out a little cone shape. Fill with jam. You can choose to cover it back up with cake or just leave it open, since it will be frosted anyway.

Frost your filled cupcakes and ENJOY! Store in an airtight container in the fridge.
Nutrition
Calories:
339
kcal
Carbohydrates:
35
g
Protein:
6
g
Fat:
21
g
Saturated Fat:
7
g
Cholesterol:
82
mg
Sodium:
149
mg
Potassium:
30
mg
Fiber:
2
g
Sugar:
30
g
Vitamin A:
387
IU
Calcium:
86
mg
Iron:
1
mg
Tried this recipe?
Add your thoughts below in the comments or post on social media and tag @foodbythegram!