In case you missed the big news on Instagram, WE BOUGHT A FREAKIN' HOUSE! And what better way to celebrate than with something decadent that combines some of our favorite flavors?! I love chocolate and Oreos, and Steve is a big coffee guy, so I got to thinking – why not marry those flavors to create something magical? And so, Espresso Oreo Cake was born.
Let me tell you folks – this is magic indeed. It's rich, chocolatey, has strong hints of espresso throughout the cake and frosting, and it's a hint better for you since it's made with my light chocolate cake recipe as the base.
The cake base
This espresso oreo cake starts with my lighter chocolate cake recipe, which you can also find in my Lighter Chocolate Cupcake recipe and my Lighter Chocolate Cake with Greek Yogurt Frosting recipe.
This cake is made lighter a few ways:
It uses much less sugar than a traditional cake recipe – just 1/2 cup for the whole recipe
It also uses much less oil – 2 tbsp is all it takes!
Greek yogurt is a sneaky substitute here, and it makes the cake moist and fluffy without adding a bunch of fat/carbs
The addition of coffee makes for a deep, rich chocolate flavor without adding any calories
Also, note – when I make cakes, unless there's a special occasion that warrants an entire multi-layer cake, I typically make one 9″ round, cut it in half, stack, and frost it. This way, you just have half a cake, which is perfect for a few people to enjoy throughout the week.
If you are looking to make a full 9″ layer cake, just double the cake and frosting recipes and you'll have enough for 2 fully frosting 9 inch layers.
The frosting
This frosting is a basic buttercream (butter + powdered sugar + milk) that's taken over the top with crushed Oreos and espresso powder. It gives the frosting a rich, chocolatey flavor, with notes of rich espresso – think if you dunked your Oreo cookie into a frothy latte.
The key to getting a great texture to your frosting is to use finely powdered espresso and Oreo cookies. Remove the cream center from the cookies, then pulse the cookies through a food processor or crush them by hand until you have a fine, almost powder-like substance. By using finely ground mix ins, you ensure that your frosting is super smooth while still packed with flavor!
What we're celebrating
So why all the fanfare? Because we're celebrating one of life's biggest milestones – homeownership! I've been living (and paying rent) in Philadelphia since 2008, carefully saving so as to be able to afford something of my own one day. Finally, after years of hard work (and some help from a killer team of real-estate pros) – that dream has come true. I'm thrilled to be staying in Philadelphia, but moving to a new neighborhood. I can't wait to explore our new area, and mostly, I can't wait to have a bigger kitchen! If you can believe it, up until now, everything I've made/baked has been done in a super tiny kitchen with about 2 square feet of prep space (UGH). The new place has counter space galore, and I can't wait to get in there and get cookin'!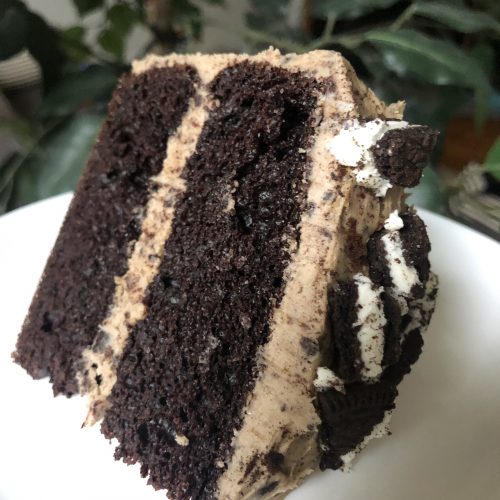 Espresso Oreo Cake
Rich, chocolate cake meets coffee and Oreo frosting for a rich, decadent cake combo that you won't be able to stop eating. Made with my lighter chocolate cake base, this cake packs big flavor and is perfect for your next celebration. This makes a single layer cake – double everything for a 2 layer cake.
Equipment
Mixing Bowls

9″ cake pan

Oven

Stand Mixer
Ingredients
Cake:
1

cup

all purpose flour

1/3

cup

unsweetened cocoa powder

1/2

tsp

baking powder

1

tsp

baking soda

1/2

cup

sugar

2

tbsp

canola oil

1

egg

3/4

cup

nonfat Greek yogurt

1/4

tsp

salt

1/2

cup

brewed coffee

cooled or 1/4 cup espresso + 1/4 cup water
Frosting:
1/2

cup

unsalted butter

softened

2

cups

powdered sugar

1/4

cup

finely crushed Oreos

creme removed

1

tsp

vanilla extract

3

tbsp

heavy whipping cream

1

tbsp

espresso powder
Instructions
Preheat oven to 350F

In a large mixing bowl, whisk together flour, sugar, baking powder, baking soda, cocoa powder, and salt

In another bowl, whisk together egg, oil, greek yogurt and pour mixture into dry mix

Add cooled coffee into the mixture and whisk until you have a smooth, uniform batter

Pour batter into greased 9″ cake pan

Bake for 25-30 minutes, until toothpick comes out clean

Allow cake to cool completely before frosting. While cake cools, beat butter and powdered sugar together in bowl of stand mixer (or using hand mixer). Once well incorporated, add Oreo crumbs and espresso powder. Once fully incorporated, add vanilla and then add whipping cream 1 tbsp at a time until frosting is light and fluffy.

Frost cooled cake and top with extra crushed Oreos and a hint of espresso powder. Store in the fridge for up to 4 days, allow to cool to room temp before eating, and enjoy!
Nutrition
Calories:
434
kcal
Carbohydrates:
63
g
Protein:
5
g
Fat:
19
g
Saturated Fat:
10
g
Cholesterol:
59
mg
Sodium:
279
mg
Potassium:
138
mg
Fiber:
2
g
Sugar:
47
g
Vitamin A:
467
IU
Calcium:
32
mg
Iron:
2
mg
Tried this recipe?
Add your thoughts below in the comments or post on social media and tag @foodbythegram!
Looking for more cake ideas?
Then you're in the right place. Check out some of my other cake creations: