Pickle lovers- rejoice. I have the ultimate pickle-tastic recipe that's going to knock your socks off. Dill pickle pizza is a new and exciting pizza trend that is quickly gaining popularity. This unique pizza features a dill and garlic crust, topped with dill pickle slices, mozzarella and parmesan cheese, and a creamy dill sauce that pulls it all together.
The dill sauce is the star of the show on this pizza. Creamy and tangy, its gives this pizza a unique flavor and a creamy, tangy zing. The dill pickle slices add even more flavor and crunch to the pizza, and the mozzarella and parmesan cheese round out the dish.
I had found a similar recipe online and decided to try to make it healthier, and I'm SO happy with how this came out. If you are looking for a new and exciting pizza, dill pickle pizza is definitely worth a try. It is sure to become your new favorite! And if you're looking for more healthy pizza inspo, check out some of my other pizza creations!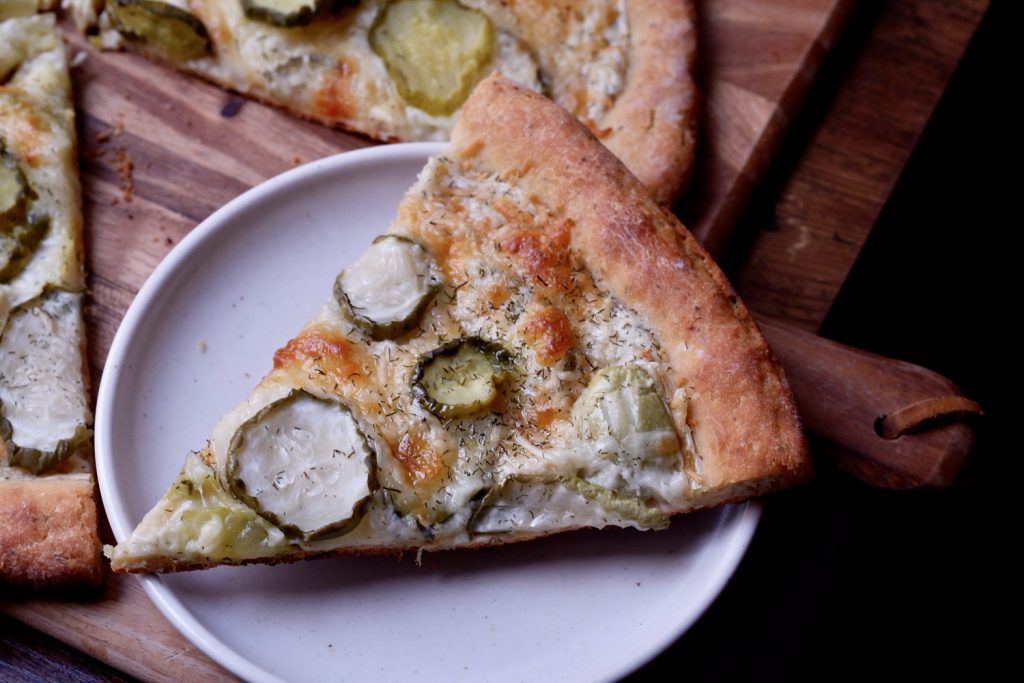 Making Dill Pickle Pizza Dough
This dill pickle pizza is made in 3 parts. First, you'll make your dough, which is flavored with garlic and dill and is oh-so-tasty. The dough is a modified version of the WW-famous 2 ingredient dough. It's higher protein than traditional pizza dough, made with Greek yogurt and eggs. To make it, you'll need:
All purpose flour
Baking powder
Salt
Nonfat Greek yogurt
Eggs
Salt/pepper/garlic powder (I use this seasoning)
Dried dill
You'll combine the dry ingredients first, then add eggs and greek yogurt and mix together until you have a solid dough. I use a mixer with a dough hook attachment to mix the dough up easily, but you can use a wooden spoon and do it by hand as well. Once your dough is formed, keep some flour nearby so that you can flour the outside of it to make it easier to work with.
Prepare a baking sheet by either using a silicone baking sheet, parchment paper, or spraying well with cooking spray. Flour a surface well and roll your dough out with a rolling pin most of the way. You can also use well-floured hands to gently press it out instead of rolling, just try to keep it even. I prefer to put the dough ball on the baking sheet lined with silicone baking mat, flour the outside of the dough and my hands, and gently press outward to create my desired pizza shape. Transfer to baking sheet and finish stretching the dough out until it's roughly the size of your baking sheet, leaving yourself a thicker outer layer to be the crust. Spray with cooking spray and bake for about 16 minutes, until just lightly turning golden. Remove from the oven so you can add your toppings.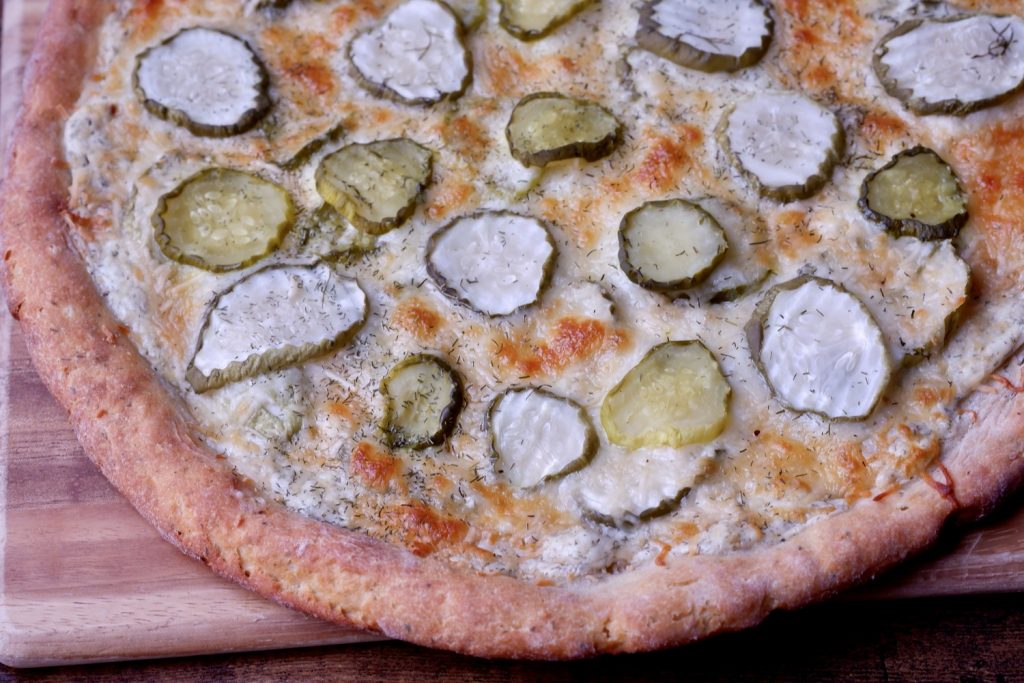 Topping the Dill Pickle Pizza
The first topping you'll put on this pizza is a creamy dill sauce, which is made of:
Light mayo
Light sour cream
Salt, pepper, and garlic powder (I use this seasoning here too)
Dried dill
Pickle juice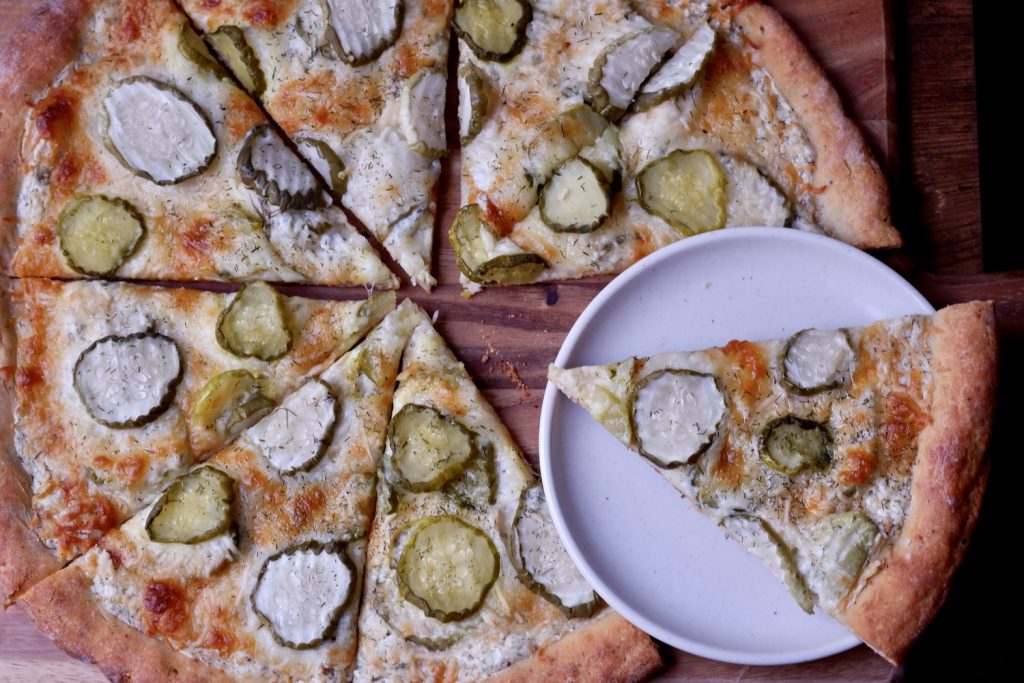 Mix it up and once your par-baked crust is out of the over, slather it all over the pizza. Then, it's time to top! For toppings you'll need:
Sliced pickles, patted dry
Fat free or low fat mozzarella cheese
Shredded parmesan cheese
Dried or fresh dill
Layer half of your pickles over the sauce, then top with mozzarella, then parmesan, and lastly layer on your remaining pickles. I did a mix of pickles, but any hamburger style slices work well here. Then, bake your pizza for an additional 10-12 min, broiling for the last 2 min to get the crust and cheese nice and browned. Then slice and enjoy!
Store leftovers in an airtight container and reheat in the air fryer or oven (375 F for ~4 min or so).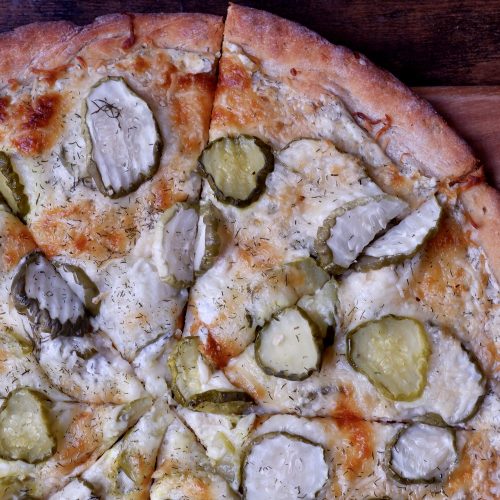 Dill Pickle Pizza
This Dill Pickle Pizza is nothing short of dill-icious. Loaded with pickles and cheese, it's a creamy, tangy creation that's sure to have you coming back for another slice!
Equipment
Mixing Bowl

Stand Mixer with dough hook (optional)

9×13 Baking Sheet

Silicone Baking mat

optional
Ingredients
Crust:
2

cups

Flour

1

cup

Greek yogurt nonfat

1.5

tsp

Baking powder

1

tsp

Salt

2

Eggs

1

tsp

Garlic powder

1/2

tsp

Pepper

1

tsp

Dried Dill
Toppings
1

cup

fat free mozzarella cheese

1/4

cup

shredded parmesan cheese

1.5

cup

dill pickle slices

patted dry

1/2

tsp

dried dill
Creamy Dill Sauce:
6

tbsp

light sour cream

3

tbsp

light mayo

1

tsp

dried dill

1

tsp

pickle juice

1/4

tsp

garlic powder

pinch

salt

pinch

pepper
Instructions
Crust:
Combine flour, baking powder, garlic powder, dill and salt in a bowl. Stir together. Add greek yogurt and egg, and either by hand or using a stand mixer with a dough hook attachment, mix until your dough is uniform. Flour the outside of the dough, as well as your surface and rolling pin, as the dough will be sticky.

Line 9×13 baking sheet with parchment paper, silicone baking mats, or spray VERY well with cooking spray. Using a rolling pin, roll your dough out until it mostly fills the size of the baking sheet. Carefully transfer dough to baking sheet, and continue to roll/spread it until it roughly fills out the sheet. It's ok if it's not perfect!

Spray with cooking spray and bake for ~16 minutes, until just lightly turning golden.
Toppings
Spread all of your dill sauce over the par-baked crust. Top with half of your pickles, then top with 1 cup of mozzarella cheese, then parmesan cheese all over. Finish with other half of your pickles evenly distributed over the top of the pizza. Bake 10-12 minutes, until cheese is melted and starts to brown (I broiled for the last 2 min). Cut into 8 slices and enjoy!

Store any leftovers in an airtight container in the fridge. Reheat in the oven or air fry at 370 for 5 minutes to crisp up.
Nutrition
Calories:
204
kcal
Carbohydrates:
28
g
Protein:
13
g
Fat:
4
g
Saturated Fat:
2
g
Polyunsaturated Fat:
1
g
Monounsaturated Fat:
1
g
Trans Fat:
0.01
g
Cholesterol:
51
mg
Sodium:
826
mg
Potassium:
171
mg
Fiber:
1
g
Sugar:
2
g
Vitamin A:
248
IU
Vitamin C:
1
mg
Calcium:
287
mg
Iron:
2
mg
Tried this recipe?
Add your thoughts below in the comments or post on social media and tag @foodbythegram!