So cake is basically a food group as far as I'm concerned. I love any combination of creamy frosting and soft cake layers, and love adding all of my favorite mix in's. Whether fruity, chocolatey, or full of candy – cake is always a good idea. However, cake can also take a WHILE. Between baking the layers, making the frosting, decorating, etc – it's a process. That's why this Confetti Icebox Cake is the best. It takes about 15 minutes to put together, and then you just chill it in the fridge and within a few hours, it's firmed up and ready to cut and enjoy! It's sweet, creamy, and the perfect treat for any occasion (and it's WW friendly).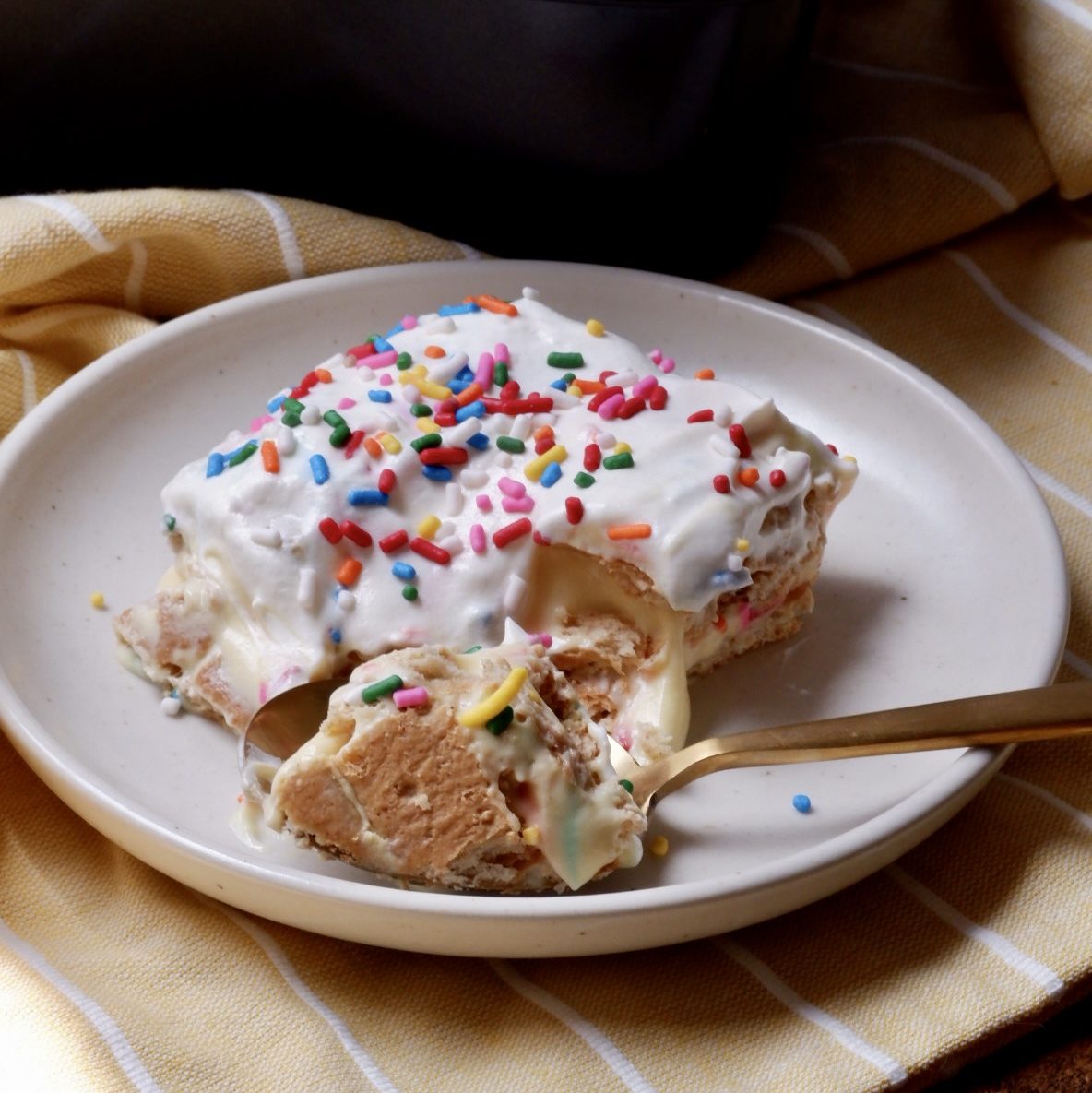 Making Confetti Icebox Cake

Making this cake couldn't be easier. Truly, it's foolproof. It just takes a handful of ingredients, many of which are likely in your fridge/pantry anyway, and you've got yourself a delicious treat! To make this cake, you'll need:
Sugar free pudding mix. I used vanilla and combine it with almond extract to give a birthday cake flavor. Truly, you can use any flavor of pudding you like and it'll be delicious.
Milk, which you'll use to make your pudding.
Fat free cool whip. This will give texture to your pudding and make for the perfect topping.
Fat free graham crackers. These are essentially the 'cake' portion. Once it sits, the liquid from the pudding will soften the graham crackers and make them more cake-like.
Sprinkles! Lots of em.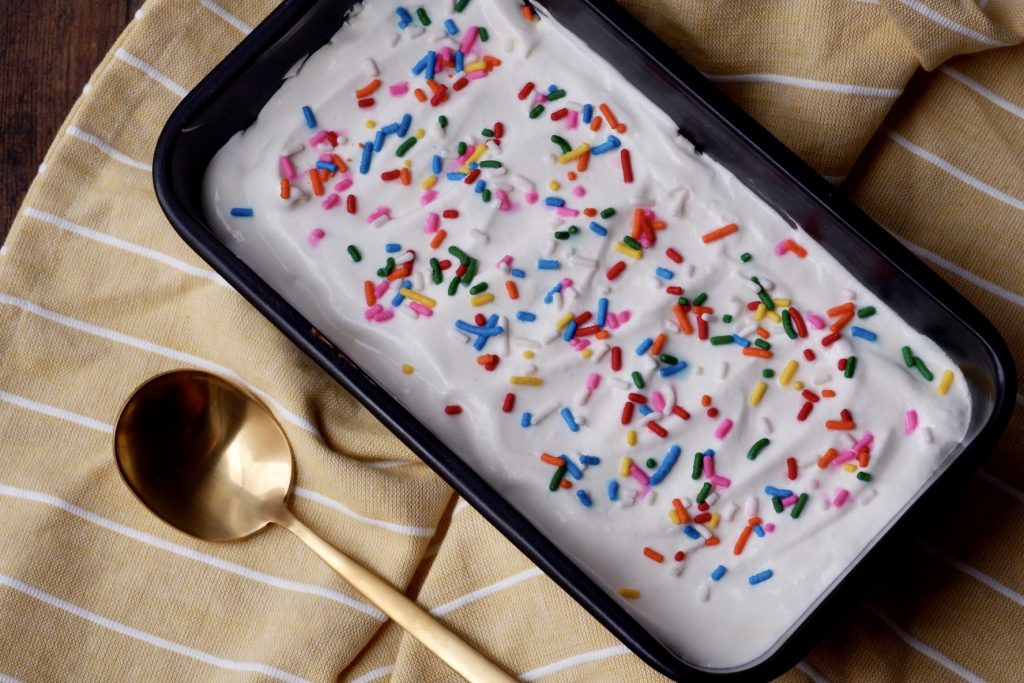 First, you'll make your pudding mixture. You'll make this by mixing the entire 1 oz packet of pudding mix with 1 3/4 cups fat free milk. Whisk it for 2 minutes until it starts to set, and then let it set for about 5 minutes. Once it's soft set, you can fold in your cool whip.
To make this cake, you'll need a 9×5 loaf pan, which will yield 8 servings (perfect for a small gathering or just two people for a few days). You'll start with a layer of graham crackers on the bottom. I break them up into smaller pieces to get more coverage, but it's ok if there are some spaces. Then, you'll cover those grahams with 1/3 of the pudding mixture and some sprinkles. Repeat this 3x until you've used all of your grahams and pudding. Top with 1/2 cup of cool whip and spread it to cover the top. Add more sprinkles, cover with plastic wrap, and throw it in the fridge for at least 4 hours (preferably overnight). Then, just use a spatula to slice and scoop and ENJOY!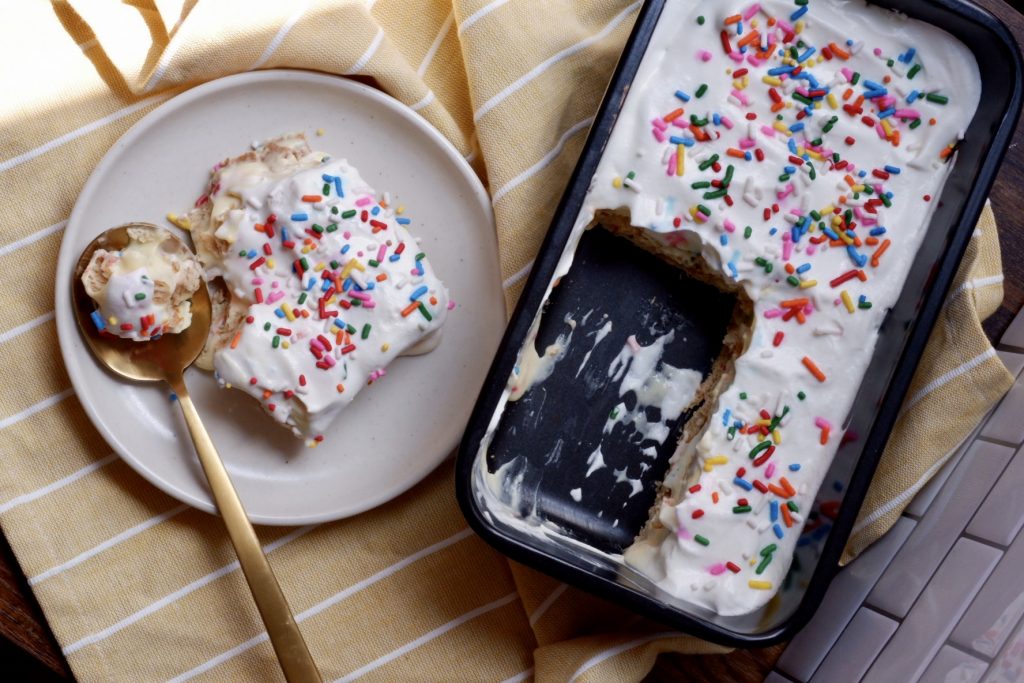 Variations
Once of the things I love about this recipe is how versatile it is. You can really swap the flavors however you want to create your perfect icebox cake. Some suggested swaps/combos:
Use chocolate graham crackers and chocolate pudding and skip the almond extract for a rich, chocolatey cake
Add sliced bananas for a quick take on banana cream pie
Add sliced strawberries extra cool whip in between layers to create a strawberries and cream cake
Use sugar free pistachio pudding and add crushed pistachios for a nutty delight
Use cinnamon grahams and add cinnamon sugar in between layers for a cinnabun cake
The possibilities are endless! You can also easily adjust the size if you have a larger crowd. This recipe is for a 9×5 loaf pan, but you can double the recipe and make this in a 9×9 square pan.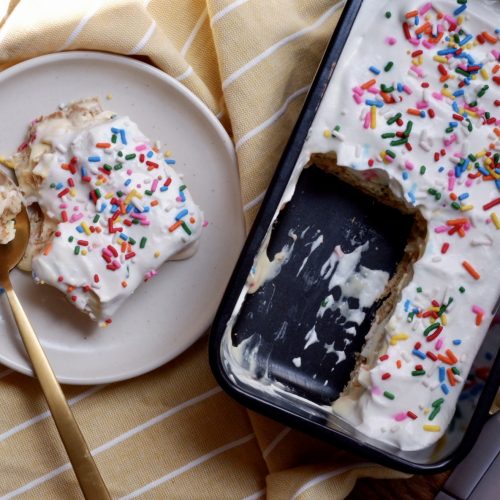 Confetti Icebox Cake
This small-batch icebox cake packs big birthday cake flavor into a super simple, lighter package. Just 15 minutes of prep and some chill time stand between you and the easiest, tastiest cake ever.
Ingredients
8

low fat graham crackers

1

package sugar free instant vanilla pudding mix

1 oz

1 3/4

cups

fat free milk

1/2

tsp

almond extract

3

tbsp

sprinkles

1

cup

fat free Cool Whip
Instructions
In a medium mixing bowl, combine pudding mix and mix and whisk together for 2 minutes. Let set for 5 minutes until thick. Add almond extract and fold in 1/2 cup of cool whip. Set aside.

Break up graham cracker sheets. Cover base of your pan with graham cracker sheets, then layer on roughly 1/3 of pudding mixture and sprinkle with 2 tsp of sprinkles. Then layer more graham crackers, another 1/3 of pudding mixture, another 2 tsp sprinkles. Lay on the final layer of graham crackers, the final 1/3 of the pudding mixture, 2 tsp sprinkles.

Top with 1/2 cup of Cool Whip and rest of sprinkles. Cover with plastic wrap and put in the fridge for at least 4 hours, or overnight. Slice into 8 servings and enjoy!
Nutrition
Calories:
116
kcal
Carbohydrates:
23
g
Protein:
3
g
Fat:
1
g
Saturated Fat:
1
g
Polyunsaturated Fat:
1
g
Monounsaturated Fat:
1
g
Cholesterol:
3
mg
Sodium:
267
mg
Potassium:
94
mg
Fiber:
1
g
Sugar:
11
g
Vitamin A:
126
IU
Calcium:
76
mg
Iron:
1
mg
Tried this recipe?
Add your thoughts below in the comments or post on social media and tag @foodbythegram!