First and foremost, my blog officially passed 50,000 followers on Instagram – holy smokes! When I started Food by the Gram, I had no idea the community it could grow into, and I'm eternally grateful for the community that we've built together. I love cooking and baking for all of you, hopefully showing that a balanced lifestyle (ya know, WW friendly recipes and cake) is totally possible. To celebrate, I knew I had to make something epic – and this Confetti Explosion Cake fit the bill. It's a fun (Food by the Gram colored) cake on the outside, and a confetti cake with exploding center inside. It's a great cake to make for your next celebration (and I promise, it's not as hard as it looks).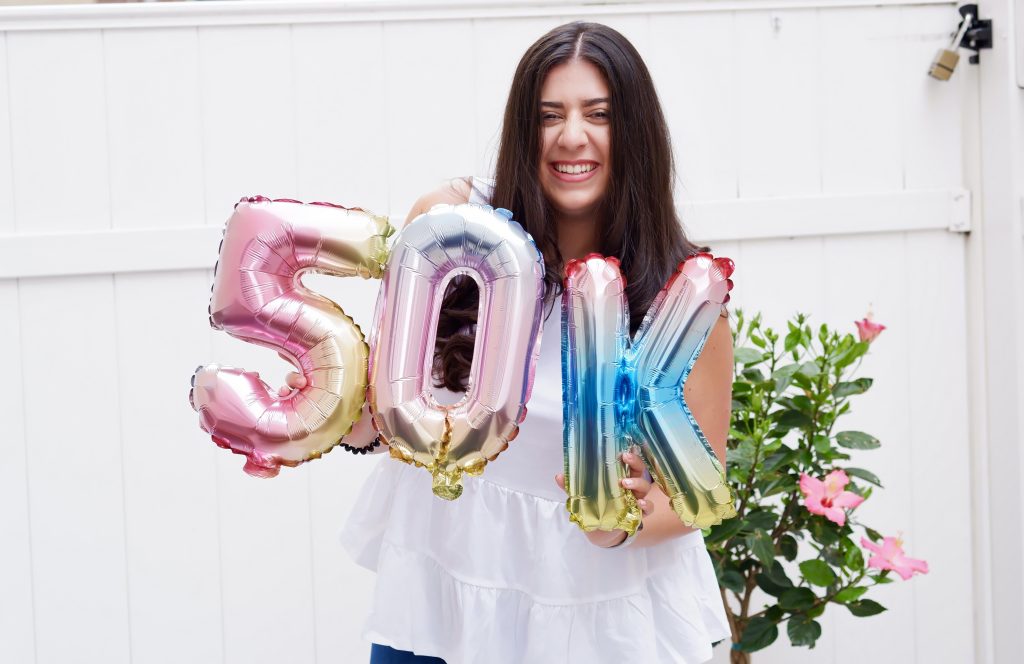 Components of confetti explosion cake
First things first – it's what's on the inside that counts. So lets talk about the inside of this insane cake.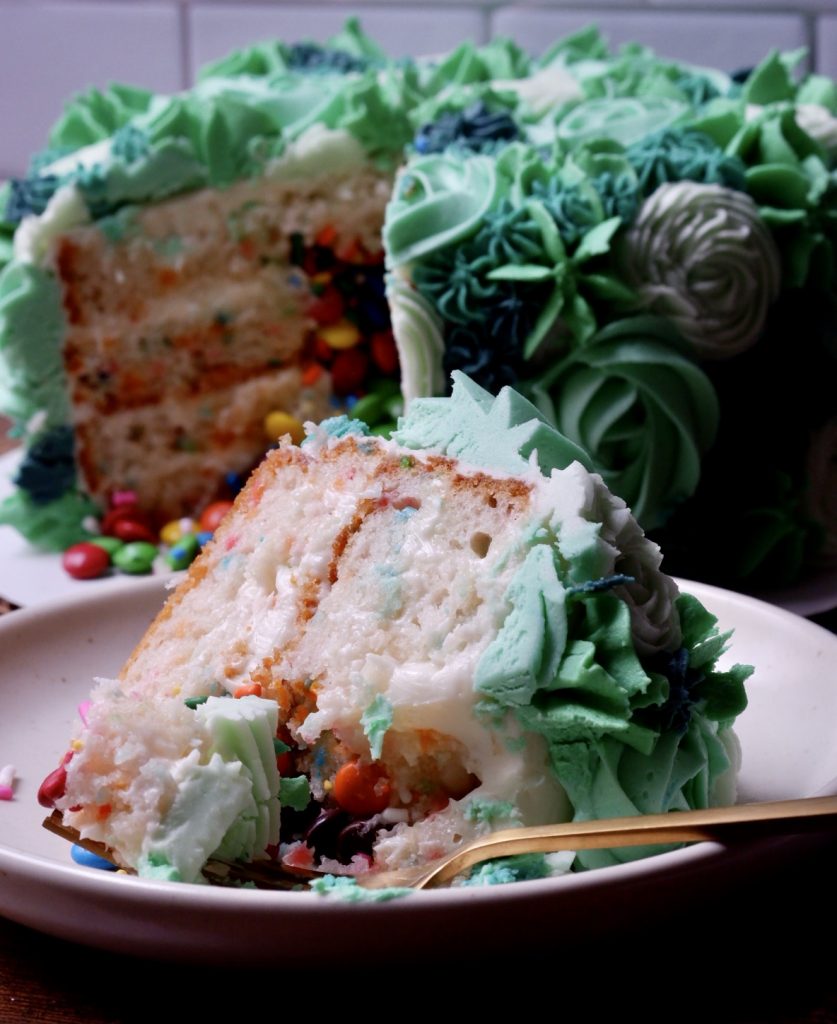 The cake layers are my simple trick for a lightened up boxed-cake.
1 box cake mix of choice
1 cup filtered water
1 cup nonfat greek yogurt (I use Fage 0%)
Mix them all together in a mixing bowl, and divide equally between 2 well-greased 6 inch cake pans. Bake at 350 for 25-30 minutes, until a toothpick comes out clean. Let cool completely before frosting.
Carefully level off the top of your cake, and then cut each baked layers horizontally, creating two thinner layers from the one. The end result will be 4 thinner layers which you'll use to build your cake.
Before frosting, you'll set two layers aside, and you'll cut the center out of the two other layers. You can do with by pressing a drinking glass through the layers or carefully cutting with a knife. This will create your central "cavity" which you'll fill with sprinkles, candy, etc. You can use a mason jar or a glass to cut out two even holes (even a knife works if you're accurate). The esult will be two layers that are regular, thin circles, and two that have the same hole cut out of the center, as below.

While your layers cool completely, you can make your frosting. Any frosting you like will work here (even store bought will be fine for the inside). I did a plain vanilla buttercream inside, and my vanilla almond buttercream for the outside. They marry well together for a sweet, slightly almondy finish. All in all, to frost this 6 inch cake fully, it took about 3.5 cups of frosting.
Assembling confetti explosion cake
Once you have cooled, cut layers and frosting ready, it's time to assemble! Get your cake stand set up (I use a basic plastic one which comes with frosting tools) and put down a base. Put a small dollop of frosting down and put one of your solid cake layers (without the hole) down first. Frost that layer (ideally, avoiding the center where the cut out will be if you can). Next, stack one of the layers with the center cut out. You'll then frost that layer, then add the other layer with the center cut out. Cover that layer with frosting, avoiding the center, and fill your central cavity with whatever you'd like.
I filled mine with mini M&Ms and rainbow sprinkles for a fun, bright surprise! Lastly, top with the last solid layer, and crumb coat the entire cake but covering it in a coat of frosting. It's ok if it isn't perfect, but a good crumb coat will help ensure a cleaner final product.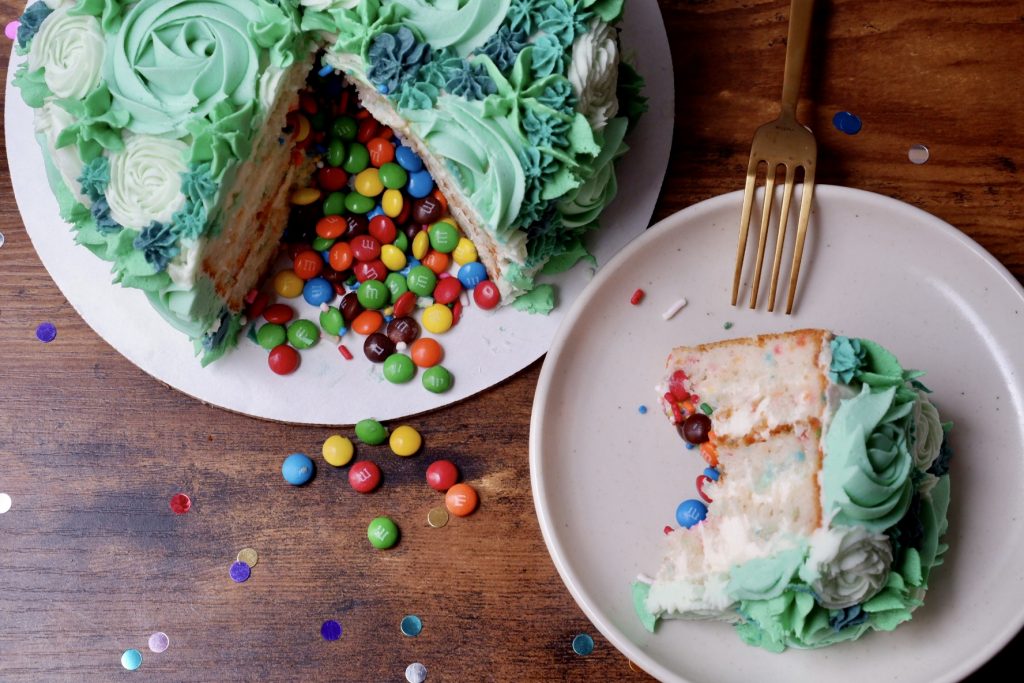 Decorating the outside
Truly, you can decorate this however you want. I knew I wanted to use a color palette that's similar to the branding of my website. That meant shades of teal/green, which I created using gel food coloring. When it comes to baking/ frosting, gel is the way to go. A little goes a lot way, and it makes for super vibrant, beautiful colors. Since I was using the same color in different shades, I started by dying the whole batch super light green, using that, then adding more color, using some, and so on.
Decorating the outside of this cake also only took two frosting tips- a large and small flower tip (1M and 4B if using Wilton). I highly advise testing your tips first on a paper plate or something, to get an idea of how to create the shapes you want.
Once the cake was crumb-coated, I piped on the largest flower elements first (use the large star tip and move in a swirl motion to create a big rose). In between piping, as I mixed frosting colors/changed piping bags, I would put the entire cake in the fridge to firm up. My next largest element was swirls using the small flower tip, which I put all over the cake, sometimes touching the other flowers, etc. Then, using the large flower tip again, I made little stars by gently pressing down as I squeezed frosting out of the bag, creating a little star. Lastly, using the small flower tip, I filled in any gaps with little stars using the same method.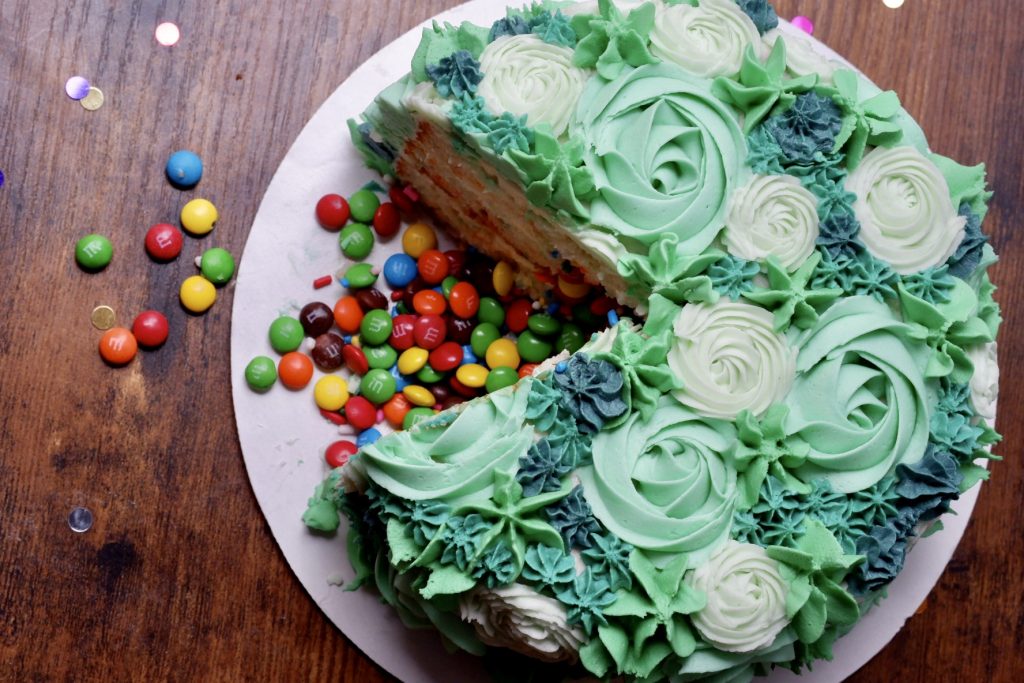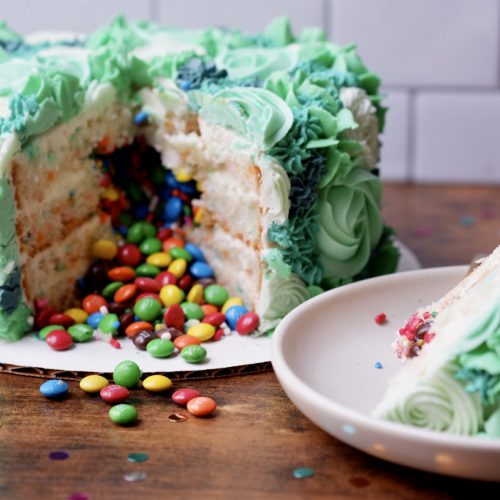 Confetti Explosion cake
This cake (which is easier than it looks) is a sweet surprise that's sure to delight anyone! Funfetti cake filled with candy gets topped with elaborate swirls for a beautiful final product that's as fun to make as it is to eat! Makes 1 6 inch cake.
Equipment
Stand Mixer

Mixing Bowls

6 inch cake pans

Rotating Cake Stand

Piping Bags

Piping Tips
Ingredients
Confetti Cake
15

oz

Cake mix

of choice, one full box

1

cup

Water

1

cup

Greek yogurt

nonfat
Vanilla Almond Buttercream (omit almond extract for plain vanilla)
2

cup

Unsalted butter

softened to room temperature

7

cups

Powdered sugar

3

tbsp

Milk

or heavy cream

1.5

tsp

Vanilla extract

1.5

tsp

Almond extract

1/2

tsp

Salt

Gel food coloring

1/3

cup

Candy/sprinkles

for explosion center
Instructions
Nutrition
Calories:
726
kcal
Carbohydrates:
101
g
Protein:
3
g
Fat:
36
g
Saturated Fat:
22
g
Polyunsaturated Fat:
1
g
Monounsaturated Fat:
9
g
Trans Fat:
2
g
Cholesterol:
92
mg
Sodium:
415
mg
Potassium:
53
mg
Fiber:
1
g
Sugar:
89
g
Vitamin A:
1069
IU
Calcium:
87
mg
Iron:
1
mg
Tried this recipe?
Add your thoughts below in the comments or post on social media and tag @foodbythegram!