I'm always looking to come up with creative new cake flavors and combinations. Yes, plain vanilla on vanilla or chocolate on chocolate has it's place – but I much prefer inventive, fun flavor combos as I find them to be more memorable. There's nothing better than watching someone's face light up as they try to figure out what flavor combo they're experiencing, realizing how much they like it.
I love the combo of chocolate and peanut butter, but it's super common in cakes. I've made chocolate cake and topped it with a peanut butter frosting, and it's always a hit. I thought to myself – why not flip the script and make this a little more interesting?
Rather than making a chocolate cake, I made a chocolate peanut butter swirl cake. It has notes of rich peanut butter and sweet chocolate, and honestly tastes good on its own – no frosting needed. However; I love the combo of sweet and salty, so a salted vanilla buttercream was in order. This cake is also lighter than a traditional peanut butter cake, because there's no added fats (butter/oil in the cake), you can use plant milk as your liquid, and there's only 1/2 cup of non-packed brown sugar to sweeten it. Traditional recipes would call for 3x that amount of sugar, and trust me, this is still plenty sweet!
Creating a swirled cake
While the design looks super intricate, it's much easier than you'd think to create! First, you want to start by dividing your batter in half and mixing half of the cake batter with melted chocolate to give it a brown color and rich chocolate flavor.
Next, spray your cake pan, and pick one color to start with. Using a small measuring cup, take about 2 tbsp of batter and pour it in the center of your pan. Next, using the chocolate batter, but an equal amount right in the center of the first blob of batter. Now, go back to the peanut butter batter, and put that in the center of the chocolate. Essentially, you want to create a bullseye pattern by alternating the batters until they're both gone.
Give it a few taps against the counter to work out any bubbles and flatten it a bit, and then bake! Once it's golden brown with a few cracks on top and a toothpick comes out clean, it's done!
Before frosting, I always recommend leveling your cake (aka cutting off the domed part that forms during baking). When you level it, you'll also reveal the awesome swirled pattern inside! Turn the cake scraps into cake pops (crumble scraps, mix with frosting until you can form a ball, dip in chocolate and enjoy!) or just enjoy them on their own with some leftover frosting.
Salted Vanilla Buttercream
I think sweet and salty is one of the best combos, because the sweet balances the salt and the salt balances the sweet – it's dessert harmony. Since this cake is rich, I wanted a hit of salt in the frosting. Typically, you see salted caramel frosting, but that's still really sweet. I opted to create a salted vanilla buttercream, that's light, fluffy, and deliciously salty.
This frosting is as simple as it gets – butter, powdered sugar, vanilla, and a little milk to thin it out. Then, you add salt until it gets to a level that you like. Everyone's different, so I recommend around 1 tsp of salt total, so you really get that saltiness coming through, but I would start with 1/2 tsp, try it, and then add. You can always add more!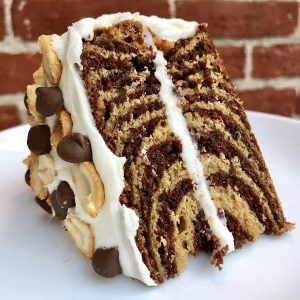 Chocolate Peanut Butter Swirl Cake with Salted Vanilla Buttercream
Chocolate peanut butter cake meets sweet and salty frosting for a cake that's as rich and delicious as it is beautiful. The recipe below is for ONE 9" cake round, which I cut in half, stack, and frost to create a half cake. If you're looking to make a full 9" cake, double everything below, including the frosting!
Equipment
Mixing Bowls

Cake Pans

Oven
Ingredients
Cake:
1

cup

All Purpose Flour

1/2

cup

brown sugar

not packed

1

egg

1/2

cup

creamy peanut butter

1/2

tsp

baking soda

1/2

tsp

baking powder

3/4

cup

milk

I used almond milk, you can use any

1

tsp

vanilla

1/3

cup

chocolate chips

melted

Chocolate chips and crushed peanuts for topping

optional
Frosting:
1/4

cup

butter

softened to room temperature

2

cups

powdered sugar

1/2

tsp

vanilla

1/2

tsp

of salt

depending on your preference

1

tbsp

milk
Instructions
Preheat oven to 350F

In large mixing bowl, combine flour, baking powder, baking soda, and brown sugar, whisking together to combine

In a separate bowl, whisk together egg, peanut butter, vanilla, and milk

Create a well in your dry ingredients, pour in the wet ingredients, and stir to combine until you have a smooth batter

Melt chocolate chips in a medium microwave safe bowl (microwave in increments of 30 seconds). Let cool for a few seconds, and then mix half of the batter with the melted chocolate in a separate bowl to create the chocolate peanut butter batter.

Grease a 9" cake pan(s), and put 2 tbsp of peanut butter batter in the center. Then, pour 2 tbsp chocolate batter in the center of the peanut butter batter. Continue to alternate, pouring batters into the center, forming a bullseye pattern

Bake for 30-35 min, until toothpick comes out clean and cake is lightly golden.

Allow cake to cool completely while you make your frosting. Combine butter and powdered sugar in a stand mixer with the whisk attachment (or using a hand mixer in a large mixing bowl), then add vanilla and milk until you achieve desired consistency. Add salt, 1/4 tsp at a time, and tasting it as you go to ensure you end up with the right balance of salty and sweet.

After frosting your cooled cake, and top with peanuts and chocolate chips. Store in an airtight container in the fridge for up to 3 days, letting it come to room temperature before serving.
Nutrition
Calories:
529
kcal
Carbohydrates:
80
g
Protein:
10
g
Fat:
20
g
Saturated Fat:
8
g
Cholesterol:
51
mg
Sodium:
518
mg
Potassium:
237
mg
Fiber:
2
g
Sugar:
61
g
Vitamin A:
325
IU
Calcium:
91
mg
Iron:
2
mg
Tried this recipe?
Add your thoughts below in the comments or post on social media and tag @foodbythegram!