While pretty much anything is delicious when you deep-fry it, fried pickles may be my all-time favorite. I've loved pickles my entire life, yet somehow managed to not try them fried until I was like 22 (sad, I know). I was up in Vermont with some friends, and my best friend's then-boyfriend ordered fried pickles at the bar.
My first thought? YUCK.
The thought of deep frying pickles made me think of oily, mushy, nastiness. Pickles should be crunchy, and that's that.
Boy, was I wrong. I took a bite – bliss. Crispy, crunchy, tangy, perfection. I was immediately hooked, and have been ordering them on the regular ever since. Recently it occurred to me that in my quest to make things that taste good/are better-for-you, I could totally make a lighter version of my favorite fried app. With a few attempts, an air fryer, and a will to taste test a million fried pickle attempts – these beauties were born.
All I can say is wow – get ready to take your tastebuds on a seriously delicious journey, but hold the guilt.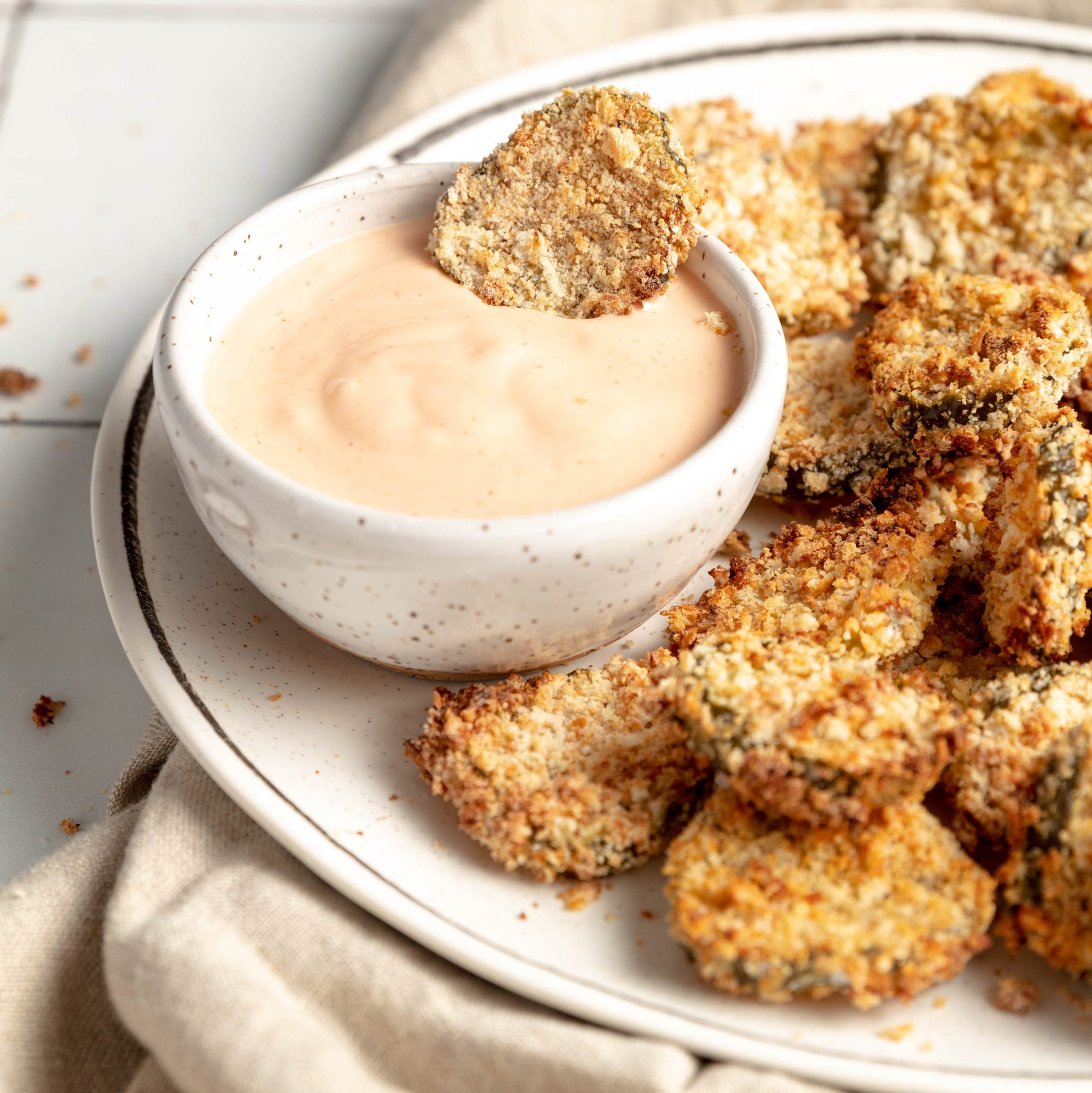 Lightening up Fried Pickles
There were a few things I had to make lighter in order for these to really be a success. First off, the batter/dredge. Typically you're looking at a batter that's super high in fat and carbs, so I went ahead and used a seasoning/breadcrumb mix, with eggs to hold it all together.
Next, the cooking method. Typical frying would mean submerging these in hot frying oil, which would cause them to absorb a lot of it. Delicious? Yes. Healthy? Not so much. Enter the air fryer.
Lastly, the dipping sauce. Typically, fried pickles are served with some sort of ranch dressing, which can be super high in fat and calories (usually around 120 for 2 tbsp, and a restaurant will typically serve you 3x that amount). My sauce is tangy, sweet, and spicy, but uses Greek Yogurt to maintain a creamy texture while lessening the fat content.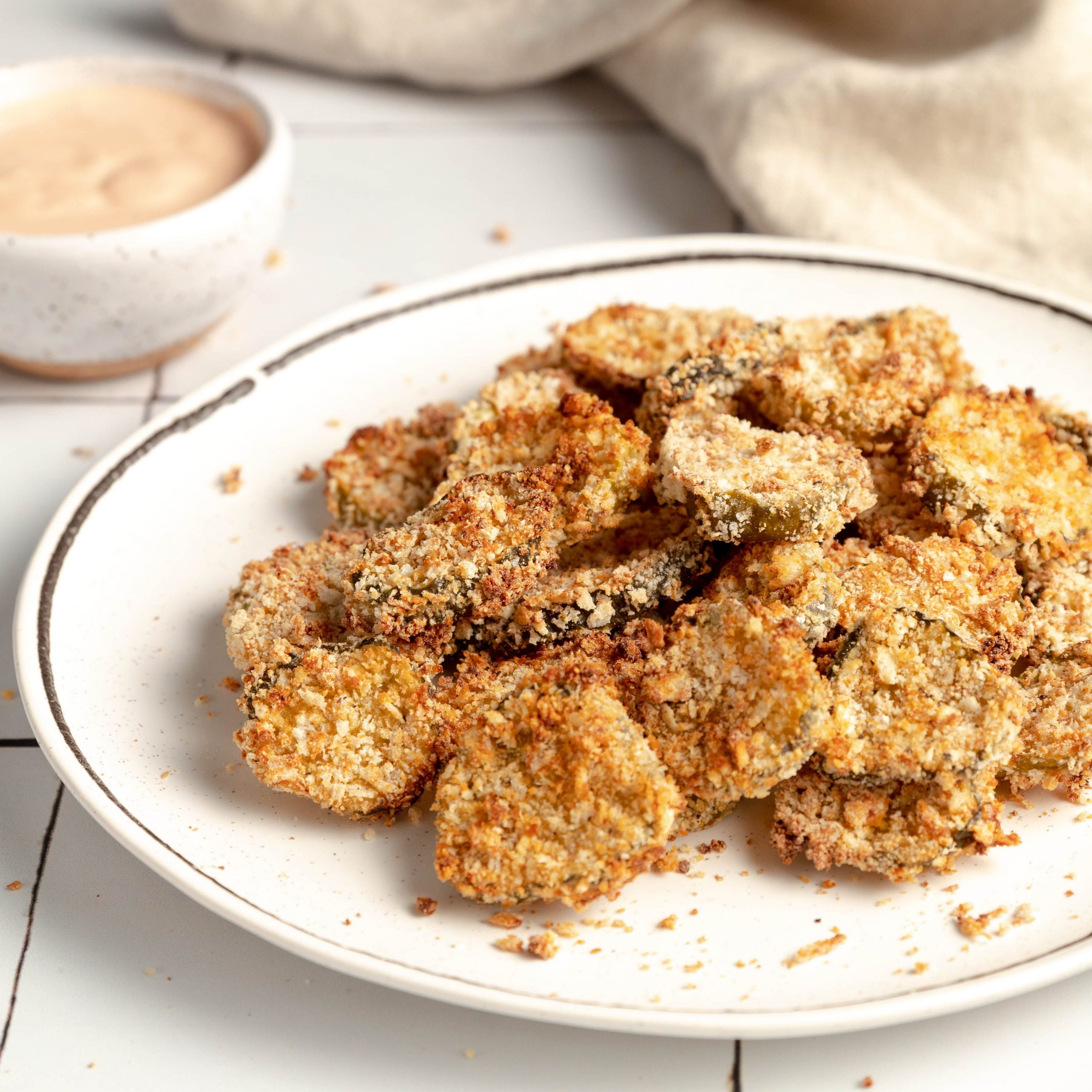 Making Air Fried Pickles
Making these is pretty simple, you just have to follow a few key steps. First, you want to dry your pickle slices. I used bread and butter pickle chips which are on the sweeter side, but you can use whatever you prefer. I laid them out on a paper towel and patted them dry.
To further ensure dryness, toss them in a little flour, just enough to lightly coat them. Then, they'll be ready for the egg mixture and then crumb coating.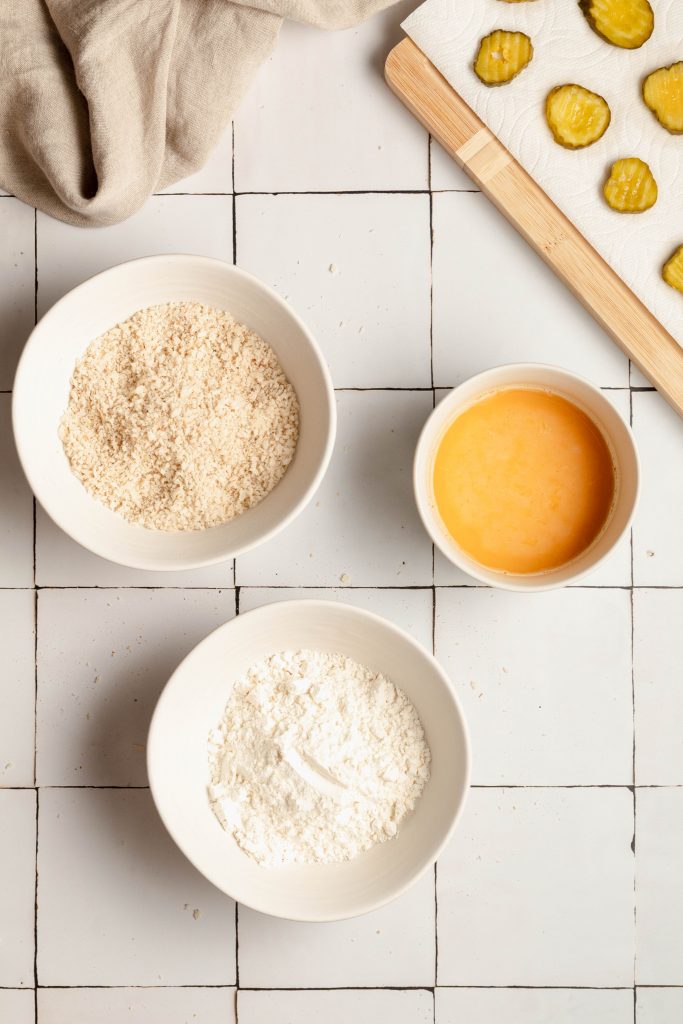 The egg mixture is just beaten eggs + some pickle juice and hot sauce, which adds flavor without adding many calories. The bread crumb mixture is a combo of panko bread crumbs, regular bread crumbs, a little flour, and seasoning. It gives the pickles a great flavor on their own, so the sauce is just a bonus.
Then, spray your pickles with a little cooking spray and air fry at 390F for ~8 minutes, until golden brown. If you like them a little crispier, add a minute or two (but keep an eye on them – they're small so they cook fast!)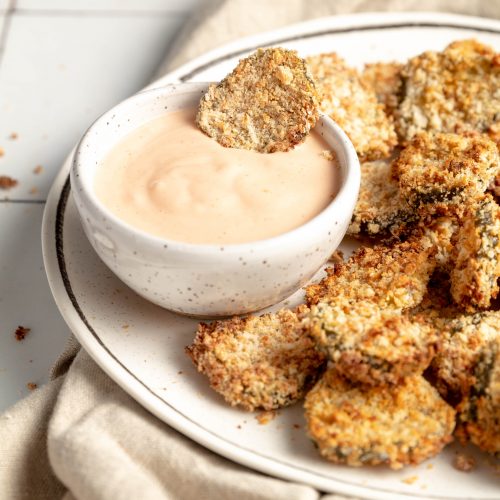 Healthier Fried Pickles
This bar-food fave gets lightened up by way of the air fryer, creating a crispy, crunchy snack that's irresistible. Served with a tangy dipping sauce, these are perfect to make for your next party (or party of 1). 
Ingredients
~30-40 pickle chips

1/3

cup

of flour

tossed on dry pickles
Egg Mixture:
2

eggs

beaten

2

tbsp

pickle juice

1

tsp

hot sauce

I use Frank's Red Hot or Cholula
Dredge Mixture:
3/4

cup

panko bread crumbs

1/3

cup

regular breadcrumbs

1

tbsp

flour

1

tsp

salt

1/2

tsp

pepper

1/2

tsp

paprika

1

tsp

garlic powder
Dipping Sauce:
2

tbsp

nonfat Greek Yogurt

2

tbsp

mayo

1.5

tbsp

ketchup

1/2

tsp

garlic powder

1/2

tsp

salt

1

tsp

hot sauce
Instructions
If required, preheat air fryer to 390F

Dry pickle chips and toss in flour, shaking off any excess

Combine egg mixture ingredients in small bowl

Combine dredge mixture ingredients in medium bowl

Dip floured pickle chips into egg mixture, then bread-crumb mixture

Place finished pickle chips on sprayed air fryer sheet, each about 1/4 inch apart (you don't want them to be too crowded or they won't fry properly)

Spray pickle chips with cooking spray before frying

Air fry at 390F for 8-10 minutes, until golden brown

Combine sauce ingredients and serve alongside freshly air-fried pickle chips, and ENJOY!
Nutrition
Calories:
223
kcal
Carbohydrates:
28
g
Protein:
8
g
Fat:
9
g
Saturated Fat:
2
g
Cholesterol:
85
mg
Sodium:
1314
mg
Potassium:
108
mg
Fiber:
1
g
Sugar:
4
g
Vitamin A:
167
IU
Vitamin C:
3
mg
Calcium:
49
mg
Iron:
2
mg
Tried this recipe?
Add your thoughts below in the comments or post on social media and tag @foodbythegram!