But if you want to, here are the details:
I recently teamed up with Emily Arentz, owner and photographer at MLE Pictures, to highlight the one thing that a food blogger and a wedding photographer get equally excited about – CAKE. We visited six of Philly's top bakeries to learn all about what really goes into making and decorating an epic wedding cake. We interviewed bakers, decorators, and owners alike to find out what's really hot in the world of wedding cakes, from design to taste.
8126 Germantown Ave, Philadelphia, PA 19118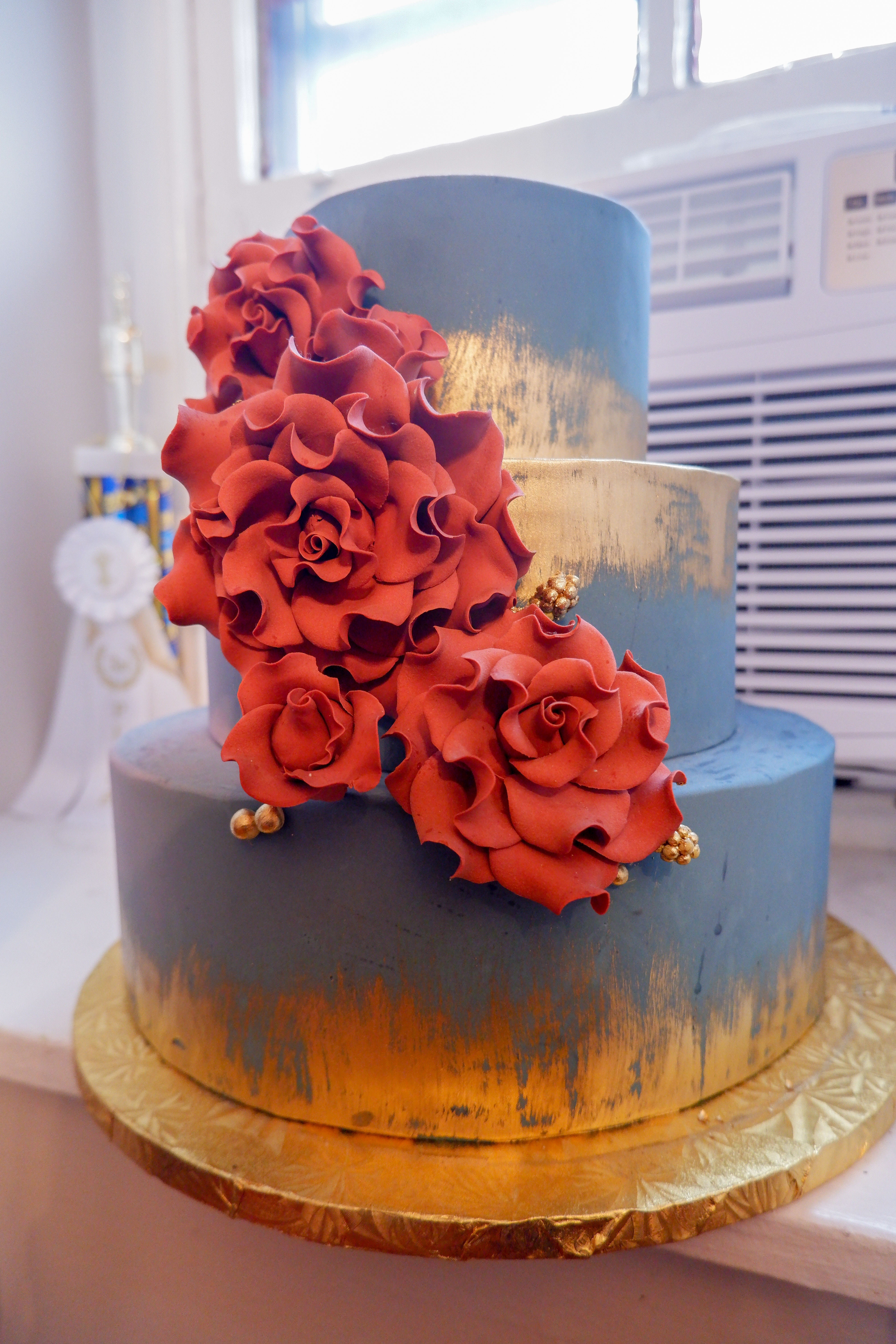 Bredenbeck's is a long-beloved bakery in the Chestnut Hill area, with people consistently touting how good their cookies and cakes are. Despite a relatively small storefront, Bredenbecks actually streches 4 stories upward, where a team of over 40 are whipping up some of the prettiest cakes I've ever seen.
We met Karen Rohde, owner of Bredenbeck's, to talk all things cake. At Bredenbeck's they prefer a sturdy base for their cakes, and pound cake is the vessel of choice. "Philly loves their pound cake," said Karen, when we asked her if she often sees couples branching out beyond the Philly staple. While some like angel food, most local couples are sticking to pound cake.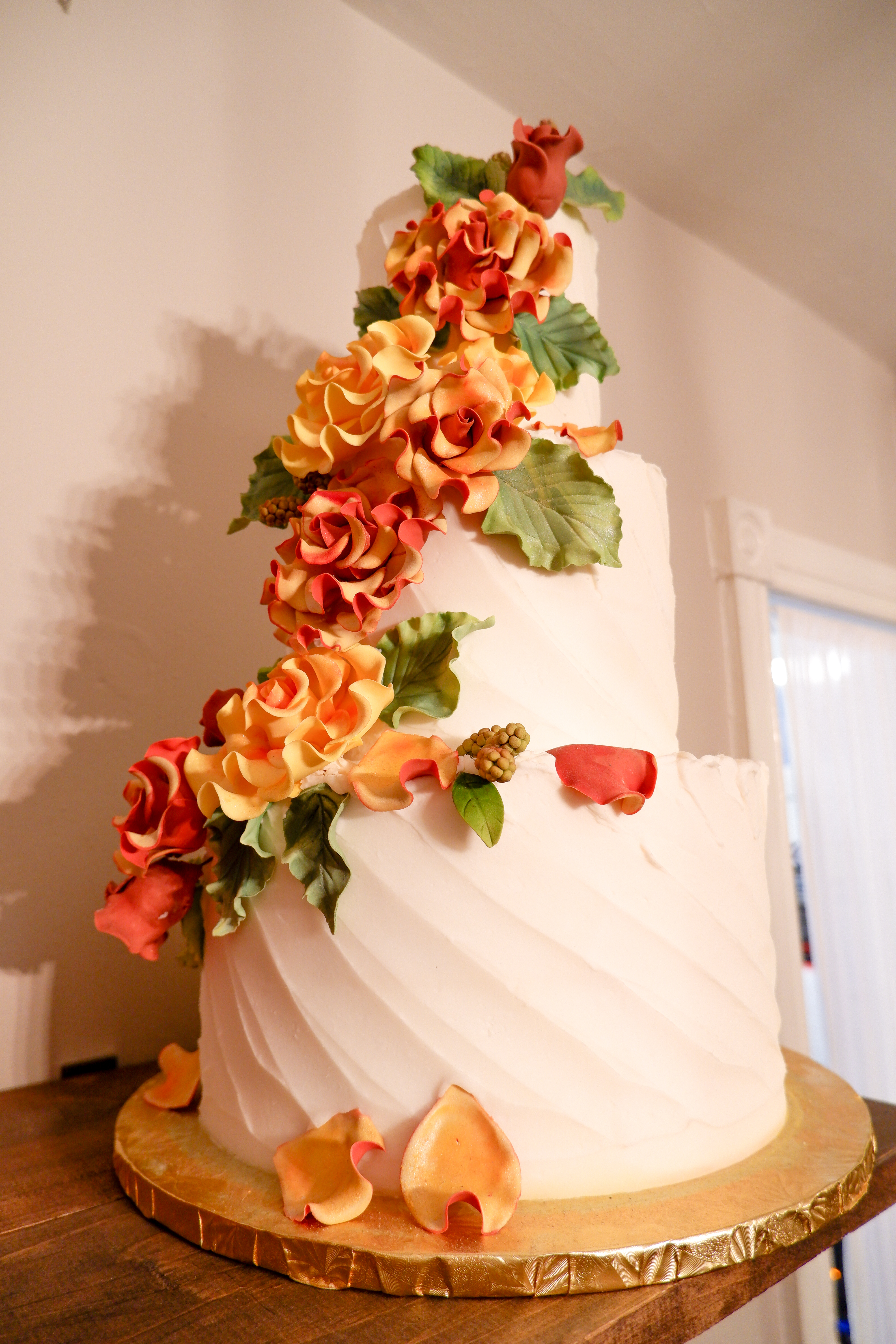 In terms of design, metallics and naked cakes top the list in terms of the most popular designs. Right behind, succulents on cakes as well as cakes with different height tiers are increasing in popularity. When looking at flavors, couples are going with Pink Champagne flavored pound cake (unless it's Fall, in which cake people opt for the pumpkin flavor).
220 Krams Ave, Philadelphia, PA 19127
Stop number two was Nutmeg Cake Design, owned by baker Meg Skill (the Meg in Nutmeg). Without a physical storefront, Meg hosts most of her wedding cake tastings off site at Vault & Vine, where couples can try her delicious creations in an intimate setting. We were lucky enough to get samples right out of the kitchen, and let me tell you, they did not disappoint.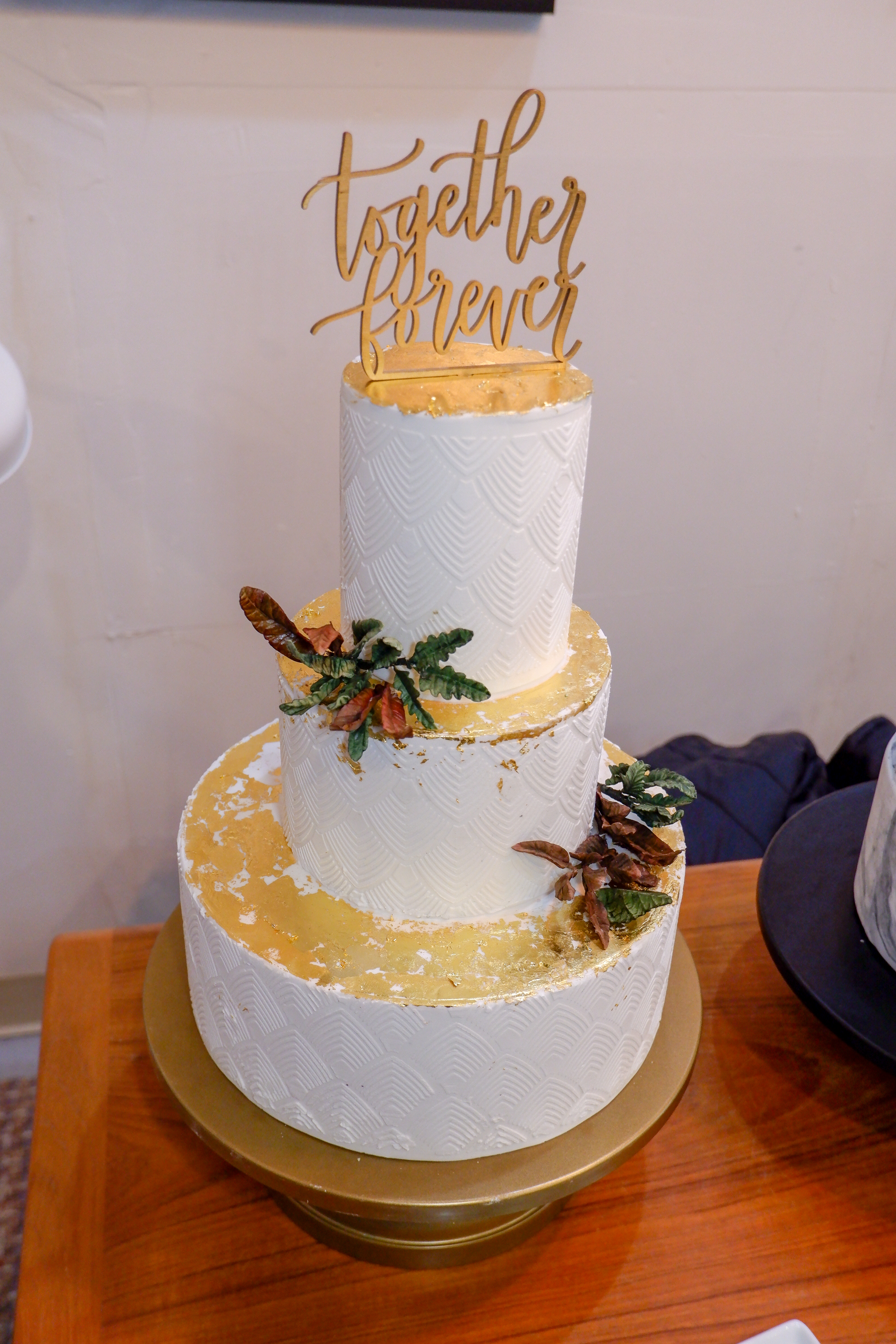 Meg's cakes have been featured in magazines, blogs, and weddings all across the region, and for good reason – her designs are innovative and consistently on-trend. We asked Meg what some of the trends she's seeing in design are, to which she replied that simple buttercream with fresh flowers will always be popular, "it's perfectly classic." Otherwise, people love naked cakes, cakes with marbling and watercolor, and everyone seems to love gold leaf on their cakes.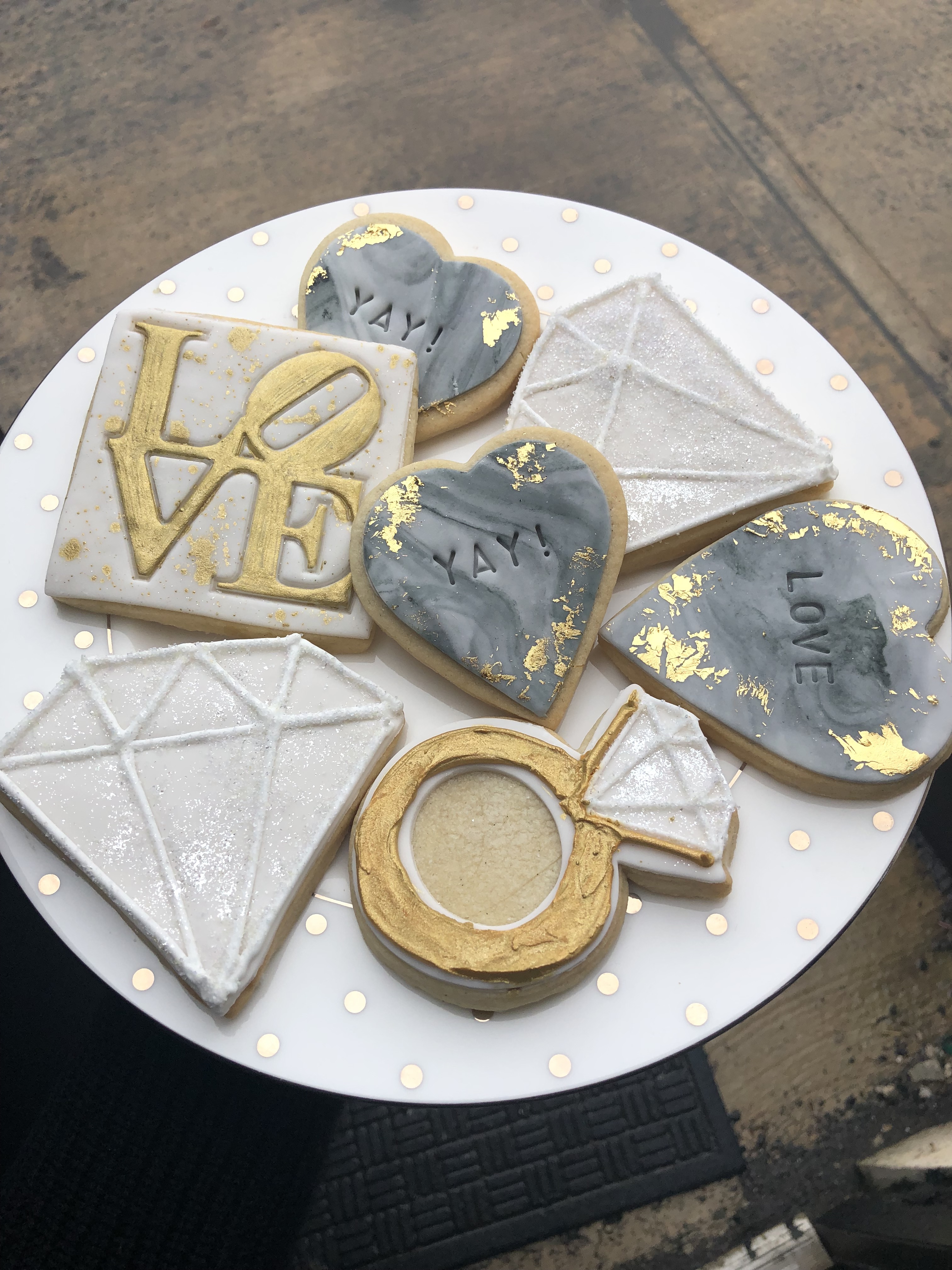 In addition to making absolutely stunning cakes, Meg's flavor combinations are unique yet approachable, to the point where she's seeing couples moving away from 'basic' chocolate and vanilla flavors, and embracing bolder flavors like Orange Olive Oil cake with Honey Buttercream, Pistachio, or Neopolitan with a raspberry twist. When it comes to taste, Meg says that "the trend is that there is no trend."
Crust Vegan Bakery (yes, this is right next to Nutmeg)
220 Krams Ave, Philadelphia, PA 19127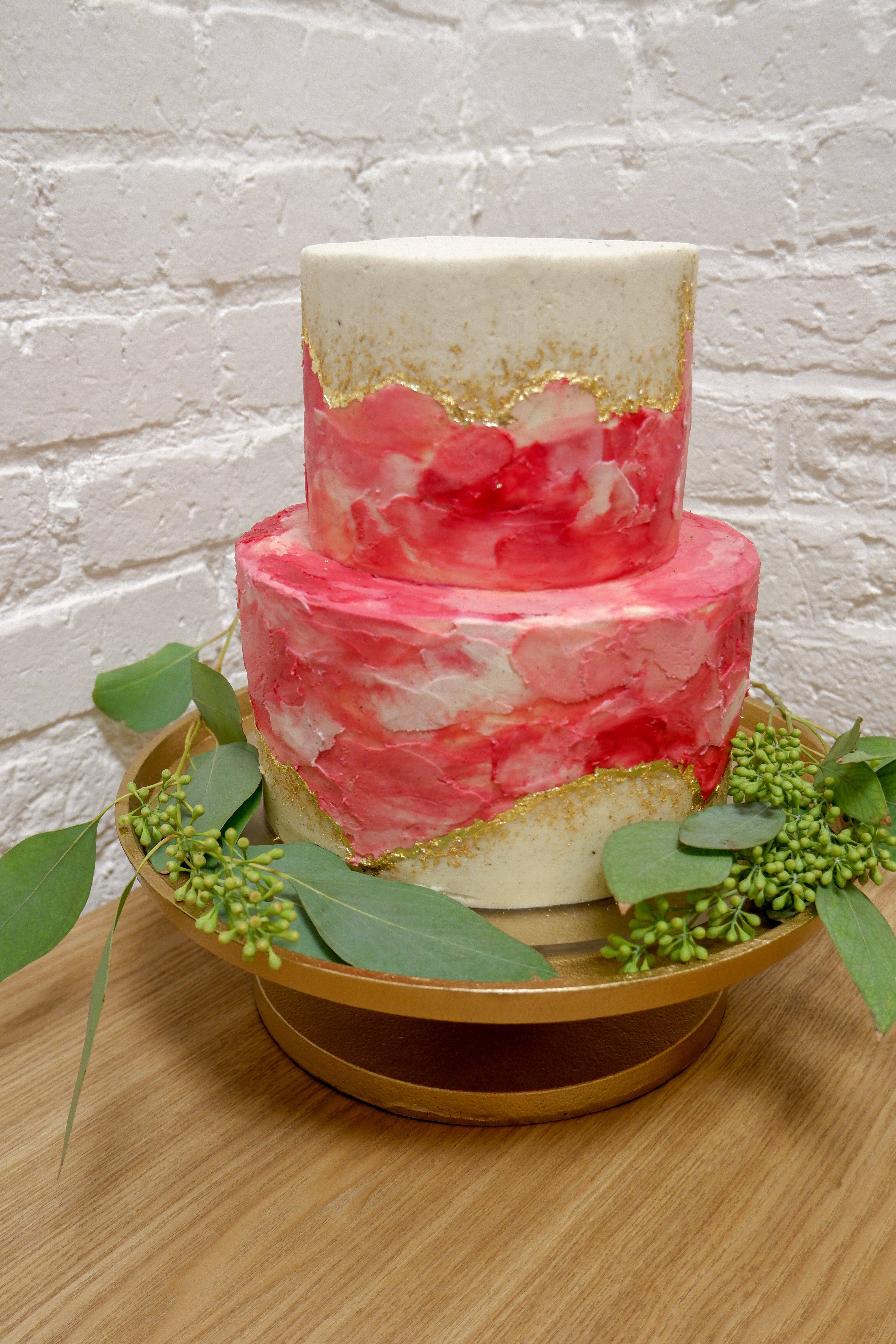 Conveniently located just steps from Nutmeg is Crust, an all-vegan bakery that focuses on an maintaining an entirely local, sustainable kitchen while still cranking out delicious cakes and baked goods. Down to the food coloring, everything is plant-based (beets for red dye, spinach for green dye, purple cabbage for purple, etc). We had a chance to chat with one of the owners, Meagan, who gave us the scoop on the trends that they're seeing at Crust.
Metallics remain a trend, with many cakes having some gold leaf on them, including the delicious pistachio cardamom cake with vanilla buttercream and strawberry preserves that we got to try (I'm not kidding when I say it's better than some non-vegan cakes I've had – truly magical). A lot of couples are opting for rose gold accents as well, and some couples are opting for a small 'cutting cake' that's photo-worthy, and then getting a large sheet cake and other small desserts to actually feed guests.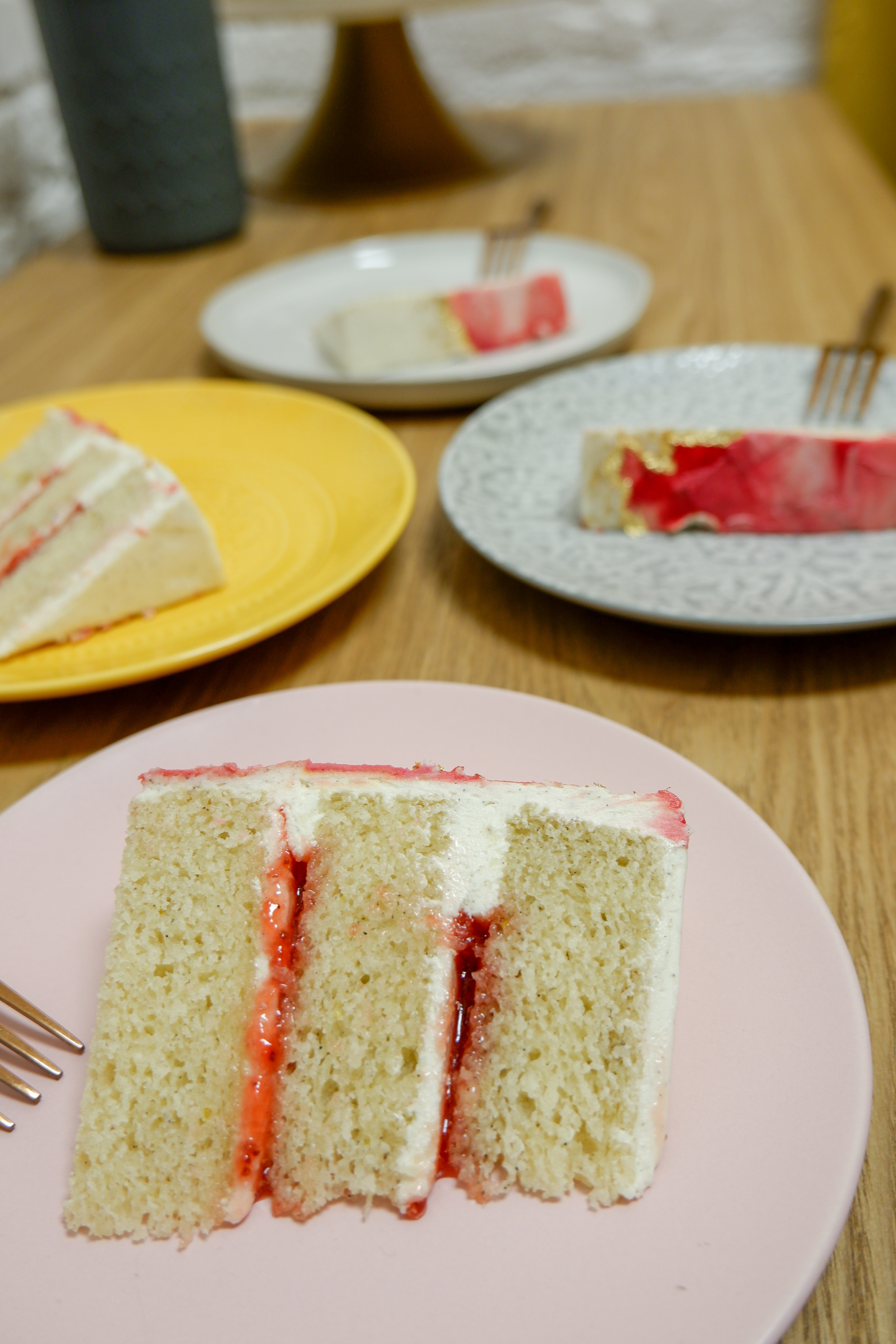 If you're fascinated by the idea of completely vegan, all-natural baked goods that taste incredible, then you're in luck. Crust is in the process of opening up a storefront, and they're working on some delicious new things (vegan pop-tarts and cinnamon buns, anyone?!).
3580 Indian Queen Ln, Philadelphia, PA 19129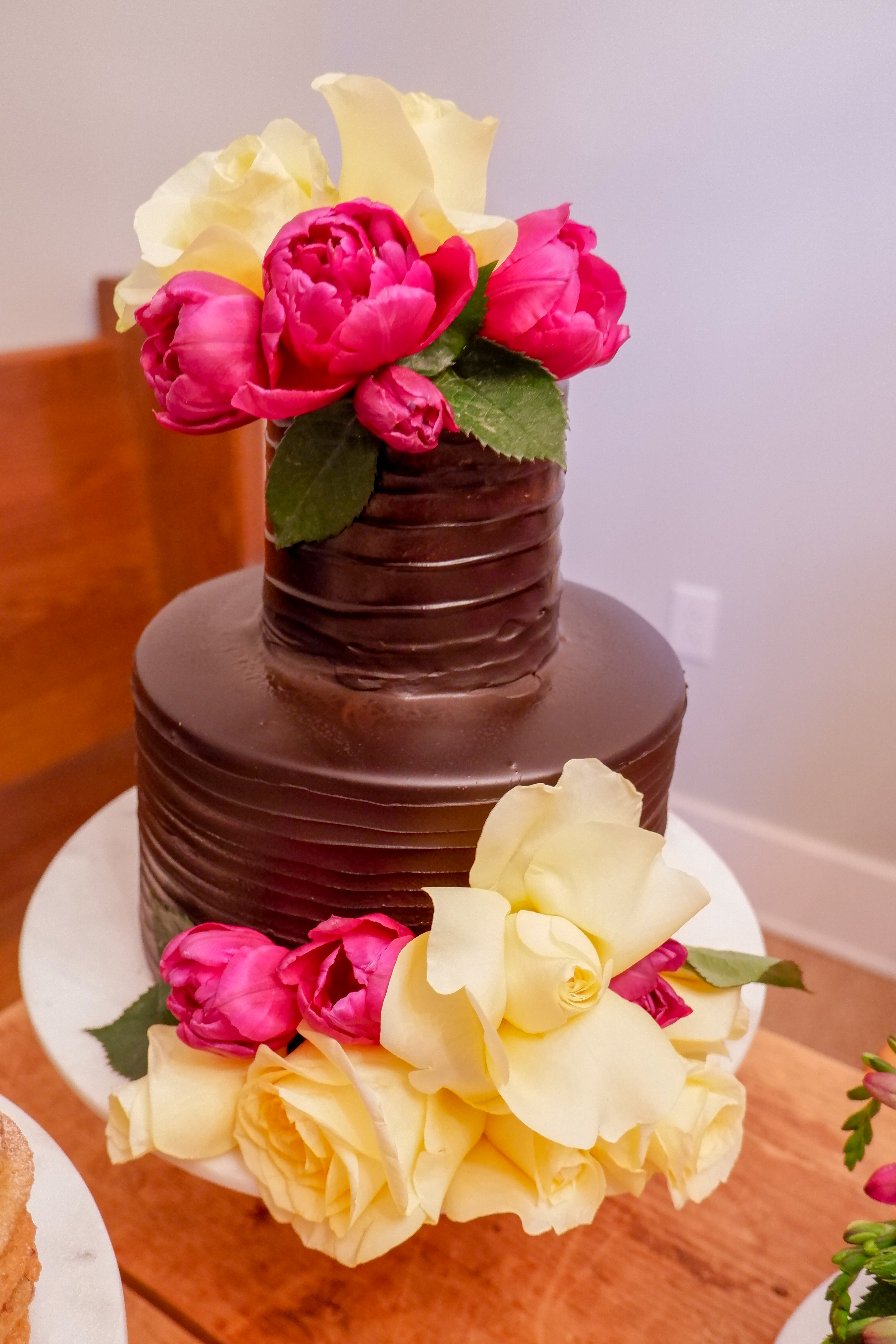 The next leg of our journey took us to a beautiful converted church that serves as a co-working space, which is where The Sugary calls home. The sugary is a one-man show, with Lesly baking up incredible cakes and confections for brides across the region. We arrived as a couple was wrapping up a tasting, and they couldn't stop raving about how good her cakes and frostings were. They highlighted a custom matcha frosting that would be used on their wedding cake that they were sure their guests would love.
Lesly put together a spread of a few cakes and confections that she's created lately. There was a natural looking small buttercream cake, a large jet-black cake with contrasting bold flowers, and something totally unique – mini cookie cakes. At the request of a bride, Lesly was asked to incorporate chocolate chip cookie cake into a wedding treat, so she made a stacked cookie/frosting mini cake and made it elegant and wedding-ready by adding fresh florals. We were lucky enough to sample these treats, and we couldn't get enough! These are sure to be an upcoming trend at bridal showers and weddings alike.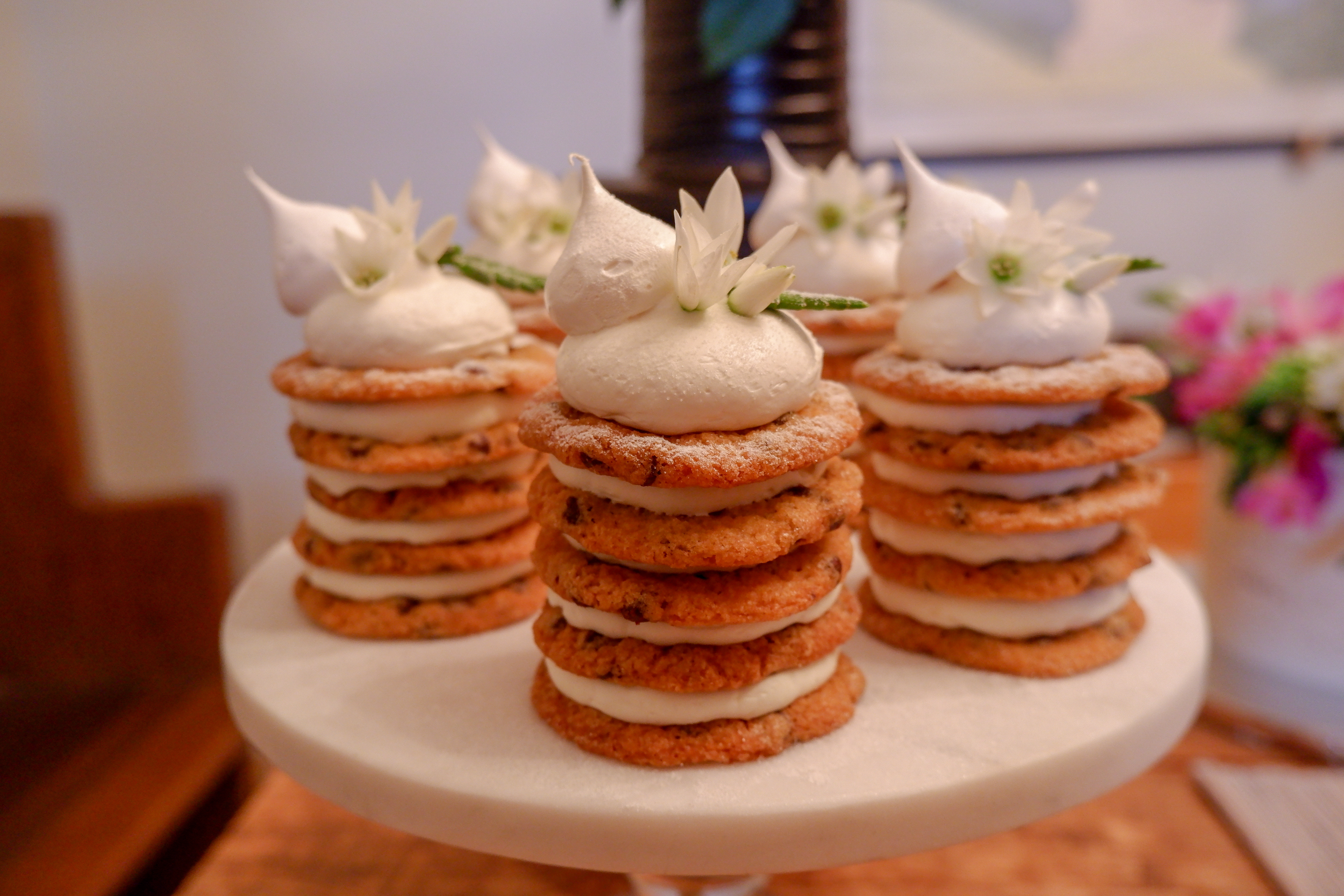 Some other trends that Lesly is seeing are that brides love her buttercream cakes, that they like the incorporation of fresh florals, and they're willing to try new flavors. Lesly recalls one of her favorite cakes – a semi-naked sweet potato cake with fruit, vanilla buttercream, and fresh flowers.
636 Belgrade St, Philadelphia, PA 19125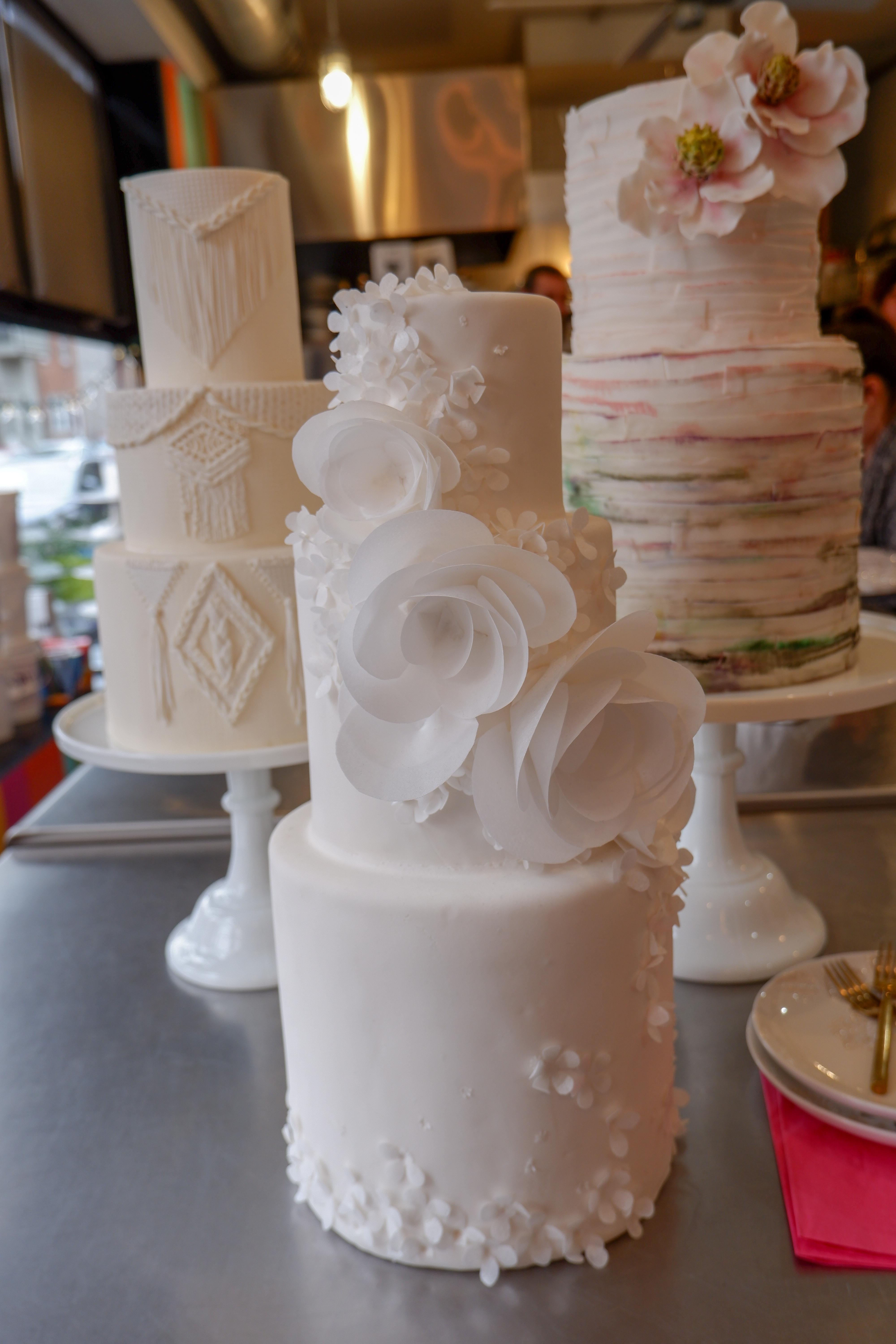 Stop #5 took us to Fishtown in Philadelphia to a quirky bake shop that's whipping (get it?) up some seriously innovative, gorgeous cakes. Many people know Whipped for their delicious cupcakes and unique flavors, and they're able to turn any of your favorite cupcakes into the custom wedding cake of your dreams. Owner Zoe and husband Brennan even let us peek at their notebook of cake designs and ideas, and we were floored at how creative the designs were.
Speaking of design – the trends that they're seeing at Whipped are watercolor cakes, cakes with metallics in shades of gold and rose gold, and painted cakes. However, Zoe prefers to talk to couples about what their vision is rather than just focusing on what's trendy. When it comes to flavor, Salted Caramel and Pink Champagne reign supreme as the most popular flavor choices, though banana cake with nutella frosting is a mainstay and a Whipped staple. Though there's typically a focus on traditional flavors, sometimes Whipped will produce something crazy – like a recent Rosemary Caramel cake that was a hit around the holidays.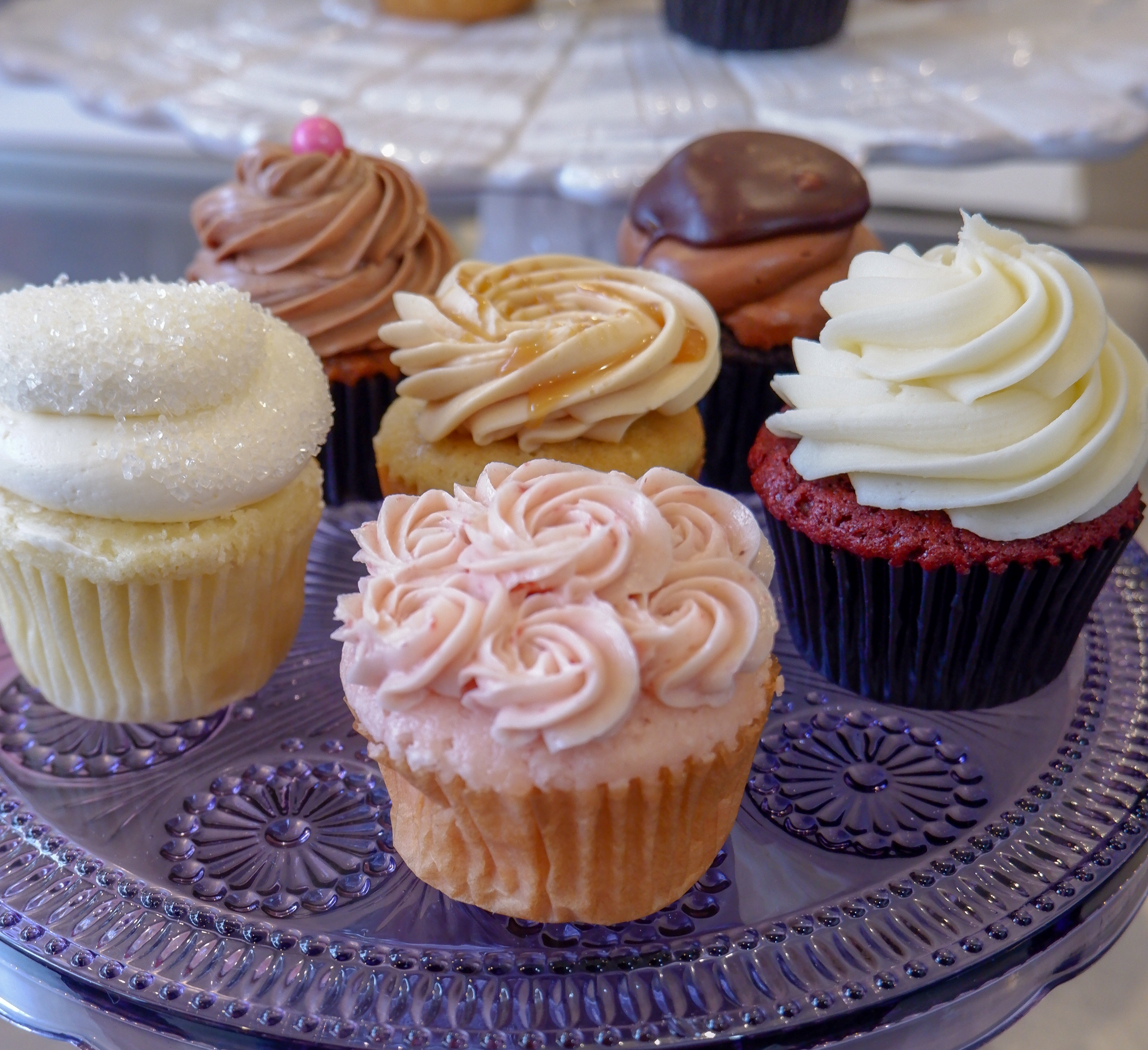 A business with humble beginnings, Whipped was born when Zoe left her job and Brennan was laid off. Zoe was apprenticing at a bakery in Old City, Philadelphia at the time and decided that she was ready to go it on her own, so with a number of well-received Flickr photos and some initial orders as well as the support of Brennan, Whipped Bake Shop was born. Now Whipped is a powerhouse bakery cranking out innovative cakes as well as custom baked goods with unique, seasonal flavors.
1306 Frankford Ave, Philadelphia, PA 19125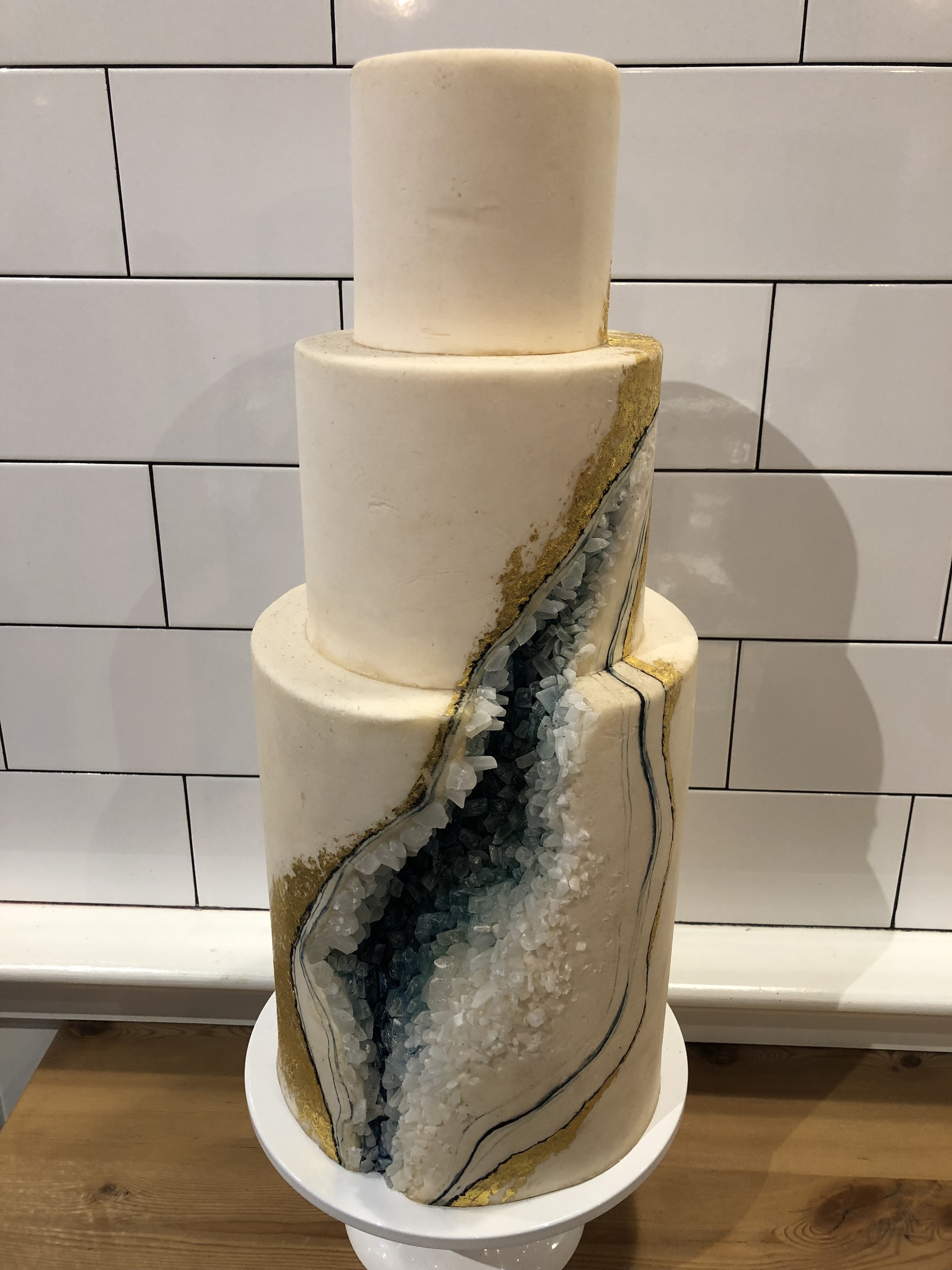 Our last stop was another Fishtown fave – Cake Life Bake Shop, made famous locally when they were asked to make Beyonce's birthday cake (twice). The first thing you'll notice at Cake Life is an immense pastry case filled with literally anything you could dream of. Homemade pop-tarts? Check. Chocolate mousse pie? Check. Cookies shaped like dinosaurs? You bet. There's a separate case just for cakes, as cake life is slinging their unique slices daily.
The cake offerings at Cake Life are a perfect mesh of traditional and out of the box. If you just want a plain vanilla buttercream cake, they make a great one. If you want to be different, try their Pistachio Rose cake, which has a pistachio cake soaked in honey rose syrup, pistachio creme, and a rose buttercream.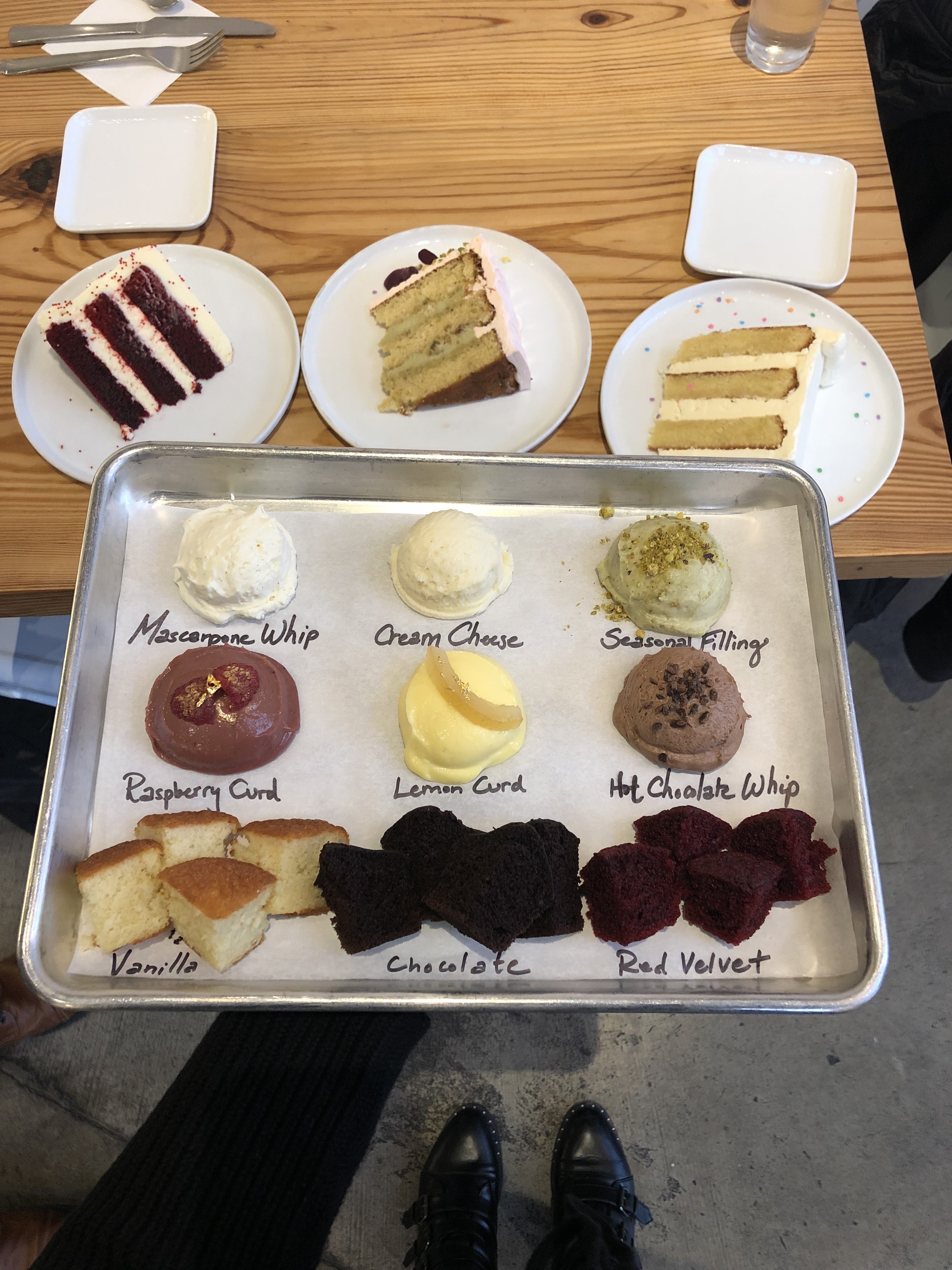 The cake tasting consists of pieces of un-iced cake and scoops of frosting and filling, so couples can mix and match to create their perfect cake. I'm personally a huge fan of their raspberry curd, and one of my favorite cakes ever is their seasonal lemon raspberry cake (which features that amazing curd and a raspberry buttercream). I wish I could say we just had a taste, but frankly everything was so good that we did some serious damage on the various cake slices and samples that baker Trish put out. As if the storefront itself isn't impressive enough, baked Trish has some serious baking street cred – she's been in a number of baking competitions and you can catch her competing again on the Food Network on March 18th, 2019. 
Visiting 6 bakeries in one day is tough work, but somebody has to do it. Emily and I learned all about design and taste trends, and we got to predict the future of wedding cakes with some of the area's best bakers. It looks like 2019 will be full of metallics, florals, and bold, unique flavors that go beyond the standard vanilla. The fun of seeing cakes decorated live, tasting unique flavor combos, and chatting with passionate bakers was only matched by the ridiculous sugar high that Emily and I experienced after subsisting off of nothing but cake for 5+ hours.
But wait, there's more!
Since the sweetest things in life are shared, Emily and I are excited to bring you the 2019 Philly Cake Crawl! You can experience the sheer joy that we did in eating cake non-stop at Philadelphia's sweetest event of the season. We've brought the best bakers and dessert makers in Philly together for one amazing (and darn tasty) showcase event. Join us on April 11th at The Penn Museum (helllllo super cool wedding venue) to sample cakes, cookies, chocolates, ice cream, and more, and learn all about how you can get incredible desserts customized for your next event! You can learn more and buy tickets here!
Post Event Note – THANK YOU to everyone who came out and made the 2019 Philly Cake Crawl a sold out success! You can see some event highlights here, and be sure to follow the @phillycakecrawl Instagram for details on next year's event!