This recipe marries the luscious flavors of strawberry cheesecake with the cool satisfaction of ice cream, all in a guilt-free treat that aligns perfectly with your Weight Watchers goals. Introducing the delectable Strawberry Cheesecake Ice Cream Bites!
Summer is all about relishing the joys of life without compromising on our commitment to wellness. Inspired by the delicious Strawberry Cheesecake Icebox Cake that I published recently, I present to you a treat that encapsulates the essence of summer while allowing you to stay on track with your wellness journey.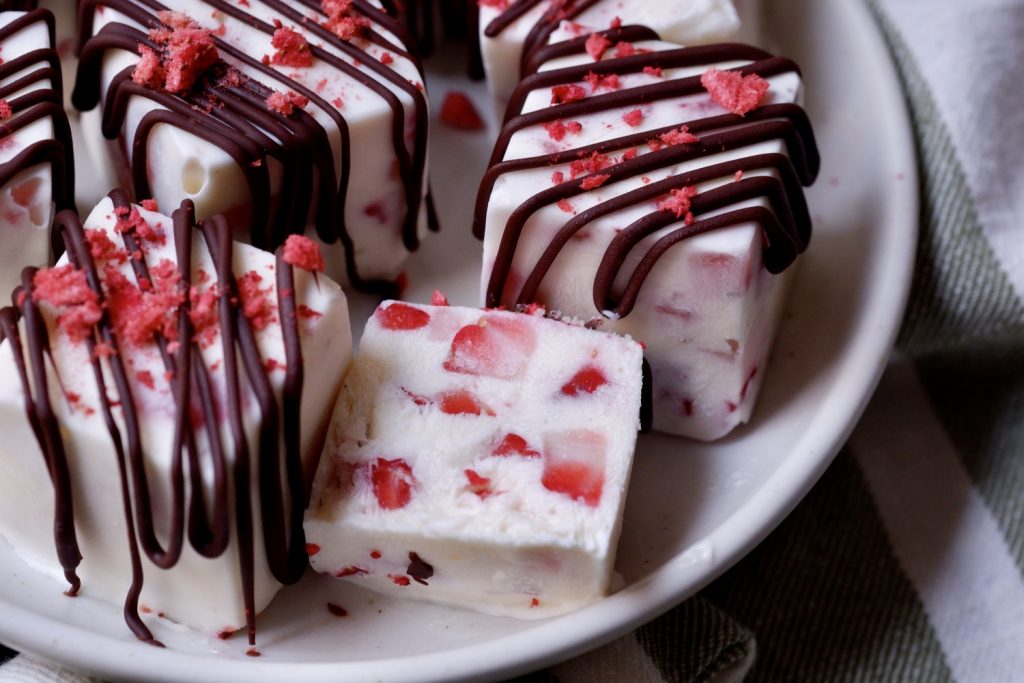 Making Strawberry Cheesecake Ice Cream Bites
Let's dive into how to make these awesome bites. Imagine a velvety base created from a fusion of sugar-free, fat-free cheesecake instant pudding mix, Greek yogurt, and a touch of milk. This creamy concoction forms the base of our treats. Adding a burst of freshness to our ice cream bites are chunks of succulent strawberries. These berries, vibrant and in-season, contribute a natural sweetness and a subtle tartness that harmonizes beautifully with the cheesecake flavor.
Now, let's talk about the magic ingredient – fat-free cool whip. This ethereal addition brings an airiness and delightful texture to our ice cream bites, enhancing the experience without adding unnecessary points. The result is a cloud-like creaminess that's both satisfying and guilt-free.
Assembling these bites is a breeze. Spoon the creamy mixture into bite-sized molds and let them set in the freezer, allowing the flavors to meld and the textures to transform. To take these treats to the next level, drizzle a touch of melted chocolate on top, adding an extra hint of indulgence.
The beauty of these Strawberry Cheesecake Ice Cream Bites lies not just in their deliciousness, but also in their compatibility with your wellness journey. Each bite is a mere 1 point, making them the perfect companions for your summer celebrations, barbecues, or simply a sweet treat on a warm evening. Enjoy!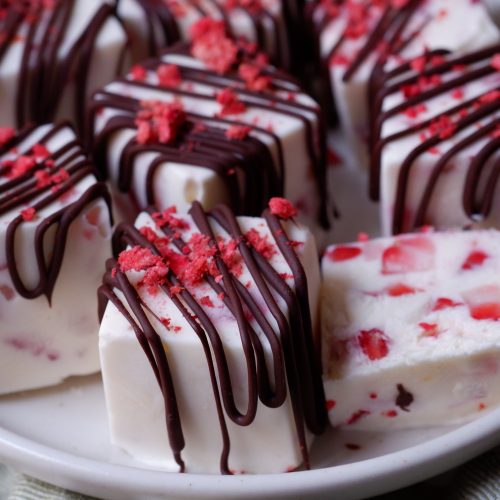 Strawberry Cheesecake Ice Cream Bites
Perfectly poppable little bites that are bursting with strawberry flavor in a creamy cheesecake "ice cream."
Equipment
Mixing Bowl

Whisk

Ice cube tray

or other bite-sized mold
Ingredients
1

package

sugar free fat free instant cheesecake pudding mix

1.5

cups

2% milk

1/2

cup

nonfat Greek yogurt

1.5

cups

fat free Cool Whip

1

cup

strawberries

chopped

chocolate chips

melted (optional- for drizzle)
Instructions
Add milk to pudding mix and whisk until starting to set (about 2 min). Fold in Greek yogurt and Cool Whip until combined.

Add in diced strawberries and gently fold in.

Split mixture amongst 24 molds (I use an ice cube tray) and freeze until hardened (at least 4 hours). If desired, drizzle with some melted chocolate. Store in the freezer, enjoy!
Nutrition
Calories:
22
kcal
Carbohydrates:
3
g
Protein:
1
g
Fat:
1
g
Saturated Fat:
0.3
g
Polyunsaturated Fat:
0.03
g
Monounsaturated Fat:
0.1
g
Trans Fat:
0.01
g
Cholesterol:
2
mg
Sodium:
59
mg
Potassium:
41
mg
Fiber:
0.1
g
Sugar:
2
g
Vitamin A:
24
IU
Vitamin C:
4
mg
Calcium:
28
mg
Iron:
0.03
mg
Tried this recipe?
Add your thoughts below in the comments or post on social media and tag @foodbythegram!