Nothing says celebration quite like a crazy, decadent, layered cake – and this rainbow swirl cake fits the bill. I made this cake to celebrate my blog passing 40,000 followers (ah!!!), and it is a slam dunk. Perfect for your next party, this cake looks impressive, but it WAY easier than you'd think.
40,000 followers – what!
I need to take a second to just FREAK OUT because I am in shock. When I started this blog, it was just a place to take photos of food I ate throughout the city of Philadelphia. I was fortunate to grow my page to 10,000 followers eating out at amazing restaurants and sharing it along the way. I go into my story more here. Then, I found myself super burnt out and wanting nothing more than a home cooked meal. So I got back in the kitchen, and the rest is history.
Then a global pandemic hit. All of the sudden, people couldn't really eat out anymore. More people were forced to cook at home, and I get that not everyone likes to cook. So I set out to share the foods I actually make at home – with some tasty treats in between- showing people that cooking can be simple, fun, and delicious. And, most of all, I want to show people that you can have your cake and eat it too. Enjoy a light, delicious dinner followed by a decadent slice of cake. Really, you'll be fine. The fact that my message resonates with over 40,000 people is absolutely amazing. I'm so thrilled about the community I've built, and want to thank each and every one of you for being here.
Ok, back to cake.
Making Rainbow Swirl Cake
This cake looks super intricate, with layers of colors and a beautiful swirl. But it's actually super easy (promise).
First things first, make your cake batter. Then, decide how many colors you want to have. Split your batter into that many separate bowls or containers. Then, using a gel food coloring, put a little bit (literally use a toothpick) in each batter, and mix well, adding color as needed until to get your desired shades. With gel coloring, a little goes a long way, and it gives you gorgeous, vibrant colors. Regular food coloring gives you dull colors and affects texture.
Once you've mixed your batters, spray your cake pans, and it's time to start creating the swirls. Take your first color, and put about 2 tbsp in the center of the cake pan. Then, take your next color, and using a different spoon so as not to mix colors, put another 2 tbsp dollop right in the center of the first color. Then, take your next color, and put a 2 tbsp dollop right in the center of the last color, and so on. Continue this process until you've run out of batter. See below for a visual on what this should look like.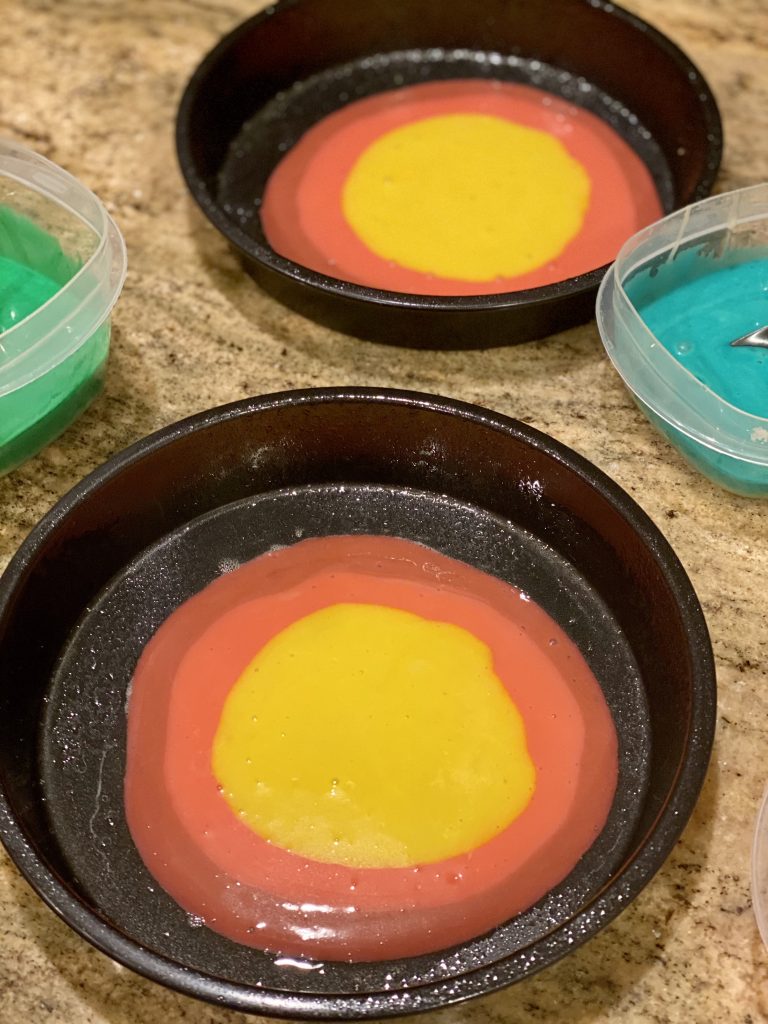 Frosting and decorating
Once your cake layers are baked and cooled, you'll want to level them so that you can easily stack them. I take a large kitchen knife and put my hand on top of the cake, gently slicing through so I end up with flat layers. If you're fancy, you can use a cake leveler.
Next, you'll want to frost on top of your bottom layer, and then stack your next layer. Repeat for however many layers you have. I chose to cut my cake to have four thin layers, but you can also do two thick layers. Once you have your layers filled with frosting, you'll want to crumb coat the cake, which is when you put a thin layer of frosting over the entire outside of your cake to cover any crumbs. This ensures that your exterior layer of frosting goes on nice and smooth.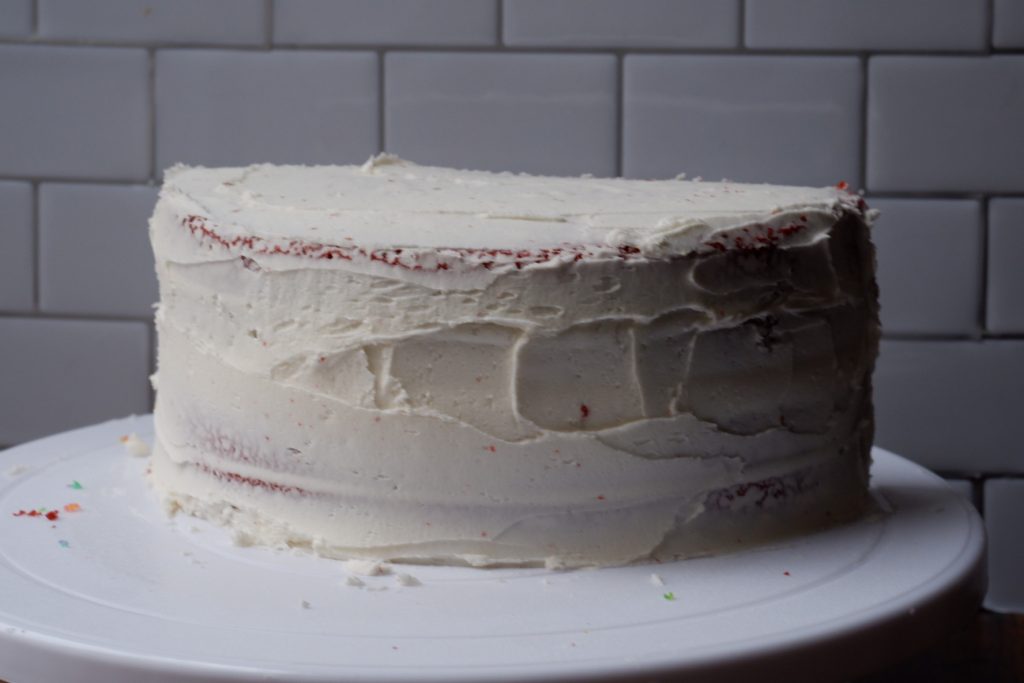 Once crumb coated, you can then pipe frosting all over the exterior, smoothing it to achieve a cleaner look. To frost, I prefer to put a piping bag in a tall glass to fill it, which helps keep it upright and makes it easier to fill the piping bag. For frosting cakes, I use a basic cake decorating kit, which has a turntable and some frosting tools that make smoothing and scraping much easier. I smoothed my exterior frosting, piped some fun swirls on top, and a ribbon of frosting along the base. I then added some rainbow sprinkles on the top and bottom to give it some color, and voila! A rainbow swirl cake.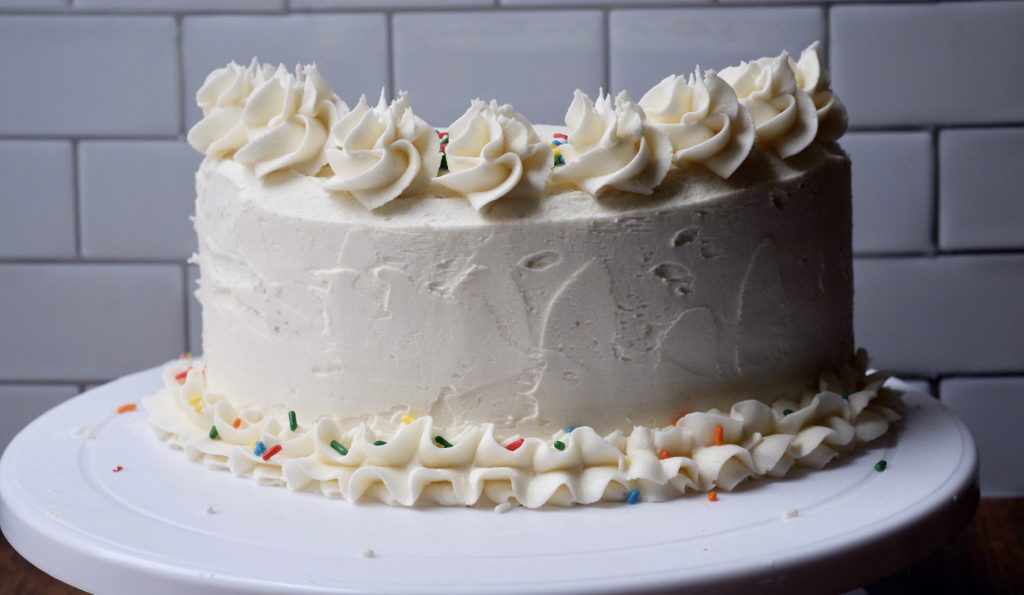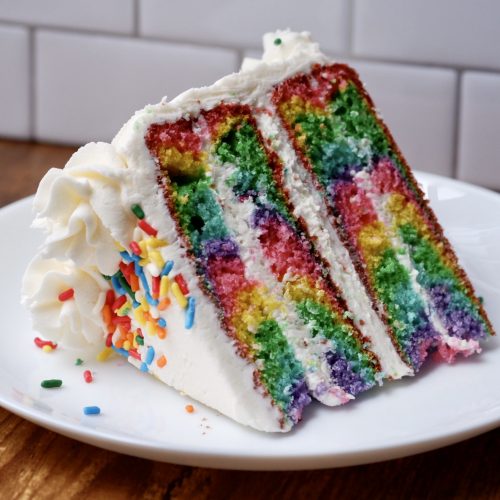 Rainbow Swirl Cake
This cake screams fun, with mesmerizing rainbow swirls and an incredible vanilla almond buttercream. It's way easier than it looks, and it's sure to impress at your next event.
Equipment
Mixing Bowls

8" Cake Pans

Oven

Stand Mixer

Cake Turntable
Ingredients
Cake
2 1/4

cups

all-purpose flour

1

cup

sugar

2

tsp

baking powder

1/2

tsp

salt

1/2

cup

unsalted butter

softened to room temperature

1

tsp

vanilla extract

1

cup

milk

can substitute plant milk

2

large eggs

Gel food coloring

various colors
Vanilla Almond Buttercream
1

cup

Unsalted butter softened to room temperature

3.5

cups

Powdered sugar

1

tbsp

Milk or heavy cream

1

tsp

Vanilla extract

2

tsp

Almond extract

1/2

tsp

Salt
Instructions
To make the cake
Preheat oven to 350F

Beat together butter and sugar until creamed together, then add egg, vanilla, and milk and beat to combine

In a separate bowl, combine flour, salt, and baking powder and pour into the wet ingredients, stirring to combine

Divide batter into 2-6 parts (depending on how many colors you want), and dye each part with gel food coloring. Then, create a swirl by pouring one color after another into the center in 2 tbsp increments (see blog post for details).

Pour into greased cake pans. Bake 25-30 minutes at 350F, until a toothpick comes out clean

Allow cake to cool while you work on your frosting.

Before frosting, level your cake layers. Optional: cut layers in half to create 4 layers.
To make the frosting
Add butter into stand mixer and beat on medium-low speed until butter is whipped.

Mix in vanilla extract, almond extract, and salt and beat until mixture is smooth, scraping down the sides as needed.

Add powdered sugar 1/2 cup at a time, until fully incorporated.

Add milk or cream and mix on medium speed to combine.

To thicken thin frosting, add powdered sugar. If frosting is too thick, add a more milk or cream 1 tsp at a time.
Nutrition
Calories:
521
kcal
Carbohydrates:
71
g
Protein:
4
g
Fat:
25
g
Saturated Fat:
16
g
Trans Fat:
1
g
Cholesterol:
92
mg
Sodium:
422
mg
Potassium:
73
mg
Fiber:
1
g
Sugar:
52
g
Vitamin A:
800
IU
Vitamin C:
1
mg
Calcium:
78
mg
Iron:
1
mg
Tried this recipe?
Add your thoughts below in the comments or post on social media and tag @foodbythegram!