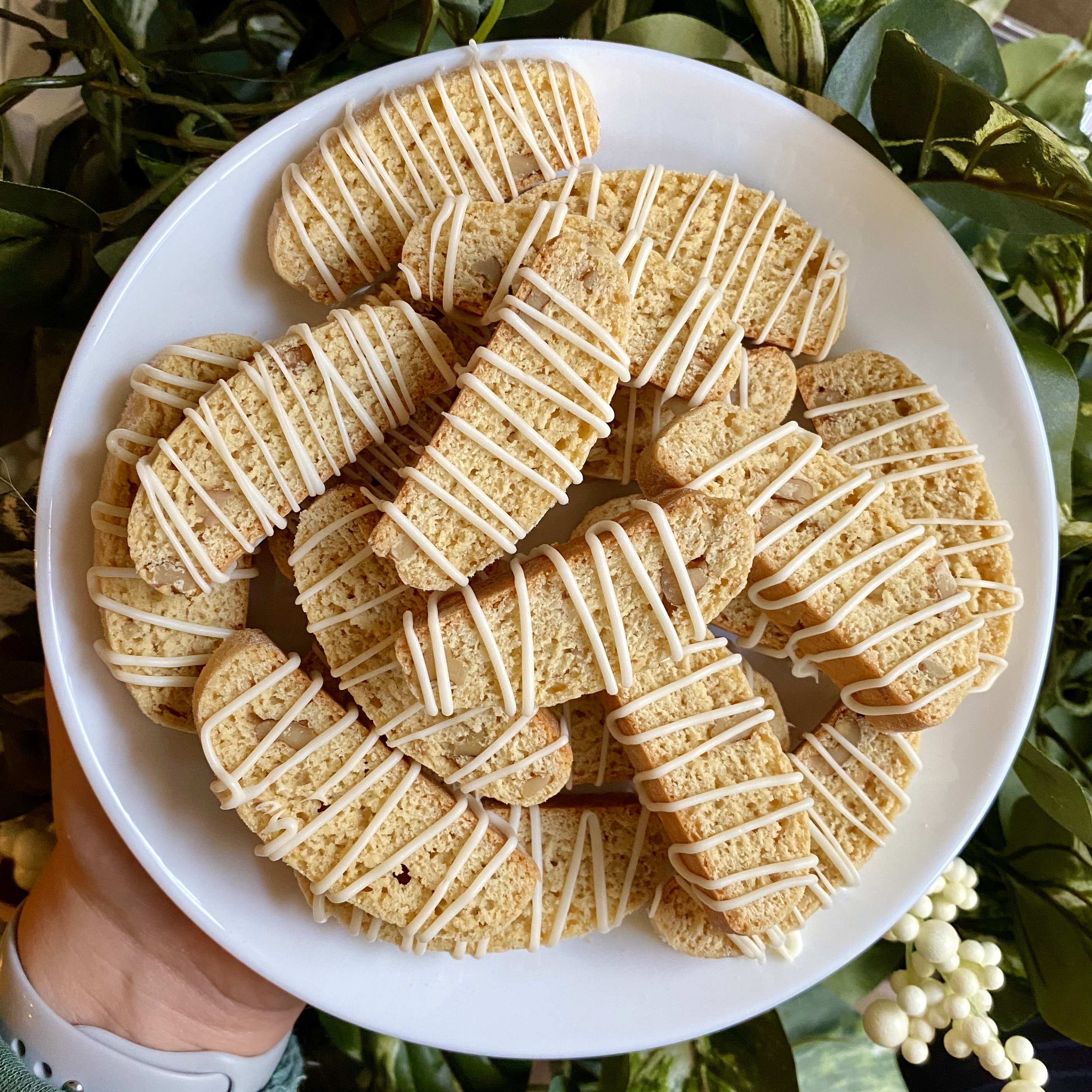 Don't get me wrong, I am all about all things pumpkin in the fall, but honestly maple is one of my favorite flavors year round.
Vermont is one of my favorite places to vacation both in the summer and the winter, and every time I go up there I always look forward to their amazing maple syrup and maple flavored treats. Having recently bought myself some maple extract, I wanted to give one of my favorite cookies a maple twist. 
One of the best cookies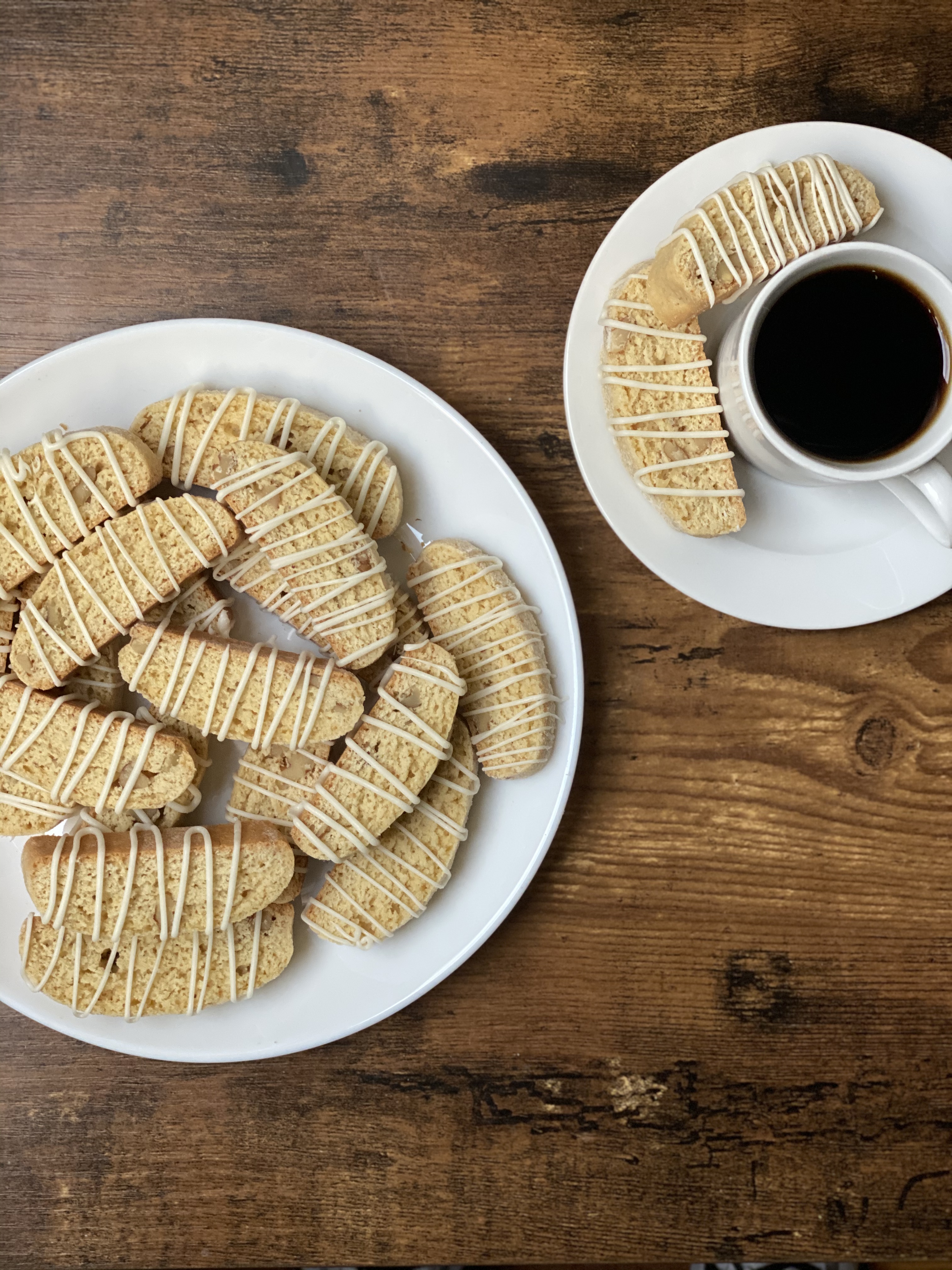 Is biscotti. And I have one main reason for this argument:
It's totally acceptable to eat them breakfast.
Think about it. If you're caught eating chocolate chip cookies and snickerdoodles for breakfast, you're going to raise some eyebrows. However if you're starting your day with some biscotti and a good cup of coffee, you're just having a refined start to your morning. I love that.
As always, cookies, with the caveat that they're not great for you. So I set out to create a biscotti that was still going to be delicious, but a little easier on the waist line.
Lightening up biscotti
The maple extract plays a huge role in creating biscotti that are lighter but still full of flavor. Maple extract adds a lot of flavor and a perceived sweetness, meaning you can use way less sugar when making these cookies. Less sugar equals less calories.
Second, instead of a crazy sugary glaze, these are finished with a thin drizzle of white chocolate. It gives it some additional sweetness and texture, without adding a ton of fat/sugar.
Lastly, since these are on the smaller side, they clock in at just 2 WW SP each (if you skip the chocolate drizzle then they're only 1 SP each). Regular biscotti are 6 points, for reference.
Making the biscotti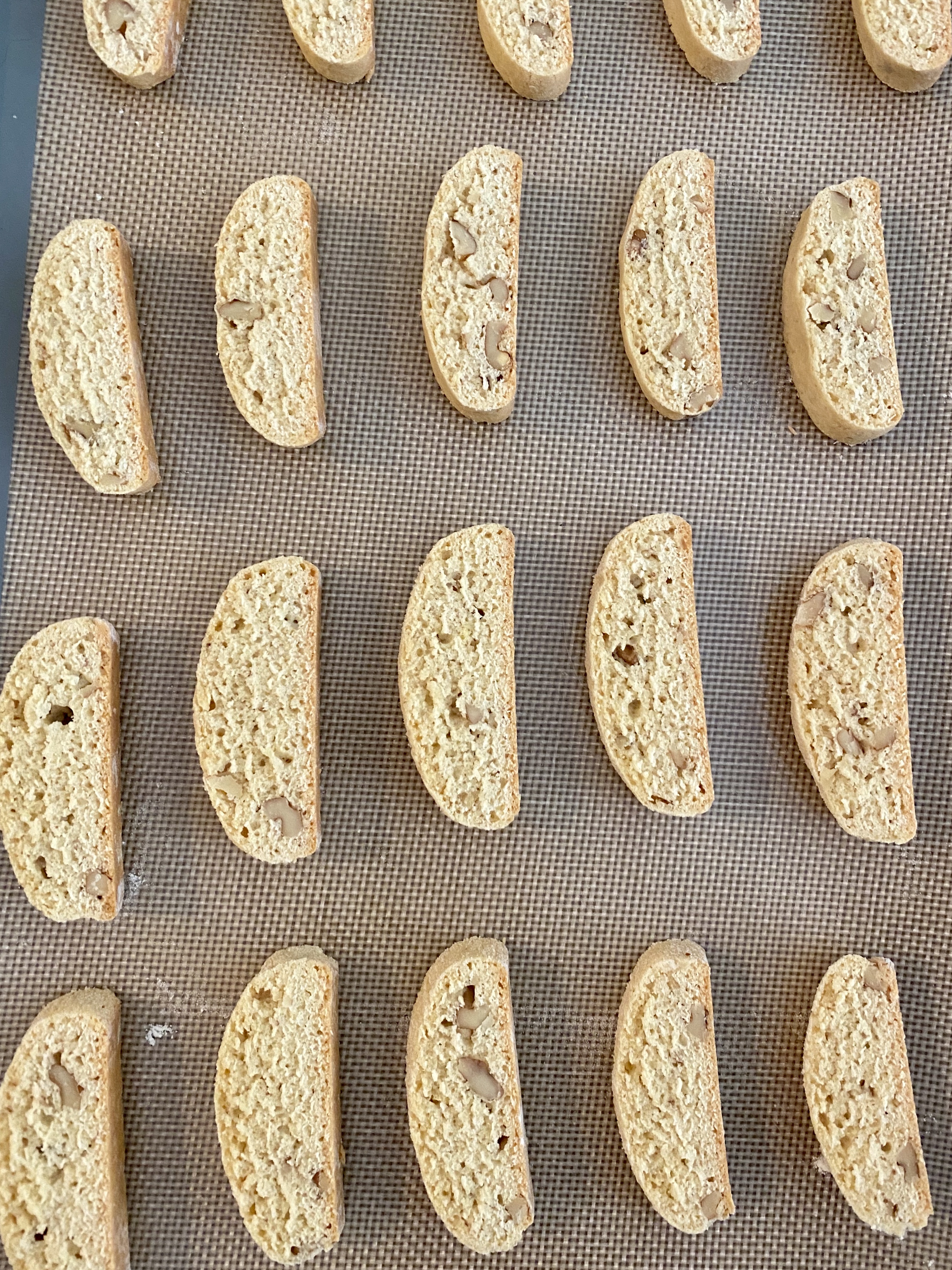 To make these, you start by mixing the wet ingredients in one bowl and the dry ingredients in the other. Combine the two, stir together, and use your hands to finish off the dough and form a ball. You then want to take that dough and cover it in plastic wrap, and put it in the fridge. Refrigerating the dough for 20-30 minutes before baking will ensure a sturdier dough that's easier to form.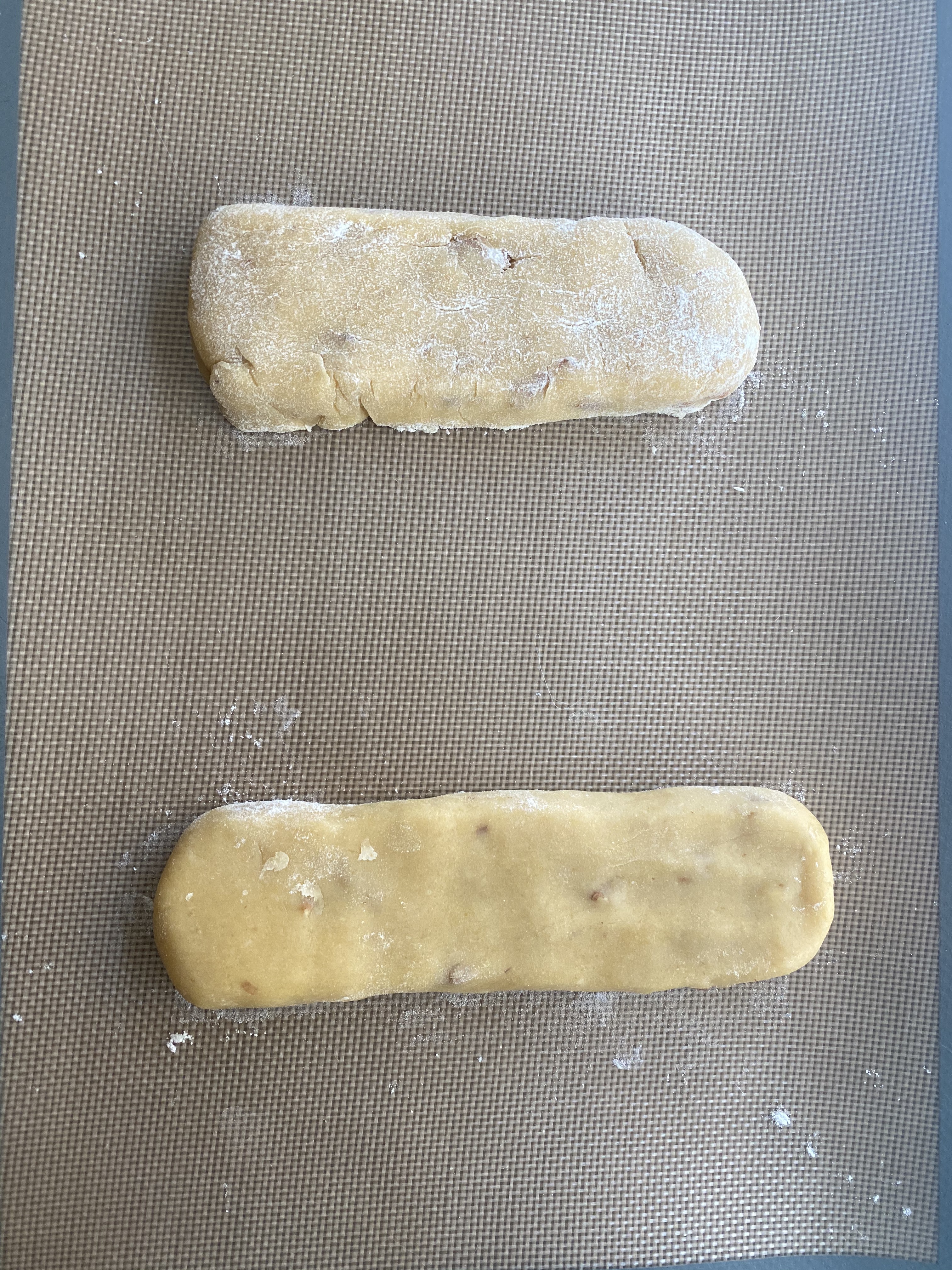 Once you remove the dough from the fridge, turn it onto a floured surface and put a little bit of flour all over so it's easier to work with. You'll then want to split the dough into two, roll it into a log, and then flatten that log so you have two pieces that are roughly 2 inches wide by 6 inches long.
You're then going to bake those two logs most of the way, and once they're mostly baked, your cut them into individual biscotti, which she will then bake a bit longer to finish drying them out. Once you remove the biscotti from the oven, let them cool before drizzling them with white chocolate or a place of your choice. Frankly you can totally skip any sort of glaze, as these biscotti are packed with maple flavor and delicious crunchy nuts and are fabulous on their own. bro yourself a hot cup of coffee, grab some biscotti, and see what your mornings have been missing.
Looking for more light desserts?
Delicious baked goods, just a bit better for you. Check out some of my other lightened up recipes: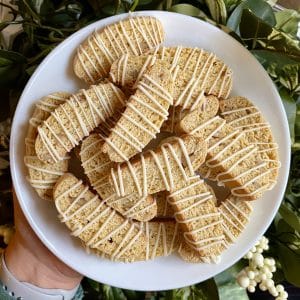 Lighter Maple Walnut Biscotti
Biscotti don't have to be intimidating – you can make your own amazing cookies at home!
Equipment
Mixing Bowls

Cookie Sheet

Oven

Knife
Ingredients
2

tbsp

melted butter

cooled

5

tbsp

sugar

1/2

teaspoon

maple extract

1

egg

3/4

cups

flour

all purpose + 2 tbsp

1

pinch

salt

1/2

teaspoon

baking powder

2

tbsp

crushed walnuts

3

tbsp

white chocolate chips

melted for drizzle (optional)
Instructions
In a large bowl, mix together melted butter and sugar until mixture is fully combined, then mix in eggs and maple extract.

In another bowl, whisk together the flour, baking powder, salt.

Stir gradually into egg and sugar mixture. Crush walnuts and mix into dough.

Press dough into a ball and cover in plastic wrap and chill in the fridge for 20 – 30 minutes.

Turn dough on to a lightly floured flat surface and cut into 2. Roll each piece into a log, then flatten so you have 2 logs that are roughly 2 inches wide by 6 inches long.

Bake at 300 for 30-35 minutes until logs are light brown.

Remove the logs from the oven, and set aside to cool for approximately 10 minutes. Reduce the oven heat to 235°F

Cut logs into 1/2 inch slices.  Lay slices on the prepared baking sheet and bake for approximately 8-10 more minutes.

Transfer biscotti to a wire rack to cool completely. Once cooled, drizzle with whites chocolate or glaze of choice, and allow to set. Store in an airtight container at room temp, and enjoy!
Nutrition
Calories:
45
kcal
Carbohydrates:
7
g
Protein:
1
g
Fat:
2
g
Saturated Fat:
1
g
Cholesterol:
7
mg
Sodium:
15
mg
Potassium:
18
mg
Fiber:
1
g
Sugar:
4
g
Vitamin A:
10
IU
Calcium:
11
mg
Iron:
1
mg
Tried this recipe?
Add your thoughts below in the comments or post on social media and tag @foodbythegram!