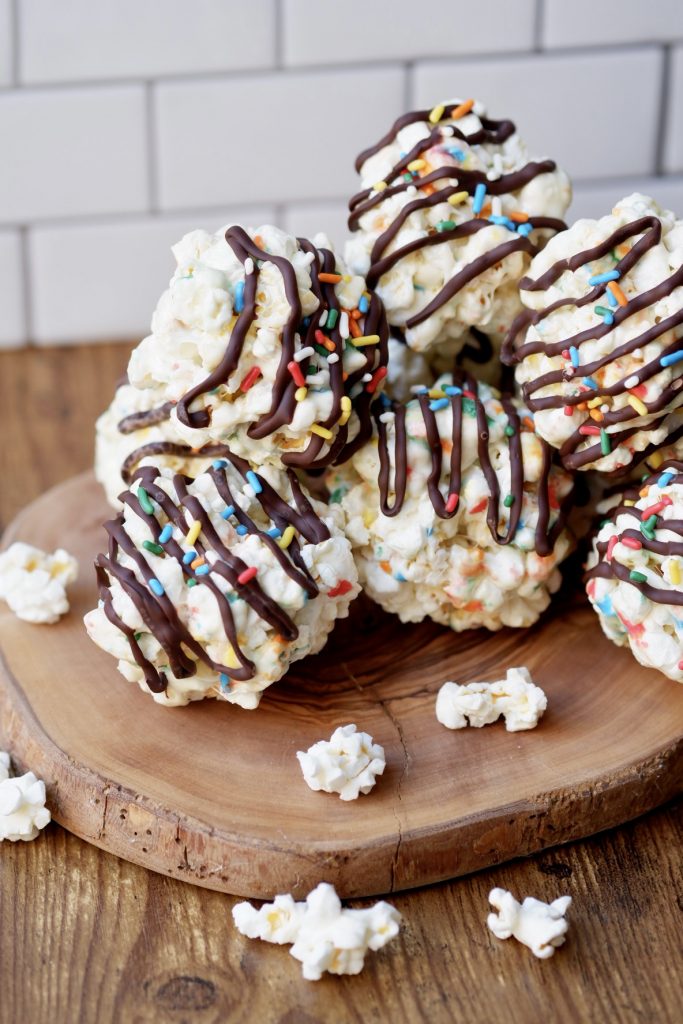 Don't get me wrong, rice krispie treats rock. I love the combo of chewy, crunchy, and sweet. But they're played out. Yeah, I said it. So I got to thinking – how can I riff on that same concept, but make it even better? Behold: Funfetti Popcorn Balls.
These treats are a no-bake, super quick, gluten-free, weight watchers friendly masterpiece. Instead of puffed rice cereal, the base of these is POPCORN! It's a little salty, little sweet. Little chewy, little crunchy. All fun.
To finish these off – a little drizzle of chocolate and some sprinkles amps up the flavor and the fun.
The best part? These are just 3 WW SP each. Enjoy them as dessert, as a snack, or bring them to your next gathering (they'll be a hit – trust me).
Inside Funfetti Popcorn Balls
First things first, we need to make some popcorn. For this recipe, I advise completely plain popcorn, which I dress up with a few sprays of I Can't Believe It's Not Butter spray and a hint of salt.
Next, marshmallows which will bind it all together. Any marshmallows will do, but I personally prefer minis because they melt faster.
Butter is also key to getting a nice, smooth marshmallow creme. To keep these WW friendly and lower in calories and points, I swapped butter with Smart Balance. Smart Balance is a vegetable oil based spread, which is lower in fat, calories, and ultimately WW points than butter.
Lastly, topping and mix ins! I mixed in a bunch of rainbow sprinkles to create funfetti popcorn balls. If sprinkles aren't your jam, feel free to omit. I then drizzled each ball with a little bit of melted chocolate and some extra sprinkles to finish them off. I used Lily's Dark Chocolate Chips, which are only 2 WW SP for 60 chips.
Making the popcorn balls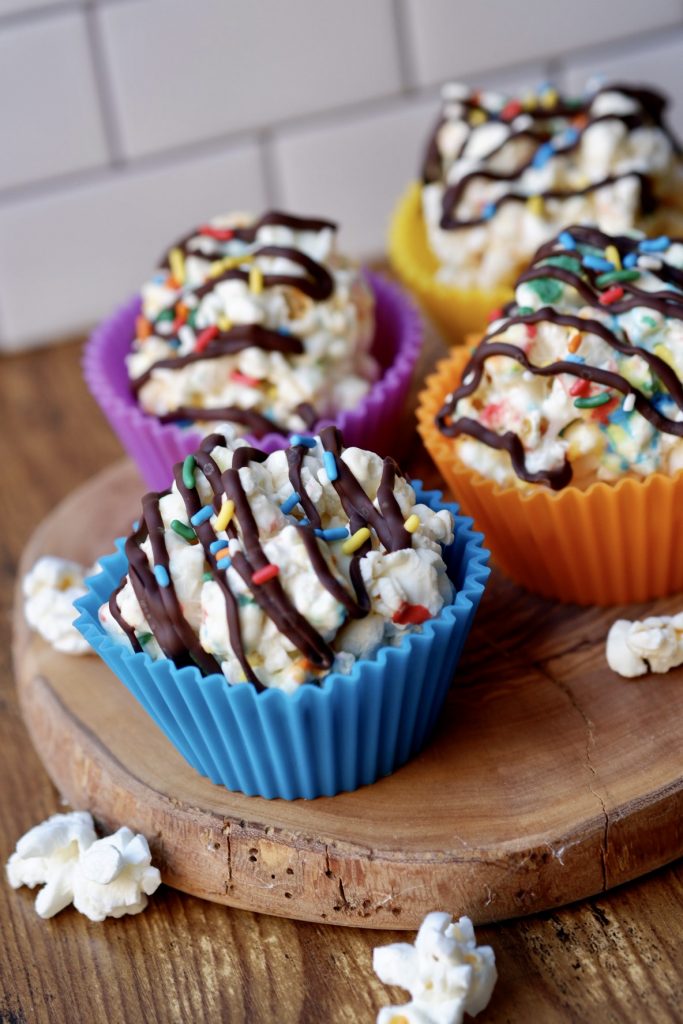 I love a good no-bake recipe. It's something you can whip up an hour before you need it and know it's going to be easy, delicious, and ready in time.
First, prepare your popcorn. Usually it's as easy as popping it in the microwave for 2-3 minutes. I use one of these handy popcorn bowls as well. Once popped, put it into a large mixing bowl and remove any kernels. Nothing fun about chomping down on one of those.
Next, melt the Smart Balance in a medium saucepan, add vanilla, and then add in your marshmallows. You'll want to stir consistently so that your marshmallows melt evenly and combine with the Smart Balance.
Once you have a smooth marshmallow mixture, pour it over the popcorn, add your sprinkles, and mix! It does get sticky and thick quickly, so you'll want to work fast. Once fully combined, lightly grease your hands (I use a little cooking spray or you can use some smart balance), portion out roughly 1/3 cup, and roll into a ball. I let mine set in silicone baking cups that I had in a muffin tin.
Once they're set, drizzle them with some chocolate and top with extra sprinkles for some pizzazz.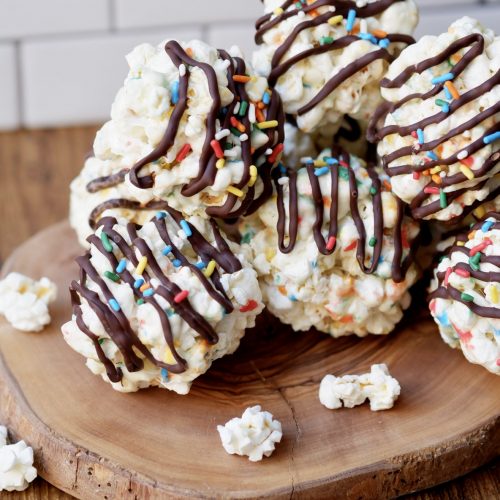 Funfetti Popcorn Balls
These treats have it all – salty, sweet, crunchy, chewy, and better for you. At just 3 WW SP each, these gluten-free, dairy-free funfetti popcorn balls are sure to be a hit with just about anyone!
Equipment
Saucepan

Large Mixing Bowl
Ingredients
5

cups

popcorn

plain, popped

2

cups

mini marshmallows

1

tbsp

Smart Balance

1

tsp

vanilla extract

4

tbsp

rainbow sprinkles

4

tbsp

dark chocolate chips

Lilys if tracking points
Instructions
In a medium saucepan, melt Smart Balance, add marshmallows and vanilla. Stir consistently until you have a completely smooth mixture

Pour smooth marshmallow mixture over popcorn, add sprinkles, and mix well

Lightly grease hands with cooking spray and pull out roughly 1/3 cup of the popcorn marshmallow mixture and rill it into a ball

If decorating, put popcorn balls in a muffin tin so they don't roll away

Melt chocolate in 30 second intervals in the microwave, drizzle over popcorn balls, and top with extra sprinkles!

Store at room temp for up to 3 days. Enjoy!
Notes
You can use as little as 2/3 tbsp of Smart Balance to keep points low, but I wouldn't go lower than that, as you risk a very stiff final product!
Nutrition
Calories:
128
kcal
Carbohydrates:
22
g
Protein:
1
g
Fat:
4
g
Saturated Fat:
2
g
Cholesterol:
1
mg
Sodium:
31
mg
Potassium:
62
mg
Fiber:
1
g
Sugar:
13
g
Vitamin A:
56
IU
Vitamin C:
1
mg
Calcium:
21
mg
Iron:
1
mg
Tried this recipe?
Add your thoughts below in the comments or post on social media and tag @foodbythegram!