As the leaves start to change and the air turns crisp, there's no denying that autumn is upon us. And with this season of warmth and coziness comes a delightful opportunity to indulge in the comforting flavors of fall. Today, I'm thrilled to introduce you to a luscious treat that embodies the essence of this time of year – Creamy Pumpkin Pie Dip!
If you're anything like me, you're already envisioning cozy evenings spent around the fireplace, wrapped in your favorite blanket, and surrounded by friends and family. And what better way to celebrate these precious moments than with a delectable dip that's not only easy to make but also fits perfectly into your lifestyle? Perfect for solo evenings or group get togethers – you're sure to love this dip!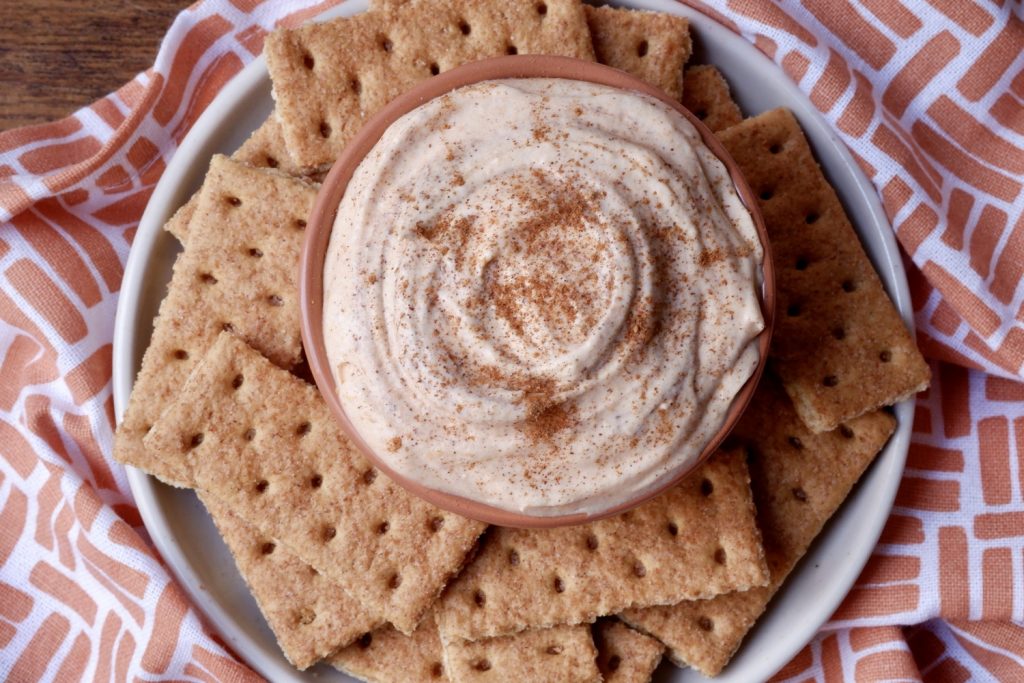 Making Creamy Pumpkin Pie Dip
To create this scrumptious pumpkin pie dip, you'll need just a handful of simple ingredients. First and foremost, pumpkin puree takes center stage. It brings that rich, velvety texture that we all adore. Opt for the canned variety or whip up some homemade pumpkin puree if you're feeling extra ambitious – either way, your taste buds will thank you!
Next up, we add a creamy twist by incorporating fat free Cool Whip. It lends a luxurious mouthfeel and adds major fluff-factor.
Now, let's talk sweetness. To strike that perfect balance between indulgence and health-consciousness, we'll add sugar free vanilla pudding mix. The sweetness complements the pumpkin beautifully, elevating the flavors without overwhelming your taste buds with lots of sugar. You'll also need fat free milk to mix up the pudding.
Lastly, no pumpkin pie-inspired creation would be complete without a medley of warm spices. A dash of cinnamon, a pinch of nutmeg, and a hint of ground ginger come together in this dip to evoke the cozy aromas of autumn. I typically just use a pre-mixed pumpkin pie spice to keep things simple.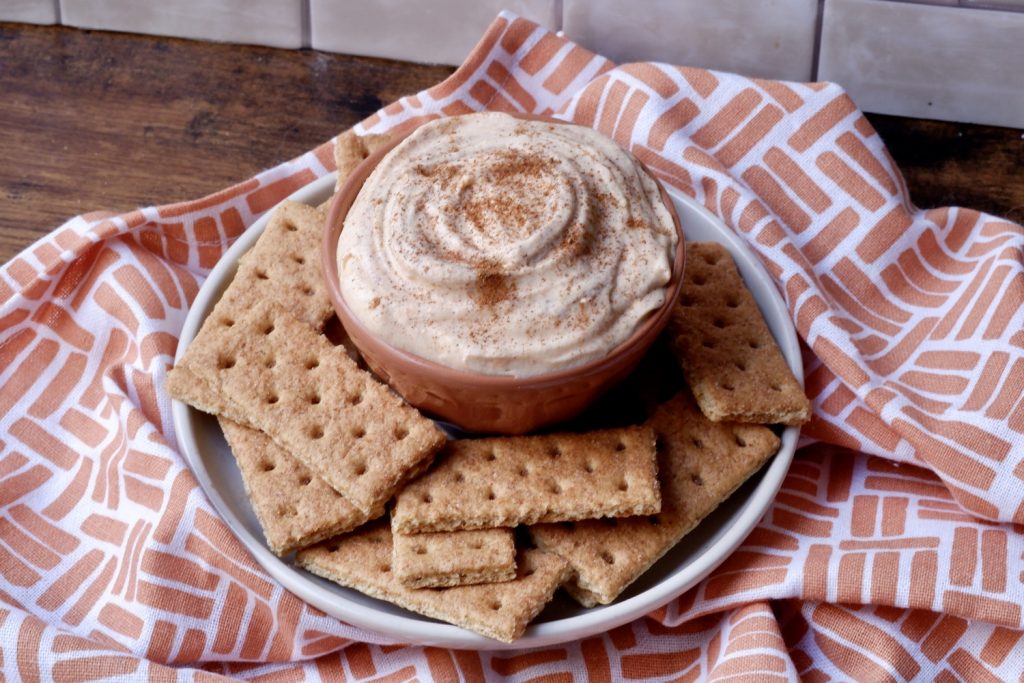 Once you've combined all the ingredients, grab your favorite dippable accompaniments. Sliced apples, graham crackers, or even pretzel sticks are fantastic choices to scoop up this creamy goodness. Not only does it make a fabulous dessert option, but it's also a great addition to any fall gathering or potluck. Share the joy of this delightful pumpkin pie dip with your loved ones, and I promise they'll be asking for the recipe!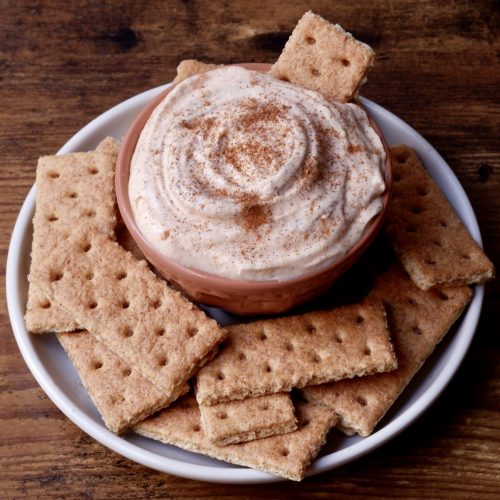 Creamy Pumpkin Pie Dip
This dip is creamy, light, and perfect with fruit or graham crackers. Whether it's a solo night in or a group gathering, it's sure to be a hit this Fall!
Ingredients
2

cups

fat free cool whip

1/3

cup

pumpkin purée

1

package

sugar free vanilla pudding mix

1.5

cup

low fat milk

1

tsp

pumpkin pie spice
Instructions
Combine pudding mix and milk and whisk together for 2 min until set. Add pumpkin puree, pumpkin spice, and mix in.

Fold in cool whip until fully incorporated into the dip. Let chill in the fridge until ready to enjoy.

Serve dip with fruit or graham crackers for a delicious, light dessert!
Nutrition
Calories:
52
kcal
Carbohydrates:
8
g
Protein:
2
g
Fat:
1
g
Saturated Fat:
1
g
Polyunsaturated Fat:
0.1
g
Monounsaturated Fat:
0.3
g
Cholesterol:
5
mg
Sodium:
37
mg
Potassium:
113
mg
Fiber:
0.4
g
Sugar:
6
g
Vitamin A:
1709
IU
Vitamin C:
0.5
mg
Calcium:
80
mg
Iron:
0.2
mg
Tried this recipe?
Add your thoughts below in the comments or post on social media and tag @foodbythegram!