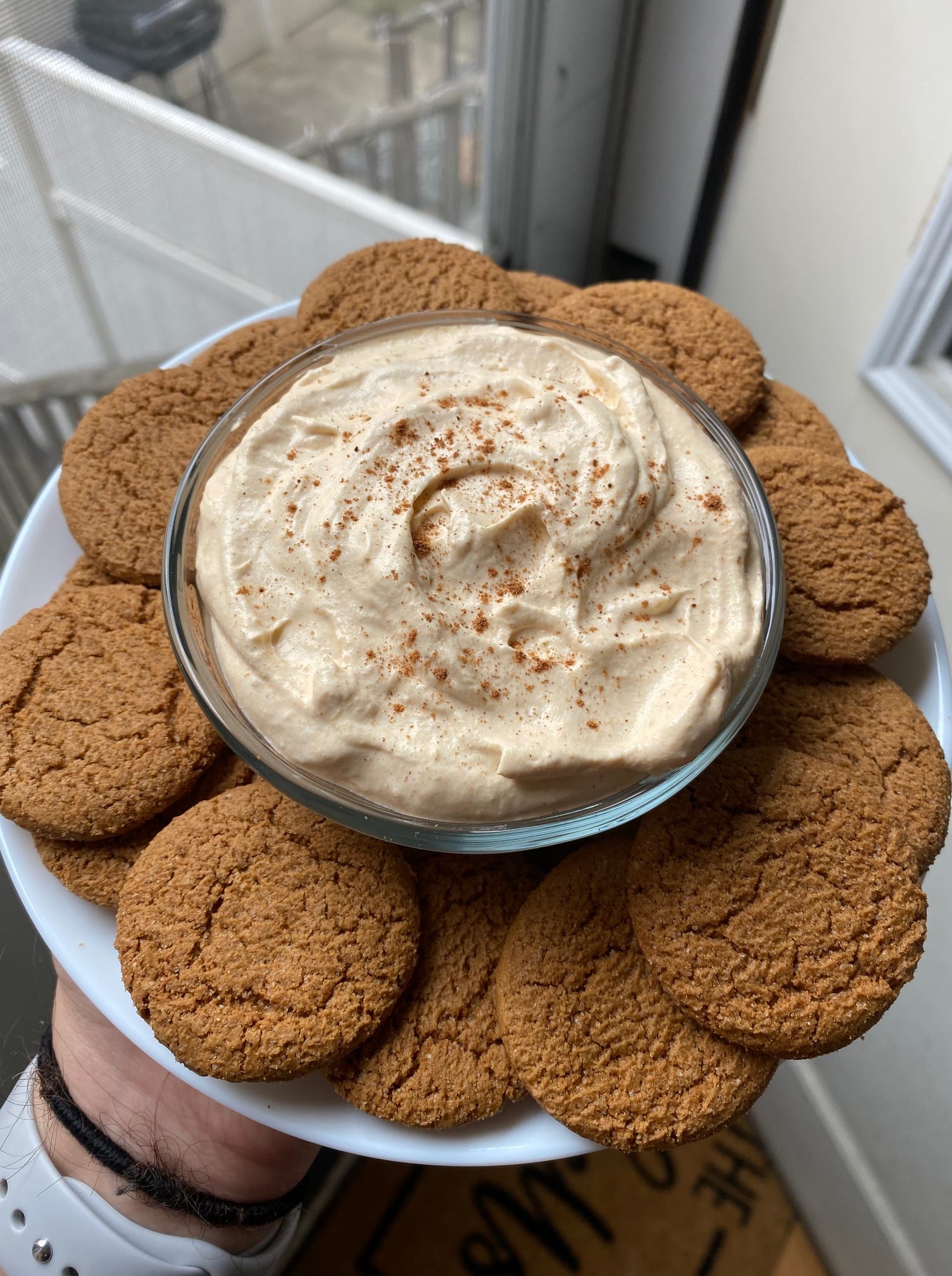 This is another recipe born out of my daily "hmmm, I finished dinner, now want something sweet" moment. That's right people – I'm a dessert every day kinda gal. Honestly, I'm a dessert after every meal gal but I'm working on it.
With that being said, desserts that are healthy and actually taste good are PRICELESS.
In my endless quest to create desserts that taste delicious but aren't terrible for you, I've learned to really lean on Cool Whip. It's a great, lower calorie ingredient that's sweet, fluffy, and super versatile. I've used it in frosting, like on my Dunkaroos cake, in my Key Lime Pie dip, and my homemade Dunkaroos.
Also, if you follow WW (formerly Weight Watchers), Cool Whip clocks just 1 pt for 2 tbsp, and a little goes a long way. Because its flavor profile is pretty plain, it yields itself really well to whatever flavors you put with it. Being that Fall is officially in full swing, I obviously went the pumpkin route.
When I dip, you dip, we dip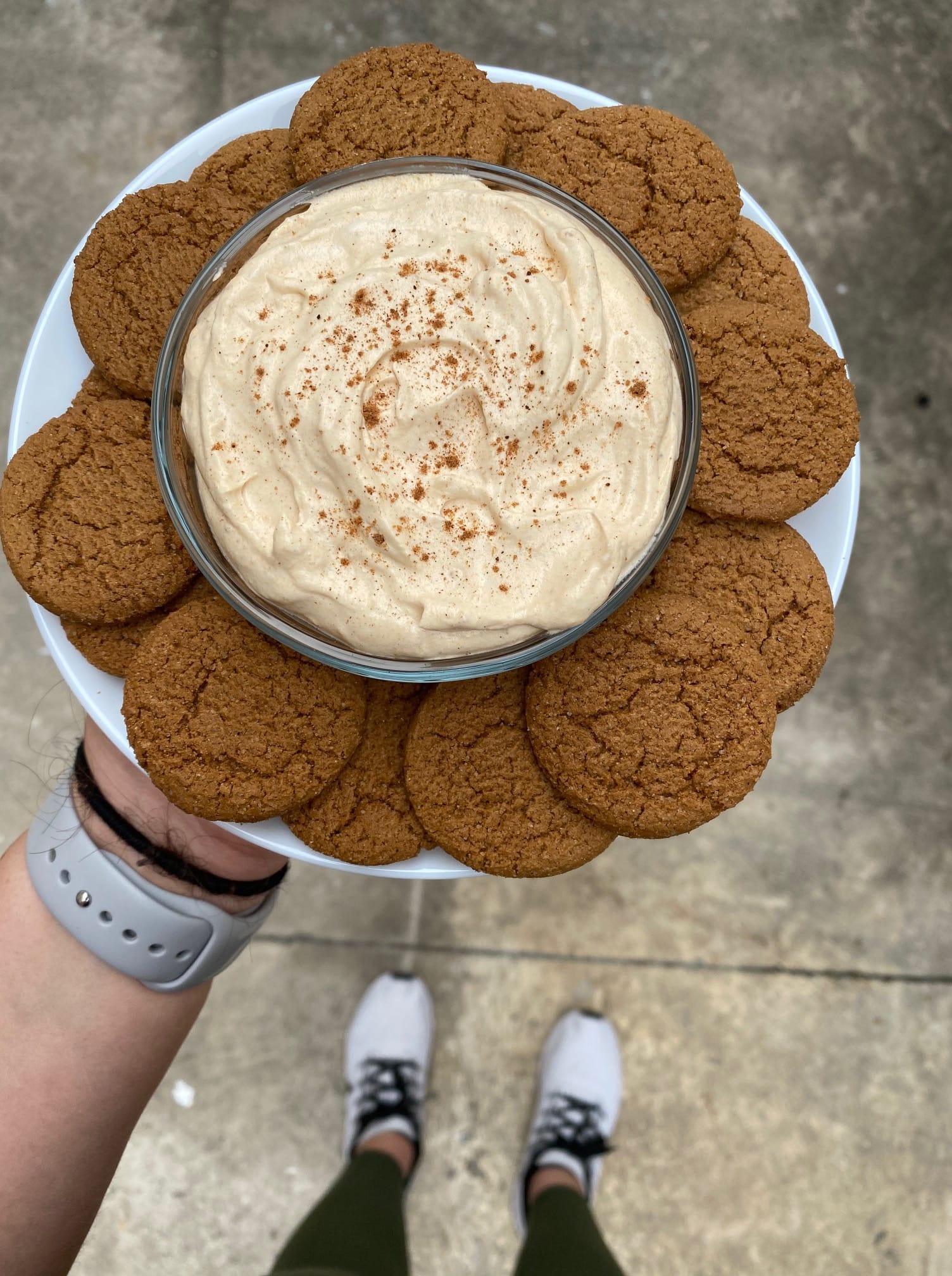 This pumpkin dip may just be the simplest recipe on my site. Literally no cooking involved, just measure, mix, and enjoy! What I love about a recipe like this is that you can also adjust it as you go, making it perfect for YOUR taste. Frankly, just because I love my dip a certain way, doesn't necessarily mean everyone does (though, as written, this dip is pretty darn good).
Here are some notes if you're looking to alter things a bit:
If you want it sweeter, bump up the powdered sugar, 1/2 tsp at a time (note: this will increase point value)
If you want it less sweet and more tart, add more greek yogurt 1 tsp at a time (will not increase points value)
If you want to go heavier on the pumpkin flavor, add 1/2 tsp more pumpkin pie spice (will not increase points value)
Next, the fun part – what are you going to dip in it?! I served it with Gingersnap cookies, which are 1 point each. They have a delicious warm, spiced flavor which is perfectly complemented by the light, fluffy, creamy pumpkin dip. It's a blend of flavors and textures that you're sure to love.
Graham crackers are another great dipping option, with 2 squares running you 2 points. Lastly, if you're looking to save points, you can dip fruit in this fabulous fluff.
Looking for more WW friendly desserts?
Just because you're following the program, doesn't mean you can't indulge. Here are some of my favorite WW treats!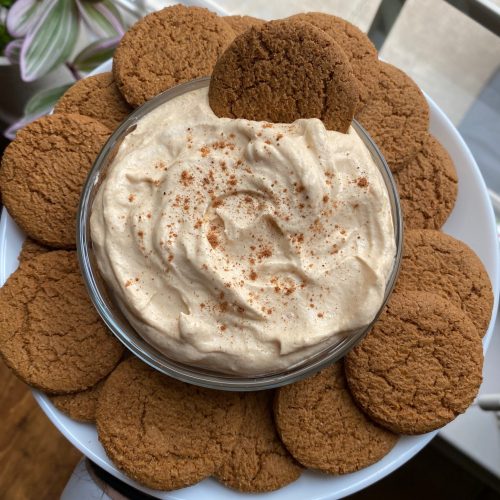 Pumpkin Fluff Dip
This dip is creamy, light, and perfect with fruit or gingersnap cookies. Yield: 4 servings, 1/4 cup each
Ingredients
1

cup

cool whip

1/4

cup

pumpkin purée

2

tbsp

nonfat greek yogurt

1/2

tsp

pumpkin pie spice

1

tbsp

powdered sugar
Instructions
Combine cool whip, pumpkin puree, and greek yogurt in a bowl and mix until you have a uniform, fluffy mixture

Serve dip with fruit, ginger snap cookies, or graham crackers for a delicious, light dessert!

Let me know if you make this recipe by leaving a comment and/or tagging me on Instagram at @foodbythegram!

Note: There may be affiliate links throughout this post. When you shop through these links, I get a small percentage of the sale, at no extra cost to you! I only recommend products I love, and I'm sure you'll love them too. Thanks for the support!
Tried this recipe?
Add your thoughts below in the comments or post on social media and tag @foodbythegram!