Remember when you were a kid and you would sneak raw cookie dough off the spoon when your parents weren't looking? Or was that just me? My mom would usually tell me not to eat raw cookie dough and that it would give me a stomach ache and blah blah blah (I usually wasn't listening and was waiting for her to turn around again so I could sneak some more). Well, fellow dough-sneakers, I've got just the treat for you. These light cookie dough truffles are the chewy, gooey, doughy treat of your childhood dreams, and they're just 2 WW SP a pop!
Making light cookie dough truffles
These truffles are, on top of being delicious, ridiculously easy. They're a no-bake dream, and you just mix, pour, freeze, and enjoy. The key to making these adorable little bites is a good truffle mold. I use this one, in the bite sized cup size, which makes perfect, poppable bites.
To make the truffles, you'll need:
All purpose flour, which you'll microwave to kill any potential bacteria before making your dough
Light brown sugar
Vanilla
Milk, any one works
Smart Balance buttery spread, which is a more WW friendly alternative to butter
Sprinkles and chocolate chips, because we like to have fun here (neither are necessary)
Melted chocolate to coat the truffles (I used Lily's Dark Chocolate which is low in points)
To assemble the truffles, you'll first mix up your dough and set it into the fridge to cool and solidify. While it's cooling, melt your chocolate in 30 second intervals in the microwave, until it's smooth and runny. Pour ~1/2 tsp of melted chocolate into each truffle cup and swirl it around to fully coat the outside of the truffle. Pop it into the freezer to harden for about 5 minutes.
Once hardened, fill each truffle with cookie dough, and press it in so it fully fills the cavity. Then, top with additional melted chocolate (and sprinkles, because duh), and pop back into the freezer for an hour to fully solidify.
Once solid, pop your truffles out and enjoy! Store in the fridge for up to a week. I like to eat them right from the fridge so they're cold, but they're great at room temperature as well.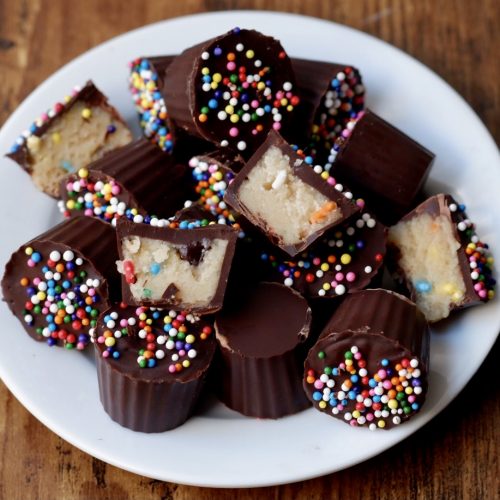 Light Cookie Dough Truffles
These truffles are indulgent, and totally hit the spot when you want some cookie dough (minus the stomachache and lecture about not eating raw dough). At just 2 SP each (or 2 for 5), they're a perfect, poppable dessert!
Equipment
Microwave safe plate

Mixing Bowl

Truffle Molds
Ingredients
1/2

cup

All purpose flour

1.5

tbsp

Smart Balance

2

tbsp

Light brown sugar

unpacked

1

tsp

Vanilla

1/2

tbsp

Milk

any milk works

1

tbsp

Sprinkles

1

tbsp

Chocolate chips

I use Lily's to keep points low

1/2

cup

Lily's chocolate chips

4 oz
Instructions
Spread flour onto a microwave safe plate and microwave for 60 seconds. Stir, and microwave for another 30 seconds. Be sure your flour doesn't burn/brown. If it does, start over and microwave for slightly less time. This step is critical as it ensures the flour is safe to consume. Let flour cool.

In a small mixing bowl, cream smart balance with sugar until fluffy and smooth. Add cooled flour and mix. Add vanilla and milk to thin and combine. Lastly, add sprinkles and 1 tbsp chocolate chips, and stir until you have a firm dough. Put dough in the fridge while you melt chocolate.

Add chocolate to a microwave safe bowl and microwave in 30 second increments, stirring in between, until smooth.

Add 1/2 tsp of melted chocolate into each cup of truffle mold and swirl around to fully coat outside of truffle (can do this by pinching the base to spread the chocolate or using a spoon/small brush). Pop into the freezer for 5 minutes to harden.

Fill each truffle with roughly 1/2 tsp of cookie dough and press down to fully fill the truffle cavity.

Top each truffle with remaining melted chocolate and additional sprinkles if desired. Put in freezer for 30 minutes to fully harden before removing from molds. Store in the fridge, enjoy!
Notes
Weight Watchers Points:
2 SP per truffle on all plans
2 truffles for 5 SP
If using different chocolate (I used Lily's which is sugar free), adjust points accordingly.
Nutrition
Calories:
63
kcal
Carbohydrates:
9
g
Protein:
1
g
Fat:
3
g
Saturated Fat:
1
g
Cholesterol:
1
mg
Sodium:
14
mg
Potassium:
8
mg
Fiber:
1
g
Sugar:
2
g
Vitamin A:
51
IU
Vitamin C:
1
mg
Calcium:
3
mg
Iron:
1
mg
Tried this recipe?
Add your thoughts below in the comments or post on social media and tag @foodbythegram!