One of the tastiest donuts I've ever had was the Cereal Milk donut from Federal Donuts in Philadelphia. It seriously tasted like childhood nostalgia. A warm, cakey donut topped with a vanilla glaze and crushed fruity pebbles – it was like a bowl of cereal only better. I think about that donut often, so it was only a matter of time before I'd try to recreate it.
Tweaking the recipe from my lighter lemon donuts, these Light Cereal Milk donuts were born. They're light and fluffy, come together super quickly, and best of all – they're waaaay better for you than a traditional donut. They're baked, not fried, meaning you can really have your cake (donut) and eat it too.
The donut
The donut itself is made lighter in a few ways. First, a drastic reduction in the amount of sugar and oil as compared to a regular donut, which typically has lots of both in the dough (and is then fried). Second, Greek Yogurt and unsweetened almond milk add to the fluffy texture without adding fat and calories, making these a great treat if you're looking to eat a bit better (and they're Weight Watchers friendly)! Lastly, since these donuts are baked, you save lots of fat and calories by omitting all of that oil.
The donut is still plenty sweet on it's own, with just 2.5 tbsp of sugar for 6 whole donuts. The crushed fruity pebbles also give it a subtle fruity flavor and a little extra sweetness as well.
Making the donut is as easy as combining your dry ingredients, combining your wet ingredients, mixing them together, throwing it in a donut pan and baking. These take about 20 minutes end to end (10 minutes of that is bake time), so they're perfect to whip up in the morning if you're hosting brunch!
The topping
First things first, make sure your donuts are cooled before you try to glaze them. If you pour glaze on piping hot donuts it will just melt off/absorb into them.
To achieve that cereal-and-milk deliciousness that I was going for, I made a basic glaze using powdered sugar and milk. You could also replace milk with creamer (I use NutPods, a dairy free creamer alternative that tastes great- you can use code foodbythegram for 15% off if you want to try them), dairy-free milk, etc. I then top the glazed donuts with fruity pebbles to tie it all together.
If you're not planning to eat all of the donuts right away, I would advise glazing and topping them as you go to eat them, otherwise the glaze eventually absorbs into the donuts!
Seriously, it tastes like cereal and milk – thank me later.
Storing the donuts
I store them in an air-tight container in the fridge. They keep well for 2-3 days, but for that reason I like to make smaller batches since it's just two of us eating them usually. The recipe below makes 6 donuts, but you can absolutely double or triple it for a crowd!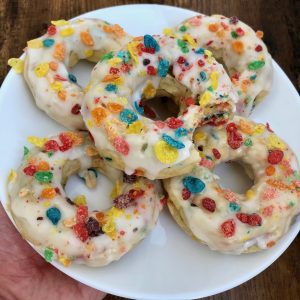 Light Cereal Milk Baked Donuts
These cereal milk donuts are light and fluffy, taste like a bowl of cereal, and they're WW friendly! Yield: 6 donuts at 5 WW SP each.
Ingredients
For Donuts:
1/2

cup

all purpose flour

2.5

tbsp

sugar

1/2

tsp

baking powder

1/4

tsp

baking soda

pinch

salt

1

medium egg

1

tsp

vanilla extract

1.5

tbsp

vegetable oil

1

tbsp

unsweetened almond milk

1/2

cup

nonfat Greek yogurt
For glaze:
5 1/2

tbsp

powdered sugar

1 1/2 tbsp milk of choice
Instructions
Preheat oven to 350

Combine flour, salt, baking powder, baking soda, sugar and whisk together to combine

In a separate bowl, whisk together egg, Greek yogurt, oil, almond milk, and vanilla until mixture is smooth

Pour wet ingredients into dry ingredients and stir to combine, until you have a uniform mixture with a consistency of cake batter

Spray your donut pan with cooking spray and put roughly 2 tbsp of batter into each. It doesn't need to be filled to the top, as these will rise

Bake for 10-13 minutes, until they've risen a bit and a toothpick comes out clean. They should be light and springy.

Combine milk and powdered sugar to create glaze and drizzle it over the donuts, or dip them into it

Top with crushed fruity pebbles and enjoy!
Nutrition
Calories:
144
kcal
Carbohydrates:
23
g
Protein:
4
g
Fat:
4
g
Saturated Fat:
3
g
Cholesterol:
28
mg
Sodium:
101
mg
Potassium:
38
mg
Fiber:
1
g
Sugar:
15
g
Vitamin A:
40
IU
Calcium:
27
mg
Iron:
1
mg
Tried this recipe?
Add your thoughts below in the comments or post on social media and tag @foodbythegram!