No trip to Starbucks is complete without a slice of their iced lemon poundcake. It's tart, sweet, with a nice thick layer of glaze, and it's the perfect complement to literally any drink – coffee, tea, etc. Given that most of my cooking/eating/coffee happens at home these days, I sought to recreate their iconic lemon loaf with a fun spin. I also drastically reduced the sugar and oil in this loaf, so I could enjoy a slice with just a smiiiidge less guilt. And thus, this Iced Lemon Swirl Loaf was born.
Making the lemon swirl loaf
To make this loaf, you're going to start with a pretty standard cake batter recipe which you'll split in half. Half will be flavored with lemon juice, zest, and extract which will give it that delicious tartness you'd expect from a lemony dessert. By adding a hint of yellow food coloring, it gets a bright yellow color as well (totally not necessary, but it makes me happy).
The other half will get mixed with your jam of choice, which will give another layer of fruity sweetness and gives the loaf a fun swirled look. Again, you can use some food coloring here if you'd like (say you use a raspberry jam, add a few drops of red food coloring). I opted for a mixed berry jam that had chunks of berries in it, which I loved finding throughout this loaf.
To create this swirled cake, separate your batters into two bowls. Spray your 9×5 loaf pan, and put 3 teaspoon sized blobs of one batter down (with a little space in between). Then, put 3 teaspoons of the other batter in between them. Continue to layer your batters on top of each other so that you have a generally random pattern. Once you have use all of your batter, take a toothpick and swirl it all around – no real science here, just swirl until you have a pattern you like. Then, it's ready to bake!
Toppings/Glaze
To add a bit more tart sweetness, I opted for a lemon glaze, which is made of powdered sugar, a bit of milk, and fresh squeezed lemon juice. You could also opt for a plain glaze, which is just powdered sugar + milk. If glaze isn't your jam, try jam! Leave the loaf plain and spread a little jam on it when you serve it. Or, of course, eat it plain – it's delicious. Light, fluffy, and totally satisfying.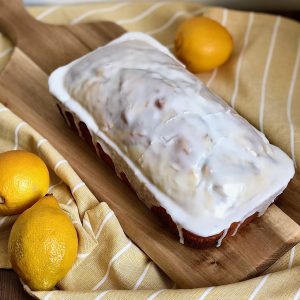 Iced Lemon Swirl Loaf
This cake is bursting with lemon and berry flavor, made with less sugar than a traditional lemon pound cake. Yields one 9×5 loaf. 
Ingredients
Loaf:
1 1/2

cup

all purpose flour

1/2

cup

sugar

3

eggs

3

tbsp

canola oil

1/2

cup

milk

3/4

tsp

baking powder

1/2

tsp

baking soda

1/4

tsp

salt

1/2

cup

Greek yogurt

nonfat

Yellow food coloring

optional

1/4

cup

jam of choice

1/4

cup

lemon juice

1/2

tsp

lemon extract

1/2

tsp

lemon zest
Glaze:
1

cup

powdered sugar

1

tbsp

milk

1-2

tbsp

lemon juice

until you have a runny consistency, may be a bit more
Instructions
Preheat oven to 350F

In large mixing bowl, whisk together flour, sugar, baking soda, baking powder, and salt

In a small bowl, whisk together milk, eggs, greek yogurt, canola and add to dry mixture

Split dry mixture into two bowls

In one bowl, add lemon juice, lemon zest, and lemon extract to batter (and food coloring, if desired)

In other bowl, add 1/4 cup jam to batter and mix to combine (and add food coloring, if desired)

Grease 9×5 loaf pan, and layer dollops of the batter throughout. Start with 3 tsp blobs of lemon batter, then dollop 3 tsp of the berry batter in between, and continue to layer the batters in a random pattern until you've used them all. Take a toothpick and swirl the batters around to create a swirled pattern.

Bake for ~45-50 minutes, until a toothpick comes out clean.

Allow to cool completely before glazing. To make glaze, mix milk and lemon juice into powdered sugar until you have a smooth consistency that you can pour over the loaf.

Pour glaze over cooled loaf on a cooling rack with a tray underneath to catch any excess glaze. Let glaze cool until hardened, store at room temperature for up to 4 days. Enjoy!
Nutrition
Calories:
249
kcal
Carbohydrates:
44
g
Protein:
5
g
Fat:
6
g
Saturated Fat:
1
g
Trans Fat:
1
g
Cholesterol:
51
mg
Sodium:
176
mg
Potassium:
86
mg
Fiber:
1
g
Sugar:
27
g
Vitamin A:
94
IU
Vitamin C:
4
mg
Calcium:
57
mg
Iron:
1
mg
Tried this recipe?
Add your thoughts below in the comments or post on social media and tag @foodbythegram!