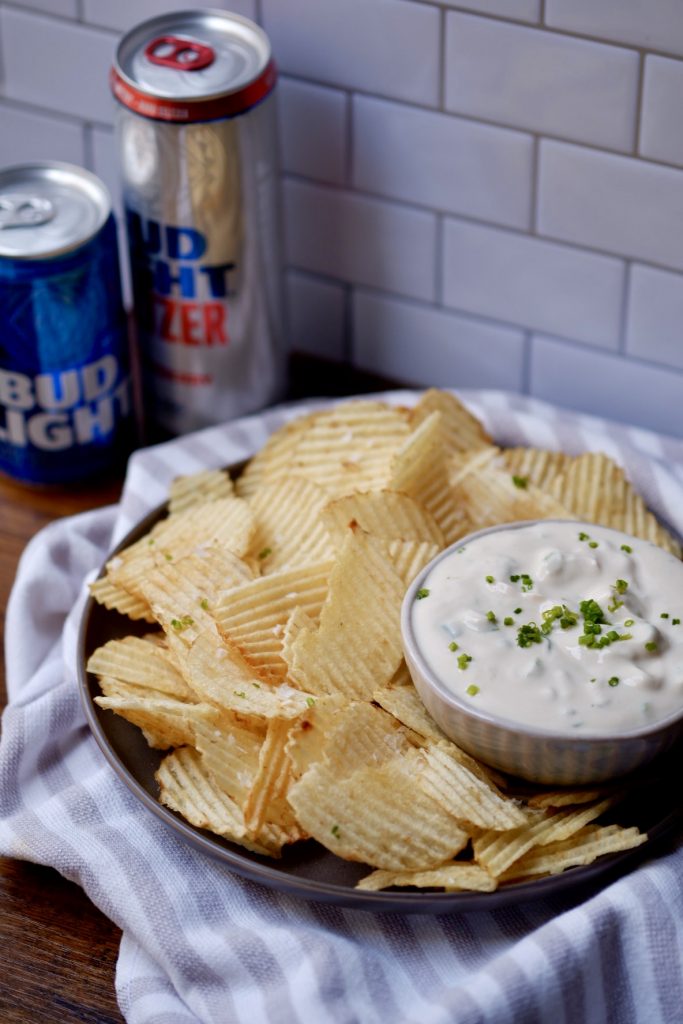 Now that the participants of Superbowl LV have been declared, we can focus on what really matter – snacks for the big game. Somewhere between the wings, mozzarella sticks, and desserts, this Healthy Green Onion Dip needs to be added to the snack roster.
While game day eats are tasty, they're often not the healthiest. It's easy to blow a full day's worth of WW points (weeklies too) in one sitting – but you don't have to. This dip runs you just 1 point on blue for a serving (roughly 1/3 cup of dip). It's just a few ingredients, comes together in minutes, and is a delicious take on a classic with lots of room to improvise.
What goes into Healthy Green Onion Dip?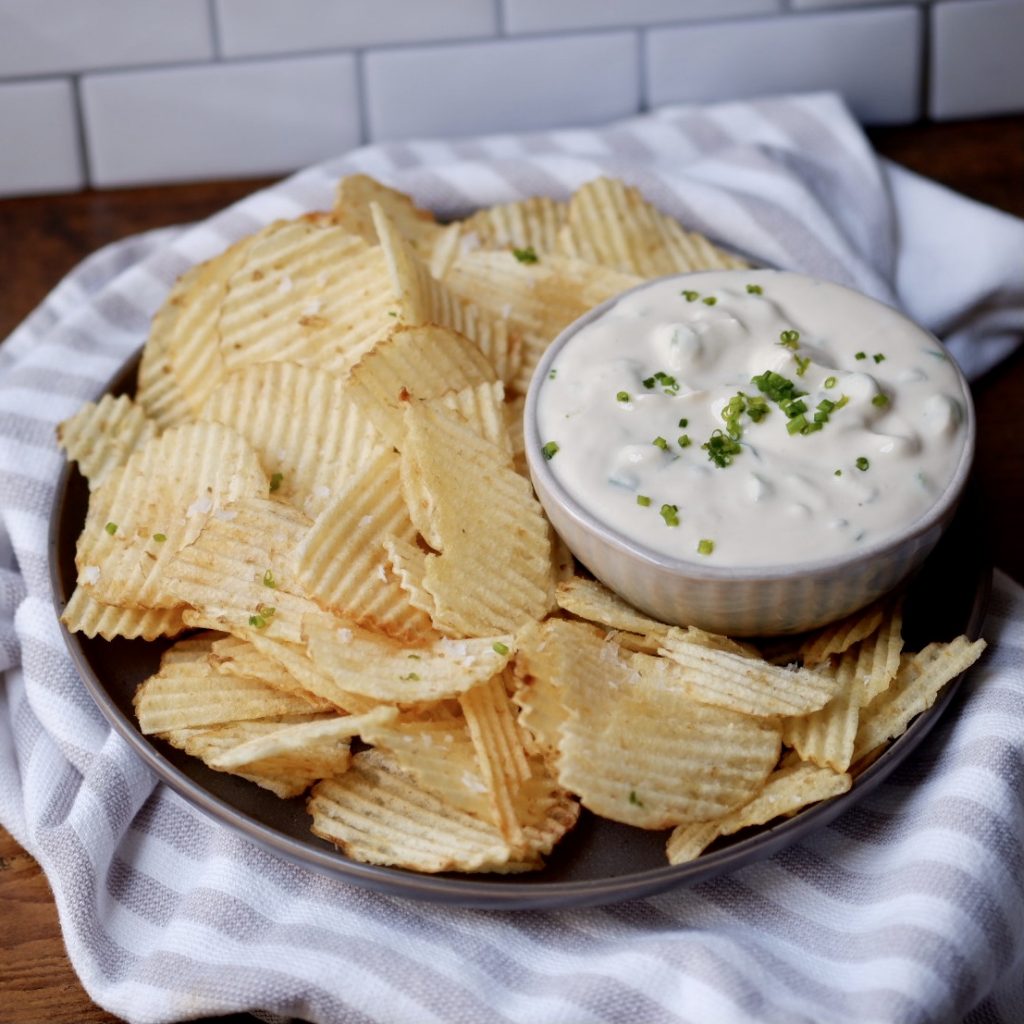 This dip requires just 5 ingredients, most of which are things you likely have at home. It's also one of those 'taste as you go' recipes, so you have lots of creative freedom.
The base of the dip is Greek yogurt, which is 0 SP on blue and a staple in my diet. It's creamy, tart, and packed with protein. It's a healthier alternative to a traditional dip base, which is often sour cream, cheese, mayo, etc. To flavor the dip, it's loaded with onion powder and garlic powder, and lots of chopped green onion for tang. A traditional French onion dip would be made with cooked white/yellow onions. Green onions have a totally different flavor profile, and they're delightful in this dip. It's perfect for people who aren't traditional big onion fans. Lastly, coconut aminos (a soy-free alternative to soy sauce) give this dip a perfect depth of flavor and add salt. Depending on the brand you use, you may want to add a bit of sugar as well to offset the salt, which I'll cover below!
Coconut Aminos
If you've ever done a Whole30 or eaten Paleo, they you're probably familiar with coconut aminos. Made from the fermented sap of coconut palm and sea salt, this sauce is typically salty and sweet. I find that Trader Joe's brand is the sweetest and tastiest, and that's what I used in this recipe. However, if you can't find it, you can replace with a low sodium soy sauce and offset with a bit of sugar.
Again, taste as you go- if you want it saltier, you can skip the sugar entirely. If you like it sweeter, add the soy sauce a teaspoon at a time. Bump up or mellow out the onion flavor as you wish. It's your show!
Serving the Healthy Green Onion Dip
This dip is delicious on just about anything. Plain potato chips are a delicious vehicle for the healthy onion dip, though not the healthiest. Cut up cucumbers, carrots, celery and tomato are a great, zero point dipping option, and you can arrange them all to make a beautiful, colorful platter. You can also make your own chips (like this Air Fryer Potato Chip recipe from The Spruce Eats).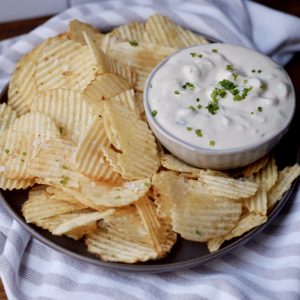 Healthy Green Onion Dip
The perfect dip for game day, this Healthy Green Onion Dip is a WW friendly twist on a classic. Made with green onion, it has a sweet, tangy bite that's irresistible!
Ingredients
1.5

cups

Nonfat Greek Yogurt

I prefer Fage brand

1/4

cup

Green Onion

finely chopped

1.5

tsp

Garlic Powder

1

tsp

Onion Powder

4.5

tsp

Coconut Aminos

or substitute with 3 tsp soy sauce and 1.5 tsp sugar
Instructions
Combine greek yogurt, onion powder, and garlic powder in a mixing bowl and stir to combine.

Add coconut aminos (or soy sauce/sugar) 1 tsp at a time, tasting as you go to ensure it's to your liking.

Mix in chopped green onions, and garnish with additional chopped green onion.

Serve with chips or vegetables and enjoy!
Nutrition
Calories:
81
kcal
Carbohydrates:
14
g
Protein:
7
g
Fat:
1
g
Saturated Fat:
1
g
Cholesterol:
3
mg
Sodium:
155
mg
Potassium:
112
mg
Fiber:
1
g
Sugar:
10
g
Vitamin A:
62
IU
Vitamin C:
1
mg
Calcium:
8
mg
Iron:
1
mg
Tried this recipe?
Add your thoughts below in the comments or post on social media and tag @foodbythegram!