Most frosting starts as a combination of butter and sugar. The butter makes it creamy, the sugar makes it sweet, and everything else is mostly added for flavor. However, butter and sugar aren't super diet friendly, so I sought to create a frosting that's tasty but still healthier. This Greek Yogurt Frosting is completely butter free, uses minimal sugar, and is stable enough to pipe on cupcakes, frost cakes, etc.
Making the frosting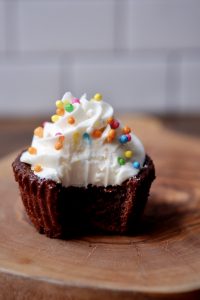 The key to creating this frosting is to strain your Greek yogurt well. Like really REALLY well. Greek yogurt naturally has a high moisture content, so in order to get it to a point that it can be piped/used as a frosting, we need most of that moisture gone.
You can remove moisture from the yogurt most easily with a cheesecloth, but if you don't have one, paper towels will work. If you're going to use the paper towel method, take 4-5, fold them so you have a thick base, and scoop your greek yogurt right onto it. Yes, literally yogurt to towel. Once you strain out the moisture, it won't stick and should be easy to work with. Take another 4-5 paper towels, fold them, cover the Greek yogurt, and gently press. The paper towels should soak through. Repeat this until your end result looks more like a cream cheese and you can handle it easily.
Mix your strained yogurt with a hint of vanilla extract and some powdered sugar and voila- you've got a killer frosting that's super diet-friendly. Whereas most of my traditional frosting recipes require anywhere from 3-5 cups of powdered sugar, I only put a few tablespoons into my Greek yogurt frosting because I like the tartness. It's especially delicious when paired with something sweeter (like a chocolate cake).
Using and storing Greek Yogurt Frosting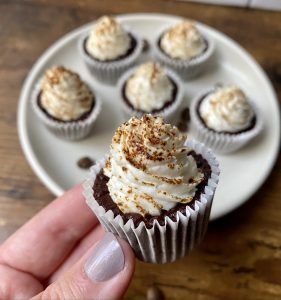 To pipe this frosting, just take your piping bag fitted with a tip, and put it in a tall drinking glass. Open the bag around the glass, so that you can easily fill it. I use this method whenever I need to pipe frosting. Whenever I'm in between piping, I put the bag back in the glass, so there's minimal mess. This frosting pipes like any other, and holds up well if you've removed enough moisture. Since this frosting is 99% yogurt, it needs to be stored in the fridge. You can let it come to room temp before eating it, but absolutely do not store it at room temp long term.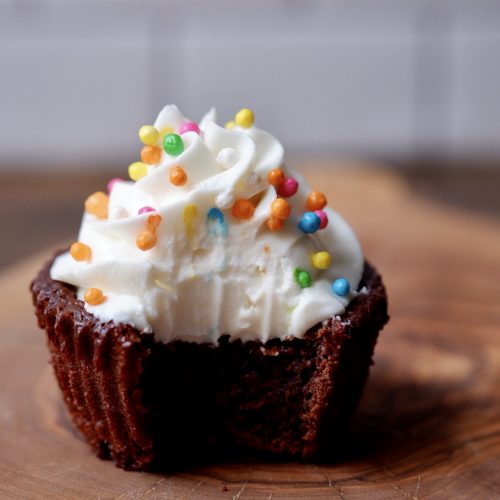 Greek Yogurt Frosting
A frosting made without any butter? Yes, it's possible. And yes, it's delicious. This frosting is also WW friendly, and just 1 WW SP (blue) for 1/4 cup (or 1/2 cup for 3 SP).
Ingredients
1

cup

Nonfat Greek yogurt

I use Fage 0%

2.5

tbsp

Powdered sugar

1/2

tsp

Vanilla extract
Instructions
Strain the Greek Yogurt well through a cheesecloth or paper towels until the consistency is similar to a cream cheese.

Add strained greek yogurt to bowl and mix in powdered sugar and vanilla extract.

If you prefer it sweeter, add powdered sugar a tbsp at a time and a bit more vanilla (1 tsp for 1 cup of yogurt). Correct thin frosting by removing liquid and adding powdered sugar as necessary.

Store in an airtight container in the fridge for up to 4 days.
Nutrition
Calories:
66
kcal
Carbohydrates:
12
g
Protein:
5
g
Cholesterol:
2
mg
Sodium:
17
mg
Potassium:
52
mg
Sugar:
12
g
Calcium:
1
mg
Iron:
1
mg
Tried this recipe?
Add your thoughts below in the comments or post on social media and tag @foodbythegram!